Assorted activities to advertise charm of Mu Cang Chai terrace fields

A hive of activities praising the charm of Mu Cang Chai terraced rice fields in Yen Bai province will be held in the downtown of Mu Cang Chai district throughout this September to celebrate the National Day (September 2).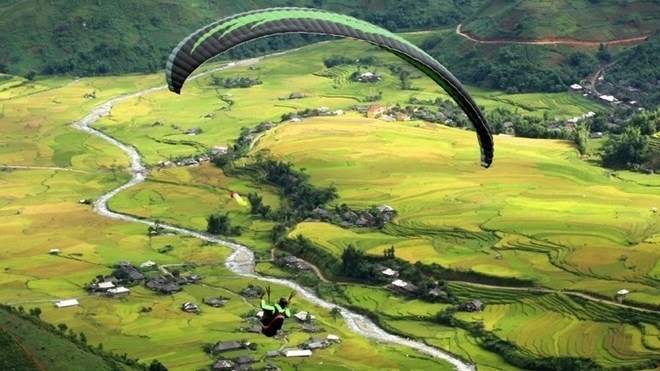 A paraglider shows off his skills from the Khau Pha mountain pass
Accordingly, an arts programme honouring the cultural diversity of ethnic groups in Mu Cang Chai district will be staged along the main streets in the downtown of the district on August 31.
A rural market will take place from August 31 to September 25, featuring 30 booths showcasing local agricultural and forestry products, handicraft products, and traditional costumes.
Folk games, cultural and sporting events will be organised at the district's stadium and on the peak of Khau Pha pass to entertain visitors every weekend from August 31 to September 22.
Notably, the annual paragliding festival will take place on Mam Xoi hill (La Pan Tan commune), and Khau Pha mountain pass (Cao Pha commune) from August 31 to September 1 and from September 21-22.
Visitors to Mu Cang Chai can also spectating a goat fighting contest, which is held every weekend of the month or take part in a traditional cake making competition and a pattern painting contest using beeswax, which are scheduled for September 22.
There is also a photo exhibition extolling the beauty and tourism potential of Mu Cang Chai terraced fields, and various community-based tourism activities that allow visitors to explore the cultural value of Thai and Mong ethnic groups in the district.
The activities, hosted by the of Mu Cang Chai district People's Committee, aims to honour the national landscape of Mu Cang Chai terraced rice fields and the cultural values of local ethnic groups, as well as boosting tourism development in the locality. Nhan Dan