Audio guide available at Hue tourist sites

An audio guide is being installed at the Complex of Hue Monuments in Hue city and will be available for visitors from the beginning of June, the Hue Monuments Conservation Center announced.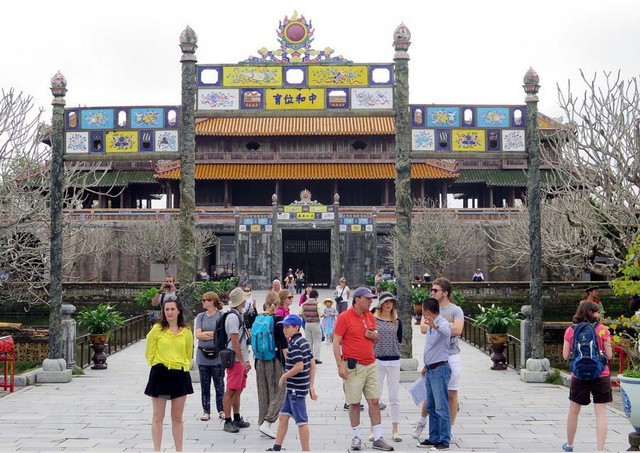 Visitors at Hue Imperial City. Photo: Ministry of Culture, Sport and Tourism
With investment of VND17 billion ($727,000), the project is being carried out by Vietsoftpro, providing audio guides at five sites: Hue Imperial City, Emperor Minh Mang's Tomb, Emperor Tu Duc's Tomb, Emperor Khai Dinh's Tomb, and Thien Mu Pagoda.
Each tours lasts about 60 minutes and introduces the history and cultural values of the site.
Given its size, the Imperial City will have three options for visitors - one day, half a day, or just a short time.
In addition to Vietnamese there will be eleven other languages: English, French, Chinese, Japanese, Korean, Thai, German, Spanish, Russian, Italian, and Portuguese.

There are nearly 60 tour guides serving tourists at the sites of the Hue Monuments Conservation Center.
Among them, half speak English but there are a few that speak French, Chinese, Japanese, or Russian.
They can also serve only some 500,000 visitors per year, or 17.3 per cent of the total number of nearly 3 million arriving each year.

The new audio system is therefore expected to offer tourists a better service, meeting the demand of all visitors to the city, especially those who prefer not to take tours or who speak uncommon languages, said Hoang Van Trieu, Director of the Hue Monument Service Development Center under the Hue Monuments Conservation Center.

Before Hue, audio guides in different languages were provided at other well-known relic and tourist sites in the country, such as the Temple of Literature, Thang Long Imperial Citadel, the Vietnam Museum of Ethnology. and the Vietnam National Museum of History in Hanoi; the Japanese Covered Bridge, the Museum of Trade Ceramics, the Sa Huynh Culture Museum, and the Hoi An Museum in Hoi An ancient town, and the Independence Palace in Ho Chi Minh City.

Established as the capital of a unified Vietnam in 1802, Hue was not only the political but also the cultural and religious center of the country until 1945, under the Nguyen Dynasty, Vietnam's last.
The Complex of Hue Monuments features a range of architecture from the Nguyen Dynasty, such as the Imperial City (Hoang Thanh Hue), including the famous High Noon Gate (Ngo Mon), the tombs of the Nguyen emperors (Gia Long, Minh Mang, Thieu Tri, Tu Duc, Dong Khanh, and Khai Dinh), and monuments, temples, and pagodas. The Complex of Hue Monuments became a UNESCO World Cultural Heritage Site in 1993.

Thua Thien Hue province welcomed about 1.7 million visitors in the first four months of 2019, including nearly 850,000 foreigners, up 9.2 per cent and 11 per cent, respectively, against the same period last year, according to the local Department of Tourism. VET