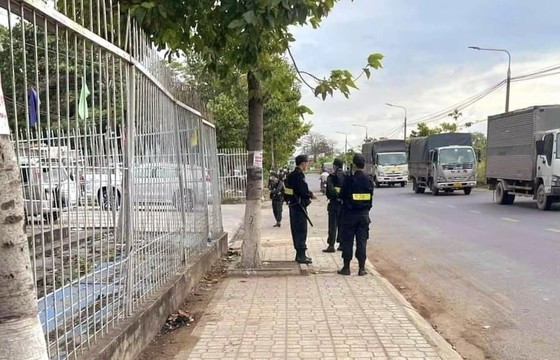 The mobile police force is sealing off the inspected center.

The Inspection Police of Dong Nai Province Public Security Department and representatives of Dong Nai Province People's Procuracy yesterday performed an urgent inspection at Automobile Registration Center No.60-04D (member of Quoc Tuan Automobile JSC, sited in Tan Bien Ward of Bien Hoa City) when detecting signs of giving and receiving bribes.
After some time collecting sufficient evidence, the reconnaissance force under Dong Nai Province Public Security Department determined that there is a situation of bribe receiving in this Center to purposely ignore errors in the registration process of certain vehicles.
Similarly, Automobile Registration Center No.29-03S, located on Le Quang Dao Street of Phu Do Ward in Nam Tu Liem District of Hanoi was inspected by the Investigation Police (under Hanoi Public Security Department) for possible law-breaking acts.
To An Xo, Chief of the Office and Spokesman of the Ministry of Public Security, informed lately that the Ho Chi Minh City Public Security Department has prosecuted Tran Anh Quan – Acting Head of the Automobile Registration Office under Vietnam Register, Dang Tran Khanh – Deputy Head of the Automobile Registration Office, and Pham Duc Ngoc – Specialist of this Office on the crime of receiving bribes.
Before this time, the Public Security Departments of HCMC and Hanoi carried out a series of inspections to many automobile registration centers to collect evidence. 6 cases have been prosecuted with 43 defendants on the crimes of receiving or brokering bribes, document forgery at work.
Similarly, the Public Security Department of Bac Ninh Province prosecuted 14 officers of Automobile Registration Center No.99-03D on the bribe of over VND6.5 billion (US$277,000) for the last 3 years. 4 Deputy Directors of Automobile Registration Center No.98-06D were also arrested for their bribing acts when proceeding with the registration process.
At present, Vietnam Register suspends the operation of more than 10 centers, including those in HCMC, the provinces of Bac Giang, Bac Ninh.
Source: SGGP