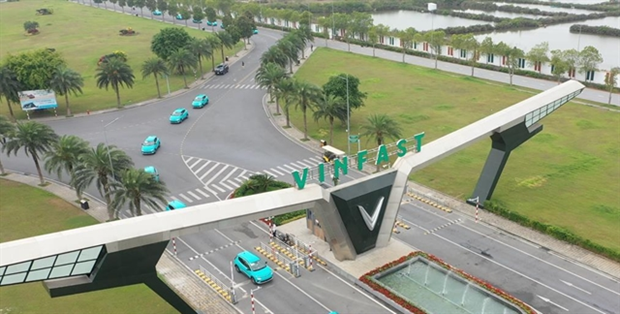 Electric cars of VinFast used to provide taxi services roll out of the factory. The use of electric vehicles is a trend towards sustainable transportation. (Photo: VNA)
In early March, Pham Nhat Vuong, Vingroup Chairman, and owner of the Vietnamese electric vehicle maker VinFast, established Green and Smart Mobility Joint Stock Company (GSM) which is dedicated to using VinFast electric cars and scooters for rental and taxi services.
GSM, the world's first multi-platform green transportation rental and taxi service with a charter capital of 3 trillion VND (127.85 million USD), of which Vuong owns 95%, plan to have 10,000 electric cars and 100,000 scooters.
The company said it would launch its taxi services using VinFast electric vehicles in April in Hanoi with plans to expand to at least five major cities within this year. It would also lease VinFast's VF e34 and VF 8 electric cars to transport companies.
"Whether it is just a few dozen minutes in a taxi or a few weeks or months of renting, customers will have the opportunity to experience the smart features and convenience of electric vehicles. In this way, we can accelerate the smart electric vehicle revolution in Vietnam," said Nguyen Van Thanh, CEO of GSM.
According to the Vietnam Taxi Market report of advisory firm Mondor Intelligence, the Vietnam taxi market was valued at 410 million USD in 2021 and is expected to reach 790 million USD in 2027, registering a compound annual growth rate 10.25% during the period.
The domestic taxi market sees the participation of more than 200 players with ride-hailing services company Grab, taxi companies VinaTaxi, Vinasun Taxi and Mai Linh Group being market leaders, but none are using entirely electric vehicles to provide the services.
In March 2016, Mai Linh Group send a proposal to the Government for support policies to invest in electronic vehicles to gradually replace fuel-powered vehicles. However, the proposal have not seen any improvement until now when VinFast invests in producing electric vehicles coupled with the rapid development of battery-fueled vehicles.
In mid-June last year, Dong Thuy Limited Company which owns Lado Taxi uses VinFast e34 to provide taxi services in Lam Dong province. Delivery services company Ahamove last year launched AhaRide in Da Nang which uses electric scooters to transport passengers in cooperation with VinFast. The company plans to have 10,000 electric vehicles by 2025.
The reopening of economic activities after the COVID-19 pandemic, coupled with lowered fares and easier bookings via apps, would promote the taxi market, according to Mordor Intelligence.
Fares a questions
Using electric vehicles to provide taxi services is developing rapidly in many countries in the world.
China took the first steps to accelerate the shift to electric taxis six years ago with increasing investment in charging infrastructure.
Norway, which has a high rate of electric vehicles, is strengthening investment in infrastructure for electric taxis, including the goal of turning Oslo into the first city to have a wireless charging system for electric taxies.
Asia – Pacific is forecast to be the largest electric taxi market in the world, driven by the huge demand in the world's two most populous markets India and China.
"Increasing environmental concerns and favourable government initiatives are some of the major factors driving the market's growth. Rising energy costs and competition among emerging energy-efficient technologies are also expected to fuel the market's growth," Mondor Intelligence wrote in a report.
According to Nguyen Ngoc Dong, Director of Dong Thuy Limited Company, electric vehicles are a good choice in terms of costs, durability, good policy for battery, customer experience and smart management.
In the context of unstable fossil fuel prices, using electric vehicles was the most economical, Đồng said, adding that the Government's support policies such as exceptions from registration fees also made it a good choice, he said.
Nguyen Cong Hung, Chairman of the Hanoi Taxi Association, said that the COVID-19 pandemic, fluctuating fossil fuel prices and environmental issues coupled with the competition of ride-hailing services raised new requirements for taxi companies to go green and implement tech in line with the global trend.
Sharing the same viewpoint, Ho Quoc Phi, the association's deputy chairman, said that electric cars were the future of the global automobile industry, adding that the use of electric cars would help reduce the negative impacts on the environment compared to fuel-powered vehicles.
The trend of electric taxis was inevitable, but costs and fares should be put into consideration to ensure the harmonisation of benefits between taxi companies, drivers and passengers, he said.
Early implementation of electric taxis would help domestic transportation companies compete with foreign rivals and contribute to accelerating the switch to sustainable transportation, Pham Chi Trung, a member of the National Assembly Science and Technology Committee said, adding that a policy framework should be developed to promote the production and use of electric vehicles./. VNS