AVG deal: Former minister Nguyen Bac Son takes $3 million of bribery

Two former communication ministers have been accused of taking millions of dollars in bribes to make sure the deal to sell AVG to the State-owned telecom corporation MobiFone went ahead smoothly.
MobiFone formally ends controversial AVG deal
AVG ex-chairman Pham Nhat Vu arrested for bribery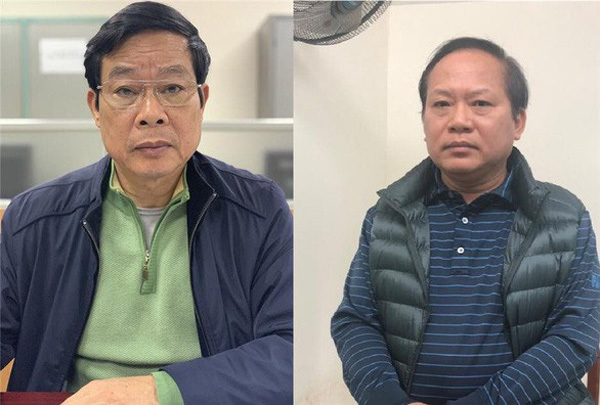 Former ministers of information and communications Nguyen Bac Son (left) and Truong Minh Tuan. — Photo courtesy of Ministry of Public Security
Nguyen Bac Son, who has retired, and his successor, Truong Minh Tuan, have been charged with bribery along with MobiFone executives Le Nam Tra, former chairman of the members' council and former CEO, Cao Duy Hai.
They are accused after an investigation into deal which saw MobiFone purchase of 95 per cent of shares of the Audio Visual Global JSC (AVG), a private firm.
A number of other officials have also been charged after police released findings of their inquiry on Tuesday.
AVG ex-chairman Pham Nhat Vu – the younger brother of billionaire Pham Nhat Vuong, chairman of the conglomerate Vingroup – is also accused in the conspiracy.
Vu allegedly gave Son $3 million, Tuan $200,000, Trà $2.5 million and Hai $500,000, to hurry the deal through, according to the police.
All of the defendants, except for Vu, faced allegation of committing breaches in public investment management causing severe consequences.
They included officials of the Ministry of Information and Communications, leaders of MobiFone and AMAX investment consultancy and valuation company.
They are Son, Tuan, and Pham Dinh Trong, the ministry's director of the enterprise management department and AMAX director Vo Van Manh and valuation officer Hoàng Duy Quang. Others from MobiFone were Tra, Hai and a member of the members' council Phan Thi Hoa Mai as well as five deputy CEOs including Pham Thi Phuong Anh, Ho Tuan, Nguyen Dang Nguyen, Nguyen Bao Long and Nguyen Manh Hung.
The AVG deal in December 2015 was concluded to have caused losses of approximately VND6.47 trillion ($281.5 million) to the State.
As the Government began to scrutinise the deal last year, Mobifone and AVG decided to terminate the transfer of 344.66 million shares and refund each other the amount received under the agreement.
The Government Inspectorate however said that anyone responsible for the deal "must bear their due responsibility" despite it being cancelled.
Chi Lan
VNS