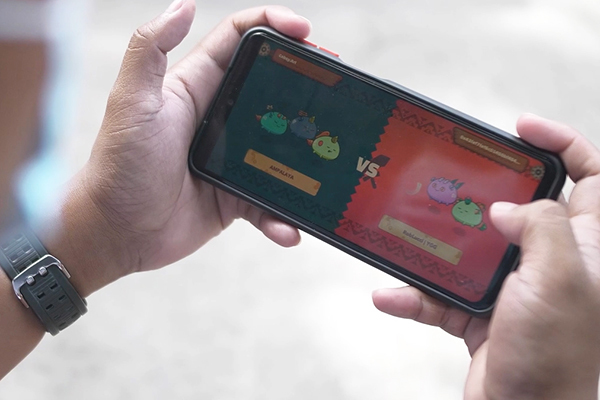 Blockchain game Axie Infinity of Vietnam has become a new phenomenon in the world gaming industry.
According to Coinmartketcap's statistics, the market capitalization of Axie Infinity set a new record when surpassing $4.97 billion. Axie Infinity has reached the top 30 largest virtual currency projects globally. It has the largest ever market capitalization of any Vietnamese blockchain project.
The Axie Infinity development team currently has 21% of the total AXS token supply (Axie Infinity's utility token). Of the number, the company holds 17%, and the remaining 4% is used as a reward for the development team, like ESOP shares.
With a total capitalization of about $4.97 billion, the token holdings of Sky Mavis and the development team are worth more than $900 million.
Axie Infinity is hot because players can make money by buying in-game characters to participate in the game and receive rewards.
Players have to spend an initial capital of about VND40 million to buy a good lineup of Axies (game characters). According to some Axie Infinity gamers, they can earn at least 100 SLP (reward tokens) per day.
With the current SLP price of $0.16, players will earn at least $16 per day. If they are lucky and have better skills, they can even earn about 170 SLP, equivalent to nearly $30/day.
If the SLP price does not fluctuate too much, a gamer can earn back his initial investment after nearly three months playing this game. That is why Axie Infinity has become a hit phenomenon not only in Vietnam but also in many countries such as the Philippines, Indonesia, the US and in Europe.
The latest statistics from cryptoanalytics firm CryptoSlam show that the revenue of in-game trading tokens of Axie Infinity is now worth $1.055 billion. Since the game was launched in 2017, there have been 2.4 million transactions, 324,850 buyers, 936,065 token holders, and over 1 million daily active users.
With such positive statistics, Vietnam's Axie Infinity game is expected to continue to grow and achieve more success in the near future.
Trong Dat

CEO Nguyen Thanh Trung said that he is not a dollar millionaire, explaining that the market capitalization of AXS tokens is different from the capitalization of Sky Mavis.

The virtual currency in the Vietnamese blockchain game Axie Infinity - Axie Infinity Shards (AXS) - has hit a new peak of $71, setting a record capitalization of $4.4 billion.