VietNamNet Bridge - Many university graduates are taking jobs which unrelated to their majors, including manual jobs, to earn a living.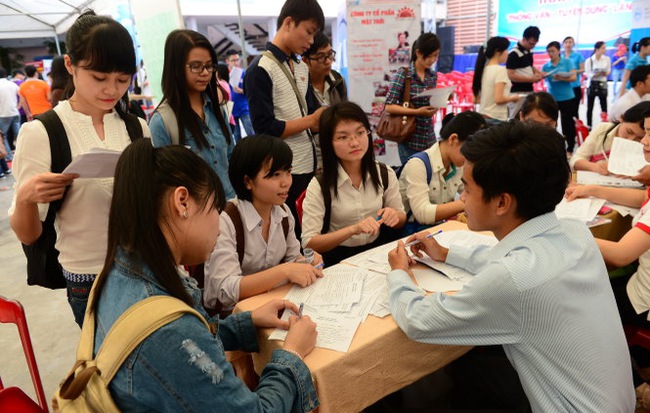 Nguyen Bang Toan, director of the Nghe An provincial labor department, said at a recent provincial people's council's meeting that some junior college graduates were working at cafes, while others, with a bachelor's degree, have to work at massage shops.
"It is true that many workers with higher education level cannot find jobs in their majors," he said.
Two years ago, Tran Thi Quyen, 23, who has a BA in mathematics, appeared in a photo project capturing the life of migrant workers. Quyen was working as a blue-collar worker in the Bac Thang Long Industrial Zone in Hanoi.
Many university graduates are taking jobs which unrelated to their majors, including manual jobs, to earn a living.
Do Manh Cuong, the photographer, said Quyen could not find a good job in her major because she could not arrange VND100 million to pay to a job broker. She decided to work at factory to pay the debt of VND100 million she borrowed to fund her university study.

Later, Quyen found another job as assistant professor at FPT University, but she gave up the job after a short time. She returned to Yen Bai, her homeland, and worked for a Bibo Mart. The job has no relation with the bachelor's degree, for which she borrowed VND30 million and had to spend 1.5 years working at a factory to earn money to pay it back.

The bachelor's degree graduates, who work at massage shops or factories, are not included in the 1.14 million unemployed workers by GSO. They have jobs and can earn money to cover their basic needs. Quyen's income, for example, is VND7-8 million a month.

Nguyen Kim Son, director of the Hanoi National University, has compared university training and labor market demand to two restive horses running in opposite directions. While the labor market is becoming streamlined, the number of university graduates is increasing, thus leading to more unemployed bachelor's degree graduates.

The Ministry of Labor, War Ivalids and Social Affairs (MOLISA) estimates that about 200,000 university graduates are jobless, and that the figure will not increase sharply in upcoming years but will stay the same.

Despite the low training quality of many universities and the repeated warning about the high unemployment rate, students still prefer to follow higher education.

Vietnam now has 2,450 universities, junior colleges and vocational schools.
RELATED NEWS
Many MA, bachelor degree graduates remain unemployed
University graduates have higher jobless rate than untrained workers
Le Ha