Banh mi, queen of street food
VietNamNet Bridge – During my short stay in Paris two years ago, I was pleasantly surprised to see long lunchtime queues of French eaters waiting for Vietnamese sandwiches.
VietNamNet Bridge – During my short stay in Paris two years ago, I was pleasantly surprised to see long lunchtime queues of French eaters waiting for Vietnamese sandwiches. Although the Vietnamese employees worked away quickly preparing the sandwiches, the volume was so high that customers had to wait their turn to dig in.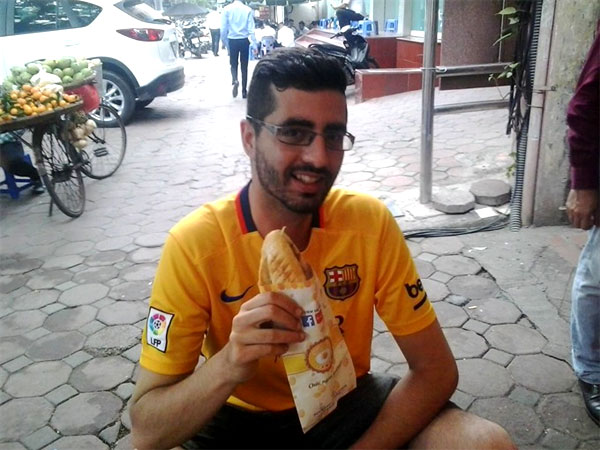 Foreign favourite: Banh my quickly became the daily lunch choice for Spanish expat Gerard Claramont, who has lived in Ha Noi for four months.—VNS Photo Bach Lien
"Vietnamese sandwiches" are what foreigners sometimes call these delicious handheld meals. But for those who have visited the country, they may not forget the street food's Vietnamese name: banh mi. And it is fitting that banh mi is so popular in France, given that its origins link the streets of Paris and the streets of Sai Gon.
It turns out that one of the longest lasting influences of French rule in Vietnam was their baked goods. The baguette was introduced to Sai Gon during the French colonial period and spread through the country's southern cities before arriving to the North of Viet Nam and becoming popular in the whole country.
Many lovers of Vietnamese cuisine consider banh mi an excellent example of of fusion food. The It combines ingredients from the French (baguettes, pâté, and mayonnaise ) with native Vietnamese ingredients, such as coriander, cucumber, and pickled carrots and daikon.
Not only does banh mi exemplify fusion food; it also has become the epitome of street food. The sandwiches are sold almost exclusively from stalls and vendors.
It is a simple and cheap street food that anyone can afford, paying only from VND15,000 (US$0.7) to VND25,000 (US$1.1) for a sandwich.
It may be a cheap street eat, but it's also an international foodie force. You can find the French-Vietnamese fusion dish far beyond the streets of France and Vietnam, and it has quickly become one of the ingredients to Vietnam's culinary fame abroad. Banh mi was listed in top 10 of the "World's best street food" by Lonely Planet, and the word Banh mi was added to the Oxford English Dictionary on 24 March 2011.
An article published in 2012, the Guardian said: "A little-known secret is that the world's best sandwich isn't found in Rome, Copenhagen or even New York City, but on the streets of Viet Nam."
Demand rising
What can make it so special?
Stéphanie Lansaque, a French artist from Paris who has travelled many times between France and Viet Nam with her husband over the last ten years, said:"We like banh mi a lot. The first time we ate it, it was in Paris, in the 13th district. Now, Vietnamese banh mi has become very popular in France, in particular in Paris. More and more stalls are open," she said.
"In French sandwiches, we normally find the salad, and the tomatoes which accompany the meat. In banh mi, we almost always find the wrapped carrots, which are sometimes pickled, the cucumber and the coriander. This gives crunchiness and very fresh tasting. It is surely what pleases French people in banh mi," she said.
'In general, French people love Vietnamese cuisine, and the banh mi is for them an economical and rapid way to eat Vietnamese food," she adds.
Nguyen Thoa, owner of a banh mi stall in Paris's 13th district (where many Asian Parisians live) said that she recently opened a stall to sell banh mi after seeing the raising demand of French people of this dish.
"I have many clients who keep coming back to the stall to ask for a banh mi for their lunch, I am glad about this."
Variations on a theme
In three different regions of Viet Nam (North, Centre and the South), banh mi varies greatly in terms of taste. However, banh mi made in Ha Noi style, in Hoi An style or in Sai Gon style still share lot of commonalities.
Typical fillings in banh mi include steamed, pan-roasted or oven-roasted pork belly, Vietnamese sausage, grilled pork, pork liver pâté, grilled chicken, canned sardines in tomato sauce, soft pork meatballs in tomato sauce, head cheese, fried eggs.
Accompanying vegetables typically include fresh cucumber slices, coriander and pickled carrots. Common condiments include spicy chili sauce, sliced chilis, mayonnaise, and cheese.
Almost all of these varieties are innovations made by or introduced in Sai Gon which then travelled to Ha Noi.
Ask the difference between banh mi Ha Noi and banh mi Sai Gon? Many people who do not often eat the banh mi in those two regions couldn't tell you. But Thai Chung, owner of the BMK restaurant on Ha Noi's Nguyen Khuyen Street, specialises in banh mi Sai Gon and other Sai Gon specialities. He said that he often mixes fried chicken and crushed pork meatballs in different spices in a style unique to Sai Gon. However, he prefers to keep his recipe secret.
However, it's easier to distinguish a banh mi Ha Noi and banh mi Hoi An. Banh mi made in Hoi An style differs from banh mi made in Ha Noi style in the sauce, explains Tran Thi Hue, the manager of a banh mi Hoi An shop in Tran Hung Dao street in Ha Noi.
"I find banh mi Ha Noi quite dry because it has too little or no sauce at all. With banh mi Hoi An, we put lot of sauce inside the fillings. The sauce is the juice of simmered pork meat, and this brings our banh mi a unique taste," she said.
Banh mi Hoi An are appreciated in Ha Noi. In her shop, about 700 sandwiches are sold every day.
Regardless of the regional style, many of the reasons to love banh mi remain constant. The sandwich is cheap and mobile, easy to take away wrapped in recycled paper.
And once you sit down on tiny plastic stools to dig in, one can enjoy something that brings together the best flavours of two great culinary cultures, and one can do so with friends. Queen of street food, banh mi brings cultures and people together.
Some good banh my stalls in Viet Nam
In Ha Noi
1. Banh my Pho Hue: 118 A, Hue Street
2. Banh my Tram: 30 Dinh Ngang Street
3. Banh my Hoi An: Bami Bread: 88 Tran Hung Dao
4. Banh my Lan Ong: 6 Cha Ca
5. Banh my Ba Dan: 34 Lo Su
In Hoi An
1. Banh my Phuong: 2b Phan Chu Trinh Street,
2. Banh my Pho co: 2 Le Loi
3. Banh my Lanh: 430 Cua Dai
4. Banh my thit heo quay (roasted pork) Minh Thu: 248 Ly Thuong Kiet
5. Banh my Queen (ba Khanh): 115 Tran Cao Van
HCM City
1. Banh my Huynh Hoa: 26 Le Thi Rieng Street, District 1
2. Banh my Hong Hoa: 62 Nguyen Van Trang, District 1
3. Banh my thit nuong (grilled pork): 37 Nguyen Trai
4. Banh my op la Hoa Ma: 51 Cao Thang, District 3
5. Banh my Nguyen Sinh: 141 Tran Dinh Xu, District 1
VNS
Vuong Bach Lien