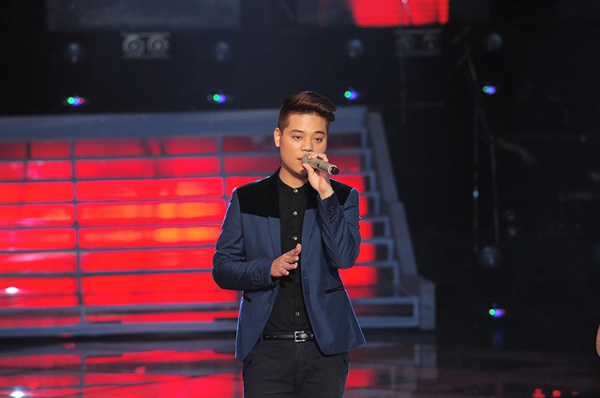 Singer Duong Tran Nghia will perform on the Dating Show. He became popular after his performances on The Voice Vietnam singing contest. — Photo: VNN
Initiated by a group of Hanoi-based artists, Hẹn Hò (Dating) Show will be a quarterly event, each with its own theme.
The first show, Hẹn Hò Thanh Xuân (Dating with Youth), will feature popular songs of the 8X generation (a term for people who were born in 1980s) such as My Everything, Nothing Gonna Change My Love for You and When You Say Nothing at All.
Artistic director Nguyen Quoc Tinh said the series targeted young people who couldn't afford tickets to expensive live shows or classical concerts.
"We decided to organise the shows outdoors to bring the music closer to the audiences at an affordable price," he said.
"Artists often perform in big venues, and tickets are too expensive for many people to afford."
"We're holding the first Dating Show to remind people of their youth with songs from the 1990s. It'll be outdoors with simple seating and drinks and snacks available," said Tinh.
"Just imagine you are planning to meet friends. I believe this will provide a new way to enjoy music."
The show will take place in the evening, but the venue will be open from the afternoon for people to meet, take photos with the artists and enjoy a drink together.
Despite the low price, the quality of music is guaranteed, Tinh said.
"An outdoor venue with basic seating helps keep costs down. All the music will be performed live by an acoustic band, providing a true musical experience for the audience," he said.
The first show on November 9 will take place at Ecofit Sports Centre, 73 Van Bao Street, featuring Dinh Manh Ninh, Duong Tran Nghia and Dong Hung.
The artists are all eagerly anticipating the show because they'll be performing some of their favourite songs from their youth.
"At that time, we didn't have many entertainment options, no YouTube, Facebook or Netflix. The most popular channel was MTV Asia where we loved to listen to rock, ballad and pop songs," said singer Duong Tran Nghia.
"I expect that the music and atmosphere at Dating Show will bring artists and audiences closer together." VNS