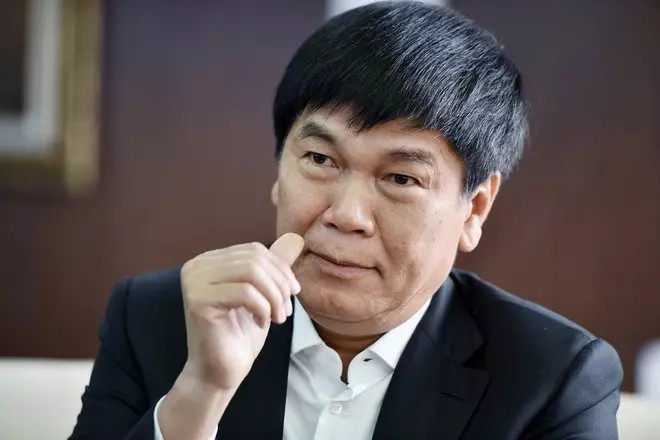 The stock market last week continued to drop with large caps seeing sharp falls. At the two trading sessions on May 12 and May 13, the HPG price fell by 5.9 percent and 6.14 percent, respectively, to VND35,900 per share.
Tran Dinh Long, President of Hoa Phat Group, who holds 1.17 billion shares, saw stock assets drop to VND41.9 trillion, causing him to fall from the second position to the third on the list of the richest billionaires.
Hoa Phat Group recently announced net revenue of VND44.058 trillion for the first quarter of 2022 and post-tax profit of VND8.206 trillion.
In 2022, the revenue of Hoa Phat is expected to continue to increase thanks to the output of the Hoa Phat Dung Quat steel complex, containers, and household appliances.
Hoa Phat plans to have revenue of VND160 trillion this year, an increase of 7 percent over last year, while profit is expected to be between VND25-30 trillion, a 13-28 percent decrease.
However, Hoa Phat has always exceeded profit targets over the last 10 years. The leadership of the company plans to pay dividends of 35 percent for 2021, of which 5 percent will be paid in cash and 30 percent in shares.
The man replacing Long in the second position on the list of billionaires is Do Anh Tuan, Chair of Sunshine Group. All of the shares of Sunshine ecosystem held by Tuan include SCG, SSH, KLB and KSF, worth VND42.2 trillion.
Bui Thanh Nhon, the founder of Novaland, also saw assets fall by VND1.6 trillion in value after one week. The seventh richest billionaire now has assets worth VND20.7 trillion.
Pham Nhat Vuong of Vingroup continues to top the list of stock billionaires with assets of VND168 billion.
When talking to shareholders, Vuong said Vingroup is in dire need of money for its large projects, especially VinFast. In the time to come, the group will only invest in projects helpful to its core business fields.
Vingroup has recently called for capital, domestic and foreign, to run its large projects. It plans to issue $525 million worth of international bonds in May. Meanwhile, VinFast has applied for an IPO to the US Securities and Exchange Commission (SEC) and hopes to raise $2 billion.
The VN Index fell on May 9-13 for the sixth consecutive week. The VN Index fell by 11 percent to 1,182.77 points, and the HNX Index by 12 percent to 302.39 points.
M. Ha