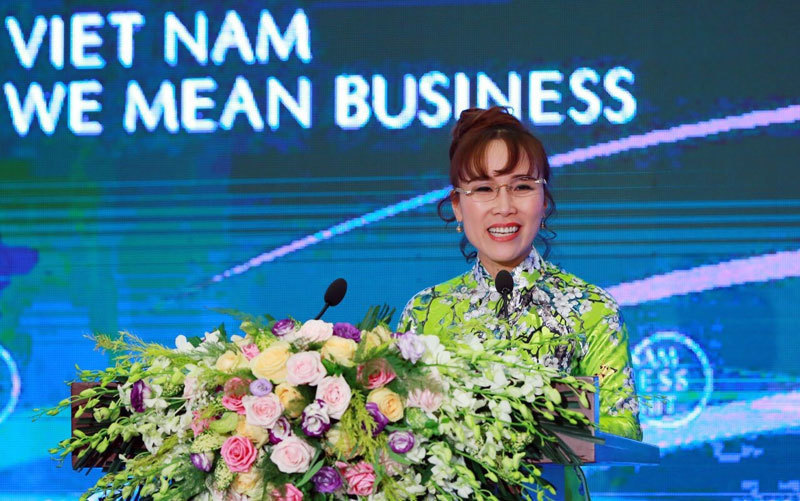 Billionaire Nguyen Thi Phuong Thao
After a period of struggling, VJC shares of Vietjet Air of which Thao is CEO, have bounced back since the beginning of June.
VJC traded at VND130,000 per share, a two-year high. Prior to that, VJC price fell to below VND100,000 per share because of Covid-19.
Thao, who now has assets worth $2.7 billion, is the richest businesswoman in Vietnam, according to Forbes.
HDBank, where Thao is Vice President, has also reported impressive business results in 2021, which helped share prices increase rapidly. The bank has reported a sharp rise in revenue from services and it has great potential for bancassurance development. Many international life insurers have expressed their willingness to cooperate with HDBank.
At the 2021 annual shareholders' meeting of HDBank, Thao said Sovico Group owned by her family and members always seek opportunities to increase their ownership ratios in HDBank, and don't have any plan to reduce their ownership ratio.
Despite difficulties caused by Covid-19, the businesses owned by Thao are operating well. Vietjet Air still makes profits, while Vietnam Airlines, the national flag air carrier, has incurred big losses. In late July, Vietnam Airlines reported that its overdue debt had reached VND11.338 trillion and it couldn't pay for aircraft leasing, fuel, engine repair and flight services to its foreign partners.
During Thao's working visit to the UK, Thao's businesses signed many agreements worth billions of dollars, including one on buying engines and engine services for Rolls Royce wide-body aircraft, worth $400 million.
With air routes throughout Vietnam and Asia Pacific, Vietjet continues expanding its flight network over continents with the new fleet.
Thao, a female dollar billionaire who has been recognized by Forbes, is CEO of Vietjet Air, Co-founder and President of Sovico Group and Vice President of HDBank.
Sovico Group and Phu Long Real Estate owned by Thao have not listed their shares on the bourse, but they are well known among the business community.
Sovico Group is a well known name in the bond market as it has recently issued many corporate bonds, worth tens of trillions of dong over the last two years.
Phu Long, a subsidiary of Sovico, is developing a super project – Dragon City, covering an area of 65 hectares, with investment capital of $1 billion in the Nam Sai Gon area. It has also invested in many other projects in HCMC, Hanoi and PhuQuoc.
On November 1, Linacre College on its website said that it had signed an MOU with Sovico Group to receive a donation of 155 million pounds for research and education development. 
V. Ha

Pham Nhat Vuong continues setting new records, while Le Phuoc Vu has gained a new high in his business career.

Commercial banks have reported profits of trillions of dong in the first nine months of the year, helping their owners get richer while other businesses remain in distress because of the impact of Covid-19.