Binh Loi Railway Bridge needs preserving: HCM City Department of Culture

The HCMC Department of Culture and Sports on May 20 wrote to the municipal Department of Transport, proposing preserving a section of the Binh Loi railway bridge.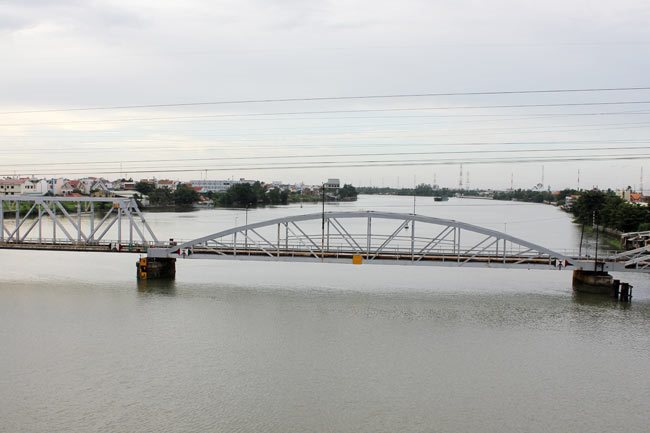 The Binh Loi railway bridge is pictured in this file photo. The HCMC Department of Culture and Sports has proposed preserving a section of the Binh Loi railway bridge
The bridge holds great cultural and historical value and was part of the development of HCMC and the Vietnamese railway sector, the Department noted.
As such, keeping a section of the bridge intact, including a part of the starting point and a watchtower in Thu Duc District, is necessary.
The preservation of a section of the bridge is aimed at retaining part of the 110-year-old railway bridge to serve scientific research activities in the railway and tourism sectors in the city.
Besides this, the municipal Department of Culture and Sports proposed permitting the HCMC Museum to survey the bridge, take photos and record it prior to dismantling the rest of the bridge.
Binh Loi Bridge, the first to cross the Saigon River, was built in 1902. The 276-meter bridge is part of the French-colonial-era Saigon-Nha Trang railway route, featuring six spans and steel arches.
The bridge has been in operation for 110 years, so it has deteriorated severely. Due to its low vertical clearance of only 1.8 meters, boats often get trapped under it during high tide, threatening the safety of train traffic on the bridge.
A new railway bridge, which is being built 12 meters away from the existing one, will allow trains to travel at a speed of up to 100 kilometers per hour.
When in place, the new bridge will have a vertical clearance of seven meters.
The under-construction bridge is expected to ease waterway transport between HCMC and the neighboring provinces of Binh Duong, Tay Ninh and Dong Nai and reduce the pressure on roads.
The bridge project is reportedly behind schedule, so it may be completed at the start of 2020.
Apart from building the bridge, the Ministry of Transport will dredge a 71-kilometer section of the Saigon River from Binh Loi Bridge to Ben Suc Port in Binh Duong Province.
The project to build a new railway bridge and dredge the Saigon River section requires a total of VND1.3 trillion in funding and has been being executed under the build-operate-transfer format. SGT
Le Anh