Book tells journeys of Vietnamese immigrants to the UK in search of better lives
The life stories of Vietnamese migrants who are seeking better lives in the UK are vividly told in a new book.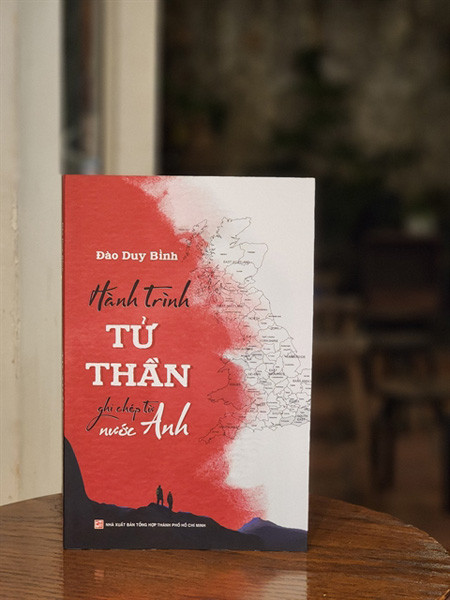 Hành Trình Tử Thần: Ghi Chép Từ Nước Anh (Death Journey: Notes from England) is the first book by journalist Dao Duy Binh.
It starts with the tragedy on October 23, 2019 that shocked the world when the bodies of 39 Vietnamese citizens -- 29 men, eight women and two 15-year-old youths -- were discovered in a refrigerated container in Essex. It ends with another tragedy on May 7, 2022 when human remains identified as four missing Vietnamese men were discovered in a burned-out mill in Oldham, Manchester.
The 224-page book, released by the Ho Chi Minh City General Publishing House, vividly depicts in detail the journeys fraught with pain, danger and even humiliation that each victim has gone through to seek a better life.
It narrates deeply and authentically the emotional and even surprising lives of specific Vietnamese immigrants who have arrived in the foreign land in various ways or hiding in containers crossing the sea, living deep in Calais forest in the north of France to wait for the opportunity, sneaking into containers to cross the border or crossing the English Channel on overloaded rubber boats.
Behind the pictures they post on Facebook, the money sent home, or attractive offers that say "it's easy to make money here" are the fates of Vietnamese nationals doing various manual jobs to make ends meet, in nail shops, as cooks, waiters, dish washers or even illegal marijuana farming.
Readers can sympathize with their heartfelt aspirations on facing sickness, loneliness, abuse, confusion and unfulfilled dreams. In such difficult situations, compatriotism has shone through.
Death Journey: Notes from England is not only the investigative reportage of a journalist, but also a reliable sociological document, providing case studies for specialists and those who are concerned about one of today's global issues – migration and integration.
Journalist Binh has been working on the book for 12-years and travelled to the UK four times. He has observed, listened and carefully recorded what he has seen and seen along the way.
He has also met and talked with the characters and interviewed many related authorised agencies.
"I wrote this book from the bottom of my heart, to say two words 'thank you' to express my admiration for the sacrifices, the industriousness, suffering, and constant dedication to the family, relatives, compatriots… of millions of Vietnamese immigrants around the world," Binh wrote in his book.
"Death Journey: Notes from England takes readers on emotional journeys, but is full of real life stories, sympathies, warnings, perspectives and unanswered questions about a journey that should not have been taken on the way to happiness for each of us," commented journalist-writer Duong Thanh Truyen.
Binh, 49, was born in the central province of Quang Binh. He graduated from the Faculty of Literature and Journalism, Vietnam National University, HCM City. He completed the Migration and Integration programme organised by the German Foreign Ministry in 2015.
Binh has been working for Tuổi Trẻ (Youth) newspaper since 2003, and currently is its editorial secretary. He has written many reportages like Người Nhập Cư và Giấc Mơ Đức (Immigrants and the Germany Dream), Mưu Sinh Ở London (Making a Living in London), Người Đi Tìm Bóng (Shadow Seeker), among others.
Source: Vietnam News