Boosting international railway transport investment
The initial successes of the railway container transport network from Vietnam to Europe have inspired engagement with the international railway network.
The Ministry of Transport has just submitted the international intermodal rail-based transport capacity enhancement scheme up to 2030 to the prime minister.
The scheme's prime target is to scale up rail-based freight transport output from 1.1 million tonnes in 2021 to 4-5 million tonnes by 2030. Of which, the North-South and Hanoi-Dong Dang routes will handle three million tonnes and the Haiphong-Yen Vien-Lao Cai route will manage 1.5 million tonnes a year.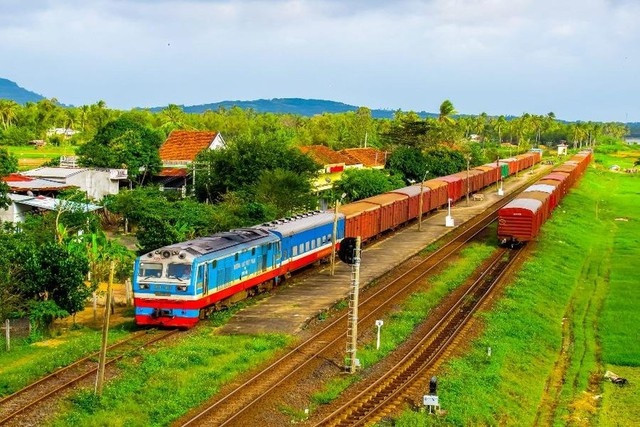 Besides capital injections to boost infrastructure capacity at the associated international multimodal railway stations, the Ministry of Transportation (MoT) sought the prime minister's permission to name the railway stations eligible to operate international intermodal rail transport.
In addition, the MoT proposed assigning the State Committee for State Capital Management at Enterprises to mandate Vietnam Railways to work on equipment procurement plans serving international intermodal railway transport requirements.
In the context of multinational groups restructuring their supply chains, the demand for international rail-based intermodal transport between Vietnam and China, with transit to Europe, Russia, Mongolia, and countries in central Asia, has been escalating to best avail of the speed advantages compared to going by sea and the cost benefits over going by air.
The most pressing issue for the railway sector at present is seeking the government's permission to name railway stations eligible to operate international multimodal transport services.
Nguyen Hoang Thanh, deputy general director of Railway Transport and Trade JSC (Ratraco) – which successfully operates an international railway logistics network from Hanoi's Yen Vien station to Liege (Belgium) – said that since the first train departed in July 2021, Ratraco has continually received orders for transporting diverse types of goods including electronics, apparel, footwear, chemicals, cosmetics, frozen food, and fruits.
Currently, the company's international intermodal route has been allowed to depart from Hanoi's Dong Anh and Yen Vien rail stations and transit in China before heading to Russia and the EU.
It takes 12-14 days to reach Almaty station in Kazakhstan, 23-25 days to reach Moscow station in Russia, and 25-26 days to reach Duisburg station in Germany.
Nguyen An, a senior railway expert stated, "The direct economic efficiency from operating multimodel railway transport heading Europe through China might not be large currently, but at a macro level, the spillover effects are huge as it provides an efficient transport channel for Vietnam's exports."
In its dispatch to the premier, the MoT noted that investment into boosting multimodal railway station infrastructure capacity would be divided into two phases.
In phase 1, lasting from 2022-2025, the MoT envisages using around $152 million from the state budget to upgrade seven railway stations including Dong Dang, Lao Cai, Kep, Vat Cach, Kim Lien, Dieu Tri, and Song Than.
"This is the minimal investment sum earmarked to scale up international multimodal railway transport output to reach 4-5 million tonnes by 2030, after which the railway sector could receive a bigger capital injection," said an MoT executive.
The most pressing issue for the railway sector at present is seeking the government's permission to name railway stations eligible to operate international multimodal transport services.
In fact, Vietnam's railway system has 14 stations with a demand to operate international multimodal transport services, in which seven stations have already acquired the right to operate the service.
Without this right, these seven remaining stations cannot open customs divisions at their stations, thus restricting railway transport capacity as well as import-export operations.
"New stations acquiring this right could bring big benefits helping Vietnam Railways to efficiently exploit existing stations, reduce transportation costs, and spur socioeconomic development," said Nguyen Danh Huy, Deputy Minister of Transport.
Source: VIR