A lot of events happened in 2019, including merger and acquisitions (M&As). Meanwhile, some e-commerce websites stopped their operation.
The M&A wave in 2019 started with the shocking deal between VinCommerce and Shop&Go in April. VinCommerce, which runs VinMart supermarket and VinMart+ convenience store chains, bought 87 Shop&Go convenience stores at $1.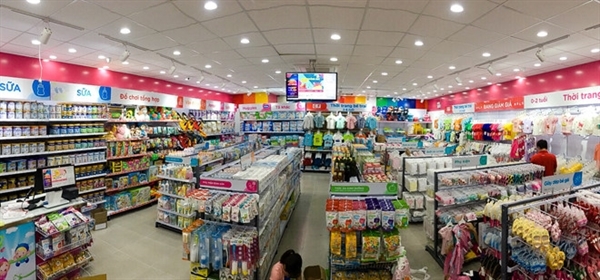 In June 2019, the retail market once again was stirred up by the news that Auchan, the French retail group, sold 18 supermarkets in Vietnam to Saigon Co-op and left Vietnam after many years of presence here.

The move of taking over Auchan is believed to help Saigon Co-op consolidate its No 1 position in terms of revenue in the Vietnamese market.

Dinh Thi My Loan, chair of the Vietnam Retail Association, noted that previously, the buyers in M&A deals were mostly foreign investors, but now, many buyers are Vietnamese.

In August 2019, eight Queenland Marts merged into VinMart. With the deal, the total VinMart sale point has increased to 120. At this moment, there are 2,122 VinMart or VinMart+ sale points throughout the country.

A lot of events happened in 2019, including merger and acquisitions (M&As). Meanwhile, some e-commerce websites stopped their operation.
To everyone's surprise, Vingroup in late 2019 announced the withdrawal from the retail sector. Under an agreement signed with Masan, VinCommerce, the subsidiary owning VinMart and VinMart+ chains will merge with Masan, while Vingroup will gather its strength on industry and technology development.

2019 proved to be a tough year for e-commerce firms. A lot of e-commerce websites shut down, including Robins.vn (Central Group), Adayroi.com (Vingroup) and Lotte.vn (Lotte).

Most recently, Lotte.vn informed its partners that the e-commerce website will officially stop sale from February 20, 2020 and will merge with Speedl.vn. Explaining the move, Lotte.vn said this is a part of the business plan changes.

In early December, Vingroup informed that it will merge Adayroi with VinID before it announced the shutdown of the marketplace in December 2019.

Prior to that, in March 2019, Robins.vn also unexpectedly announced the suspension in Vietnam. Central Group's media representative said Robins.vn is going to undergo a restructuring.

Analysts noted that the e-commerce websites don't perform well which is reflected in the number of visitors.

A report of iPrice Insights and SimilarWeb showed that Lotte.vn and Robins.vn never found their names in the top 5 websites with the highest numbers of visitors.

In September 2019, Lotte.vn ranked the 23rd in number of visitors, lagging far behind its rivals such as Lazada, Shopee, Tiki and Sendo. Meanwhile, Adayroi never reached the threshold of 10 million visitors, while the figures of Shopee, Lazada, Tiki and Sendo were stable at 20-40 million.

A report of Google and Temasek showed that the e-commerce market value may hit $4.6 billion in 2019 and $23 billion by 2025.
Kim Chi

Retail sales of goods and services reached VND4.94 quadrillion (US$214.8 billion) in 2019, representing a rise of 11.8 per cent over the previous year, according to the General Statistics Office (GSO).

Christmas they say, is a time for giving. But for many businesses around the country, it is prime time to receive as well.