Bank shares, which saw prices increasing sharply in the last year thanks to banks' good business performance and prospects, have become the "pillar" of the stock market.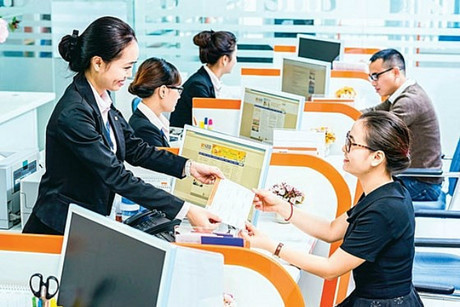 JP Morgan recently noted that Vietnam's bank shares are the most attractive in ASEAN.
The Sai Gon – Hanoi Joint Stock Bank (SHB)'s 2020 financial report showed that SHB shares saw one of the sharpest price increases in 2020, with a profitability rate of 218 percent.
In the stock market, SHB shares are traded at around VND16,000 per share. SHB' smarket capitalization value is VND27.7 trillion.
The report said that SHB has mostly settled problems that arose from the admission of Habubank into SHB in the 2016-2020 period. The bank's bad debt ratio is 1.7 percent, a 10-year low.
Meanwhile, its pre-tax profit in 2020 was the highest in many years, at VND3.268 trillion, up by 8 percent compared with the year before. The ROE was 15.4 percent, and NIM 2.8 percent, up by 0.8 percent.
As of the end of 2020, SHB's total assets had reached VND412 trillion, an increase of 13 percent over the end of 2019. The regulatory capital was VND37.727 trillion, stockholder equity VND24.393 trillion, and charter capital VND17.5 trillion.
SHB in recent years has been making big investments in technology, services and customer development to prepare for the new growth period.
Most banks have yet to release their audited financial reports, but their personal reports all show that they have successfully overcome the tough year of 2020.
ABBank reported pre-tax profit of VND1.368 trillion in 2020, up by 11.3 percent, while MBank was VND10.7 trillion, up by 6.5 percent. Its bad debt ratio was low, just 1.09 percent. VietinBank had a combined pre-tax profit of VND17.07 trillion.
The good business performance has helped bank share prices increase sharply. CTG shares of VietinBank and ACB shares have seen prices increase twofold, and VPB of VPBank by three times.
The continued bank share price increases and the expectation that bank shares will be the pillar of the stock market are based on optimistic forecasts about the banking sector in 2021.
Banks have also prepared well to cope with difficulties. In 2020, SHB provisioned VND4.534 trillion against credit risks.
VNDirect's 2021 report predicts that bank profits will increase next year. It believes that disbursement for public investment will continue to be high and the State Bank of Vietnam will continue its loosened monetary policy to encourage the recovery of the economy. 
V. Ha

For 2021, the firm expected Vn-Index to fluctuate in range of 1,070-1,250.  

Vietnam's stock market reached approximately 87.68 per cent of the country's Gross Domestic Product (GDP) as of the end of 2020, the highest rate reported so far.