Chairman of the Vietnam Chamber of Commerce and Industry Vu Tien Loc talks to about Vietnam's efforts to improve its business environment.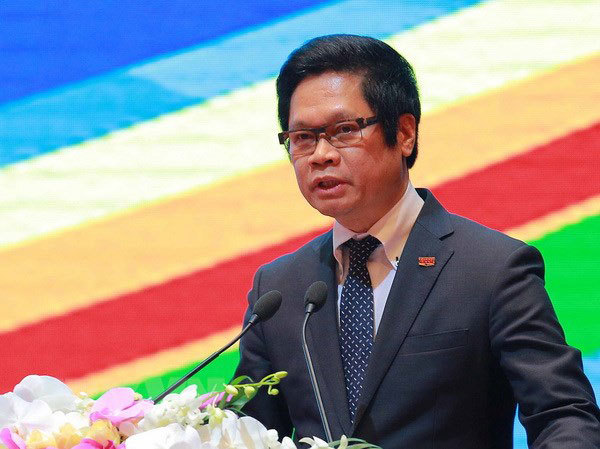 Chairman of the Vietnam Chamber of Commerce and Industry Vu Tien Loc. — VNA/VNS Photo
Do you think the business environment has been improved?
Improving the business environment and supporting businesses are consistent policies and targets of the Government. The Government always directs and gives tasks relating to improving the business environment and urges the implementation of those tasks. It considers the results of reform for businesses as a basis to assess work efficiency and the task completion level of leaders of ministries, agencies and localities. Improving business environment quality has never been tasked as resolutely and comprehensively as it is at present. In fact, start-up spirits and trust in the future of business have increased and spread further than in the previous period.
This can be seen in the number of newly-registered businesses this year, which reached 138,000. Additionally, Vietnam's positions in many international rankings on business environment increased.
The word "start-up" has gradually become more familiar in society. A series of meetings, consultancy events and research activities about foreign investment in Vietnam were organised. Vietnam has become attractive in the eyes of both domestic and foreign investors in the context of global integration and this should be considered an opportunity to promote doing-business aspiration among the business community of Vietnam.
What are the reasons behind this progress?
I think these results are mainly attributed to the Government's goal to develop the economy rapidly and sustainably. That is also the wish of the whole politburo and each citizen to develop the country quickly and gradually towards prosperity. Of which, the determination, as well as the resolute and comprehensive action from the Government leader to public officials and civil cadres as well as the self-consciousness of each business and production unit are important factors.
Specifically, Resolution No 02/NQ-CP issued by the Prime Minister in early 2019 – setting targets for improving the business environment and national competitiveness – was considered a breakthrough in carrying out reforms for businesses. This is the first time the building of economic institutions was defined clearly, putting Vietnam into a race to improve its business environment following international standards. From which, authorised agencies can review and define the country's position and what needs to be done to fulfil set targets.
Overall, we have simplified and cut more than 50 per cent of business conditions. Authorised agencies got rid of many unreasonable business conditions that acted as barriers for businesses.
Will this trend continue in 2020?
The year, 2020, will be a year of reforming and building economic institution towards improving quality and practicality. Authorised agencies will strive to soon bring Vietnam into the group of countries with the highest competitiveness in ASEAN; thus supporting businesses more practically. I think in 2020, authorised agencies will focus on creating favourable conditions to welcome the growth of small and micro businesses.
The public appreciated the recent meeting between Prime Minister Nguyen Xuan Phuc and businesses in Hanoi, with a message that the Government, ministries and sectors will accompany businesses. The Prime Minister asked authorised agencies and localities to work together and effectively implement assigned tasks with highest responsibilities. Of which, it is necessary to note the guidance from the Prime Minister that the State will be held responsible if a business withdraws from the market or a brand loses and therefore, a listless and insensitive attitude in dealing with reasonable demands of businesses is unacceptable.
As we know, small- and medium-sized businesses as well as micro ones account for 97 per cent of the total number of businesses across the country, which reveals their mission in the country's economic development. Start-ups at present not only depend on financial capacity and relations with a traditional approach as before, but have gradually embraced creativity and tapped opportunities from the Fourth Industrial Revolution.
Businesses should not solely depend on mechanisms and policies, but they themselves need to "grow" and strive for development. Do you agree?
I agree. Businesses need to proactively address their shortcomings, such as backward technology, weak administration, capital shortage and lack of proactive integration. Particularly, there is still a shortage of connections or links between businesses, leading to lonely and awkward situations. Business owners have to define goals and know what to do to complete the targets in the current competitive context. Successful and big businesses need to support smaller ones.
It is also necessary for each business to abide by legal regulations and take responsibility for the community.
Businesses also need to connect in the common value chain, closely link with national value, share opportunities and proactively become partners to develop together. As the Prime Minister said, businesses violating laws and affecting the business environment are not acceptable and will be strictly punished. — VNS/Hanoimoi

The outlook for Vietnam's business environment remains positive but further digitalisation and streamlining of the administrative system are required, a World Bank expert has said.  

A number of business conditions have been reduced or removed thanks to the Government's efforts in improving the business environment and increasing national competitiveness.