Viet Nam, China trade ties continue to develop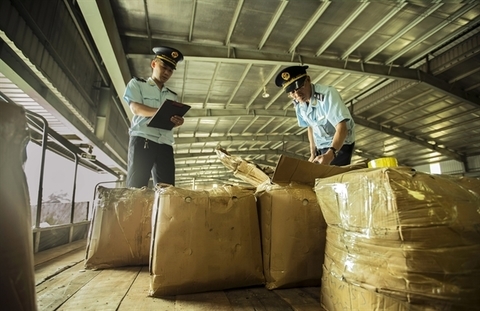 Officers of Coc Nam Customs Department in Lang Son Province, which shares a border with China, perform a check on imported products. 

Economic and trade relations between Viet Nam and China have been developing in a positive direction, as shown by the continuous increase of bilateral trade turnover between the two countries. Viet Nam is fast becoming an attractive investment destination for Chinese enterprises.
According to the Foreign Investment Agency under the Ministry of Planning and Investment, China invested about US$1.6 billion in Viet Nam in the first fourth months of this year, making it the country's fourth largest source of foreign investment.
Several large projects were funded by Chinese investors in the period including a tire manufacturing project with total registered capital of $280 million in the southern province of Tay Ninh and another tire project of Advance Tire (Vietnam) Co. Ltd with registered capital of $214.4 million in the southern province of Tien Giang.
China has been Viet Nam's biggest trade partner since 2004, and bilateral trade has been continuing its strong growth. China is currently Viet Nam's second largest export market after the United States. Viet Nam is also China's largest trading partner in ASEAN and its eighth largest in the world. It is China's fifth largest export market and ninth largest import market.
According to the Ministry of Industry and Trade, Viet Nam–China trade turnover reached $106.7 billion last year, up 13.5 per cent compared to 2017. Viet Nam exported goods worth $41.26 billion, up 16.56 per cent, while imports reached $65.43 billion, up 11.68 per cent.
Executive Director of Vietnam National Garment and Textile Group (Vinatex) Cao Huu Hieu said one of the bright points contributing to the growth of Viet Nam's textile and garment industry was businesses' efforts to boost exports to the Chinese market.
Hieu said Viet Nam's garment and textile export turnover to the Chinese market increased by 24 per cent from $3.2 billion in 2017 to $4.1 billion in 2018. Yarn was the product most exported to China, making up 48 per cent of all textiles.
However, Hieu said many Vietnamese enterprises, including textile firms, face difficulties when attempting to export goods to China.
"The production scale of Vietnamese enterprises is relatively small, leading to a limitation on competitiveness of export goods," Hieu said. "In addition, some enterprises have not actively explored consumption habits, market information or quality standards and quarantine testing in China."
Le Hoang Oanh, head of the Ministry of Industry and Trade's Department of Asian-African Markets, said the two countries' border infrastructure had failed to meet the rapidly growing demand of bilateral commodity exchange.
China is the main export market for Viet Nam's agricultural and aquatic products.
However, "agricultural and aquatic products, which are allowed to be exported to China, are not yet abundant," Oanh said. "The progress of negotiation to open the market for new products of Viet Nam is still slow."
Oanh added that businesses needed to organise the production of agricultural and aquatic products on an industrial scale with uniform quality to ensure compliance with quality standards required to sell goods in China.
"To promote the export of goods to the Chinese market, Vietnamese enterprises need to identify China as a key market and should not assume that it is easy market," she said. "Businesses need to understand market demand in China to determine key products and key market areas."
Mekong Delta needs to develop logistics to cut export costs: conference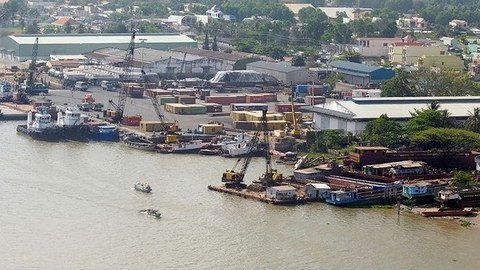 Developing logistics is an urgent requirement to develop the Cuu Long (Mekong) Delta's economy, a conference on improving its agriculture and aquaculture value chains heard in Can Tho City on Tuesday. — Photo dauthau.vn

Developing logistics is an urgent requirement to develop the Cuu Long (Mekong) Delta's economy, a conference on improving its agriculture and aquaculture value chains heard in Can Tho City on Tuesday.
Nguyen Minh Toai, director of the city's Department of Industry and Trade, told the conference that the delta, as a paddy and aquaculture hub of the country, accounted for 40 per cent of the country's agriculture.
Over 50 per cent of the rice supply and 90 per cent of exports are from there as are 65 per cent and 70 per cent of the aquaculture and fruit production, he said.
The demand for transporting these products, some 17-18 million tonnes of them a year, is huge.
But 70 per cent of it is transported to ports in places like HCM City and Ba Ria-Vung Tau for export, increasing costs by 10-40 per cent, the conference heard.
There is thus enormous potential to develop logistic centres in the area and attract investors to the sector, experts said.
Toai said: "Developing logistics in Can Tho is an urgent requirement to develop the regional economy."
Ho Thi Thu Hoa, head of the Viet Nam Logistics Research and Development Institute, said Can Tho City and provinces in the delta should make strong efforts to develop the logistics sector.
A national plan for logistics development by 2015 included two logistic centres in the region but they remain on paper, she said.
No logistics, higher costs
Companies blamed the logistic inadequacy in the region for pushing up costs.
Chu Van An, permanent deputy general director of Minh Phu Seafood Corporation, said every year his company exports 7,000 containers of shrimp worth US$850 million.
It takes 30 hours to reach HCM City by river and so his company uses road transport for it, he said.
"It costs VND11 million ($520) to transport a container from Ca Mau to HCM City and VND7 million ($300) from Hau Giang to HCM City. For 7,000 containers a year, we have to pay VND60 billion."
If the infrastructure sector is developed, companies can directly export from the delta and cut 30-40 per cent of their costs and become more competitive, he said.
Le Duy Hiep, chairman of the Viet Nam Logistics Business Association, told the conference that the delta is the country's agricultural export hub but logistics cost them 20-25 per cent compared to 10-15 per cent in neighbouring countries.
But he warned that setting up a logistics system in the region would be highly challenging.
CPTPP to help Vietnam exports grow 10% amid global uncertainties: Brokerage
Amid unfavorable global economic conditions, Vietnam's exports are expected to keep growing 5 – 10% thanks to the enforcement of the Comprehensive and Progressive Trans – Pacific Partnership (CPTPP), according to Bao Viet Securities Company (BVSC).
BVSC's latest report suggested Vietnam will face headwinds in exporting as global growth is slowing down, dragged down by China. Electronics and mobile phones also run into difficulties with a global saturation, with the growth in the first quarter of 2019 being only 7%, relatively lower than the previous two years at 20% and 40%, respectively.
Nevertheless, other free trade agreements (FTAs) and the US-China trade tension will continue buttressing export of processed industrial products, including textiles, footwear, wood, suitcases, and bags, among others. Besides, Vietnam will benefit from the US-China trade war as the US may restructure their import of goods to Vietnam, stated BVSC.
Preliminary statistics of the General Department of Vietnam Customs revealed that the country turned to have a trade deficit of US$746 million in the first half of April.
As of April 15, the country's export turnover reached US$68.55 billion, up 5.7% year-on-year, while imports hit US$64.53 billion, up 4.5% year-on-year. The sharp increase in imports resulted in a US$750 million trade deficit in the first 15 days of April. As such, Vietnam has posted a trade surplus of over US$600 million so far this year.
The trade deficit in automobile and machinery, spare parts and electronic components increased strongly. However, Vietnam's trade balance has fluctuated between reporting periods. While the first 15 days of January saw a trade deficit of almost US$1 billion, toward the end of January, trade surplus hit US$800 million. Therefore, preliminary statistics for the first half of April might not reflect April's trend, BVSC continued.
The FDI sector reported exports worth US$47.69 billion as of April 15, up 3.6% year-on-year or 69.6% of total Vietnam's exports, while imports reached US$39.2 billion, up 6.3% year-on-year or 57.7% of the totals.
Vietnam, US firms look to tap aviation opportunities
Vietnam's Category 1 ranking in aviation safety issued by the US Department of Transportation's Federal Aviation Administration (FAA), and a bunch of aviation trade deals signed during US President Donald Trump's visit to Hanoi late in February, opened more opportunities for companies from the two nations to work together in the field.
US Deputy Consulate General Timothy Liston made that statement in a seminar on pushing cooperation in airport infrastructure development in Vietnam, held by the US Consulate General in HCMC last week, Tuoi Tre newspaper reported.

US Deputy Consulate General Timothy Liston speaks at the workshop in HCMC on April 18. Photo: BizLIVE
The event gathered more than 80 representatives from both countries' public and private sectors who were seeking opportunities and potential fields as both nations prepare to launch direct air service.
At the event, representatives of both nations in aviation management, transport safety and trade shared experience to boost bilateral ties in the field, set the course of the collaboration in developing key infrastructure of Vietnamese airports, and discussed Vietnam's airport development plans.
The US-Vietnam aviation industry group consists of 26 companies, 6 agencies, and 2 US business associations. In the event, the group's representatives exchanged opinions and discussed ways to boost public-private cooperation in Vietnam, modernize and improve the aviation infrastructure and prepare for the opening of direct air flights linking two countries.
According to Liston, all private members of the group cover resources, professional knowledge in aviation development such as airport building and airplane manufacture, maintenance, air traffic control, safety, services, and technical support. Meanwhile, the US state agencies groups are in charge of providing technical and financial support in master planning and conduct pilot projects.
Thailand's CP Foods expands investment in Vietnam with eyes on CPTPP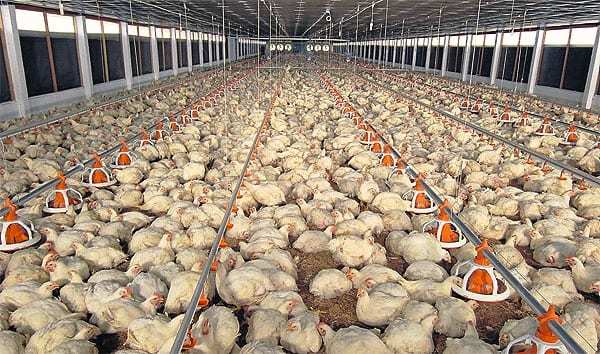 With eyes on Vietnam's access to a 11-nation trade bloc under the Comprehensive and Progressive Trans – Pacific Partnership (CPTPP), Thailand's Charoen Pokphan Foods (CP Foods) is boosting investment in the country to drive poultry exports, Nikkei Asian Review reported.
CP Foods, a subsidiary of Charoen Pokphand Group, Thailand's biggest conglomerate, will invest more than US$200 million to create an export hub for its poultry and pork business.
The project represents a significant inflow into Vietnam, equal to more than 25% of a total of US$780 million invested by Thai companies in the neighboring country between 2015 and 2017, according to data from the Association of Southeast Asian Nations.
Following the move, the Thai company is hoping to take advantage of the free trade agreement which came into effect at the end of last year, which offers Vietnam advantageous trading terms with such countries as Japan and Australia, as well as Mexico and Canada. Thailand has yet to join the CPTPP.
Vietnam in November 2018 became the seventh country to ratify the CPTPP, with economists expecting the agreement to boost Vietnamese exports by 4% and would have been much faster if the US had not pulled out of the agreement in January 2017.
CP Foods is expected to use Vietnam as a hub for the export of chickens and shrimp. The company claims to be a "kitchen of the world," with units in 17 countries, including in its domestic market.
CP's investment is the latest example of Thai companies expanding into neighboring countries with growth potential, a trend which has nurtured a range of industries in the Mekong region.
Montri Suwanposri, CEO of CP Vietnam, a unit of CP Foods, was quoted as saying the company had so far invested a total of US$1 billion in Vietnam after the entry into the country in 1993. CP Foods will expand its Vietnam operations, which account for 15% of the company's total sales, by making an additional investment in meat-processing plants.
The completed chicken factory will have processing capacity of 1 million chickens per week. Total chicken production from CP Foods' Vietnam operations is still below its Thai unit, but the company plans to enhance capacity in the future.
CP Foods aims to start exporting meat, as well as shrimp and fish, from its Vietnam hub, with almost all of its processed meat set to head to Japan, the Middle East, the European Union and other countries.
CP Foods aims to use Vietnam as a hub to export, to enjoy free trade agreements, tax privileges and export quota, said an analyst at Bualuang Securities, a leading securities company in Thailand.
CP Vietnam CEO Montri said Vietnam had an advantage over Thailand in terms of exports.
Vietnam's strength also lies in its lower labor costs. A Vietnamese manufacturing worker makes US$227 a month on average, much lower than Thailand's US$413 and China's US$493, according to data from the Japan External Trade Organization.
CP Foods is also planning to boost shrimp exports with the backing of the Vietnamese government.
​The company is considering increasing its shrimp farming capacity in the country to 50 billion units a year from the current 12 billion. To that end, the company will increase its annual production capacity of shrimp feed from 300,000 tons to 500,000 tons in 2019, said an executive in charge of fishery products at CP Vietnam.
In the fiscal year to December 2018, CP Foods saw its sales in Vietnam jump 26% on the year to 81.7 billion baht (US$2.56 billion), in stark contrast to those in Thailand, which remained flat.
Viettel enjoys fastest subscriber growth period in Q1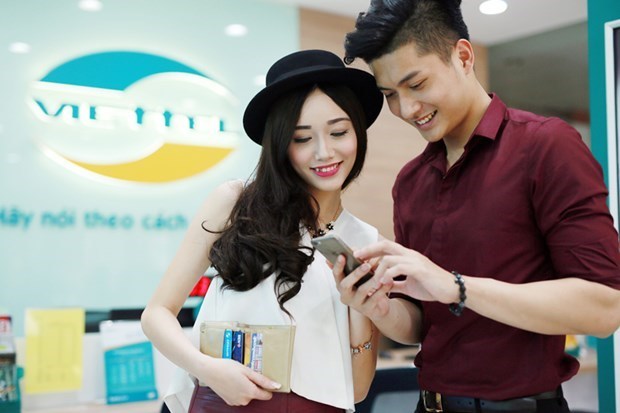 The Viettel Military Industry and Telecoms Group attracted an additional 1 million 4G subscribers in the first quarter of 2019, marking the fastest growth of the firm so far.
According to statistics released by the Ministry of Information and Communications in late 2018, Viettel has nearly 17 million 4G subscribers, 1.3 times higher than the combined number of the other mobile telecommunications service suppliers in Vietnam.
The booming of 4G services and the rising data consuming trend have helped Viettel earn 54.4 trillion VND (2.33 billion USD) in the first three months of this year, with consolidated profit of 10.1 trillion VND (434.3 million USD).
Viettel plans to continue improving the quality of its 4G service in the second quarter by raising the number of base stations to 50,000, while striving to raise connection speed by 1.5 times.
Viettel will also pilot 5G services in Hanoi from May.
Vinamilk's organic products introduced in Singapore
Organic products of the Vietnam Dairy Products JSC (Vinamilk) are being displayed at the Superfood Asia 2019 that is underway in Singapore from April 24-26.
Willy Sim, Director of Willy Co., Ltd that delivers Vinamilk's dairy products in Singapore, said Vinamilk's products are favoured in the island city-state.
The company imports about 5-6 tonnes of Vinamilk's products of different kinds to serve the Singaporean market, he said.
In his opening remarks, Chua Wee Phong, Chairman of Sphere Exhibits which organises the event, said the exhibition aims to connect brand names of healthy food products which are the favour of consumers, especially young people.
The exhibition is expected to attract about 8,000 visitors from 46 countries and territories in the world.
HCM City's orchid industry has uptapped potential
The orchid industry in HCM City has great development potential, according to the HCM City Department of Agriculture and Rural Development.
The department on Wednesday held a seminar on the development direction of orchid cultivation in HCM City.
Nguyễn Văn Đức Tiến, deputy director of the city's Agricultural Consultancy and Support Centre (HCACS), said the export value of the country's orchid industry was over US$4 million every year, with Japan and the US the primary clients.
Though Việt Nam is the sixth largest exporter of orchids worldwide, the industry's value accounts for a small proportion compared to the Netherlands and Thailand.
Meanwhile, the import value of orchids to Việt Nam has increased yearly, from $5.5 million in 2014 to $12.9 million in 2018.
Thailand is Việt Nam's largest orchid supplier.
The seminar was among several activities held to promote the first HCM City Orchid Festival, which will be held in District 1's Tao Đàn Park between April 27 and May 1.
Đồng Nai seeks funds to build roads to Long Thành airport
A rendering of the proposed Long Thành International Airport in the southern province of Đồng Nai. — Photo courtesy of Airports Corporation of Việt Nam
The southern province of Đồng Nai has asked the central Government to allocate more than VNĐ400 billion (US$17.23 million) to build two roads that would connect the province's National Road No. 51 up to Long Thành International Airport, which is expected to start construction next year.
Speaking at a meeting held on Tuesday (April 23) with the National Assembly's Economics Committee, Trần Văn Vĩnh, vice chairman of Đồng Nai Province People's Committee, said it was urgent to build the roads to provide access to the airport.
Bomb and mine clearance, which will cost VNĐ165 billion, also needs to be completed on land that will be handed over to investors in the airport project, he said.
More than 20 households will have to live in temporary quarters and then relocate to a resettlement area.
Đồng Nai is accelerating construction progress of two resettlement areas, Lộc An-Bình Sơn (nearly 300ha) and Bình Sơn III (81ha), which are expected to begin construction in September.
The province has approved a project of more than VNĐ300 billion for vocational training, job creation and resettlement for affected households in the province.
Deputy Minister of Transport Lê Đình Thọ said Đồng Nai Province had conducted the ground clearance work in a transparent manner. The construction of the connecting roads to the airport should be done first, he said.
In May, the Ministry of Transport will issue the final feasibility report for Long Thành airport, which will include information about traffic systems around the airport, according to Thọ.
The Long Thành airport will have a transport system linking to HCM City and other regions.
Vũ Hồng Thanh, chairman of the National Assembly's Economics Committee, said that Đồng Nai Province should pay attention to the employment, housing and education needs of workers.
As Long Thành airport has great significance to the country's development, the province should work closely with the central agencies to accelerate progress, he added.
The NA's Economics Committee also asked the province to look for other capital resources to avoid relying solely on the State budget.
According to the provincial People's Committee, Đồng Nai collected nearly VNĐ12 trillion worth of revenue in the first quarter of the year, up 16 per cent year-on-year. The province attracted foreign direct investment worth $500 million, up nearly 27 per cent compared to the same period last year.
Once fully operational, the Long Thành airport will reduce the load on neighbouring Tân Sơn Nhất International Airport in HCM City.
It will be able to handle 100 million passengers and five million tonnes of freight each year.
Covering a total area of more than 5,580 hectares, the airport will be located in six communes in Long Thành District in Đồng Nai Province. The airport's total investment is VNĐ336.63 trillion, with construction divided into three phases.
Measures outlined for stable development of realty market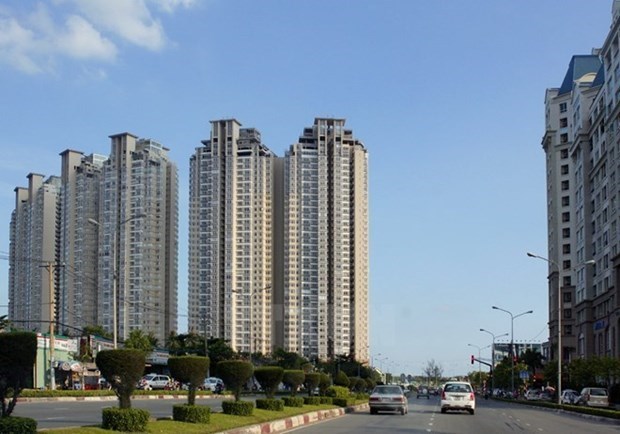 PM Nguyen Xuan Phuc has recently issued Directive No.11/CT-TTg to promoting stable and transparent development of the property market.
Prime Minister Nguyen Xuan Phuc has recently issued Directive No.11/CT-TTg on several solutions to promoting stable and transparent development of the property market.
Although the real estate market has recovered and got momentum since 2014, largely contributing to the country's socio-economic development and stabilising the macro-economy, the sector still sees various potential risks, including oversupply in high-end segment, shortage of affordable houses, high prices of properties, and incomplete and unreliable database about the market.
In that context, PM Phuc ordered the Ministry of Construction to complete the draft revised laws on amendments and supplements to the laws on construction, housing and property business, add housing support policy for public servants, and revise construction standards for apartments, condotels, resort villas and officetels.
The Ministry of Construction was urged to join hands with competent ministries, sectors and localities to enhance inspections and ask real estate developers to build comprehensive technical and social infrastructure, fire-fighting and prevention systems before handing over houses and apartments to customers. They should work together to keep close watch on developments of the property market to have timely measures in response to market fluctuations.
Meanwhile, the Ministry of Natural Resources and Environment was requested to give instructions to organisations and individuals on land use rights of new forms of property like condotels, resort villas, and officetels. Besides, it should enhance inspections of land lease, ranting of land use rights, and land use at industrial complexes, urban development projects and resort tourism sites, among others.
The Ministry of Finance should work with relevant ministries and sectors to study rational financial institutions like housing savings fund, property investment fund and real estate trust fund to mobilise resources for the real estate market, the Directive said.
As for the State Bank of Vietnam, it is responsible for operating flexible monetary policies, controlling credit scale in line with macro-economic development, and tightening loans for the real estate sector. The bank must encourage credit institutions to allocate capital for social housing projects and low-cost commercial housing projects.
The People's Committees of centrally-run provinces and cities must supervise market developments, and map out measures to stabilise the market and prevent any possible property bubble. While reviewing planning for urban areas and industrial parks, they should give priority to ensuring sufficient land areas for social housing projects.
Particularly, social houses, accommodations for workers, and functional areas for healthcare, education, culture and sports must be included in planning for new urban areas, industrial parks and education establishments.
Detailed inspections must be carried out for projects already receiving approval for investment planning. Investment certificates will be revoked for delayed projects in accordance with current regulations. Meanwhile, relevant authorities should work to remove bottlenecks for social housing projects and mid-end housing segment.
Vietnam, China boost trade, economic cooperation
A garment factory in Vietnam
Vietnam and China have seen positive developments in trade and economic relations over the past time.
Besides increasing bilateral trade, Vietnam has continuously been an attractive investment destination for Chinese businesses.
Le Hoang Oanh, Director of the Asia and Africa Markets Department under the Ministry of Industry and Trade, described Vietnam and China as dynamic economies.
The two countries have been able to maintain rapid economic growth in recent years, she said.
Along with the building of bilateral comprehensive strategic cooperative partnership, the regular exchange of visits between Vietnamese and Chinese leaders have created an environment for sound and stable political cooperation, thus laying an important foundation for the bilateral trade development.
Since 2004, China has been the biggest trade partner of Vietnam with two-way trade growing vigorously.
China is now the second largest export market of Vietnam in the world, after the US, while Vietnam is the biggest trade partner of China in ASEAN.
According to the Ministry of Industry and Trade, two-way trade reached 106.7 billion USD in 2018, a year-on-year rise of 13.5 percent.
Vietnam exported 41.26 billion USD worth of goods, up 16.56 percent.
China mainly imports farm produce and seafood from Vietnam.
To boost exports to China, Vietnamese businesses should take China as a key market and carefully study the market demand, Oanh suggested.
Domestic enterprises should also create key aquatic and agricultural products ensuring the market's requirements on quality, testing, quarantine, trace of the goods, packaging and labelling, she added.
The small-scale unofficial export by a number of enterprises is causing difficulties to the management of the quality of exports, thus negatively affecting the sustainable export to China, the official said, advising that in order to boost export to China, Vietnamese firms should not take China as an easy market.
Work starts on Korea-Tra Vinh wind farm project
A ceremony was held in the Mekong Delta province of Tra Vinh on April 24 to launch the construction of the Korea-Tra Vinh wind power plant, a joint project of Tra Vinh Wind Power Co., Ltd No. 1 (TWPC) and its partners from the Republic of Korea (RoK).
According to Choi Hyeong Suk, General Director of the TWPC said that the wind farm covers about 1,200 hectares of water surface and land. It has 12 turbines with a capacity of 48 MW, producing 180kW of electricity per hour in the first phase.
The project, with total investment of over 2.4 trillion VND (about 120 million USD), has Climate Investor One and Samtan company from the RoK as key investors. It is scheduled to complete in September 2020.
Along with 12 wind turbine foundations, the project includes an operation management ward, administrative ward, multi-functional buildings, and transformer stations.
Addressing the event, Tran Anh Dung, Vice Chairman of the People's Committee of Tra Vinh said that the wind farm is expected to create a clean energy source and make important contributions to the local socio-economic development.
He pledged that Tra Vinh will give optimal conditions for the investors to implement the project.
Nguyen Quynh Thien, deputy head of the Tra Vinh Economic Zone Management Board, said that so far, Tra Vinh has granted investment licences to Duyen Hai, Hiep Thanh and Korea-Tra Vinh wind power projects.-
Workshop seeks ways to boost exports to RoK
A workshop was held in Hanoi on April 24 to seek ways to bolster exports by Vietnamese businesses to the Republic of Korea (RoK).

It was organised by the Vietnam Chamber of Commerce and Industry (VCCI), with the participation of about 80 domestic firms in numerous sectors.
At the event, VCCI Vice Chairman Hoang Quang Phong said the governments and businesses of Vietnam and the RoK highly value potential and consumption in both nations.
He stressed that Vietnamese firms expect to expand export markets in the coming time as they boast strength in various items such as garment-textile, aquatic products, footwear, and vegetable and fruits, among others.
In addition, Vietnam and the RoK share many similarities and mutual understanding of culture, habit and conduct, which serve as a favourable condition to foster bilateral trade. Along with boosting exports to the RoK, Vietnamese firms wish to lure more investment from the Northeast Asian country, Phong added.
Kim Sung-hee, customs expert from the Korean Trade and Investment Promotion Agency, said that market expansion and application of preferential treatment for Vietnam's exports will offer chances for Vietnamese business to broaden their presence in the RoK market.
Some advantages to facilitate export-import and trade include the RoK's decline in import tariffs and removal of taxes, she noted.
In return, Vietnamese businesses should enquire about regulations and taste of Korean consumers to avoid violations in legal issues and food safety standards.
They are advised to study tariffs and roadmap of tax reduction for their products, along with requirements of labelling and packaging to meet demands of RoK consumers.
To date, the RoK is the leading foreign investor of Vietnam, with a total registered capital of more than 62 billion USD, as well as the second largest trade partner as two-way trade hit 65.7 billion USD in 2018.
Vietnam currently imports industrial machines, production lines, engines and materials from the RoK.
Programme bolsters industrial development in rural areas
The national industry encouragement programme from 2014 to 2018 has contributed largely to industrial development in rural areas, thus promoting the economic structure shifting towards industrialisation, modernisation, and new-style rural area building, said Minister of Industry and Trade Tran Tuan Anh.
At a conference held in Hanoi on April 24 by the Party Central Committee's Economic Commission, the Ministry of Industry and Trade and the Hanoi city People's Committee, Minister Anh said various technology transfer projects and vocational training courses were held under the programme.
Giving more details about the programme, Director of the ministry's Agency for Regional Industry and Trade Ngo Quang Trung highlighted that the programme splashed out more than 1.18 trillion VND (50.67 million USD) to support industrial development in five years.
The programme organised vocational training and skill improvement courses for 18,000 rural labourers, helping them secure stable jobs. It also helped 630 industrial establishments in rural areas apply advanced technologies into production to improve product quality.
Besides, 15 regional exhibitions on outstanding rural industrial goods were organised, honouring regional and national products that pose huge potential for market development.
Chairman of the Vietnam Association of Crafts Villages Luu Duy Dan suggested that in the time ahead, the programme should channel more focus on supporting large-scale production and value chain development. Besides, rural industrial production shops need assistance to expand business and improve competitive edge.
Entering global distribution networks good for VN businesses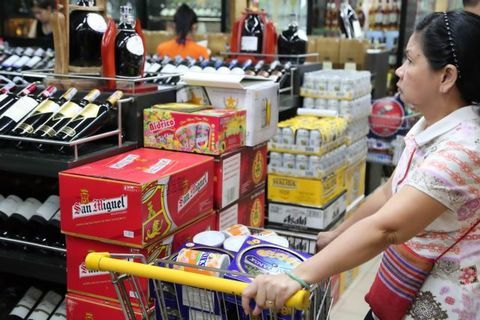 An AEON supermarket in Viet Nam. A conference was held yesterday (April 23) to help Vietnamese businesses become suppliers and a part of the Japanese retailer's global supply chain.
Entering global distribution networks is something Vietnamese businesses should strive for to take advantage of their highly competitive products, experts told a conference held on April 23 to discuss how they can be a part of AEON Group's supply chain.
The conference was held by the Japanese company and the Ministry of Industry and Trade's Department of European – American Markets and attended by around 150 businesses that do or aim to do business with AEON.
Yuichiro Shiotani, general director of AEON Topvalu Viet Nam, said while Viet Nam's exports to Japan are growing, 70 per cent of them are made by foreign-invested businesses.
He hoped to help more Vietnamese businesses become AEON's suppliers in Viet Nam and export to Japan.
He invited Vietnamese companies to do business with AEON, pointing out that Japan has high import needs and any item that appears on AEON's shelves in Japan would be considered highly competitive in the global market.
It imported 1,000 tonnes of high-quality basa fish last year from a Vietnamese supplier whose exports greatly increased after making new investments to comply with AEON's quality standards, he said.
The company is interested in importing more foodstuff, textile and garment and healthcare and household goods.
Nguyen Thao Hien, deputy head of the department, said: "Vietnamese goods do have a competitive edge in the global market, but they face difficulties with branding and consistency in quality."
There should be enough domestic businesses that can consistently supply goods to global distribution systems, she said.
The ministry aims to help businesses become a part of global distribution systems by improving their competitiveness and product quality and working with banks to improve their finance.
Companies also need to carefully research the quality standards that their foreign markets and distributors require, she added.
Ngo Viet Trung of Phu Bao Company, one of AEON Group's suppliers, said companies need to be willing to replace their existing production equipment and have tighter management at all stages of production, seek out customer feedback and be socially responsible in order to supply to AEON.
Successfully becoming AEON's in Japan is a great recognition of brand and quality and would help businesses enter global distribution networks, he said.
AEON Group and the ministry signed a memorandum of understanding last year to support Vietnamese businesses.
By 2020 Viet Nam aims to export US$500 million worth of goods through the company, and $1 billion by 2025.
Digital economy study begins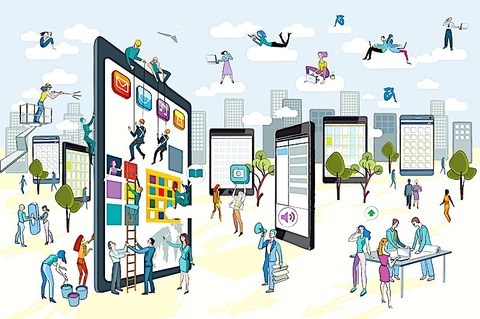 The Vietnam E-commerce Association (VECOM) and Nielsen Vietnam are partnering to carry out the countrys first-ever digital economy measurement.
It will be the first holistic assessment of the digital economys size and potential to get better visibility of the components of the digital economy, including infrastructure, e-business, e-commerce and e-ads.
It will also provide insights into e-consumer confidence index, online purchase behaviours and attitudes, e-business equity ranking, and the logistics and cashless payments landscapes.
All this information would be of value not only to e-businesses but also to government agencies, companies, investors, and the public, Nguyen Ngoc Dung, deputy president of VECOM, said.
Maritime Commercial Joint Stock Bank to list shares on HoSE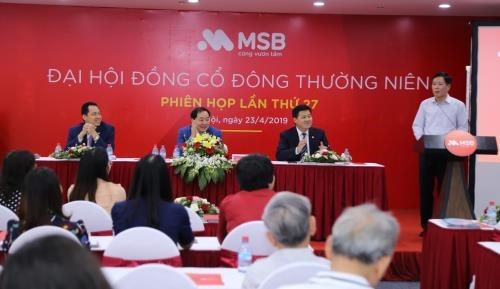 At the meeting

The Vietnam Maritime Commercial Joint Stock Bank (MSB) is planning to list its shares on the Ho Chi Minh Stock Exchange (HoSE) in the third quarter of 2019.
The plan was unveiled at the bank's annual general meeting of shareholders in Hanoi on April 23.
MSB General Director Huynh Buu Quang said the bank's board of directors has been preparing all necessary procedures for the initial public offering (IPO) and the listing of shares.
Quang said the IPO will help the bank increase its capital, especially cash, and get more business opportunities.
The IPO is expected to increase the bank's capitalization value to 1.1 billion USD after reselling all treasury stocks to selected investors, he added.
In 2019, the MSB plans to raise its chartered capital by 1 trillion VND (42.9 million USD) to 12.75 trillion VND (over 547.3 million USD) by issuing 100 million shares or maximum 8.5 percent of its current charter capital for domestic investors.
At the meeting, the shareholders also approved the bank's financial targets. The MSB is set to increase its total assets by 11 percent to 153 trillion VND (6.56 billion USD). The bank's pre-tax profits are expected to hit 1.86 trillion VND (79.8 million USD), up 77 percent.
By the end of 2018, the MSB's total assets reached nearly 138 trillion VND (5.92 billion USD), an increase of 23 percent compared to the end of 2017. Last year, its pre-tax profits stood at over 1.05 trillion VND (45 million USD), up 6.4 times as compared to 2017.
Besides business activities, 2018 was also a key year for the MSB in implementing risk management in line with strict standards of Basel 2. The bank has successfully piloted regulations of the State Bank of Vietnam on calculating capital safety ratio.
The settle of debt also brought in positive results. The bad debt rate has been always well controlled, standing at 2.21 percent, much lower than the regulated maximum level of 3 percent.
Vietnam IT industry is more than just outsourcing
Vietnam is known as an outsourcing software destination but local IT businesses are expanding into other technology such as AI and fintech.
The country for years as a selected by multinational companies such as Intel, IBM, Samsung Display, Nokia and Microsoft for their software projects. Last year, the country exported $3.5 billion worth of software, up 11.6 percent from 2017, according to the Ministry of Information and Communications.
But a recent report by HCMC-based IT recruiting firm TopDev showed that local companies are branching out to different areas also.
Artificial Intelligence (AI) is one of them. Technology giant FPT, telecommunications giant Viettel and online gaming giant VNG in recent years have been developing and coming up with solutions to apply AI in real life.
Conglomerate Vingroup has also announced it would establish an AI research institute as part of its technology arm VinTech.
Big demand has resulted in a higher pay check for AI engineers in the country, TopDev says.
Its data shows that an AI engineer or machine learning engineer could earn up to $1,678 a month, 21 percent higher than the average salary for an experienced IT developer of $1,318.
Fintech is another area believed to have big potentials in Vietnam, as the development of mobile payment services could increase the number of cashless payments in the country.
Since last October, ride-hailing app Grab has partnering with e-payment Moca to allow users to pay electronically for their rides. Another mobile payment service, Momo, said has reached 10 million users in Vietnam last year.
There are at least 64 companies providing fintech services in the country, but this figure is still lower than 490 in Singapore, 262 in Indonesia and 196 in Malaysia, TopDev said, adding that this means there are still opportunities in this area for large companies and future startups in Vietnam.
The Vietnam fintech market reached $4.4 billion in 2017 and is estimated to grow to $7.8 billion by next year, according to consulting firm Solidiance.
The report added that other IT areas that Vietnamese businesses are expanding into are blockchain, Software as a Service (SAAS) and e-commerce.
IT is a growing industry in the country which is promoting the development of Industry 4.0. A report by recruitment firm ManpowerGroup Vietnam released in January said that IT will be the industry with the highest recruitment demand this year with 14 percent increase compared to last year.
Binh Dinh approves new coastal project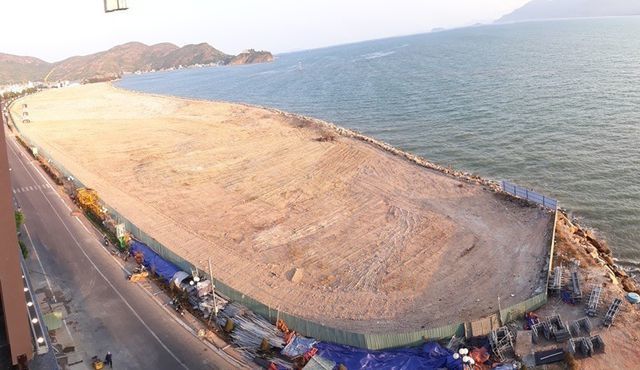 Binh Dinh Province authorities have approved a new project for an entertainment and tourism site after the previous investor abandoned the old project.
The project which covers 6.8 hectares would be divided into two main areas. 4.2 hectares for a park and parking lot while the remaining area will be used for hotels, shopping areas and the beach. The
constructions in the first area will have a height limitation of one floor so that the view from the sea to Quy Nhon Port will not be blocked. The height limitation in the remaining area is 40 floors.
In 2013, Binh Dinh authorities agreed to let 12 hectares of the sea at Mui Tan to be filled up for a cable car project. However, after completing filling up a part of the sea, the investor abandoned the project and
the area with its views were blocked, upsetting local people.
Binh Dinh Chairman Ho Quoc Dung said in the past years, the authorities, local people and investors hadn't been able to find agreement on how to deal with the land.
"The investors wanted to build villas but it will affect the view and the landscape. Meanwhile, we are trying to relocate some households near the beach to somewhere else so we can't accept the proposal to
build villas," Dung said.
The authorities will dredge up some filled up parts to make the roads look better. Both the dredging and the embankment will be funded by the investors. It is estimated that the park and the embankment will
be completed by the end of 2019.
In the future, all residential houses will be moved out so there will be only hotels, parks, shopping centres, and docking areas.
"We have gathered public opinions and received strong support from the residents," Dung said.
Vietjet Air marks fifth anniversary of air service to China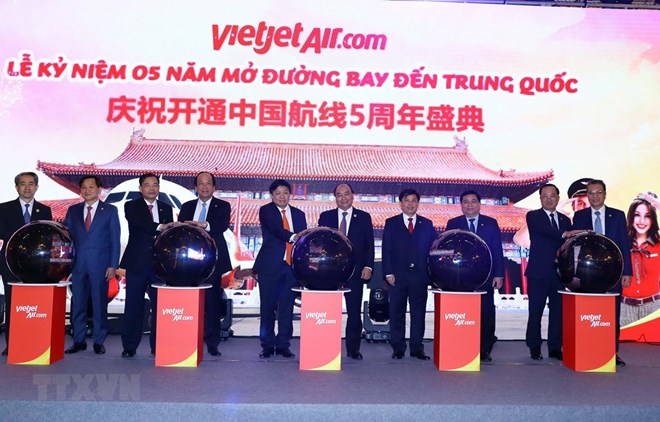 Prime Minister Nguyen Xuan Phuc and a high-ranking delegation of Vietnam attended a ceremony marking the fifth anniversary of the first flight of budget carrier Vietjet Air to China in Beijing, China on April 25
Prime Minister Nguyen Xuan Phuc and a high-ranking delegation of Vietnam attended a ceremony marking the fifth anniversary of the first flight of budget carrier Vietjet Air to China in Beijing, China on April 25.
Speaking at the event, Vice Chairman of Vietjet Air Nguyen Thanh Hung said that the airline launched its first service on the Vietnam-China air route in 2014, bringing passengers to Kunming airport in the south western province of Yunnan.
Since then, Vietjet Air has worked to expand its network to other cities of China such as Chengdu, Chongqing, Tianjin, Shanghai and Ha'erbin, and more.
Vietjet Air had transported five million passengers between Vietnam and China in more than 23,000 roundtrip flights, contributing to the bilateral trade and tourism development, he said.
Hung added that the airline operates over 400 flights per day, with 113 routes covering destinations across Vietnam and Asian destinations such as Thailand, Singapore, the Republic of Korea, Japan, Malaysia, Myanmar, and Cambodia. The carrier has to date carried approximately 20 million passengers in its international routes.
At the event, Minister of Transport Nguyen Van The said that Vietnam's aviation sector has recorded rapid and constant development over the time, including Vietjet Air, the first private carrier of Vietnam. After the launch of the Vietnam-China route, Vietjet Air's network has been expanded to 50 cities in China.
He voiced his hope that in the coming time, Vietjet Air will open flights to all 88 China's international airports, thereby bolstering cooperation, exchanges and trade towards the development of the bilateral friendship.
Vietjet Air is the first airline in Vietnam to operate as a new-age airline offering flexible, cost-saving ticket fares and diversified services to meet customers' demands.
It provides not only transport services but also uses the latest e-commerce technologies to offer various products and services for consumers.
Vietjet Air is a fully-fledged member of International Air Transport Association (IATA) with the IATA Operational Safety Audit (IOSA) certificate.