Is Minh Phu evading anti-dumping duties on shrimp from India?
Facing accusations of evading anti-dumping duties in the US, Minh Phu Seafood JSC officially stated that it has imported about 10 per cent of the group's raw materials from India, which is not enough to say that it is going around US tariffs.
Republican representative from Illinois, Darin LaHood sent a letter to the Customs and Border Protection (CBP) commissioner Kevin McAleenan requesting an investigation into allegations that Vietnam's Minh Phu Seafood is possibly evading anti-dumping duties on shrimp from India.
"An e-allegation was filed with the US CBP on May 12, 2019, under case reference No.e559A512201919. Based on the information contained in this case, I request that the CBP investigate whether a US importer and its related companies in Vietnam are evading anti-dumping duties on shrimp from India. The information also suggests that these companies may be in violation of the US Seafood Import Monitoring Program," Darin LaHood wrote in his letter.
"Data included in the case file indicates that shrimp producers in India also ramped up their exports of shrimp merchandise to Vietnam. Major increases of shrimp exports to Vietnam from India also began occurring immediately after the Vietnam shrimp anti-dumping order was revoked against Minh Phu Group in 2016. In conclusion, the information, data, and charts included in case No.e559A512201919 allege that Mseafood entered merchandise covered by the India shrimp anti-dumping duties through evasion," LaHood stressed.
Minh Phu has yet to receive any information or requests from the CBP or any US government agency regarding the allegation. Currently, the group still exports shrimps to the US as normal.
Regarding the import of Indian shrimp and export to the US, Minh Phu does not deny that it has imported a small portion of its shrimps from India to supplement processing materials and compensate for the shortage of raw shrimps in Vietnam.
The amount of shrimps imported from India only accounts for a relatively small proportion of 10 per cent.
With the expansion of domestic farming areas in Ca Mau, Kien Giang, Ninh Thuan, Vung Tau, and other provinces in the coming years, Minh Phu will reduce importing materials from abroad.
Minh Phu affirmed that LaHood's letter is simply a request based on the allegations from one side, there is no evidence and no decision or conclusion by any state agency on this issue.
As per the advice from Minh Phu's legal counsellor, after CBP receives requests, allegations from related parties or another state agency, in accordance with the Enforce and Protect Act of 2015, it will have 95 days to consider the information related to the allegations before initiating investigation.
Even if there is no official information from CBP, these allegations caused Minh Phu's stock to drop heavily, losing 20 per cent of its value over a single week, falling from VND43,000 ($1.9) to VND33,800 ($1.5) per share, which resulted in more than VND1.2 trillion ($52.17 million) of its market capitalisation "evaporating".
Int'l agricultural fertilisers and plant protection product expo opens in HCM City

A wide range of fertilisers, agricultural machinery, packaging equipment, pesticides and and other products are on display at the third international exhibition for the fertilizer and pesticide industry at an expo that opened in HCM City today.
AgroChemEx Viet Nam 2019 includes 50 local and international exhibitors, and is expected to attract about 2,000 visitors.
In addition to showcasing the latest products and services in the industry, the biennial event also features conferences on Viet Nam's plant protection markets, government regulations on the circulation of plant-protection products and other topics.
It also includes a B2B Matching Programme to help businesses seek new potential partners.
The exhibition is expected to be an ideal destination for enterprises to promote their brand images to a large number of domestic and international clients. It will create opportunities for business matching, information exchange, and business cooperation as well as technology transfer.
Organised by Minh Vi Exhibition and Advertisement Services Company (VEAS), and the China Crop Protection Industry Association (CCPIA) under the support of the Viet Nam Pesticide Association, the exhibition will run until June 12 at Equatorial Hotel in District 5.
According to the Ministry of Agriculture and Rural Development, Viet Nam has demand for over 10.3 million tonnes of fertilisers for agricultural production.
With local production not meeting demand, Viet Nam spends a large amount of money to import fertilisers and plant protection products each year, making it an attractive market for foreign companies.
In the first quarter, enterprises imported about 989,000 tonnes of fertiliser worth US$283 million.
Government bond futures contracts to be launched on July 4

Government bond futures contract, a new product in the derivatives market, will be traded on the Ha Noi Stock Exchange on July 4, the State Securities Commission (SSC) has said.
Preparations for the launch of five-year Government bond futures contract have been completed, SSC said.
Building a derivatives market aims to improve Viet Nam's ability to monitor and manage market risks.
According to the SSC, at the time of the launch of the derivative market in August 2017, the Ministry of Finance submitted a plan to Prime Minister Nguyen Xuan Phuc to launch both products, VN30-Index futures and five-year Government bond futures.
The VN30-Index futures were launched first, traded from August 10, 2017.
The five-year Government bonds were expected to be launched within two years.
Therefore, the legal framework and technological system for the trading Government bond futures contracts has been ready since the launch of the derivatives market.
The SSC has also disseminated information about the new securities product to investors so they are ready for the launch.
Saigon Water to sell 37 million shares to raise charter capital

Saigon Water Infrastructure Corporation (SII) has approved a plan to issue 37.42 million shares to existing shareholders to increase its charter capital.
The offering price is expected to be VND16,900 (US$0.73) per share, higher than the current market price that stood at VND15,000 on Friday. The shares are scheduled to be issued in 2019. SII is expected to collect more than VND632 billion (more than $27 million) from the issuance.
The rate of issuance will be 58 per cent, which means with every holding of 100 shares, an investor can buy 58 new shares.
After the issues, SII's charter capital is expected to increase from the current VND645 billion to more than VND1 trillion.
All proceeds from the offering will be used for merger and acquisition (M&A) activities. Specifically, SII will spend VND308.7 billion from the proceeds to buy 30.87 million shares in Cu Chi Water Supply and Sewerage JSC. It will also spend VND286.4 billion on interest payments for bank loans.
Quang Tri eyes $5 million mechanical engineering plant

The Quang Tri Province People's Committee has granted approval in principle for the province-based No 1 Trade Ltd Co to develop a mechanical engineering plant in the locality.
The plant, expected to cost more than VND115 billion (US$5 million), will span an area of nearly 37,000sq.m in Nam Dong Ha Industrial Zone, online newspaper baodautu.vn reported.
It is slated for completion by the end of this year, providing 7,000 tonnes of products annually.
The central province plans to carry out 30 large-scale projects with total investment of about VND100 trillion by year-end.
One of the largest projects is the My Thuy Port in Dong Nam Economic Zone (EZ) in Hai An Commune, costing over VND14 trillion. The 685ha port, invested in by My Thuy International Port Joint Venture Co, will be home to 10 wharves capable of receiving vessels up to 100,000 tonnes.
Chairman of the committee Nguyen Duc Chinh said this project is important for local development. The investor is co-ordinating with partners to arrange capital and complete all necessary investment procedures so as to kick-start the project in September this year.
Another major project is the Quang Tri 1 thermal power plant, invested by the Electricity Generating Authority of Thailand. Located in Dong Nam EZ, the project is expected to begin in June with total investment of over VND55 trillion. It is designed with a total capacity of 1,320MW with the first turbine scheduled to begin operation at the end of 2023.
Vietnam's watch market worth about 750 million USD per year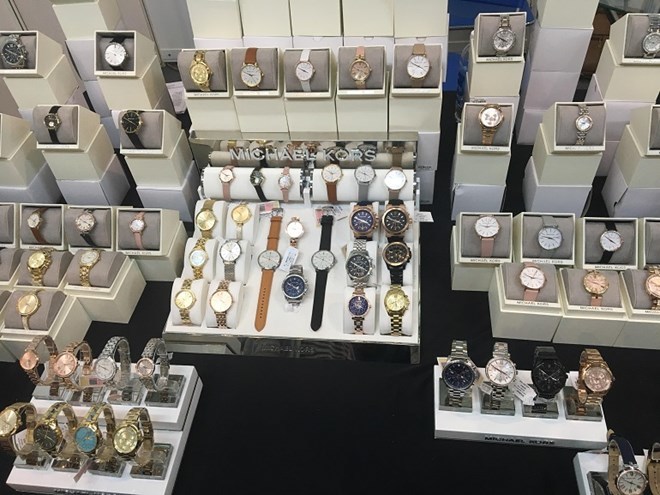 The watch market in Vietnam was worth about 750 million USD in 2018.
The organising board of the Vietnam international watch exhibition held in Ho Chi Minh City on June 7-9 said Vietnam is a potential market of watches.
More than 20 famous foreign watch brands have opened stores in the country.
The exhibition introduced to visitors wrist watches, wall clocks and table clocks at nearly 100 pavilions, including popular brands such as Seiko and Citizen (Japan), Wenger and Neos (Switzerland), Lotus man (France), Kerbholds (Germany), and Besdon, Eiky, Pasnew, Longbo and Tophill (China).
Who bought the shares of Sao Vang Rubber JSC?
Four investors, including three individuals and an organisation, spent about VND195.5 billion ($8.5 million) to buy 4.2 million shares of Sao Vang Rubber JSC (SRC), subsidiary of Vietnamese chemical group Vinachem.
The Ho Chi Minh City Stock Exchange (HSX) on June 4 announced the results of the auction Sao Vang Rubber JSC shares held by Vinachem on the same day.
15 per cent of SRC capital owned by Vinachem was offered at the starting price of VND46,452 ($2.02) per share, equivalent to the divestment value of about VND195.5 billion ($8.5 million).
As a result, four investors, including an organisation and three individuals bought 4.2 million SRC shares at the price equal to the starting price.
Notably, SRC's market price on June 4 was about VND25,000 ($1.09), but these four investors paid nearly twice this amount to get ther hands on Vinachem's interest.
Information about the identity of the four investors has yet to be published, but according to the announcement of the HSX, none of them is a foreign investor.
Just before the auction, an individual investor, Nguyen Hoang Cuong who had deposited VND19.6 billion ($852,200) to register to buy all SRC shares offered by Vinachem had unexpectedly withdrawn his bid. Cuong said that after a careful study of the documents, he found that SRC was not as attractive as he previously thought and did not match his investment objectives. After he withdrew his bid, his deposit was refunded, according to Enternews.
In addition, before the auction, at the 2019 annual general shareholders' meeting of SRC on April 27, a group of shareholders holding 19.02 per cent succeeded in securing two out of the five chairs on the Board of Directors (BOD) and one of the three chairs of the Supervisory Board (SB) at SRC.
In addition, the fact that the four investors all paid similar prices near the starting price, and bought up the entire volume registered to sell by Vinachem brings up the possibility that these four investors were working in tandem.
This group of shareholders is most likely related to Hung Thinh Phat Real Estate Investment Co., Ltd. (Hung Thinh Phat) and Hoanh Son Group JSC (Hoanh Son), which are implementing a high-end real estate project with SRC at 231 Nguyen Trai Street, Thanh Xuan district, Hanoi.
After selling 15 per cent, Vinachem reduces its ownership ratio in SRC from 51 to 36 per cent. According to the corporation's restructuring scheme, the rest will soon be divested as well.
This is a chance for investors to put their hands on a share in SRC.
SRC's potential is generally regarded positively because its core business is in the production of tires and tubes and it is a well-known national brand. Besides, the enterprise owns a large land fund, including a 6.2ha area in the centre of Hanoi.
In 2018, SRC achieved VND925 billion ($40.22 million) in revenue, VND12.2 billion ($530,500) in after tax profit.
Vocational schools and businesses tighten links to secure jobs for graduates
Vietnamese businesses are coordinating with schools to fulfill their human resources needs. This trend has been particularly helpful to the country's startup movement.
Vietnam now has nearly 2,000 vocational training schools, 44% of which are private institutions. To make vocational training less of a gamble for students, many vocational schools have formed alliances with businesses who will commit to hiring their students after graduation.
Dr. Vu Xuan Hung, Director of the Department of Formal Training of the Directorate for Vocational Education, said businesses should help schools design their training programs and provide internships for students before graduation.
"We did a survey which shows that many businesses hire final-year students on a probationary basis as a favor because of personal relationships rather than to meet the business's practical needs. This means ties between businesses and vocational schools are still more formal than functional," said Hung.
Duong Ngoc Hong, a teacher at Hanoi College for Electronics and Refrigeration, says that to survive and grow, vocational schools need to make student recruitment a priority, update their teaching facilities to meet the requirements of the 4th Industrial Revolution, and work closely with businesses to ensure employment for their graduates.

Hong said "Schools need to make full use of every relationship, especially with large companies like Samsung or Canon, to secure jobs for their graduates. With good relationships, as many as 80% of graduates can be provided a job immediately. In addition to studying at school, students should have an opportunity between semesters to gain real on-the-job experience. Schools should adapt their curriculums to prepare students to fulfill the actual current recruitment needs of businesses."
Nguyen Van Trung, Director of the Hoa Son Fine Arts Company, said "Schools and businesses should work closely with each other to identify how many workers the enterprises need and at what levels. When the schools understand businesses' demand, they can offer proper training and students will get employment after graduation. If the program is expanded into a chain, it will be good for both schools and businesses."
Nguyen Thanh Nhan, Deputy Director of the Hanoi Department of Labor, Invalids and Social Affairs, said "Hanoi has made students the focus of job generation, recruitment, and training efforts. Hundreds of thousands of USD invested in vocational schools since 2008 has increased the percentage of trained workers in Hanoi from 27.5% to 63%. The capital city has set a goal to train more than 200,000 workers by the end of this year".
Vietnam affinity for fashion drives strong Zara sales
Zara's revenues zoomed to VND 1.7 trillion ($73 million) last year, six times the 2016 figure, thanks to the Vietnamese fondness for fast fashion.
The Spanish company has only two stores in Vietnam – in Hanoi and Ho Chi Minh City – yet left local brands like Tam Son Fashion and Mai Son International Retail trailing far behind.
Its products have been distributed by Indonesia's Mitra Adiperkasa Group since it came to the country in 2016.
In 2017 Mitra Adiperkasa introduced three fashion brands, Massimo Dutti, Pull & Bear and Stradivarius, but Zara remains its main revenue earner, according to this firm's financial report.
Vietnam is Mitra Adiperkasa's second largest market after Indonesia. Its revenues in Vietnam in 2018 almost doubled the previous year's figure and four times higher than that in Thailand.

But despite the rapid increase in revenues, pre-tax profits of Zara Vietnam were a mere VND98 billion ($4.22 million), or 6 percent of revenues, since selling expenses are high.
Statistics Portal, a German market analysis firm, has forecast the compounded annual growth rate of the Vietnamese fashion industry in 2017-2022 will be 22.5 percent.
A survey by Nielsen last year found that clothes were Vietnamese consumers' third spending priority after food and saving. The survey also shows Vietnam ranks third globally in the number of people fond of branded goods after only China and India.
Banks rush to raise capital through bond issuance
Commercial banks have sought to raise capital via bond issuance as their tier one capital mobilization has run into difficulties.
Experts believe that the bond issuance of commercial banks is needed to add tier two capital for their medium and long-term credit.
The bond issuance of local banks enjoyed thriving developments during the first half of 2019.
In late May, the State Bank of Vietnam reportedly approved Vietinbank's plan to issue bonds in 2019 with a total value of VND10 trillion (US$430 million).
Elsewhere, HDBank raised VND4.4 trillion (US$189.2 million) from four issues of non-convertible and debentures. Up to 25 million two-year and three-year bonds were issued during the first and second phases in April, valued VND2.5 trillion (US$107.5 million) in total. The remaining bonds were then released during the third and fourth issuance.
TPBank has recently approved a plan to collect shareholders' opinion on raising US$200 million in tier two capital through the issuance of international bonds in 2019. These non-convertible bonds are expected to be listed on the Singaporean stock market.
Besides, the Board of Directors of joint stock commercial bank ACB rectified a scheme to conduct the initial issuance of 2,500 three-year bonds for 2019, with a total value of VND2.5 trillion (US$107.5 million).
Experts believe that the bond issuance of commercial banks is needed to add tier two capital for their medium and long-term credit.
According to the investment and financial education website investopedia.com, tier one capital is used to describe the capital adequacy of a bank and refers to core capital, including equity capital and disclosed reserves.
Tier two capital includes undisclosed funds that do not appear on a bank's financial statements, revaluation reserves, hybrid capital instruments, subordinated term debt - also known as junior debt securities - and general loan-loss, or uncollected reserves. Tier two capital is supplementary capital because it is seen less reliable than tier one capital.
Report highlights CNY depreciation as threat to VND
Sharp fluctuations in the global foreign exchange market stirred by Chinese yuan renminbi (CNY) depreciation could be a threat to the USD/VND exchange rate.
There is no high possibility for CNY depreciation, according to an insightful report recently released by economic expert Can Van Luc and his fellows from the Joint Stock Commercial Bank for Investment and Development of Vietnam (BIDV).
They explained that China has raised concerns about the withdrawal of capital like what happened in 2015 while the Asian giant wants to avoid criticism for money manipulation and an escalation of the ongoing US-China trade war. Moreover, China still embraces the process of yuan internationalization.
Other experts believe the trade war could result in considerable fluctuations in the global foreign exchange market. The USD is on an appreciation trend while the CNY and other regional currencies have been depreciating. This could hamper the USD/VND exchange rate.
Economic expert Bui Quang Tin said that over the medium and long term, the USD/VND exchange rate would rely on an array of macroeconomic indicators, such as GDP, the balance of payments, trade balance, and FDI inflows. He added that the central exchange rate of USD/VND is based on the consideration of eight foreign currencies, including the USD, EUR, JPY, CNY, and SGD.
The depreciation of CNY, which is frequently used in trade and investment transactions, would have a considerable impact on Vietnam's exchange rate policy. Indeed, the country's inflation rate has increased in the past time, partly caused by pressures from increasing exchange rates and interest rates as well as hikes in electricity prices, and healthcare and education costs.
CNY depreciation would naturally yield negative impacts on other foreign currencies, said Tin, adding that VND appreciation would create hindrances for the country's exports in the medium and long term. He noted that exporters must have close watch on the fluctuations of exchange rates and mitigate relevant risks by gaining derivatives.
The Government, ministries, financial institutions, and enterprises should be proactive in updating developments of the US-China trade war and subsequent fluctuations in the international financial and money market so that they could take swift and prompt actions if needed.
Garment-textile, fruit-vegetable exports surge
Vietnam's total garment-textile export turnover was estimated at 14.5 billion USD in the first five months of 2019, a year-on-year rise of 9.11 percent.
Apparel exports hit 11.2 billion USD, fabric 856 million USD, and yarn 1.6 billion USD, according to the Vietnam Textile & Apparel Association (VITAS).
Meanwhile, the industry imported 9.3 billion USD worth of materials and accessories, up 12 percent from the same period last year.
VITAS has set the industry's export turnover target this year at 40 billion USD, a 10.8 percent year-on-year increase from 2018.
In January-May, fruit and vegetable exports stood at 1.83 billion USD, a year-on-year increase of 10.3 percent.
China was the top fruit and vegetable export market, accounting for 74.26 percent of market share, followed by the US at 3.16 percent, the Republic of Korea with 3.03 percent and Japan's 2.53 percent.
The fruit and vegetable sector aims to gross nearly 4.2 billion USD in export turnover in 2019.
To realise this goal, the sector will expand fruit growing area to one million hectares and develop five main fruits in southern localities, namely dragon fruit, mango, durian, rambutan and longan, according to the Department of Crop Production under the Ministry of Agriculture and Rural Development.
The two industries have ample opportunities to expand their markets under the Comprehensive and Progressive Agreement for Trans-Pacific Partnership (CPTPP), which came into effect in January.
Vietnam ready to act as bridge to connect EAEU, ASEAN: official
Vietnam, as an active ASEAN member and the first nation to sign a free trade agreement with the Eurasian Economic Union (EAEU), is willing to work as a bridge to help the EAEU and Russia to expand trade and investment ties with the ASEAN, a Vietnamese trade official said.
Deputy Minister of Industry and Trade Hoang Quoc Vuong made the statement at the EAEU-ASEAN Business Dialogue which was held on June 8 as part of the Saint Petersburg International Economic Forum (SPIEF) running from June 6-8.
In his speech, Vuong briefed participants on the history and development of the Association of Southeast Asian Nations (ASEAN) Community, Vietnam's role in the bloc, and relations between Vietnam and the EAEU as well as between the ASEAN and EAEU.
He said the EAEU-Vietnam FTA has enabled Vietnam and the ASEAN nations to approach the EAEU market, which groups five countries with a combined GDP of 2.2 trillion USD.
Since the pact took effect in 2016, trade between Vietnam and the EAEU grew 103 percent to hit nearly 6.1 billion USD in 2018.
Sharing a traditional relationship, Vietnam and Russia have been trustworthy partners that have supported each other in boosting international economic integration and improving positions in multilateral and regional forums, Vuong said.
At the dialogue, delegates praised Vietnam's improved role and position in the region, particularly its pioneer role in strengthening relations between the ASEAN and EAEU. They hoped to learn from Vietnam's experience in the matter.
Discussions at the dialogue focused on advantages and opportunities of the EAEU in attracting investment from the ASEAN member nations, prospects and potential for cooperation between the two sides, as well as challenges facing their business and trade ties.
Vietnamese enterprises seeks export opportunities in China
Forty Vietnamese enterprises will join a business trip to explore export opportunities in the Chinese cities of Nanning and Kunming from June 10-13, the Trade Promotion Agency (Vietrade) under the Ministry of Industry and Trade has announced.
The firms include dairy producer Vinamilk, Ba Ria-Vung Tau Seafood Processing Import Export Co, Lien Viet Group, Tien Giang Food Co and Friesland Campina Vietnam.
The trip is part of the National Trade Promotion Programme in 2019 and will include representatives from trade promotion agencies of 11 localities in the north.
The upcoming trip aims to promote shipments of Vietnamese agricultural products, seafood, processed food as well as handicrafts and garments, Vietrade said, adding that it will help domestic firms advertise their trademarks in the cities.
During their stay in China, the delegation will participate in the Vietnam-China Business Forum, slated for Nanning in Guangxi province on June 10 and visit a farm produce trading centre a day later. They will also attend a trade fair and a large-scale investment conference in Kunming of Yunnan province on June 12.
In addition, they will visit the ASEAN Yunnan logistics centre, Asian trading centre and a market on fruit and consumer goods that will help them study the tastes of Chinese, Vietrade added.
Over the years, trade ties between Vietnam and the two Chinese provinces have helped bring Vietnamese goods closer to the lucrative Chinese market and brought Chinese products to ASEAN markets.
Currently, two-way trade between Vietnam's localities and Guangxi province accounts for more than one-fourth of the Vietnam-China trade value. In 2018, the trade topped more than 26.7 billion USD, up 8 percent year-on-year.
Last year, trade turnover between Vietnam and Yunnan province also saw a yearly rise of 13 percent to 4.15 billion USD and has room to grow, according to Vietrade.
Covered warrants expected to attract many investors
Covered warrants, which will be traded on the Ho Chi Minh Stock Exchange (HOSE) from this month, are expected to attract a large number of investors since they have lower investment costs and can be leveraged more than conventional financial products, heard a recent seminar in HCM City.
Covered warrants are similar to derivatives. Investors have the right to resell the warrants on the market or hold them until maturity date, and they are always associated with underlying stocks.
Speaking at the seminar on Covered Warrants – Anticipating New Opportunity, Nguyen Duc Thong, securities derivative transaction director at the SSI Securities Corporation, said covered warrants are a popular stock on many developed markets.
Markets that have developed covered warrants such as Taiwan, Thailand, Hong Kong, and the Republic of Korea and Vietnam's securities market have many similarities, including having high rate of individual investors, short-term trading accounting for a majority and large demand for using leverage.
Bringing such premium-structured products to Vietnam was a correct and necessary step, he said.
Covered warrants would help diversify asset classes and help hedge risks in the context of market volatility, he said.
To issue them, securities companies must meet certain financial norms and obtain a permit from the State Securities Commission of Vietnam, delegates said, adding that fewer than 12 securities companies are qualified to issue them.
SSI, the largest brokerage in the country, would issue six CW codes based on four underlying shares of FPT Corporation (FPT), Mobile World Investment Corporation (MWG), Military Commercial Joint Stock Bank (MBB), and Hoa Phat Group Joint Stock Company (HPG), Thong said.
The company had instructed its brokers to provide investors with proper consultation before they trade the new product, he added.
Vietnamese products seek to increase presence in Japanese market
A week of Vietnam-Hanoi goods kicked off at the AEON Lake Town Mori in Japan's Saitama prefecture on June 8 as part of a cooperation pact signed between the Vietnamese Ministry of Industry and Trade (MoIT), Hanoi authorities, and Japanese retail group AEON.
Joining the event are nearly 20 Vietnamese firms operating in the fields of garment-textile, food, household appliance, and interior decoration. Their display at the AEON Lake Town Mori is part of this year's Vietnamese goods week programme, which is running across 40 AEON supermarkets and malls in Japan between June 4 and 10. The programme also features business networking, Vietnamese cuisine, and Vietnamese traditional music performances.
Speaking at the opening ceremony in Saitama, Ta Hoang Linh, Director of the MoIT's European-American Market Department and head of the project on fostering Vietnamese businesses' direct participation in foreign distribution systems, said Japan is an important partner of Vietnam with bilateral trade hitting about 38 billion USD in 2018. Vietnam has become an investment destination for Japanese firms in recent years, he added.
Linh said the MoIT signed a memorandum of understanding on cooperation with the AEON group last year to facilitate Vietnamese companies in expanding their export markets and joining the global supply chain.
Based on effective outcomes of the week of Vietnamese goods in 2018, this year's edition is held, reflecting the strengthened collaboration between the two governments and their business communities, he stressed.
Toshiya Gotou, an official of the AEON group, said Japanese consumers are interested more in Vietnamese products and recommended Vietnamese firms to pay attention to pesticide issues related to their fresh farm produce.
AEON is committed to boosting the export turnover of Vietnamese products via its retail system to 500 million USD in 2020 and 1 billion USD in 2025, he said.
Director of the Hanoi Centre for Investment, Trade, and Tourism Promotion Nguyen Gia Phuong said the programme has enabled Vietnamese suppliers, particularly small- and medium-sized enterprises, to showcase their products and exchange experience to meet AEON's standards in Japan, and in some of the group's key markets like China, Malaysia, and Indonesia.
Supporting industry grows with HCM City's help
Ho Chi Minh City's preferential policies for the supporting industries in recent years has helped companies expand and secure contracts as suppliers with foreign-invested companies.
Nguyen Truong Bao, General Director of the Hiep Phuoc Industrial Park in Nha Be district, said that many support enterprises have begun new projects in the park.
In March, the Le Tran Joint Stock Company started construction of a new factory to produce ceiling and wall frames, and Schindler Vietnam Co Ltd signed a land lease contract for 10,000sq.m to build a elevator frames manufacturing factory.
Nguyen Phuong Dong, Deputy Director of the municipal Department of Industry and Trade, said the city has provided capital and technologies to support companies, and helped them look for partners and markets.
The city has also issued a resolution on an investment stimulus programme for the supporting industries in the 2018-2020 period.
Supporting businesses can receive a loan of up to 200 billion VND (8.5 million USD) per project to invest in factories and new technologies.
Thanks to the investment stimulus programme, many enterprises have become level 1 and level 2 suppliers for foreign direct invested (FDI) manufacturers of electronic and automobiles.
The city has also helped enterprises connect with foreign enterprises so they can become more competitive and participate in global supply chains.
At the "Conference to Find Suppliers for FDI Enterprises in High-Tech Parks", 20 qualified support enterprises were chosen to become suppliers for Samsung, Nidec and Sonion.
The city's training and consulting programme on productivity and quality has also helped businesses change their production process and business management.
The city will continue to help businesses use new management systems to meet the requirements of global production chains.
It will also offer training to improve the quality of human resources and create an online database of support industry enterprises in the city.
To meet demand, three support industry zones are expected to open by 2025 in the city.
By August 2018, HCM City had 1,200 businesses involved in the supporting industries.
HCM City lures $2.77 billion in FDI in five months
Ho Chi Minh City attracted 2.77 billion USD in foreign direct investment (FDI) in the first five months of 2019, up 49 percent year-on-year, reported the municipal People's Committee.
There were 451 newly-licensed projects with a total capital of 472.16 million USD, up 22.6 percent in terms of the number and 9.2 percent in terms of the investment.
The real estate sector attracted the most capital with 46.7 percent, followed by science-technology (23.4 percent); retail and wholesale, automobile and motorbike repair (16.8 percent); manufacturing and processing (5.3 percent).
Up to 102 projects registered additional capital of 214 million USD, marking an annual rise of 27.5 percent in volume and 35.8 percent in value.
During the period, the city allowed more than 1,700 foreign investors to buy stakes in domestic firms with a combined value of 2.08 billion USD, up 33.3 percent in volume and 64.3 percent in value.
The total registered and additional capital of domestic enterprises surpassed 348.46 trillion VND (15.1 billion USD), up 4.6 percent year-on-year.
Ho Chi Minh City hosts international denim supply chain show
The international denim and sportswear supply chain show, Denimsandjeans Vietnam is all set to launch its fourth season in Ho Chi Minh City on June 12.
Over 40 denim companies from 10 countries will exhibit at the two-day show, which will bring denim supply chain partners and experts on one platform to capitalise on new market trends.
"Vietnam has gained more importance in the last few months not only because of business treaties including the EU-Vietnam Free Trade Agreement (EVFTA) and the Comprehensive and Progressive Agreement for Trans-Pacific Partnership (CPTPP), but also due to the ongoing trade war between China and the US," said the event organisers.
For China, Vietnam seems to be a good market, as it is facing heat from the US and is experiencing rising labour costs. Leading denim fabric suppliers from China and Hong Kong, including Prosperity, Blackpeony, Foison Textile, XDD Textile, Chanzhou Thome Textile, Zhejiang Xinlan Textile, and Guangzhou Indenim Textile, are participating in the event. Prosperity Textile has recently built a factory in Vietnam and has started operation.
India has also got a great advantage as its fabric is only subject to 7.5 per cent duty in Vietnam. Further, the duty is expected to be cut in the coming time due to good diplomatic relations between the two countries. From India, Arvind Ltd., KG Fabriks, Bhaskar Denim, Anubha Industries, Malwa, and Ramsons are exhibiting at the show.
In addition, Vietnam is one of the most strategically growing markets for Pakistan as well, as it has been increasing its exports to the US. From Pakistan, the show will have Artistic Milliners, Kassim Denim, Crescent Bahuman, Soorty, Indigo Textile, and US Denim Mills. All these companies have been catering to some of the most niche denim brands/retailers including Levis, H&M, Tesco, Inditex, C&A, PVH, GAP, and Li & Fung.
Besides international exhibitors, this time the show will have several reputed garment exporters from Vietnam, including TCE Vina Denim, T&T Garments, Resource Garments, Rose Garment, and Jeans Life.
Themed "My Earth My Denim", the show once again stresses the importance of sustainability. Sandeep Agarwal, founder and CEO of Denimsandjeans.com, said, "Vietnam is fortunate to have started its denim industry in a very balanced way where sustainable production has been ensured in many ways due to local government laws. This also helped and pushed the industry to invest in machines and equipment which could help minimise the impact on the environment."
A special traditional fashion show, Ao Dai Denim Show, has also been scheduled for the very first day of the evening to bring the traditional dresses of Vietnam with a denim twist.
Vietnam's property ceremony nears
The annual Vietnam Property Awards, the country's largest and most reputable real estate awards platform, is back for a fifth consecutive year.
More real estate investors are beginning to notice Vietnam as a popular destination. With a thriving economy, and recent legislation making it easier for property investors to conduct business, the Vietnamese market has emerged as a hotspot for property investment.
There has been a giant influx of both local and international developers, all keen to get recognition from professionals, and thus develop their credibility with customers.
Vietnam's realtors have that support via the industry-leading Vietnam Property Awards, which is held by Asia's leading property portal group, PropertyGuru.
As part of the Asia Property Awards, a programme established in 2005, the Vietnam Property Awards are considered the most credible real estate awards platform in the country. The platform provides a venue to acknowledge the extraordinary achievements of Vietnam's best developers and developments.
Vietnam's local competition was introduced in 2015, and has earned praise from both participants and senior industry partners. At the fourth annual gala dinner in 2018, a total of 43 awards were presented to more than 25 companies and public-private entities.
Winners included CapitaLand Vietnam, KIEN A Corporation, Alpha King, and SonKim Land Corporation. SonKim Land went on to achieve the Best Boutique Developer in Asia at the regional Asia Property Awards Grand Finale ceremony in Thailand.
"In my new role at PropertyGuru, I am thrilled to join a team of like-minded professionals whose mission is to recognise, promote, and celebrate quality. I look forward to working with the team and taking the awards to new heights," said Jules Kay, the recently appointed director of the Asia Property Awards.
The PropertyGuru Vietnam Property Awards has an unparalleled reputation for being credible, fair, and transparent. The competition is free to enter and the contestants are judged by an independent panel of experts.
Furthermore, to ensure the utmost impartiality throughout the competition, the judging process is supervised by BDO, one of the world's largest auditing and accountancy networks, which has supported the programme for more than a decade.
This year's winners will be announced at an exclusive gala dinner and presentation ceremony on August 23 at the InterContinental Saigon Hotel in Ho Chi Minh City. The occasion will be the culmination of a series of thorough judging stages, which includes the screening of nominations from the public, site visits for entrants in the development categories, detailed inspections, and final judging deliberations.
More than 500 distinguished guests and key figures in the sector will join the ceremony, including members of the Vietnam Real Estate Association, the country's largest property organisation.
With recognition for outstanding design, construction, customer care, corporate social responsibility, green developments, and public facilities, the gala ceremony will present more than 40 competitive and special awards, showcasing the highest standards of Vietnamese real estate.
PropertyGuru's Vietnam Property Awards has set a high benchmark, and each year the competition surpasses the expectations of the independent judging panel. With the upcoming competition, the awards will continue to ensure that the achievements of Vietnamese real estate professionals are recognised and showcased to a wider regional audience.