Aquatic firm sets to withdraw from two sub units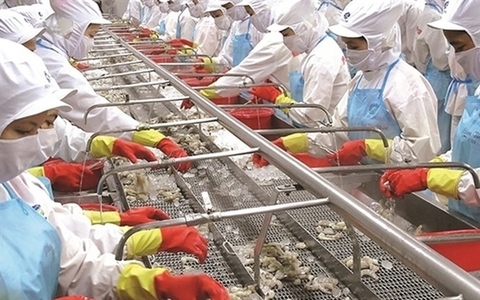 vietnam economy, Vietnam business news, business news, vietnamnet bridge, english news, Vietnam news, vietnamnet news, Vietnam latest news, Vietnam breaking news, Vietnamese newspaper, Vietnamese newspaper articles, news vietnam

Aquatic producer and exporter Hung Vuong Corporation plans to sell its stake in two smaller seafood processing firms.
Hung Vuong wants to sell its 90 per cent stake in Hung Vuong Ben Tre Seafood Processing Co Ltd, worth VND180 billion (US$7.74 million).
In addition, the firm plans to cut its ownership in An Giang Fisheries Import and Export JSC to below 50 per cent from nearly 80 per cent.
Hung Vuong holds more than 22.3 million shares in An Giang Fisheries Import and Export.
Both Hung Vuong and An Giang Fisheries Import and Export JSC are listed on the Ho Chi Minh Stock Exchange with code HVG and AGF, respectively.
Hung Vuong shares fell 4.3 per cent to close Friday at VND2,900 ($0.12) per share. Its shares have plunged total 17 per cent in the last three trading days.
Meanwhile, shares of An Giang Fisheries Import and Export JSC have soared 13 per cent in the last three days to end Friday at VND4,200 per share.
In May, Hung Vuong sold all of its 3.2 million shares in another affiliate Hung Vuong Song Doc JSC. The value and result of the deal remain unknown.
Hung Vuong has recently announced its revenue halved to VND2.88 trillion ($123.8 million) and the company recorded a loss of VND134 billion after tax for the first half of its financial year (October 1 to September 30).
The figures were big changes compared to the firm's financial report, which had stated its revenue was VND5 trillion and post-tax profit was VND25 billion for the first half of the financial year.
Therefore, the auditor gave its qualified opinion for the company's financial report and noted there were significant elements that could lead to the company's inconsistent operation in the future.
Findings by the auditor also showed the company had not paid debts worth VND602 billion to the Joint Stock Commercial Bank for Foreign Trade of Vietnam (Vietcombank) as of March 31, 2019.
Selling stakes in subsidiaries and affiliates is considered a temporary move as Hung Vuong is asking its lenders to extend due dates for its debts.
The Ho Chi Minh Stock Exchange on Thursday kept Hung Vuong on the list of special warning and control as the company had suffered losses in the last two and a half years.
The decision was made on January 19, 2018 after the company had reported losses for financial years 2016-17 and 2017-18.
In addition, Hung Vuong had failed to compile financial reports for the southern stock exchange since May 28, 2018.
Building trust critical for digital banking development

Digital banking is inevitable for Vietnamese banks and building trust is critical in the development of the new business model, experts said at a conference on Friday.
At a conference titled 'Digital banking and the specific ecosystem' held by news portal Bizlive, Nguyen Chien Thang, VPBank Director of Digital Sales & Partners, said that digital banking is an inevitable development path for banks.
According to Thang, there are many challenges facing banks in the development of digital services, of which the biggest is building trust among customers.
Tran Quoc Anh, head of HDBank's Personal Customers Division, said the State Bank of Viet Nam (SBV) had so far issued regulations to build trust in non-cash payments. Of which, Circular 19 stipulates that when customers experience problems, banks at first must compensate the customers and later come up with final settlements.
"We try to handle problems as quickly as possible," Anh said.
To gain the trust of customers, Le Thi Diem Phuong, director of VPBank's Corporate Cards and Partners Development for Small and Medium Enterprises Division, said it was important to improve the experience for customers.
"If customers have good experiences, they will tell others," she said.
Banks also need to build an eco-system and digital network to cover all basic services.
According to Thang, the development of digital banking in Viet Nam will offer many advantages.
First, compared to other countries, Viet Nam's legal framework is relatively good as competent agencies, including the SBV, are willing to revise regulations to adapt to changes in the market.
Secondly, technology in the banking sector is developing fast, helping the development of digital banking.
At the conference, banking expert Can Van Luc said that digital banking helped banks increase revenue, increase labour productivity and save costs.
"The new business model therefore will improve competitiveness significantly for banks and create breakthroughs for the banks," Luc said.
However, he noted, digital banks also must compete fiercely against non-finance institutions, such as fintech firms. Viet Nam currently has 67 fintech companies.
Vietnam Airlines to build aviation logistics centre in Can Tho

The southern city of Can Tho will earmark 27ha of land for Vietnam Airlines to build an aviation logistics centre, said Deputy Chairman of People's Committee Truong Quang Hoai Nam on Thursday.
In a meeting with leaders of Vietnam Airlines in Can Tho City, Nam said the site was next to the Can Tho International Airport.
"After the project is approved, the city will complete procedures to give land to the carrier. We will create the most favourable conditions to support Vietnam Airlines to build the logistics centre here."
Deputy CEO of Vietnam Airlines Trinh Hong Quang said the aviation logistics centre project had an estimated investment capital of US$82.9 million. It would be divided into three phases from this year to 2024, playing the role of cargo terminal, leasing space for services and distribution of goods.
Together with the construction of the centre, Quang said the carrier would open more routes from Can Tho to other destinations in Viet Nam and foreign countries.
Quang said Can Tho was the economic driving force of the Mekong Delta, having a favourable position connected to HCM City and localities in the southwest region.
"While the demand for e-commerce is growing dramatically, Vietnam Airlines believes that investment in building an aviation logistics centre in Can Tho would not only promote the development of logistics services for the whole region, but also contribute to reducing overload for Tan Son Nhat and Long Thanh international airports in the future," Quang said.
According to Director of Can Tho Industry and Trade Department Nguyen Minh Toai, the aviation logistics centre would help boost the sales of local agro-products and seafood in other areas of Viet Nam, meeting the demand of many businesses.
Statistics showed that the region's export volume is nearly 18 million tonnes per year, of which 70-80 per cent is transported to HCM City and the southeast provinces before being shipped to other places. Can Tho City has an annual export volume of about 800,000 tonnes of rice and about 170,000 tonnes of aquatic products.
Portal launched for start-up community

The Ministry of Science and Technology in co-operation with Nexus FrontierTech Company on Thursday officially launched a new portal for tech start-ups – vntechpedia.com.
The portal is part of a project to support the national start-up and innovation ecosystem by 2025 approved by Prime Minister Nguyen Xuan Phuc on May 18, 2019.
The ministry's representative said in recent years, the Fourth Industrial Revolution has attracted attention across the world and in Viet Nam. This made it necessary to have an interactive platform for components in the ecosystem relating to Industry 4.0 and smart technologies.
The portal would be an interactive platform to connect resources in the ecosystem, supporting development as well as exploiting the creativity of start-up community based on the application of digital technology. The portal would provide information for start-ups, investors and partners, as well as news on training courses, events and data on the technology sector both inside and outside the country.
A representative from Nexus FrontierTech said vntechpedia.com would bring updates and selected information to start-ups. It is expected to become the largest information portal serving the start-up community.
MoIT holds conference to strengthen supply chains

The Ministry of Industry and Trade (MoIT) and the Association of Viet Nam Retailers (AVR) opened a conference yesterday in Ha Noi to promote links within Viet Nam's goods supply chain and sustainable co-operation between manufacturers and distributors.
Vu Thi Hau, AVR vice chairwoman, said the conference aimed to build supply chains for consumer goods and speciality agricultural products. It also served as an opportunity for producers, traders and distributors to pursue collaboration in distribution. It also aimed to encourage manufacturers to produce goods with clear origins.
Le Viet Nga, deputy head of the MoIT's Domestic Market Department, said connections supplier and consumers have been strengthened, with goods finding their way into supermarkets and modern convenience stores nationwide.
However, firms should focus on sustaining and strengthening the supply chain, Nga said.
Speaking at the conference, Do Hoang Thach, director of Viet Nam Agricultural Trade Promotion Joint Stock Company, said the supply chain was important to the industry. The company had regularly held trade seminars and product introduction events to connect manufacturers and distributors with consumers.
According to Thach one challenge is the lack of knowledge among rural customers about the value of safe food. Consumers in rural markets have not had as much exposure to new products. Therefore, it is necessary to promote connections between producers and consumers in rural and remote areas.
Also at the conference, a co-operation agreement was signed between the AVR – representing its members, the distribution enterprises – and the Viet Nam Trade Promotion Joint Stock Company – a representative of some agricultural production and processing facilities. Some manufacturers and distributors also signed distribution agreements.
The conference was designed to promote the campaign "Vietnamese people prioritise using Vietnamese goods".
Nga said the campaign had contributed to strong growth in the total revenue of retail sales and services.
Since the campaign started in 2009, total revenue has increased by about 10 per cent on average each year. Revenue rose 10.2 per cent in 2016, 10.9 per cent in 2017 and 11.7 per cent last year.
Nga said these were results of the remarkable efforts of the association and its member companies to strengthen supply chains to bring quality products to consumers. These efforts had helped develop domestic trade, promoting local consumption and attracting investment.
Denim production needs green growth

Denim production in Viet Nam has high growth potential and is attracting more and more investors, but green production in the textile and garment industry is essential to protect the environment, experts said at a conference in HCM City on Thursday.
Nguyen Thi Tuyet Mai, general secretary of the Viet Nam Textile and Apparel Association, said that around 55 to 60 per cent of the demand for materials for jeans production could be satisfied domestically.
Both domestic and foreign companies in the denim production sector in Viet Nam are investing in advanced manufacturing chains and technologies.
Domestic companies are also focusing on being more involved in the design stage and reducing the number of manual labourers.
While the denim production sector has formed a complete supply chain within Viet Nam's textile and garment industry and is able to supply materials for domestic production, the number of businesses in this sector is still limited.
The sector has growth potential, but currently denim products only account for around 10 to 20 per cent of Viet Nam's textile and garment product exports.
Nguyen Dinh Truong, deputy standing chairman of the association, said that considering the trend toward sustainable development, consumers were keen for green production and environmentally friendly products.
"Businesses need to have greener operations and save on raw materials," he said.
Vietnamese textile and garment businesses had been improving their production methods and were taking part in the global supply chain, he said, adding that this was a good opportunity for foreign companies that want to sell machinery or transfer technology to local denim businesses.
Jordi Juani, Asia division director of the Spain-based Jeanologia, said that if production of denim and jeans in Asia continued to grow, it could pose a major threat towards the environment.
He urged businesses to raise awareness about sustainability and to deal with industry problems, and follow modern retail trends and customers' tastes, especially for green goods.
Currently, denim products account for around US$80 billion of global industrial good exports.
The conference was held on June 13 as part of Denimsandjeans Viet Nam, an international exhibition on textiles, garment sand machinery held by the association, Denimsandjeans.com and other organisations on June 12-13.
Vietnam remains bright spot in Asia amid slowing down in global trade
An escalation of the trade conflict will hurt every country, including Vietnam. At the moment, export growth is lower than import growth in Vietnam, potentially worsening the trade balance in the country.
Weak economic growth and US-China tensions are causing a negative impact on global trade. In Asia, however, Vietnam remains a bright spot with positive export expansion while most other Asian countries suffered contractions in recent months, according to Viet Dragon Securities Company (VDSC).
Key regions' export growth are in the downtrend for the last 12 months. According to International Monetary Fund (IMF), there are three interrelated production hubs, including the US, Germany and China. China's export revenue dropped 2.7% year-on-year in April while Germany and the US recorded modest expansion of 3.1% and 1.3% year-on-year, respectively.
Business confidence remain fragile if not gloomy. IHS Markit's data shows the US manufacturing index gradually declined to 50.8 points while that of the EU was under the 50 thresholds, indicating shrinking manufacturing activity. The US business confidence index reached its lowest point since June 2012.
eanwhile in the EU, there was a clear drop in optimism with the smallest gain in employment numbers since September 2016.
Looking at trade between the US and the rest of the world, there has been a slowdown compared to last year, except ASEAN.
East Asian export revenue to the US fell 6% year-on-year in the first quarter of 2019, while Western European exports grew 5%, a third of the figure recorded in the same period of last year.
In contrast, ASEAN exports to the US rose 13% year-on-year, the highest since 2012. Excluding Vietnam, however, growth was just 2.8% year-on-year. Vietnamese telephone and accessories exports soared, driven by Samsung that conquered 23.2% market share in the US, according to Canalys, a global technology market analyst firm.
Vietnamese textiles, papers, iron and steel, wood and related products, seafood and preparared food exports to the US recorded two-digit growth. In the first quarter of 2019, total Vietnamese exports to the US grew 40% year-on-year.
Vietnam is labeled as a beneficiary of the Sino - American trade war and hot spot for Asian manufacturers. That said, an escalation of the trade conflict will hurt every country, including Vietnam. At the moment, export growth is lower than import growth in Vietnam, potentially worsening the trade balance in the country.
​In May, Vietnam reported an estimated trade deficit of US$1.3 billion, leading to a deficit of US$548 million in the five month period while the country had an accumulative surplus of US$752 million one month earlier, stated General Statistics Office (GSO) in a monthly report.
Hanoi establishes 3 industrial parks 
Hanoi is scheduled to have a total of 68 industrial parks by 2020, with total investment capital of VND19.16 trillion (US$822.4 million).
Hanoi has established an additional three industrial parks in the first five months of 2019, including two in Thach That district and one in Ung Hoa district, according to the municipal Industry and Trade Department.
This resulted in total of eight new industrial parks established in Hanoi since 2018 to date.
The Cau Bau – Phase 2 industrial park in Ung Hoa district covers an area of 5.29 hectares with investment capital of VND128.32 billion (US$5.5 million). The park would serve as a production hub for small and medium enterprises (SMEs) in Quang Phu Cau craft village in business expansion and relocation, mainly operating in production of household appliances, forestry, mechanism and services.
The industrial park, scheduled for completion in the fourth quarter of 2020, is expected to minimize the environmental pollution and risks of fire in residential areas.
The Di Nau industrial park in Thach That district has an area of 10 hectares, supporting local businesses in Di Nau craft village in furniture and household appliance production.
Additionally, the park would help relocate production facilities causing environmental pollution and high risk of fire away from residential areas in Di Nau commune. The construction of the Di Nau industrial park is expected to address the issue of illegally occupying public land for facilities establishment.
With total investment capital of VND267.57 billion (US$11.48 million), the construction of Di Nau industrial park is set to be completed in the first quarter of 2021.
Meanwhile, the Chang Son – Phase 2 industrial park in Thach That has an area of 15.3 hectares, focusing on furniture and household appliances production. The park was allocated with investment fund of VND358.34 billion (US$15.38 million), scheduled for completion in the first quarter of 2021.
The expansion of the current industrial park is aimed to support local businesses in production and transportation, while constructing additional facilities in the park such as the control room, trade and service center for displaying products, wastewater treatment system and fire safety system.

More importantly, the park would help handle the lack of production facilities for local enterprises and relocating businesses away from residential areas.
Currently, the Hanoi People's Committee is considering the establishment of other 17 industrial parks in the city. The municipal Industry and Trade Department is supporting investors in seeking approval from local authority for the establishment of 12 industrial parks and speeding up the construction of other eight.
Hanoi is scheduled to have a total of 68 industrial parks by 2020, with total investment capital of VND19.16 trillion (US$822.4 million), according to information revealed at the 2018 Hanoi Investment Cooperation Conference.
Hanoi strives to increase supply of safe farm produce
In recent years, Hanoi has implemented many solutions to draw private investment in farm production, building a chain of production – consumption of safe agricultural food.
Hanoi has been actively developing the supply chain of safe agricultural products to control food safety, contributing to ensuring social security and consumers' health.
Hanoi is now home to more than 10 million people who consume a large amount of essential goods such as rice, pork, beef, seafood, vegetables, fruits every day, while the growth rate of the agricultural sector in Hanoi has not met the demands.
According to statistics, on average, Hanoi's residents every month consumes about 83,400 tons of rice, 20,000 tons of pork, 5,230 tons of beef, 5,200 tons of chicken meat, 5,050 tons of seafood, 84,100 tons of vegetables, about 95 million eggs and 52,000 tons of fruits. However, the city's food production has not been commensurate with the demand.
In recent years, Hanoi has implemented many solutions to draw private investment in farm production, building a chain of production – consumption of safe agricultural food.
Up to now, the whole city has built 123 models of high-tech agricultural applications in the fields of cultivation, husbandry and aquaculture.
Hanoi has also built 121 linking chains of food safety with traceable animal and plant origins. Besides, farm production facilities have diversified their offers.
In order to meet the residents' demand for safe agricultural products in the capital, Deputy Director of the Hanoi Department of Industry and Trade Tran Thi Phuong Lan said that currently, Hanoi city has actively promoted trade between Hanoi and other provinces and cities nationwide to enhance the supply for the capital.
In the time ahead, the Hanoi Department of Industry and Trade will continue to assist local people to sell their products to distribution channels and contribute to developing safe agricultural products.
Besides, in order to attract enterprises to invest in high-tech agriculture, Hanoi has planned nine high-tech agricultural zones and a system of supporting economic zones in Hoai Duc district (300 ha), Ha Dong district (76 ha), areas along the Red river Me Linh district (105 ha), Dan Phuong district (33 ha), Phuc Tho district (200 ha), Soc Son district (70 ha), Ba Vi district (300 ha), and Son Tay town (80 ha).
Hanoi will also promote production chains, especially develop those applying with VietGAP, GlobalGAP and organic certification, standardize production processes to create high-quality products that meet criteria of food safety and export.
Quang Nam cancels Dac Di 4 hydropower project
Authorities in Quang Nam Province have decided to end the stagnant Dac Di 4 Hydropower Plant Project.
After Quang Nam People's Committee approved of the Dac Di 4 Hydropower Project in Tra Mai Commune, Nam Tra My District, the investor failed to get the project to start from 2003 to 2008. In September 2008, the provincial authorities extended the deadline to the final quarter in 2009.
In 2014, the project was listed among the suspended projects and was given the permit to start again by the Ministry of Industry and Trade in 2015.
Quang Nam Department of Industry and Trade said that they have asked the investor, Dac Di 4 Hydropower Company, to complete required procedures many times but the company didn't comply. Only when the Department of Industry and Trade and other agencies surveyed the site in 2016 did the investor provide some reports.
Only the report on environmental impact was approved by the provincial authorities. The investor couldn't provide the necessary evidence for other documents when asked by the Department of Industry and Trade. In late 2016, Quang Nam People's Committee asked related agencies to consult about recalling the project. In March 2017, they completely stopped all research and investment in the project.
By that time, Dac Di 4 Hydropower Company had failed to complete investment research into the project. The company hadn't been given the permit to start any construction or land conversion. Despite not completing the required procedures, the company had already started building roads and a project management building.
The provincial inspectorate also raised suspicions over the company's financial capacity.
At the meeting, Ngo Minh Ngoc, deputy director of Dac Di 4 Hydropower Company, expressed the desire to continue the project. However, Huynh Khanh Toan, vice chairman of Quang Nam, said they had created favourable conditions for the investor but the project had stagnated for too long. The authorities agreed to suspend the project.
VinaCapital Ventures invests $4 million in tech-based property brokerage

VinaCapital Ventures, the technology investment arm of VinaCapital, said it has invested US$4 million in Rever, a tech-enabled real estate brokerage.
Khanh Tran, a partner at VinaCapital Ventures, disclosed this at the Vietnam Venture Summit in HCM City on Wednesday.
"This investment is consistent with our philosophy of targeting start-ups that are disrupting how industries operate, are operated by founders with a vision and experience and are capitalising on the continued robust expansion of Việt Nam's economy.
"VinaCapital is a long-time real estate investor and developer, so this investment is also very strategic for us. Rever has the potential to lead the transformation of the real estate business, from one that is still very much based on bricks-and-mortar to one that is a key part of the digital economy."
Mạnh Phan, co-founder and CEO of Rever, said: "We are excited to partner with VinaCapital, whose experience and network will give us the resources to reach our potential in Việt Nam and potentially beyond. With one of the strongest track records in both real estate and venture capital, VinaCapital is the ideal partner to help us take our company to its next stage of growth."
Founded in 2016 by Mạnh Phan, Lợi Võ and Minh Phan, Rever is the first company of its kind in Southeast Asia.
Its 400 agents are expected to close 2,000 transactions through its platform this year. The company hopes to play an important role in the Government's initiatives to develop the digital economy 4.0 by making real estate transactions safer and more transparent.
VinaCapital Ventures has also invested in FastGo, Logivan, Urbox, and Wee Digital.
SSI starts issuing covered warrants

SSI Securities Corporation (SSI) began issuing covered warrants on Thursday (June 13) through Friday (June 14) until 5 pm at all of its transaction offices nationwide and online at www.ssi.com.vn/khach-hang-ca-nhan/dang-ky-mua-ipo.
SSI received permission to issue the covered warrants from the State Security Commission of Việt Nam.
Covered warrants, which are expected to start trading from June 28, would offer new opportunities to investors as well as help them limit losses and make higher profits amid market volatility.
Covered warrants are issued by a securities company, and the trading of covered warrants is similar to that of underlying stocks. They are always associated with underlying stocks.
In the first IPO, SSI will issue covered warrants with a conversion ratio of 1:1 for the Military Commercial Joint Stock Bank (MBB) stock, with the issuance of up to 3,000,000 warrants for a three-month term.
The underlying stock of MBB has a market price of VNĐ20,600 (US$0.88) per share but SSI issues covered warrants of MBB at only VNĐ1,900 per unit.
According to SSI Research, MBB is a leading financial group in Việt Nam, operating in many areas such as banking, consumer finance, life insurance, non-life insurance, securities, fund management and debt trading.
The bank ranks sixth among commercial banks in Việt Nam in terms of asset scale and revenue, and ranks third in the system of asset quality indicators.
MBB has high growth potential since it has a high Current Account Savings Account (CASA) ratio (at 42.1 per cent), which is much higher than other banks and creates a competitive advantage for MBB, thanks to lower cost of capital than the industry's average.
Net interest income is improving as the proportion of retail loans and consumer credit is rising.
In addition, its subsidiaries have completed their restructuring and achieved more fruitful results. Pre-tax profit of subsidiaries in 2019 is expected to increase by 99 per cent over the same period last year.
In particular, the insurance business (MB Ageas Life, MIC) and consumer finance have huge growth potential.
Techcombank becomes 8th bank meeting Basel II standards

Techcombank has officially been given approval from the State Bank of Viet Nam (SBV) to apply Basel II standards, raising the number of Vietnamese banks meeting the global norms ahead of the SBV's schedule to eight.
According to the SBV's decision, all of Techcombank's activities will follow Circular 41/2016-TT/NNNN regulating the application of Basel II standards starting from next month.
One of the most important requirements of Basel II is to ensure Capital Adequacy Ratio (CAR) of at least 8 per cent. By the end of the first quarter of the year, Techcombank's CAR was 13.8 per cent, while its revenue and pre-tax profit reached the record level of VND4.2 trillion (US$179.6 million) and VND2.6 trillion, respectively. This has been the 14th consecutive quarter the bank achieved high revenue growth.
Techcombank General Director Nguyen Le Quoc Anh said with the approval from the central bank, Techcombank would be given priorities in getting higher credit growth limits this year.
According to current regulations, the SBV sets a credit growth limit for the entire year for each bank to ensure the credit growth target of the banking system.
The bank's return on equity (ROE) and return on assets (ROA) have been at high levels in the region. This has been a competitive advantage for the bank.
Trade agreement to boost exports of micro, small and medium-sized enterprises

The World Trade Organisation (WTO) Trade Facilitation Agreement (TFA) will help micro, small- and medium-sized enterprises (MSMEs) further diversify exports and expand markets, as well as improve GDP growth in Viet Nam, experts said on June 13 at a seminar held in HCM City.
Representatives from APEC-member economies, including government officials, MSME policy-makers, the private sector, and MSMEs discussed the benefits of the agreement at a two-day APEC capacity-building workshop.
Dr Dinh Duy Khuong, a researcher at Bocconi University in Italy, explained that trade facilitation means "simplification, harmonisation and automation of the procedures applied to international trade, particularly the requirements and formalities related to imports and exports, with a view to further expediting the movement, and the release and clearance of goods, including goods in transit."
Dr Rajan Sudesh Ratna, economic affairs officer at the UN's Economic and Social Commission for Asia and the Pacific, noted that these procedures are an important issue for the world trading system.
Nguyen Pham Nhu Ha, of the General Department of Viet Nam Customs' Customs Control and Supervision Department, said MSMEs played a key role in Viet Nam's economy, accounting for more than 97 per cent of the country's total enterprises.
MSMEs contribute 31 per cent to the country's GDP, 33 per cent to the national revenue, and generate 62 per cent jobs for employees, she said. "However, MSMEs are small scale with less capital, with a lack of financial and marketing support."
Other challenges include limited access to law, regulations related to imports and exports, and lack of knowledge of procedures, including declaration, classification, valuation, rule of origin and others.
Conway Beddie, principal assistant director of Multilateral Trade Policy and Negotiation Division at the Malaysian Ministry of International Trade and Industry, said that challenges faced by MSMEs included access to finance, technology, innovation and R&D, highly skilled labour and red tape.
Beddie said the TFA would benefit MSMEs by reducing trade costs, including simplification and standardisation of customs procedures. It would also expedite movement, release and clearance of goods, and reduce red tape.
Other benefits include access to transparent information as well as opportunities to participate in the policy-making process.
Dr Mohammad Saeed, senior advisor of Trade Facilitation and Policy for Business at the International Trade Centre, said the five main types of trade costs included tariffs, standards, documentation, border costs and logistics costs.
Inefficiency-related trade costs were a particularly stringent and unpredictable problem, which applied to all products, both imports and exports, he said, adding that firms from developing countries were more affected.
Logistics costs are higher in developing countries (26 per cent compared to 14 per cent in more developed countries).
"MSMEs are particularly vulnerable to border inefficiencies. Regulatory burdens hit MSMEs twice as hard as larger firms," he said. "Removing supply chain barriers has a larger effect than removing tariffs."
The TFA, which took effect in 2017, seeks to expedite the movement, release and clearance of goods across borders globally.
It opens a new phase for trade facilitation reform worldwide and creates a significant boost for commerce and the multilateral trading system as a whole.
Implementation of the TFA is expected to cut members' trade costs by an average of 14.3 per cent, with developing countries having the most to gain, according to a study conducted in 2015 by economists from WTO.
The TFA is also likely to reduce the time needed to import goods by over a day and a half and to export goods by almost two days, representing a reduction of 47 per cent and 91 per cent, respectively, over the current average.
Implementing the TFA is also expected to help new firms export for the first time.
In addition, once the TFA is fully implemented, developing countries are expected to increase the number of new products exported by as much as 20 per cent, with the least developed countries likely to see an increase of up to 35 per cent, according to the WTO study.
The agreement allows developing and least-developed countries to set their own timetables for implementing the TFA depending on their capacities.
A trade facilitation agreement facility was created at the request of developing and least-developed countries to help ensure they receive the assistance needed to reap the full benefits of the TFA.
Developed countries have committed to immediately implement the agreement, which sets out a broad series of trade facilitation reforms. With 12 articles, the TFA prescribes measures to improve transparency and predictability of trading across borders and to create a less discriminatory business environment.
The TFA's provisions include reduced fees and formalities connected with the import/export of goods, faster clearance procedures and enhanced conditions for freedom of transit for goods.
The agreement also contains measures for effective cooperation between customs and other authorities on customs compliance.
The workshop was organised by the Ministry of Industry and Trade, APEC Secretariat, Institute for Development Studies and HCM City International Integration Support Centre.
Tra fish industry faces challenges in production and export

The domestic tra fish industry has faced challenges regarding the purchasing price on the domestic market as well exports due to high tariffs on the product in the US market, according to the Ministry of Agriculture and Rural Development (MARD).
In May, the purchasing price of tra fish continued to decline in the Cuu Long (Mekong) Delta region, especially An Giang and Dong Thap provinces, the two largest tra fish producers and exporters in the region, said the ministry.
The tra fish price in the region dropped by VND1,000 per kilo to VND23,500-24,000 at the end of May and continued falling to VND20,000-21,000 per kilo.
In An Giang, the price decreased by VND2,000-3,500 per kilo to VND21,000-23,000 at the end of May.
Nguyen Thanh Binh, director of Chau Thanh Seafood Production and Service Cooperative in Dong Thap Province, said at present the price for raw tra fish in the Mekong Delta has dropped to VND20,500 per kilo – the lowest in the past two years.
According to MARD's Department of Farm Produce Processing and Development, the low price is due to firms raising their own fish instead of buying from farmers. Processing companies have not signed any more export contracts.
Last year, Viet Nam recorded a tra fish export value of US$2.3 billion. With the high export value, farmers gained profits of about VND10,000 per kilo.
The high profit makes farmers to increase supply, he said, which has hit the purchasing price.
The reduction in the price of tra fish has also impacted the demand and price of fingerlings. For instance, the price for fingerlings of tra fish dropped to VND20,000-25,000 per kilo from VND70,000 at the beginning of this year.
The ministry also said the tra fish industry has seen a reduction in exports since April after gaining at the start of the year, especially in exports to the US.
However, the industry could expect to see more export opportunities to 10 member countries of the Comprehensive and Progressive Agreement for Trans-Pacific Partnership (CPTPP) because local export seafood products will enjoy zero tariffs.
According to the Viet Nam Association of Seafood Exporters and Producers (VASEP), in 2018, the export value of tra fish to the 10 CPTPP countries reached $328.3 million, up 17.3 per cent year on year.
Now, Mexico is the fifth largest importer of Vietnamese tra fish, after mainland China, Hong Kong, the EU, US and ASEAN. The export value of tra and basa catfish to Mexico in the first four months of this year surged 31.5 per cent year on year to $40.8 million. This is also the largest export market of Vietnamese tra fish in Latin America and in the 10 CPTPP countries.
Japan is also a promising market for local tra fish.
The total export value of Vietnamese tra fish to Japan increased by 37.6 per cent year on year in 2018 and continued growth at 38.6 per cent year on year to $8.58 million in the first four months of this year.
Season 3 of Shark Tank unveiled
Shark Tank Viet Nam will be back for the third season with two new investors, organisers announced in HCM City on Thursday.
At the launch the organisers, VTV24 News Centre and TVHub, said the reality show for start-up investors will be shown every Wednesday on VTV3 starting on July 24.
The two new "sharks" this year are Do Lien, the founder of insurance application LIAN, and Pham Van Tam, chairman of Asanzo Group.
The other judges will be Nguyen Thanh Viet, chairman of Phuong Dong General Hospital; Nguyen Manh Dung, director of CyberAgent; Pham Thanh Hung, chairman of CenInvest, Nguyen Ngoc Thuy, chairman of Egroup; and Thai Van Linh, general director of Vingroup Ventures.
Lien said: "Viet Nam has a young generation who are full of energy, strength and knowledge. I have strong belief in them and want to support them.
I want to share my practical experience with start-ups so that we can create a new value for them and society."
He has set up a start-up fund called Asanzo Fund which would bring VND200 billion (US$8.8 million) to the show, he said.
"I have experienced losses for four or five times. I want to support start-ups so that they can avoid the mistakes I made. I hope with my support start-ups can shorten their road to the success."
At the launch of the third season, organisers unveiled a project called "Shark Tank-The Purpose" for crowd funding to give disadvantaged students a chance to learn information technology.
It targets donating 1,000 computers to schools in remote areas.
Shark Tank, developed by Sony Pictures, has two versions -- Shark Tank and Dragons' Den.
Since starting in Japan in 2001, the programme has been adopted in many nations and territories.
In the US, the programme receives an average of 250,000 registrations every season, with 48 per cent of them succeeding in raising funds from investors.
In Viet Nam, the show began when the start-up scene was developing rapidly and has had two successful seasons.
Last year 1,000 start-ups registered, 42 were selected and 27 received investments worth VND206.5 billion ($9 million) as against VND116.6 billion ($5.1 million) in the first season.