VND17 trillion needed for Thap Cham-Dalat railway restoration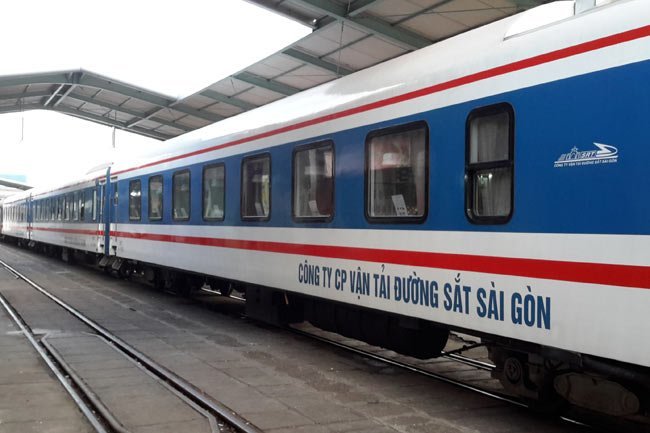 A train runs on a one-meter-wide rail track. The Thap Cham-Dalat railway restoration project is expected to cost a total of VND17.2 trillion
Bach Dang Company has proposed the Ministry of Transport allow it to restore the storied yet long-forgotten Thap Cham-Dalat railway, under a public-private partnership format, at a cost of up to VND17.2 trillion.
Work on the restoration project is proposed to start at Thap Cham Station in Ninh Thuan Province and end at Dalat Station in Lam Dong Province, according to the transport consulting firm TEDI South.
The 84-kilometer rail line runs from Phan Rang-Thap Cham, Ninh Son District, in Ninh Thuan Province to Don Duong, Dalat City.
The projected railway is expected to have 15-17 stations, five railroad tunnels and two serrated railway sections for climbing uphill. The rail line will be restored using the old railway track, in accordance with approved technical standards.
The one-meter-gauge rail track will allow for a designed speed of 60 kilometers per hour on the smooth, flat sections. As for the serrated sections, the designed speed will be 30 kilometers per hour.
The consulting firm proposed using a diesel locomotive in the initial phase before switching to a modern electric prime mover. Meanwhile, the investor suggested the locomotive should be designed as a French steam locomotive, with a steam generator.
A report by Bach Dang Company in mid-March indicated that the project may cost a total of VND17.2 trillion.
The investor proposed recovering the capital in two ways. The first is to develop the railway under a build-operate-transfer investment format, with revenue earned from ticket sales, transportation charges and other services.
Meanwhile, the second capital recovery method involves executing the project under a build-transfer format, so Lam Dong and Ninh Thuan provinces will pay the investor with land.
The Ministry of Transport will consider and assess the proposal and the feasibility study report before the investment plan goes before the Government.
Power, fuel price hikes may drive up CPI in Q2: VEPR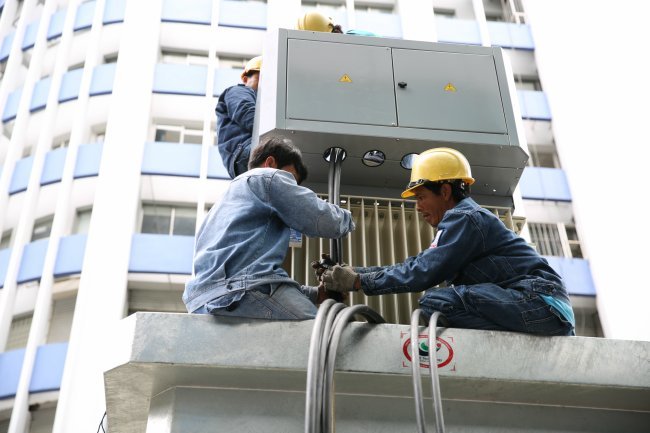 Workers install a roadside transformer in HCMC. The power and fuel price hikes will push up the country's CPI to 3.3% in the second quarter of 2019
The significant fuel and electricity price hikes are forecast to raise the country's consumer price index (CPI) in the second quarter of the year by 3.3% versus the year-ago period, according to a recent study released by the Vietnam Institute for Economic and Policy Research (VEPR).
The report on Vietnam's macroeconomic performance in the first quarter of 2019 found that the relatively high rise in prices of essential items, especially an 8.3% increase in the power prices last month, would affect the overall CPI, alongside creating a negative impact on interest rates, business competitiveness and gross domestic product (GDP) growth.
Inflation seemingly reemerged in the first quarter, since it rose slightly in the first three months of the year, at 2.56%, 2.64% and 2.7%, respectively.
Addressing a conference to announce the report, Nguyen Duc Thanh, head of VEPR, said the recent power price hike has stirred up the local market. Meanwhile, local firms are anticipating the introduction of policies that make price adjustments more predictable.
The Government in mid-2018 promised not to hike the electricity price for the rest of that year, while the prices of input materials for power generation such as coal, oil and machinery all increased. The electricity prices were then adjusted upward by some 8.3% on March 20, affecting the local market.
Macroeconomic policies are considered effective when they enabled local firms to forecast possible changes on the market and promptly adopt appropriate business plans, said Associate Professor Pham The Anh from VEPR at the event.
The upward adjustments of power and fuel prices were inevitable. Alongside this price hike, the upcoming spike of healthcare service prices and the environmental protection tax would place pressure on inflation in the second quarter, Anh added.
Further, according to Anh, inflation will push up production costs and interest rates.
Local firms are heavily dependent on bank loans. Once lending rates inch up, production costs at these companies would also rise while their competitiveness would fall. Economic growth would be affected in the end, he noted.
Regarding the country's economic performance, data from the report showed that the GDP expanded 6.79% in the first quarter, below the year-ago figure of 7.45%. GDP in the second quarter is forecast to reach 6.32%.
However, the GDP target of between 6.6% and 6.8% for 2019, set by the National Assembly, is still attainable, according to VEPR.
Allen & Overy announce new Vietnam partner
International legal practice Allen & Overy has announced the promotion of 34 lawyers to partner, effective from May 1. The new partners span six practice areas, with eleven new partners in Corporate, nine in Banking, six in Litigation, four in ICM, two in Real Estate, one in Tax, and one in Fuse, the firm's tech innovation space, with Head of Fuse Shruti Ajitsaria becoming partner.
This is one of the most geographically widespread groups of new partners, with 59 per cent outside London and a total of 16 of the firm's offices represented. Additionally, 24 per cent of the new partners are female and two are part-time partners.
"The breadth of this group, both in expertise and geographically, is testament to the growth we are seeing across our global platform," said global managing partner Andrew Ballheimer. "It's fantastic to have such a depth of talent across the firm and I would like to extend the warmest welcome to the partnership to all our new partners."
In Vietnam, Ms. Tina Le Dinh, M&A and capital markets lawyer from the Ho Chi Minh City office, has been promoted to partner. Ms. Dinh was voted "Rising Star in Corporate" at the most recent Euromoney Asia Women in Business Law Awards.
Ms. Dinh specializes in cross-border M&A and International Capital Market transactions. She is New York-qualified and has over eleven years of experience in Vietnam. She joined Allen & Overy as an associate in 2013 from a leading Vietnamese law firm and now becomes a corporate partner in the Ho Chi Minh City office.
She has advised on a succession of precedent-setting and high-profile equity offerings by Vietnamese issuers, including Vietnam's biggest flotation to date - Vinhomes' Ho Chi Minh Stock Exchange listing.
She is part of Allen & Overy's Emerging Female Leaders group and is at the forefront of identifying and addressing issues critical to the engagement, retention, and success of female lawyers at the firm. In addition to her professional work, Ms. Dinh also serves as Vice-Chairwoman of Operation Smile Vietnam, which is part of a global organization that repairs childhood facial deformities.
Allen & Overy is an international legal practice with approximately 5,500 people, including some 550 partners, working in 44 offices worldwide.
National brand week launched
The Trade Promotion Agency under the Ministry of Industry has launched the National Brand Week Programme, from April 15-21, as part of activities in response to 'Vietnamese Brands' Day' (April 20).
The event, which features a number of activities including the 12th Vietnam Brand Forum and the 2019 National Brand Exhibition, aims to provide a chance for localities to share their experience in building regional brands, while managerial agencies, experts and businesses could discuss issues related to building brands for businesses, products and regions.
Activities during the week are expected to attract experts from many agencies, organisations and businesses such as the Party Central Committee's Economic Commission, the Institute for Brand and Competitiveness Strategy, the Central Institute for Economic Management Research; as well as international experts from Germany, France, Italy, and the Republic of Korea.
The Vietnam National Brand Programme was approved by the Prime Minister in Decision No. 253/2003/QĐ-TTg dated November 25, 2003. It is the only Vietnamese programme to promote national image and brand through product brands, including goods and services.
CMC establishes CMC Technology & Solution Company
The CMC Technology Corporation officially launched the CMC Technology & Solution Company (CMC TS) on April 11.
CMC TS was established by combining the experience and capabilities of four member companies of the CMC Corporation expected to bring breakthroughs in business and technology.
Speaking at the launch, Mr. Nguyen Trung Chinh, Chairman of the Board and General Director of the CMC Corporation, emphasized the advantages CMC TS possesses as well as its development opportunities in line with the business direction of the CMC Corporation as a whole.
CMC recently launched an open infrastructure ecosystem for businesses and organizations called C.OPE2N (CMC Open Ecosystem for Enterprise). "Through C.OPE2N, CMC hopes to make Vietnam the 'Digital Hub' of Asia-Pacific, connecting data and sharing knowledge with the globe," Mr. Chinh said.
With that technology strategy, the business goal of the CMC Corporation in the 2019-2023 period is to become a "billion-dollar company", with revenue of $1 billion by 2023. To achieve this goal, the Board of Management decided to restructure CMC into three business segments, corresponding to three new corporations officially operating from fiscal year 2019.
With a team of nearly 1,000 employees and experts in the IT field, CMC Corporation's Board expects CMC TS to become one of the leading enterprises in the IT field in Vietnam, bringing its technology vision to the world.
"The consolidated revenue of CMC TS's four companies reached over VND3 trillion ($ 130.4 million) in the last fiscal year," said Mr. Ho Thanh Tung, General Director of CMC TS. "CMC TS was established as the leading enterprise in the IT field in Vietnam."
CMC TS's ambition is to occupy the leading position in digital transformation solutions for governments, organizations and businesses, provide cloud computing solutions, and provide data services and information security services.
It will focus its resources on providing software solutions for the public finance sector, ministries, banks and enterprises, smart city solutions, and software products under the SaaS (software as a service) business model.
CMC TS will also focus on researching and developing new technologies such as cloud, big data, SaaS, IoT, fintech, and insurance tech, etc.
CMC is the second largest ICT corporation in Vietnam, with nearly 26 years of experience.
StoxPlus changes name to FiinGroup
StoxPlus, one of Vietnam's leading financial and business information service companies, recently announced a change of name to FiinGroup.
The new branding reflects the company's growth strategy and vision and signals expansion. It forms part of a strategic rebranding initiative including various product platforms named FiinPro, FiinTrade, FiinConnex, FiinGate, FiinTek and so on, which better expresses its family of products and services.
"StoxPlus has over a decade of expertise as a local financial information vendor," said Mr. Nguyen Quang Thuan, Chairman and CEO of FiinGroup. "The name change reflects our ambition to expand into new areas of expertise, including risk-based data platforms, corporate scoring, credit ratings, and other premium services to serve local and foreign customers across industries, beyond the financial sector."
The shareholder structure remains unchanged. FiinGroup's strategic partners, Nikkei Inc. and Quick Corp., have a combined ownership of 35.1 per cent, with the remaining 64.9 per cent held by management.
Its new name and brand identity signify FiinGroup's mission to "Enlighten the Market". The company is committed to continuous investment in its core database and innovation with useful data analytics platforms to better support capital markets and trade flows in Vietnam and between Vietnam and the world.
Founded in 2008, FiinGroup is Vietnam's leading integrated service provider of financial data, business information, industry research, and other premium services.
It applies advanced technologies in data-mining and research automation to analyze hundreds of thousands of private companies, with services ranging from standard factsheets and credit reports to insightful research reports. Products help customers with data-driven decisions in accelerating revenue, managing risks, lowering costs, and transforming their business.
FiinGroup now has close to 100 members of staff, including data analysts, business analysts, market researchers, and IT engineers/product developers working at both its head office in Hanoi and its Ho Chi Minh City branch.
Bamboo Capital's performance slows in 2018
After making intensive investments in its core areas of operation, including real estate and renewable energy, Bamboo Capital (BCG) is now expecting abnormal returns generated by recognizing parts of those projects' revenues and profits starting from 2019.
According to the 2018 audited consolidated financial statements of the Bamboo Capital JSC (Stock code: BCG), revenue from sales of goods and services reached about $48 million - down 44 per cent compared to 2017. Gross profit also fell over the year, though not by much, but the company managed a significant increase in gross profit margin, from 11.7 per cent to approximately 21 per cent.
After deducting selling costs, administration expenses, and taxes, BCG recorded an after-tax profit of more than $474,000, of which the after-tax profit for shareholders of the parent company was negative $647,000, offset by after-tax profit for the minority's interest of nearly $1.2 million.
BCG's Board of Directors has clearly stated that there are two main reasons for the company's performance slowdown in 2018. Firstly, it has divested from underperforming businesses such as Phu Thuan and 1-5 Auto in order to fully focus on the company's key activities. And second, most real estate and renewable energy projects are capital intensive, so additional costs are incurred and have an adverse impact on the company's profit margin.
Millions of dollars have been injected into BCG's real estate pipeline, including Malibu Hoi An Condotels & Villas, King Crown Village, and Long An utility-scale solar farms. This brought the company's total assets to $229.3 million by the end of 2018, increasing more than $76.3 million compared to the beginning of the year. Its assets have been structured in a favorable way, in which most are long-term investments, such as real estate investments and financial investments in joint ventures and affiliates with growth potential.
"We projected this type of result and presented it to our shareholders at the annual general meeting last year," said Mr. Nguyen Ho Nam, Chairman of Bamboo Capital. "However, in order to recover our growth momentum, we have decided to cut down on R&D time by cooperating with reputable foreign partners such as Hanwha, Daewon, and Woomi Construction."
BCG also forecasts that Vietnam's real estate market will continue declining in terms of supply and the company will therefore expand its project pipeline to generate stable cash flows. Specifically, Phase 1 of Casa Marina Resort in Quy Nhon, south-central Binh Dinh province, has netted annual revenue of $388,000 with occupancy rates of up to 70 per cent on weekdays and 100 per cent on holidays.
Phase 2 will be implemented this year with an additional 160 villas being built, which should bring the resort's revenue to $776,000. Regarding infrastructure, the Interstate 830 project in the Mekong Delta's Long An province started commissioning in June 2018, contributing a stable and long-term source of revenue to BCG.
Having said that, BCG expects 2019 revenue will exceed $128 million and after-tax profit will reach $13.4 million. Among its four core businesses, real estate and renewable energy will play the leading role and contribute 60-90 per cent of the company's total revenue.
Vietcombank, PwC cooperate on digital banking transformation
Vietcombank and PwC Consulting Vietnam have officially kicked off Vietcombank's Digital Banking Transformation project today in Hanoi. This is considered a pioneering project of its kind among large commercial banks in Vietnam.
The Digital Banking Transformation project is one of the major digitisation projects that Vietcombank has been implementing as part of its end-to-end digital transformation strategy. This particular project is expected to help Vietcombank boost the development of digital-based business models, with a view to achieving important business goals and improving customer satisfaction through digitised experience based on data and technology.
Nghiem Xuan Thanh, chairman of the Board of Directors at Vietcombank highlighted the six key objectives for the Digital Banking Transformation project, namely diversified banking products and services; expanded sales and distribution channels; stronger risk management; higher service quality; lower costs and higher efficiency; and most importantly, improved customer experience.
Pham Anh Tuan, member of the Board of Directors and director of the Banking Technology Modernisation Board at Vietcombank said that the Digital Banking Transformation project is one of the bank's core focuses in technology and services transformation in 2019.
He added that by cooperating with PwC, Vietcombank expects to access the best methods, practices and experience in digital banking implementation that PwC has garnered by advising various financial institutions in Southeast Asia and across the world.
"PwC is proud to be Vietcombank's partner in this milestone project," Grant Dennis, general director of PwC Consulting Vietnam said. "At the same time, we are aware of the challenges that the project will need to navigate. Therefore, we will devote the best resources to successfully implement the project."
"PwC encourages and supports organisations to assess the challenges of digital transformation in a holistic way. In this project, we will apply PwC's BXT (Business, Experience and Technology) method, the essence of which is that digital transformation does not happen in silos. The BXT method will provide effective support for large-scale transformation projects like this. With the close guidance of Vietcombank's leadership and the coordination of the relevant departments, we believe that the project will be successful and become a pioneering success story of digital banking transformation in Vietnam," said Dennis.
Avalanche of credit programmes to support SMEs and individuals
Southern banks are deploying a raft of major credit programmes in anticipation of burgeoning capital requirements from individuals and businesses in the upcoming months.
Early this month, Ho Chi Minh City-based Orient Commercial Bank (OCB) rolled out a VND3 trillion ($130.43 million) credit package targeting small- and medium-sized enterprises (SMEs) which operate in export-import and supply chain development with an interest rate of 7 per cent per year.
In addition, with support from the International Financial Corporation (IFC), besides the $100 million credit package with priority given to SMEs with women at the helm, IFC offers OCB an advisory programme on supply chain sponsorship development.
Viet Capital Bank has earmarked a credit package valued at VND1 trillion ($43.5 million) to aid SMEs with 8.5 per cent interest rate per annum, to be disbursed from now until the end of the year.
This is the third consecutive year the bank has dedicated concessionary credit packages of high value to benefit SMEs.
Earlier, the lending packages "Connecting SMEs 2017" and "Accompanying your company to success 2018" had supported more than 700 SMEs to access loans with a fixed interest rate of 8.5 per cent per annum.
In the case of Nam A Bank, in parallel to lending for agricultural and rural development in the central and Central Highlands region and enriching its customer base in the southwestern and eastern region with a preferential interest rate from 9 per cent per annum, the bank has introduced an extensive credit package in an attempt to meet the abundant demand from consumers and traders across the country.
State policies and commitment from local credit institutions serve as effective tools to support domestic firms' capital demands in current context.
The credit package named Dac Loc Phat Tai offers loans that fully meet the customers' capital demands.
Hoang Viet Cuong, business director at Nam A Bank, said that as financial institutions are businesses, they clearly know the multiple types of fees that they bear.
"With diverse policy incentives related to interest rate and transaction fees, we want to connect, accompany, and support firms, helping to alleviate their concerns over financial expenses and boost employed capital efficiencies," Cuong said.
Another city-based commercial lender, HDBank, has earmarked VND5 trillion ($217.4 million) to finance the petroleum trading chain of Petrolimex and PVOil, the two leading players in the Vietnamese petroleum business.
Particularly, HDBank offers an attractive interest rate scheme just from 7.2 per cent per year, providing unsecured lending of up to VND1 billion ($43,480) to a filling station and VND5 billion ($217,400) to an agent.
In addition, the bank offers quick loans to individuals and SMEs across the country with only 6.3 per cent per annum interest rate when borrowing to feed production and business needs or to serve agricultural production.
Huynh Buu Son, a senior finance-banking expert, stated that compared to regional countries, the borrowing cost of Vietnamese firms is fairly high. This explains why locally-made products can hardly compete in the regional and global arena, especially in an increasingly volatile global climate and increasing competition in both domestic and the global market.
State policies and commitment from local credit institutions will serve as effective tools to support domestic firms.
Vietjet reports impressive growth on international routes
Budget carrier Vietjet grew phenomenally last year, with around 50 per cent jumps in both revenue and pre-tax profit from its core aviation business.
Vietjet has just announced its 2018 audited financial statement with very upbeat business results.
Accordingly, the carrier posted VND53.577 trillion ($2.33 billion) in revenue and VND5.816 trillion ($252.9 million) in pre-tax profit last year.
Despite oil price rising by 30 per cent, the company's revenue and pre-tax profit from aviation transport hit VND33.779 trillion ($1.47 billion) and VND3.045 trillion ($132.4 million), increases of 49.8 and 48.9 per cent on-year.
This attests to Vietjet's expertise in revenue generation and cost management. It is significant to note that Vietjet's record growth last year came mostly from its core aviation transport business.
Vietjet and the national flag carrier Vietnam Airlines hold almost the entirety of the domestic market. Vietjet has posted nearly 20 per cent revenue growth from aviation transport in the domestic market and continued holding the pole position in passenger volumes on domestic routes.
The company also saw impressive growth in international routes. Five years ago, Vietjet only counted VND178 billion ($7.7 million) in international passenger transport revenue, this figure jumped to VND802 billion ($34.9 million) in 2016.
In the past two years, the company posted exponential growth on its international routes, with last year's international passenger transport revenue nearly doubling against 2017.
Accordingly, the company posted VND24.681 trillion ($1.07 billion) in total passenger transport revenue last year. Likewise, the revenue from value-added services which features high profit margins (selling souvenirs, food, and in-flight advertising, among others) amounted to VND8.410 trillion ($365.7 million), a 53.5 per cent jump on-year.
According to figures from Vietjet and the Civil Aviation Authority of Vietnam, last year Vietjet performed 118,923 flights, over 21,000 flights more than in 2017, with 34,990 flights to international destinations, a 56.25 per cent jump against 2017.
Vietjet's growth in flight numbers far surpassed rivals in the domestic market and also exceeded the whole aviation industry's average growth rate of 9 per cent.
Last year, all other air carriers in the domestic market only increased flight numbers by a combined 4,000 flights in total.
Effective cost management has bolstered Vietjet's competitive capacity in the international market. Its direct operating expenses not including fuel costs (cost per available seat kilometre – CASK ex-fuel) went down by 0.1 per cent last year to 2.38 US cents by virtue of modern fleet and cost-saving measures, besides support for fuel cost optimisation from the engine manufacturer.
The average CASK rose by 4-5 per cent in 2018 (Source: IATA), helping Vietjet boost profit on international routes which accounted for more than 60 per cent of the company's total aviation transport profit last year.
Aside from solid development in its home market, Vietjet aims to push up international route expansion to avail itself of lower fuel cost advantages on the international routes.
Besides a plethora of options in time schedules and destinations, Vietjet is approaching higher-income passengers with an array of priority services. Passengers on international routes have larger payment capacity for both ticket price and value-added services.
Aside from solid development in its home market, Vietjet aims to push up international route expansion to avail itself of lower fuel cost advantages on the international routes.
The company counts that international routes have surpassed local routes in terms of revenue contribution.
Through increasingly launching flights to developed nations in north-eastern Asia and populous nations with stable development like India, Vietnam aims to reach passenger groups of higher average income, from there raising the proportion of foreign currency income sources in the company's total money streams.
Hau Giang Pharmaceutical meets international standards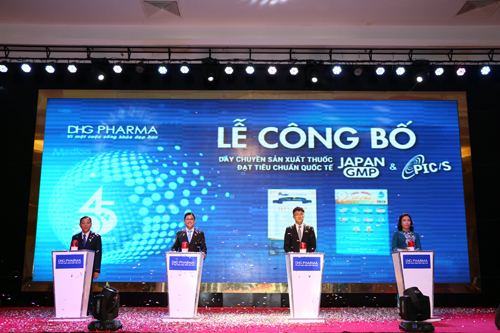 Delegates press the button to launch Hậu Giang Pharmaceutical Joint Stock Company's two new production lines meeting the international standards of PIC/S-GMP and JAPAN-GMP.
Hau Giang Pharmaceutical Joint Stock Company – the leading drug maker in Việt Nam – has announced two new production lines meeting the international standards of PIC/S-GMP and JAPAN-GMP.
The Pharmaceutical Inspection Co-operation Scheme (PIC/S) standard has been granted for its effervescent tablet manufacturing and the certificate of good manufacturing practice (Japan-GMP) from Japan was awarded for its other tablet manufacturing.
The certifications would help the company boost exports, the company's representative said, adding that it would continue to upgrade a series of remaining lines to meet international standards in order to increase its global exports.
Its products are expected to enter the market in Japan and all ASEAN countries soon.
1.45 million promotional Vietjet tickets up for grabs
Vietjet is offering passengers 1.45 million super-saving tickets starting from zero dollars between now and Friday to celebrate its newest international route from HCM City to Bali.
The discounted fares, which are available at www.vietjetair.com from noon to 2pm, are for all of Vietjet's domestic and international routes and those of ThaiVietjet – a joint venture of Vietjet and Thai airline Kan Air.
The travel window for promotional tickets is from June 16 to December 31.
The new-age carrier will provide five return flights per week on the HCM City–Bali route with flight times lasting around four hours per leg. The flight departs from HCM City at 8:05am and arrives in Bali at 1:05pm (local time). The return flight takes off from Bali at 2:05pm (local time) and lands in HCM City at 5:05pm.
Earlier this month, the airline announced it had earned total revenue of VNĐ53.57 trillion (nearly US$2.23 billion) and pre-tax profit of VNĐ5.81 trillion ($250 million) in 2018.
Despite rising oil prices, the company's air transport revenue reached VNĐ33.78 trillion, up 50 per cent year on year, while air transport profit before tax saw a rise of 49 per cent.
Last year, Vietjet operated approximately 120,000 flights on 105 routes, covering destinations in Việt Nam and Japan, Hong Kong, Singapore, South Korea, Taiwan, Thailand, Myanmar, Malaysia, Cambodia and mainland China.
Samsung to train 100 Vietnamese consultants this year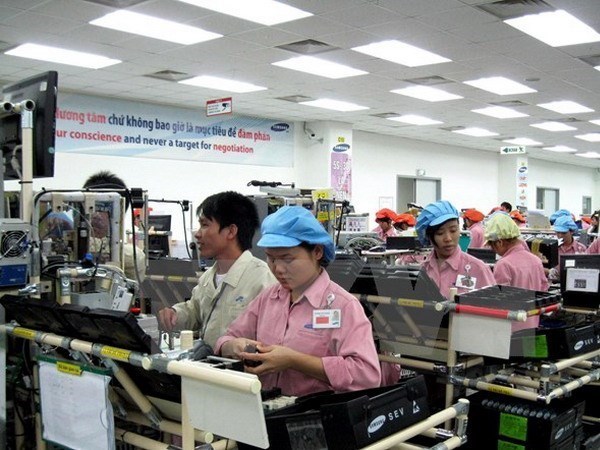 A factory of Samsung Electronics Vietnam in Thai Nguyen province
A training programme for Vietnamese consultants, co-held by Samsung Vietnam and the Ministry of Industry and Trade (MoIT), is estimated to host 100 trainees this year, raising the total number of trainees in 2018-2019 to around 200.
The programme is comprised of four courses, with each running for 13 weeks. Hanoi and HCM City will host two courses each.
At the opening ceremony in Ho Chi Minh City on April 16, Deputy Minister of Industry and Trade Do Thang Hai said that over the years, Vietnam has received support of the government, organisations, and firms of the Republic of Korea in various cooperation projects in the industrial sector.
Cooperation between Samsung and the MoIT since 2014 has to date contributed to raising the number of first tier suppliers in Vietnam, as well as those participating in the supply chain of Samsung and the world, he added.
Hai said that the 2019 training programme for Vietnamese consultants in quality and manufacturing improvement is among the framework of practical activities for the Vietnamese business community.
After the programme, the trainees are expected to become consultants and provide their knowledge and skills in manufacturing improvement projects of businesses.
For his part, General Director of Samsung Vietnam Choi Joo-ho said that the results of the training programme in 2018 showed that the competitiveness of Vietnamese firms has been improved, serving as motivation for organisers to accelerate the programme and devise suitable adjustments for its efficiency.
Vietnam attends Eurasian Economic Forum of the Youth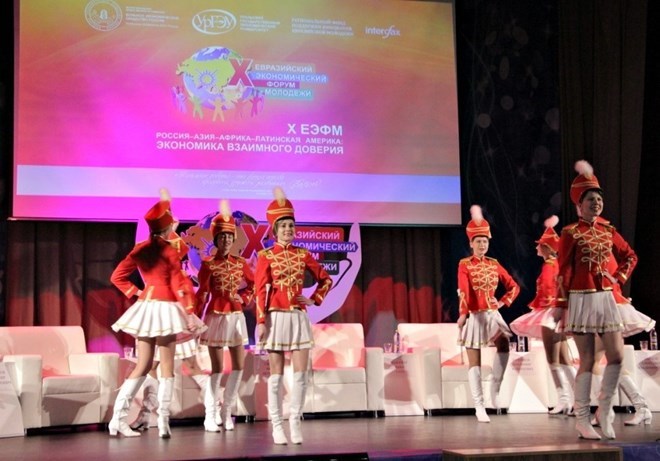 At the opening ceremony of the forum
Vietnamese students are joining more than 3,000 representatives from 72 countries and 126 universities worldwide at the Eurasian Economic Forum of the Youth, which is taking place in Moscow, Russia, from April 16-19.
First Secretary at the Vietnamese Embassy in Russia Le Chi Loi, who is also in charge of the management of Vietnamese students in Russia, led the Vietnamese delegation comprising students who are pursuing study at the Ural State University of Economics (USUE) to the plenary session themed "Russia-Asia-Africa-Latin America: The Economy of Mutual Trust".
In a press conference held in the framework of the forum, Loi said that there are some 6,000 Vietnamese students in Russia, and the country grants nearly 1,000 scholarships for Vietnam each year. The graduates of Russian universities have made proactive contributions to the national construction and development cause in Vietnam.
He took the occasion to thank Russian teachers and universities for creating the best conditions for Vietnamese students in the past years.
USUE rector Silin Yakov told Vietnam News Agency's correspondent that the forum is a good opportunity for youth delegates and diplomats from more than 70 countries worldwide to discus and give out initiatives to enhance mutual trust.
The forum focuses on current trends in national and global economy, hoping to create motives and a favourable environment for innovation in scientific research and develop startup projects among young people, he added.
In the framework of the forum, there will be cultural exchanges, photo exhibitions, seminars and an international martial art festival.
Leading garment-makers to display goods at Hong Kong's largest trade show


More than 30 leading Vietnamese manufacturers of garments, textiles, handicrafts and fashion accessories will be showcasing their products at one of Asia's largest exhibitions to be held in Hong Kong at the end of this month.
Goods to be displayed at the show include apparel, fashion jewelry, underwear, swimwear, bags, luggage, scarves, footwear and fabrics all under one roof.
The four-day Global Sources Fashion show will feature verified suppliers from major fashion manufacturing hubs, including Viet Nam, China, Hong Kong, Taiwan, South Korea, Bangladesh, India, Indonesia and the Philippines.
The exhibitors from Viet Nam include members of the Viet Nam Textile and Apparel Association (VITAS), Viet Nam National Textile and Garment Group, and Handicraft and Wood Industry Association of HCM City.
With over 1,800 booths, the fair is expected to welcome 12,000 buyers from 150 countries and territories, including the US, the EU, Hong Kong, Japan, Brazil, Mexico, Middle East, and South Africa, among others.
The one-stop sourcing show is expected to witness growing participation from branded firms, including more than 500 exhibitors worldwide promoting their own designs and brands.
The event will also feature fashion parades and industry-related conferences, according to the organiser Global Sources.
Pham Thiet Hoa, director of Ho Chi Minh City Investment and Trade Promotion Centre (ITPC), told Viet Nam News prior to the event that the centre was supporting most of the exhibitors from Viet Nam to participate in the trade show as part of its mission to help businesses in the city as well as attract more foreign investment to Viet Nam.
"Hong Kong is a major sourcing hub in Asia that helps connect buyers from the EU and the US and beyond," he said. "Viet Nam has become a more attractive complementary garment and textile sourcing destination for buyers from around the world."
This year the textile and garment sector has set a target of US$40 billion in exports, up 11 per cent year-on-year, according to VITAS.
The sector is expected to enjoy a trade surplus of $20 billion, and create jobs for around 2.85 million workers.
Last year the sector earned $36 billion worth of exports, up 16 per cent year-on-year, making the country one of the three biggest exporters of textiles and apparel in the world.
Minh Phu Seafood to sell 75.7 million shares for US$159 million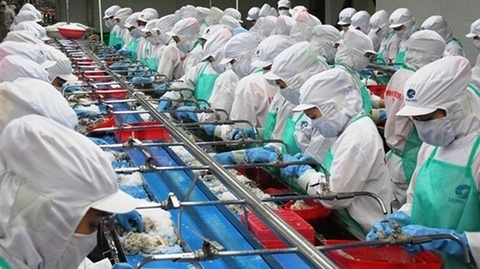 Minh Phu Seafood Corporation plans to sell more than 75.7 million shares in a private deal to raise VND3.7 trillion (US$159 million) to provide additional capital for production and business activities. — Photo tinnhanhchungkhoan.vn

Minh Phu Seafood Corporation (HoSE: MPC) plans to issue privately 75.72 million shares to raise VND3.7 trillion (US$159 million) in 2019.
The company will use 45 per cent of the funds, or VND1.7 trillion, to improve its financial capacity. The remainder will be used to fund production and sales activities.
The share issuance was approved in late February 2019 by the company's board of directors. The company last week gained approval of the State Securities Commission on the deal.
The company will offer shares to both domestic and international investors that are financially healthy and willing to accompany the firm in the long term.
The shares will be unavailable for trading in one year since the issuance date.
At the annual shareholder meeting in January, Minh Phu announced that Japanese, South Korean and US investors had been in talks with the company to buy shares.
The expected price is estimated at more than VND48,800 per share.
The company has 140 million shares on the Ho Chi Minh Stock Exchange under code MPC.
The company's shares edged up 0.7 per cent to close Tuesday at VND46,100.
Viet Nam's exports to Japan increase rapidly in Q1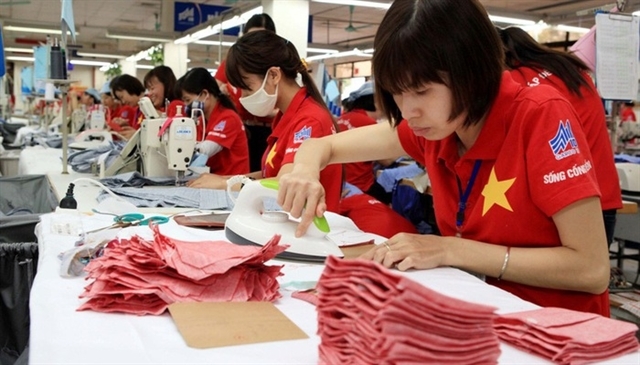 Viet Nam's exports to Japan increased sharply in the first quarter of this year, including garment products. — Photo vneconomy.vn
Elimination of many tariff lines for goods under the CPTPP has helped Viet Nam's exports to Japan increase sharply in the first quarter of this year, according to the General Department of Customs.
Viet Nam's export value to Japan in the first quarter surged 6.7 per cent year on year to US$4.6 billion, the general department said. Viet Nam became one of three markets gaining an export value in the billions of US dollars to Japan, after the US and China.
In March 2019 alone, the export value to Japan reached $1.7 billion, a sharp increase of 62.3 per cent month on month and a surge of 2.7 per cent year on year.
The strong growth in Viet Nam's export value to Japan was attributed to the Comprehensive and Progressive Agreement for Trans-Pacific Partnership (CPTPP). According to this agreement, Japan for the first time has pledged to completely eliminate tariffs for the majority of Viet Nam's agricultural and seafood products exported to this market.
That meant Japan immediately abolished 86 per cent of tariff lines, equivalent to 93.6 per cent of Viet Nam's export value to Japan, and then this figure will increase to 90 per cent of tariff lines within five years.
On the other hand, the Viet Nam-Japan and ASEAN-Japan free trade agreements have created advantages in tariffs for some of Viet Nam's seafood products exported to Japan, reported vneconomy.vn.
About 62.5 per cent of Viet Nam's total goods items exported to Japan in the first quarter gained strong growth compared to the same period last year, according to the general department.
The major export products to Japan included textiles (export value of about $900 million), means of transport and spare parts ($630 million), machinery and equipment ($450 million) and seafood products ($306 million).
Especially, the fertiliser exports to this market had a sudden growth in the first quarter of 2019 to 8,126 tonnes, earning $3.7 million. The exports rose up by five times in volume and about 11 times in value year on year.
In addition, Viet Nam saw strong growth in exports of some goods to Japan in the first quarter, including chemical products (up 70 per cent), animal feed and raw materials (up 56.8 per cent), ore and minerals (up 52 per cent), all kinds of steel (up 49 per cent) and plastic materials (up 43 per cent).
Meanwhile, Japan sharply reduced imports of cassava and cassava products from Viet Nam, with a reduction of 99.6 per cent in volume and 98.5 per cent in value over the same period, despite the average export price of cassava surging by 3.3 times to $886 per tonne.
In 2018, Viet Nam's goods export value to Japan reached more than $18.8 billion. Textiles and garments accounted for the largest proportion with over 20 per cent of the total export value. Meanwhile, seafood, furniture and footwear respectively hold 7.4 per cent, 6.1 per cent and 4.5 per cent.
EVS: Market to fare better in late Q2
Everest Securities Company (EVS) said in a recent report that the local stock market would move higher from the end of the second quarter, with the index of the HCMC bourse seen climbing to 1,068 points.
Currently, global risks are subsiding as the U.S. Federal Reserve (Fed) has stopped its rate hike cycle and the U.S. and China are seeking a deal to end the trade war. However, local stocks have not seen strong supporting factors in the April-June period.
According to EVS, listed enterprises may see profit falling to around 4% compared to the same period last year due to the lack of contribution from bank and real estate stocks. At the end of 2019, the profit growth rate is expected at 18%, backed by consumer and manfacturing stocks.
In immediate term, the VN-Index of the Hochiminh Stock Exchange is supported by the 940-point level. Stocks may fare better since the end of the second quarter and set up a sustainable uptrend in the second half, boosted by the consumer goods sector. The index is projected to rally to 1,068 points this year, EVS said.
Vietnamese shares ended last week on a negative note as stronger oil prices were not enough to counter the selloff of large-cap stocks.
The VN-Index edged 0.31% lower to end Friday at 982.9 points. It fell a total 0.64% last week.
According to Saigon-Hanoi Securities Company, market trading conditions were a little bit poor last Friday as there were 154 stocks declining and 146 others advancing.
Large-cap stocks underperformed as they were weighed down by poor market sentiment. That forced investors to stay on the sidelines as stocks were still moving lower, it said.
On the Hanoi Stock Exchange, the HNX-Index inched up 0.12% to close at 107.7 points. The HNX-Index finished the week 0.16% lower than the previous week.
Bao Viet Securities Company said the VN-Index may continue consolidating at the current level with low turnover as it was seeking to strike a balance rather than making a strong rebound. Investors may remain cautious as they are afraid that fuel and electricity price hikes would hit production and business activities of listed enterprises.
Tourism firms seek cooperation from universities
The tourism sector is facing a serious shortage of highly skilled manpower, causing travel firms to constantly call on colleges and universities for cooperation in supplying workers each year.
Mai Hong Quy, principal of Hoa Sen University, said that the demand for manpower in the tourism sector is on the rise. The university receives orders for highly skilled workers from tourism and hotel management groups, including Marriott International and Accor, each week.
In addition, Quy said, many firms are in dire need of tourism-oriented human resources to run their projects.
"The local tourism market currently has a thirst for manpower. The number of orders for tourism employees rises by over 5,000 every year," Quy told Vietnam Tourism Forum 2019 on Human Resources, co-organized by the HCMC Department of Tourism and Hoa Sen University last week.
Vietravel General Director Nguyen Quoc Ky told the Saigon Times that each year, his firm is in need of an additional 300 employees, but the company finds it hard to fulfill this target. Apart from this, recruited staff can only work after taking training courses, Ky explained.
"A graduate has to undergo a six-month training course before they can start their work. It takes these new employees one year to become highly skilled, which is a waste of time and money," Ky said.
He remarked that the firm also runs a number of small-scaled schools to train students in majors related to the tourism sector, but these schools have failed to meet the rising demand for tourism human resources.
Statistics from the Vietnam National Administration of Tourism show that the tourism industry needs some 40,000 laborers every year, but the number of graduates majoring in tourism is recorded at 15,000 per year.
Vu The Binh, vice chairman of Vietnam Tourism Association, explained that universities and colleges nationwide turn out a maximum of 50,000-60,000 tourism graduates a year, while the current need for tourism manpower is 100,000 people.