PV Gas reports 16% increase in Q1 profit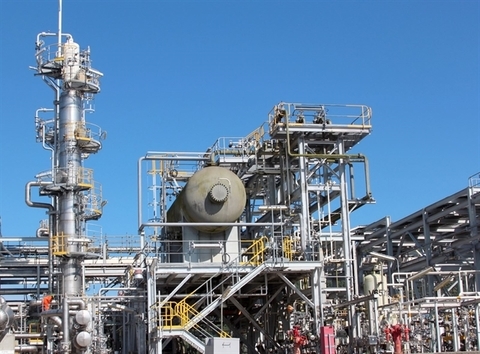 PetroVietnam Gas Corporation posted a 16 per cent increase in post-tax profit for the first quarter of 2019, which reached VND3.03 trillion. Photo pvgas.com.vn

PetroVietnam Gas Corporation (PV Gas) has announced its post-tax profit in the first quarter was up 16 per cent year on year to VND3.03 trillion (US$130.2 million).
In the first three months of 2019, the company earned more than VND18.6 trillion in net revenue, a yearly increase of 3 per cent.
The company has accomplished 29 per cent of the full-year revenue target and 40 per cent of the full-year profit target.
In the first-quarter financial report, PV Gas said its combined profit rose 9 per cent year on year to VND4.34 trillion as cost of sales fell 1 per cent from the same period last year.
Among major incomes of the company, financial income jumped a third to VND394 billion while financial expense was down to VND60 billion from VND172 billion in the first quarter of 2018.
In 2019, PV Gas lowered its earnings by 15 per cent in revenue and 35 per cent in post-tax profit to VND63.9 trillion and VND7.64 trillion, respectively.
The 2019 dividend payout rate is estimated at 30 per cent, equal to VND3,000 ($0.13) per share.
PV Gas is listing nearly 1.9 billion shares on the Ho Chi Minh Stock Exchange (HoSE) under code GAS.
The company shares were up 0.8 per cent to trade at VND106,400 per share on Thursday morning.
Its shares have gained more than 25 per cent since the end of 2018.
Maritime Bank wants to raise $43 million from private share issuance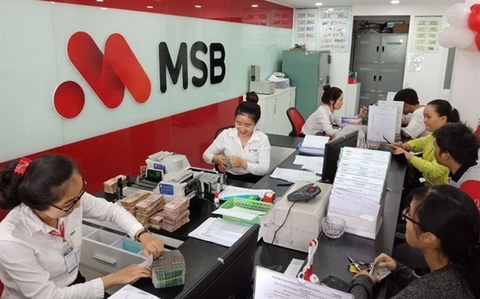 A Maritime Commercial Joint Stock Bank trading office. The bank is planning to sell 100 million shares to domestic investors via a private deal to raise VND1 trillion. — Photo cafef.vn
The Maritime Commercial Joint Stock Bank (MSB) is proposing shareholders approve a plan to raise VND1 trillion (US$43 million) from private share issuance in the second half of this year.
The bank's board of directors plans to issue 100 million shares or maximum 8.5 per cent of its charter capital for domestic shareholders.
The capital raised from share issuance, which is estimated at VND1 trillion, will be spent on improving the bank's financial capacity, expanding its office network, increasing market shares and business scale, diversifying products and services, and meeting the central bank's capital adequacy ratio (CAR) requirements.
MSB also expects to increase its capital for medium- and long-term lending to raise its credit growth and make in-depth investment into infrastructure and technology.
MSB currently has VND11.75 trillion worth of charter capital.
Any shareholder qualified for the deal must guarantee his ownership in MSB will not exceed 5 per cent of the bank's charter capital and he will not become a major shareholder.
MSB major shareholders include the Vietnam Posts and Telecommunications Group (VNPT), which holds 6.092 per cent of the bank's charter capital.
After the share issuance, VNPT's stake in the bank will fall to 5.614 per cent.
The selling price will be negotiated between the bank and shareholders. It will stay higher than the bank's book value. Additional shares will be restricted from trading for a year.
The share issuance plan will be discussed at the bank's annual shareholder meeting, which will be held on April 23.
Other topics at the annual shareholder meeting include a plan to sell 100 million treasury shares.
Rubber group urged to boost revenue from wood processing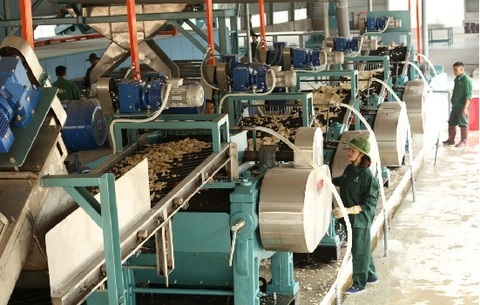 A rubber wood processing plant of Viet Nam Rubber Group. — Photo vietnamrubbergroup.com

Viet Nam Rubber Group must strive to increase its annual revenue to reach US$10 billion, given its advantage of owning more than 400,000 hectares of agricultural and forestry land, Deputy Prime Minister Vuong Dinh Hue said at a meeting with the group on Thursday.
Focus should be placed on diversifying products made from rubber wood, so that the group could participate deeply in the wood processing industry which could create a new source of revenue from the export of wooden products, Hue said.
Hue said that the wood processing industry and wood products manufacturing was a potential sector for the Viet Nam Rubber Group, adding that expanding production into the wood processing industry rather than in latex production would help the group to reduce reliance on the fluctuations of latex prices in the global market.
Viet Nam Rubber Group must set the target of reaching revenue of $10 billion in the future, Hue asked.
He noted that the group also needed to enhance the management on its agricultural and forestry land to ensure efficiency as well as speeding up the development of a master plan for production restructuring after privatisation.
Viet Nam Rubber Group was privatised and operated as a joint stock company since June 1, 2018. The Committee for Management of State Capital was now the representative of the State capital ownership at the group after receiving it from the Ministry of Agriculture and Rural Development.
In 2018, Viet Nam Rubber Group earned revenue of VND4.5 trillion ($2 billion).
Rubber production generated an estimated profit of VND100 billion per year for the group while rubber wood processing more than VND1 trillion and industrial zone development VND500 billion.
Low-cost carrier Vietjet sets sights high with $1.8b annual profit target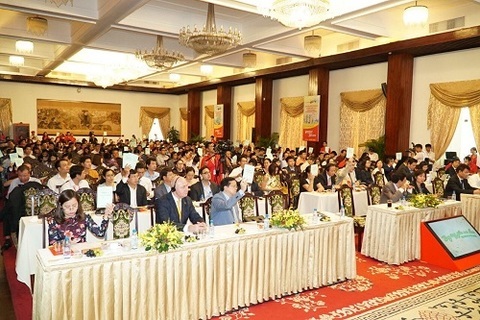 Shareholders at Vietjet's annual general shareholders' meeting held in HCM City on Friday.
Vietjet Aviation Joint Stock Company is aiming for nearly VND42.3 trillion (US$1.8 billion) air transport revenue in 2019, 25 per cent higher than last year's figure.
The company also hopes to earn air transport profit of VND3.8 trillion ($163 million) this year. These targets were announced at the company's annual general shareholders' meeting held in HCM City yesterday.
This year, Vietjet will focus on international route expansion to promote foreign currency revenue from ticketing, take advantage of lower international fuel prices and increase its ancillary revenue.
According to Vietjet, it plans to open 20 new international routes by the end of this year, transporting nearly 28 million passengers. Currently, it operates about 400 flights daily on 113 routes covering destinations across Viet Nam and several other countries.
In the next three years, Vietjet aims to maintain its position in domestic transport, expand international routes, invest in developing the aviation's infrastructure and enhance human resource training.
By the end of 2018, Vietjet posted positive business performance, transporting more than 23 million passengers on nearly 12,000 flights with an on-time performance (OTP) rate of 84.2 per cent, compared to the global OTP average of 78.7 per cent.
According to the company's audited finance results, Vietjet earned total revenue of VND53.6 trillion and pre-tax profit of VND5.8 trillion last year.
Despite rising oil prices, the company's air transport revenue hit VND33.8 trillion, up 50 per cent year-on-year while air transport profit before tax saw a yearly rise of 49 per cent.
These figures showed the company's ability to grow revenue and good cost management which fueled its business growth in 2018, Vietjet said.
During the period, Vietjet's ancillary revenue topped VND8.4 trillion, up 54 per cent year-on-year. The proportion of this segment in total revenue also increased from 24.5 per cent in 2017 to 25.4 per cent in 2018.
The company's total consolidated assets were VND39 trillion as of December 31, 2018, up 24 per cent year-on-year, and its equity recorded a yearly increase of 33 per cent to VND14 trillion.
With positive business results in 2018, shareholders decided to pay a 55 per cent dividend in both cash and shares.
During the meeting, shareholders agreed to select Donal Joseph Boylan as an independent director of the company's Board of Directors for 2017–22. Born in 1963, Boylan has more than 30 years of experiences in aviation and air financial industry.
The company's shares (Code VJC) rose 0.8 per cent on Friday to VND114,900 on the Ho Chi Minh Stock Exchange.
Vinamilk says merger plan is for mutual benefits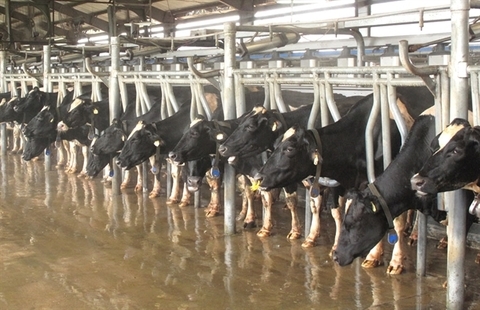 A Vinamilk cattle farm in Ben Cau District, Tay Ninh Province. The largest dairy producer by market capitalisation has targeted a slight increase in earnings for 2019.
The Viet Nam Dairy Products Joint Stock Company (Vinamilk) wants to team up with other domestic milk producers to counter pressure from foreign businesses.
Vinamilk made a bid for 116.7 million shares or nearly 46.7 per cent in GTN Foods on April 11, which owns Moc Chau Milk JSC. If approved, Vinamilk could raise its ownership in GTN Foods to 49 per cent and become a major shareholder.
However, the deal was strongly opposed by GTN Foods' board of directors in late March.
According to GTN Foods chairman Ta Van Quyen, Vinamilk was a direct competitor in dairy production and distribution, and Vinamilk had not made an official offer or shown a clear plan to support the development of GTN Foods.
"Vinamilk wants to sit down and talk to GTN Foods about the deal and mutual development," Vinamilk general director Mai Kieu Lien said at the firm's annual shareholder meeting yesterday.
"If we stay small and individual, we won't be strong enough to compete in the dairy industry. If we want to go international, Vietnamese companies must stick together like a bundle of chopsticks, which are hard to break."
"Vinamilk never plans to take advantage of our friends. We have talked to GTN Foods and reached some mutual agreements," Lien said.
Half of profit to pay dividend
Vinamilk plans to spend half of its 2019 post-tax profit to pay dividends. In 2017 and 2018, dividend payout rates were at least 70 per cent.
The 2019 dividend payments will be made in three installments. The first payment will be made in September, worth VND2,000 per share.
The second payment will be made in February 2020, worth VND1,000 per share. The third payment will be discussed at the 2020 annual shareholder meeting.
In 2018, Vinamilk planned to pay three dividend payments worth a total of VND4,500 per share. The first batch was completed in September 2018, worth VND2,000 per share.
The second batch was paid in February 2019, worth VND1,000 per share. The third, worth VND1,500 per share, is scheduled for June 26. The total value of 2018 dividend payments is forecast to hit VND7.84 trillion.
In 2019, Vinamilk targets 7 per cent annual growth in total revenue at VND56.3 trillion.
Pre-tax profit is forecast to gain 5 per cent year-on-year to nearly VND12.7 trillion and post-tax profit is expected to grow 2.5 per cent to VND10.5 trillion.
In 2018, Vinamilk posted VND52.63 trillion in total revenue, up 3 per cent from the previous year. Its post-tax profit declined slightly to VND10.2 trillion from nearly VND10.3 trillion in 2017. Vinamilk shares fell 1.6 per cent to finish yesterday at VND133,000 per share on the Ho Chi Minh Stock Exchange. As of yesterday, the company's market value was VND231.64 trillion ($9.94 billion), being the fourth largest listed company by market value behind real estate firms Vingroup (VIC), Vinhomes (VHM) and Vietcombank (VCB).
PG Bank targets over $9m pre-tax profit this year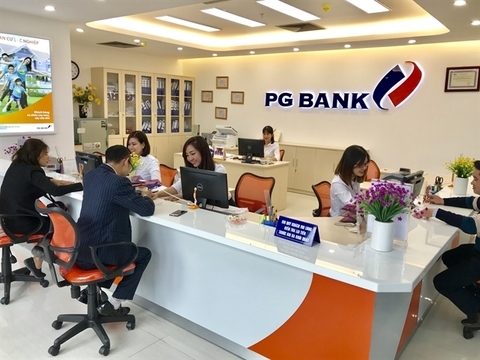 The total number of employees at PG Bank by the end of 2018 was 1,504, a decrease of 108. — Photo pgbank.com.vn
Petrolimex Group Commercial Joint Stock Bank (PG Bank) targets pre-tax profit of VND211 billion (US$9.06 million) in 2019 and total assets to reach nearly VND32.74 trillion by December 31, 2019, a year-on-year increase of 9 per cent.
The figures were released in the recently published document of the annual shareholders' meeting of the bank.
The bank said it would add enough resources to implement debt handling and debt recovery. It is expected to collect a total of VND715 billion; of which, bad debt is VND228 billion, debt sold to VAMC is VND424 billion, debt collection used for risk reserve is VND63 billion.
By the end of 2018, the bank's loan balance reached over VND22.05 trillion, up 3 per cent compared to the end of 2017; in which corporate loans were reduced by 3 per cent.
In addition, PG Bank's inter-bank business activity also reached only VND1.3 billion, down VND2.3 billion compared to 2017 due to the banks reducing transactions with PG Bank when having the information of merger approval to HD Bank.
PG Bank also plans to recruit about 350 people this year. PG Bank's report also said that the merger with HDBank took longer than expected, affecting the overall business development as well as the bank's outstanding loan growth in the past year.
The total number of employees at the end of 2018 of the bank was 1,504, a decrease of 108 people. A total of 385 people resigned, while the bank recruited 284.
Mortgage requirements stand between small companies and bank loans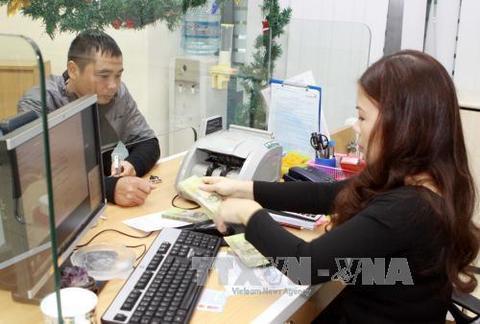 Small enterprises complain at a conference in HCM City on Thursday that it is difficult for them to get bank loans because of stiff mortgage conditions.
Small- and medium-sized enterprises are unable to borrow from banks because they do not have property to mortgage, Tran Viet Anh, deputy chairman of the HCM City Business Association, has said.
He was speaking at a conference held to bring together enterprises and banks in HCM City on Thursday, where many small enterprises in the city complained about their difficulty in getting bank loans.
Nguyen Van Hau, financial manager of Dai Dung Company, said in fact the enterprises need to mortgage a lot of assets to borrow because banks value properties at a fraction of their market price.
"If an enterprise want to borrow VND100 billion, it must have properties worth VND300-400 billion," Hau said.
Most manufacturing companies tended to rent or buy lands in industrial parks, but banks did not accept them as collateral since they are not granted land use right certificates, he said.
Lu Nguyen Xuan Vu of Xuan Nguyen Group, a company operating in the agricultural sector, said firms in the sector mainly have farmlands, and they are valued far lower than others.
Agricultural firms find it even harder to get bank loans than those in other sectors, he added.
Anh said banks should increase the rate of unsecured loans for SMEs.
Dao Minh Tu, Deputy Governor of the State Bank of Viet Nam, said the banks and businesses should work together to find a way out.
The central bank would consider relaxing lending requirements so that SMEs can get easier access to bank loans, he promised.
It would also increase loans for production and business activities, especially in priority sectors, simplify lending procedures and diversify banking products, he said.
Meanwhile, banks should offer lower interest rates and share businesses' risks, Tu said.
A report from the SBV shows that credit to SMEs has edged up this year.
In the first quarter, loans outstanding to SMEs increased by 2.8 per cent to VND1.31 trillion (U$56.2 million) , accounting for 18 per cent of total loans.
City Party chief calls on companies to use technology to improve quality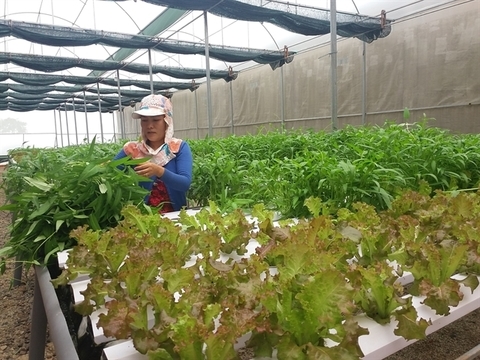 A farmer harvests clean vegetables at a garden run by Vuong Huy High-Tech Vegetables and Fruits Company at Xa Bang Commune in Ba Ria-Vung Tau Province's Chau Duc District. The use of advanced technology to produce high-quality output is a must for local businesses to gain trust and popularity.
Vietnamese companies need to invest in advanced technologies to meet the rising demand for high-quality goods in the domestic market as well as to expand exports, Nguyen Thien Nhan, the HCM City Party's Committee Secretary, said.
The "Vietnamese people give priority to using Vietnamese goods" campaign offers favourable conditions to domestic firms to increase their market share and expand exports in the context of global integration that poses fierce competition, he told a conference held on Saturday (April 20) to review the 10-year-old campaign.
"The campaign encourages consumers to use locally made goods. It is also a driving force for domestic firms to improve the quality and design of products to gain trust and popularity."
The use of Vietnamese-made goods is not just about economics but also about national pride, he said.
City authorities need to take drastic measures to combat poor quality and fakes to protect high-quality Vietnamese products, he said.
According to the campaign steering committee, poor quality and counterfeit goods are illegally distributed in the market, destroying brand reputations and affecting businesses and the economy.
Oversight of the market and prices needs to be strengthened to fight low quality and counterfeits, it said.
Tran Tan Loi, deputy head of the steering committee, said the campaign has created a great change in the mindsets and habits of State agencies, enterprises and households, which have begun to give priority to using local products.
The campaign ties in with the city's market stabilisation programme for four groups of products - food and foodstuffs, dairy, essential drugs, and school supplies, Loi said.
For the programme, only made-in-Viet Nam goods are chosen, he said.
"The campaign has helped increase local firms' awareness of the importance of exploring local markets and improving competitiveness."
In recent years, many Vietnamese-made products have received the Vietnamese High-Quality Goods certificate and local firms have managed to increase both their share in the local market and expand exports, he added.
Nguyen Anh Duc, deputy general director of Saigon Co.op, said Vietnamese products have significantly improved in terms of quality, design and creativeness in the past 10 years.
Vinh Tan international seaport opens in Binh Thuan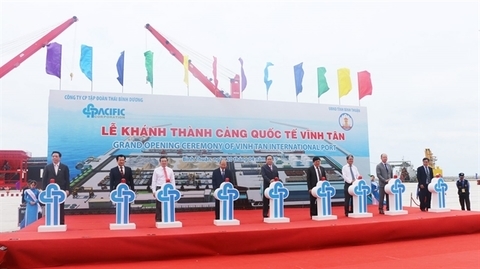 Distinguished guests participate in the port's opening ceremony. — Photo vinhtanport.com
The Vinh Tan international seaport, worth more than VND2.3 trillion (US$98.7 million), opened its doors on Saturday in the southern province of Binh Thuan.
Financed by the Vinh Tan International Port Co, a member of the Pacific Corporation, the port spans 140ha in the Tuy Phong District. It has a 3,000DWT wharf and two 50,000DWT wharves, and will have a 70,000DWT wharf in the near future.
The investor said the port will contribute to promoting investment attraction, satisfying the increasing demand for cargo transport of local enterprises in Binh Thuan Province and others of neighbouring provinces while facilitating local budget and creating more local jobs.
Nguyen Ngoc Hai, chairman of the provincial People's Committee, said the port can be easily connected with industrial zones in Binh Thuan, Ninh Thuan and the Central Highlands provinces, helping reduce transport costs and spur marine economy growth.
Bui Thien Thu, deputy head of the Viet Nam Maritime Administration, said the establishment of the Vinh Tan international port is to realise the State's policy of encouraging economic sectors, especially the private one, to invest in economic infrastructure development.
The country is home to 272 wharfs with accumulated annual capacity exceeding 550 million tonnes.
Last year, local seaports handled about 524.7 million tonnes of cargo, up 19 per cent year-on-year, and served 5.8 million passengers, up 28.9 per cent against 2017.
Around 1,300 businesses in the country are providing maritime services. However, they have fulfilled only a quarter of the market demand.
Vietjet Air launches Phu Quoc-Hong Kong route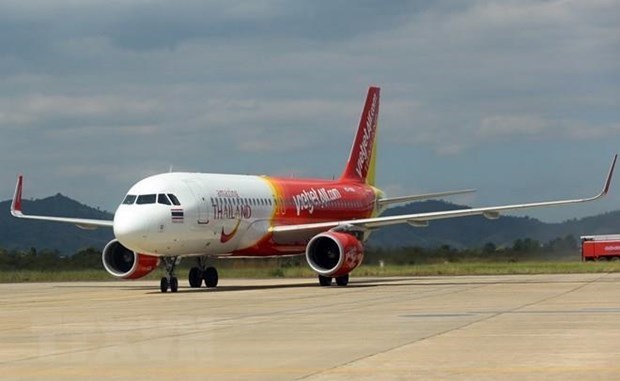 New-age carrier Vietjet has officially launched Phu Quoc-Hong Kong route, making it the first airline to operate the direct services between the two destinations, contributing positively to the promotion of air travel and trade between Vietnam and Hong Kong as well as across the region. 
This is also Vietjet's second route to Hong Kong from Vietnam following its Ho Chi Minh City-Hong Kong route.
The Phu Quoc-Hong Kong route will operate return flights with a frequency of four flights per week, starting from April 19, 2019. With a flight time of 2 hours and 45 minutes per leg, the flight departs Phu Quoc at 10:50 in the morning and lands in Hong Kong at 14:35. The return flight departs from Hong Kong at 15:40 and arrives in Phu Quoc at 17:25 (all local times). The new route's tickets are now available via website www.vietjetair.com.
Hong Kong is known as one of the world's leading centers of finance and commerce, and as a hub for numerous major corporations with headquarters in the Asia-Pacific region. With a blend of Western and Eastern cultures, a vast variety of cuisines, and a developed entertainment industry, Hong Kong is the most loved destination for tourism and shopping for many travelers.
Known as "the Pearl Island", Phu Quoc is the biggest island in Vietnam. As one of the most talked-about tourism destinations in Asia with beautiful beaches and friendly local people, Phu Quoc has attracted strong levels of investment in hotels and resorts in recent years and become one of the most popular holiday destinations in Vietnam. Adding to the island's appeal, international travelers are exempt from visas for visits of 30 days or less.
With a network of 113 routes, Vietjet operates safe flights with a technical reliability rate of 99.64 percent - the highest rate in the Asia Pacific region. As a fully-fledged member of International Air Transport Association (IATA), Vietjet has obtained the IATA Operational Safety Audit (IOSA) certificate and has been awarded a 7-star ranking, the world's highest rate for safety, by AirlineRatings.
Offering affordable tickets, diverse ticket classes, attractive promotions, the carrier also creates memorable flying experiences for passengers on new aircraft with comfy seats, a choice of nine delicious hot meals served by beautiful and friendly cabin crew, and many other attractive added-on services.
Vietjet is the first airline in Vietnam to operate as a new-age airline offering flexible, cost-saving ticket fares and diversified services to meet customers' demands. It provides not only transport services but also uses the latest e-commerce technologies to offer various products and services for consumers.
Vietjet is a fully-fledged member of International Air Transport Association (IATA) with the IATA Operational Safety Audit (IOSA) certificate. Vietjet was named "Best Ultra Low-Cost Airline 2018 - 2019" and awarded the highest ranking for safety with 7 stars in 2018 by the world's only safety and product rating website AirlineRatings.com. The airline has also been listed as one of the world's 50 best airlines for healthy financing and operations by Airfinance Journal in 2018.
Currently, Vietjet operates around 400 flights daily, carrying more than 70 million passengers to date, with 113 routes covering destinations across Vietnam and international destinations such as Japan, Hong Kong, Singapore, the Republic of Korea, Taiwan, China, Thailand, Myanmar, Malaysia and Cambodia.
Major wood processing factory opened in Ha Tinh province
A medium density fibreboard (MDF) factory that is considered the biggest of its kind in the central region of Vietnam was inaugurated in Vu Quang district of Ha Tinh province on April 21.
The inauguration ceremony saw the presence of Deputy Prime Minister Vuong Dinh Hue.
The factory covers 18ha of land at the industrial cluster of Vu Quang district. It was invested with more than 1.44 trillion VND by the Thanh Thanh Dat MDF Joint Stock Company.
It is designed to produce 120,000 cub.m. of medium- and high-density fibreboard and 2,400 cub.m. of other wood products per day.
The factory is equipped with cutting-edge technology from Europe and highly automated to ensure product quality and reduce production costs while being environmentally friendly.
It is hoped to greatly help with local industrialisation and modernisation and create jobs for residents, thus contributing to economic development of Vu Quang district and Ha Tinh province.
Hanoi helps bring farmers into 21st century with technology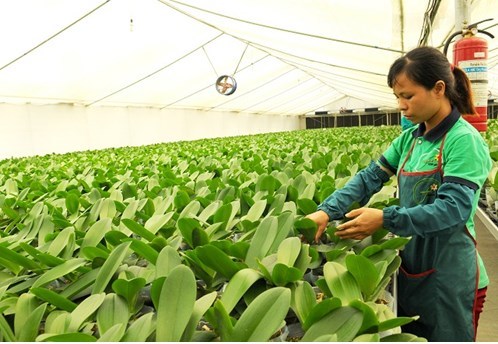 Nguyen Duc Dan, Chairman of the Ba Trai Commune People's Committee, cannot hide his happiness as he discusses his community's strides in tea production.
Dan said tea production has been rising, boosting the incomes of local farmers making the commune the most important tea planting area in Hanoi's Ba Vi district with a total cultivated area of 560ha.
In 2014, the commune received technical help from the Hanoi Department of Agriculture and Rural Development to plant tea that meets Vietnamese Good Agriculture Practice (VietGAP) standards, which ensure a high level of standardised quality through the use of modern farming techniques. Local farmers were taught methods to update their ineffective old farming techniques.
For example, farmers like Dan who elected to apply VietGap standards were trained to a use new, more efficient watering system and to harvest using machines instead of manually. Since then, tea production has gradually risen.
On average, each hectare of tea in the commune brings in about 220 million VND (9,400 USD) of profits per year, as much as twice the profit generated by conventional farming techniques.
Director of the municipal Department of Agriculture and Rural Development Chu Phu My said Hanoi has targeted increasing the amount of agricultural production that uses hi-tech practices from 25 percent of all agricultural areas last year to 35 percent by the end of this year.
Hanoi has applied biotechnology, new cultivation and preservation methods and automation to its agricultural production, according to the municipal Department of Agriculture and Rural Development.
My said it would also urge localities to complete programmes to set up new-style rural areas.
In addition to its hi-tech push, the municipal agricultural sector has also allowed farmers to import livestock from other countries to raise productivity.
Farmers have imported chickens from the Czech Republic, pigs from Thailand and Canada and cows from Belgium. The animals are cross-bred with domestic livestock to create more productive offspring. For instance, the cattle bred from domestic cows and imported Belgian cows grow larger than most Vietnamese cows, producing more beef.
Director of the Hanoi Centre for Agricultural Development Hoang Thi Hoa said the application of hi-tech farming practices not only served Hanoi's demand for food, but also helped turn the capital city into the country's biggest supplier of quality breeding stock.
Each year, Hanoi supplies more than 50 million domestic fowls, 200,000 pigs and 30,000 cows to different provinces and cities.
Despite this progress, the capital city still faces several obstacles to applying hi-tech agricultural practices.
The use of modern technologies remains low. Just 924.5ha of fruit trees are cultivated using hi-tech farming practices, making up 6.2 percent of the total fruit area of the city. Just 306.5ha of tea cultivation areas have taken the step, making up 10.2 percent of the total area in the city.
Change remained slow because farmers lack investment and have been unable to co-ordinate closely with businesses.
Agricultural experts said more investments are needed in agricultural production and processing.
My said that to ease difficulties, the department proposed the municipal authorities issue policies to urge agricultural production, and set up hi-tech agricultural zones.
Vietnamese government supports enterprises to win local consumers' hearts
Made-in-Vietnam goods are gradually conquering local consumers and the government has been supporting enterprises to increase their foothold, making an important contribution to the campaign "Vietnamese people use Vietnamese goods".
According to Deputy Head of the Domestic Market Department under the Ministry of Industry and Trade (MoIT) Le Viet Nga, before the campaign was launched a decade ago, only 23% of consumers gave priority to Vietnamese goods. After six years of implementation, the figure increased to more than 70%.
Sources from the MoIT said the proportion of Vietnamese goods in supermarkets remains high, above 80%, Lao Dong newspaper reported.
Surveys have shown the ratio of Vietnamese goods chosen by local consumers has climbed rapidly year after year and has accounted the majority in many major distribution channels.

Local media quoted Le Viet Nga as saying that Vietnamese enterprises have been fully aware of the local market demand. However, some Vietnamese goods are not competitive enough in terms of quality, design, product package, after-sales service, among others, she noted.
Thus, the MoIT keeps promoting the campaign "Vietnamese people use Vietnamese goods" on communication channels with large number of followers and promote Vietnamese trade brands, Nga said.
She added that in the time to come, the ministry will focus on connecting manufacturers, distributors with consumers to support Vietnamese small and medium enterprises.
Besides, the MoIT continues to encourage the application of science and technology in order to improve Vietnamese products' quality and help Vietnamese enterprises build their branding.
The MoIT also keeps promoting solutions to link production with goods distribution, strengthen the enforcement of regulations on quality, safety and traceability to support producers to improve productivity, and competitiveness of Vietnamese products, Nga stressed.
For Vietnamese commodities not to be outdone by foreign goods, the MoIT suggests Vietnamese enterprises cut down production costs, apply advanced technologies more aggressively and establish distribution system to reach broader spectrum of consumers.
In Hanoi, over the recent years, the city's authority has made efforts to remove difficulties, created favorable conditions for enterprises in terms of locations for production, capital, and policies. Hanoi also keeps reforming administrative procedures and reducing unofficial costs to encourage businesses.

Besides, the city has supported enterprises with numerous trade promotion programs so that Vietnamese brand products can better meet consumer needs in the capital.
According to Deputy Director of the Hanoi Department of Industry and Trade Tran Thi Phuong Lan, with the import tax reduced to 0% in line with the international trade agreements to which Vietnam is a party to, imported commodities will be more competitive in the Vietnamese market, posing a threat to locally-made products.
Credit programme helps promote HCM City's economic growth
Credit packages with preferential interest rates offered to small and medium enterprises (SMEs) in Ho Chi Minh City contributed largely to the city's economic growth.
Credit packages with preferential interest rates offered to small and medium enterprises (SMEs) in Ho Chi Minh City contributed largely to the city's economic growth of 8.3 percent in 2018, heard a conference held in the city on April 18.
According to Nguyen Hoang Minh, Vice Director of State Bank of Vietnam (SBV) chapter in Ho Chi Minh City, commercial banks disbursed 269.5 trillion VND (11.6 billion USD) to assist more than 10,000 businesses under the banking-enterprises link-up programme last year. This brought local credit growth last year at 14.69 percent.
Fifteen commercial banks registered to join the connection programme this year, and committed to provide 269.26 trillion VND (11.58 billion USD) of credit. As of the end March, 1,100 businesses had borrowed more than 9.12 trillion VND (392.5 million USD).
Speaking at the event, Deputy Governor of the State Bank of Vietnam Dao Minh Tu, said the banking sector will continue its flexible monetary policy to curb inflation and stabilise the marcro-economy, creating a favourable business environment.
More support and credit packages will be offered for prioritised sectors, he said.
Banks have made efforts to control lending in risky sectors, and worked with authorities to remove bottlenecks for businesses, he said, adding that commercial banks and credit institutions should step up credit programmes and policies, diversify credit products and improve lending procedures.
Tu Minh Thien, deputy head of the management board of HCM City's High-tech Agriculture zone, lauded the credit programmes; however, he said many SMEs cannot access the preferential loans which are prioritised for large-scale and technology projects.
In addition, several funds to support businesses' operation in the city, like science-technology development fund and SMEs credit guarantee fund, have shown inefficiency due to incomplete legal framework, he noted.
At the event, commercial banks attending the event pledged more preferential loans to finance businesses in the city, as well as support them in global economic integration.
During the event, 16 credit institutions, local Departments of Industry and Trade and Agriculture and Rural Development, and commercial banks inked memorandums of understanding on credit assistance for companies, involving in developing the city's key products.
Vietnamese firms attend M-Tech Nagoya in Japan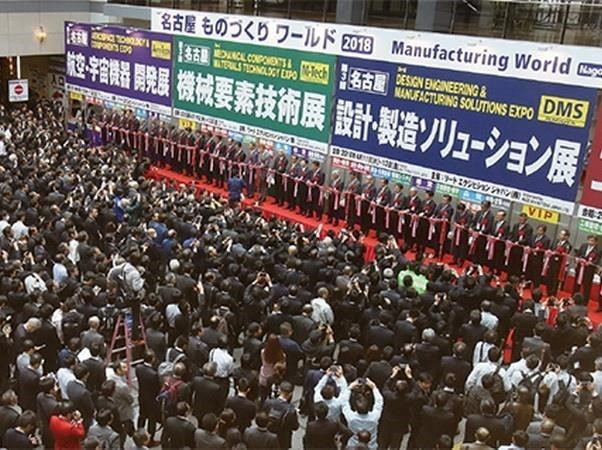 M-Tech Nagoya 2019 took place from April 17-19 (Source: www.reedexpo.co.jp)
Twenty-six Vietnamese businesses in the supporting industry joined the fourth Manufacturing World Nagoya (M-Tech Nagoya) trade show, which took place in Nagoya, the capital city of Japan's Aichi Prefecture from April 17-19.
According to Vietnamese Trade Councilor in Japan Ta Duc Minh, this is the first time that Vietnamese businesses had organised their own separate section at the event.
The section was jointly arranged by the Vietnam Association for the Supporting Industry (VASI) and the Hanoi Centre for Investment, Trade, and Tourism, with the support of the Vietnam Trade Office in Japan.
The Vietnamese firms attending the event mostly operate in metal and electronic accessories production, plastics and rubber, and automation. They have provided products to multinational companies in both Vietnam and foreign markets.
Among the firms present were big players in the industry, including Vietnam Engine and Agriculture Machinery Corporation (VEAM), Export Mechanical Tool JSC (EMTC), Binh Minh TMC, Hiep Phuoc Thanh, Kyoko Vietnam, and PSH Mechanical Design.
Within M-Tech Nagoya, Vietnamese enterprises had working sessions with partners to seek partnership opportunities.
M-Tech Nagoya is part of a series of annual industrial exhibitions of Japan, along with M-Tech Tokyo and M-Tech Osaka.
M-Tech Nagoya drew businesses from a range of countries, including the US, the Republic of Korea, China, and India. Many of the firms operate in automobile, electronics, and industrial machineries.
CPTPP to help promote Vietnam-Canada economic, trade ties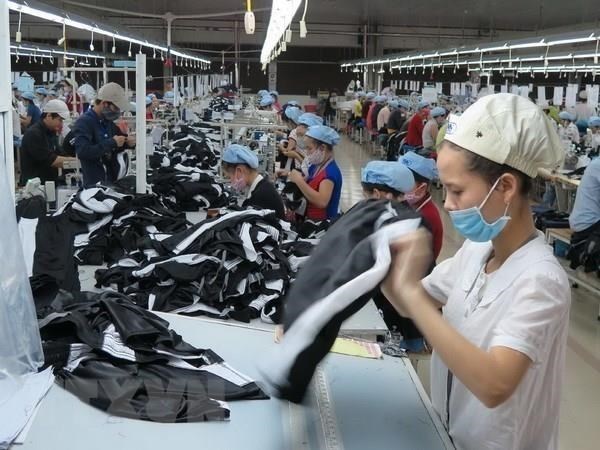 The Comprehensive and Progressive Agreement for Trans-Pacific Partnership (CPTPP) is expected to boost economic and trade cooperation between Vietnam and Canada once it takes effect, according to insiders.
Canada's tax reduction roadmap from the current 17-18 percent down to zero percent within three years will create great opportunities for Vietnamese businesses, especially garment, footwear, and timber product exporters, they said.
Two-way trade reached 3.87 billion USD in 2018, a year-on-year rise of 10.6 percent. Vietnam exported 3.01 billion USD worth of goods to Canada, up 10.9 percent against the previous year, according to Deputy Minister of Industry and Trade Do Thang Hai.
Canada is now the third biggest trade partner of Vietnam in the Americas, following the US and Brazil. Meanwhile, Vietnam is Canada's biggest trade partner in the Association of Southeast Asian Nations (ASEAN).
Vietnam's main exports to Canada include garment-textile, footwear, seafood, cashew nut, and iron and steel products.
The Asian country mainly imports wheat, soybean, machinery, equipment, spare parts, fertilisers, garment-textile material, footwear, wood and timber products from the market.
The supplementary structure of goods between Vietnam and Canada is a favourable factor for the two countries to cooperate in trade, market watchers stressed.
FPT, Japan's SBI launch retail point rewards programme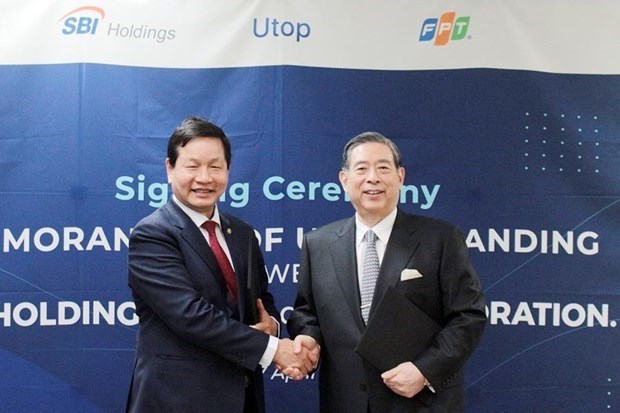 Leaders of FPT and SBI at the signing ceremony
Japanese financial service group SBI Holdings Inc. has joined up with Vietnamese information and communication technology giant FPT Corp. to launch a retail point rewards programme in Vietnam.
SBI spokesman Akihide Kimura said on April 18 that SBI will establish Utop JSC with the FPT subsidiary software company to launch the Utop point service by June this year. The local unit will be capitalised at 3 million USD, with SBI holding a majority stake.
The two groups have been piloting the Utop point rewards programme since December 2018, promoting the use of points available at various retail outlets.
The joint venture will initially provide services for the FPT group and its clients, later expanding to other firms. The group employs over 34,000 workers.
Many such loyalty programmes have become popular among consumers across Vietnam, resulting in their spread across different types of cards and applications, according to SBI.
The Japan-Vietnam joint venture makes use of akaChain, the FPT group's blockchain technology, to reduce the cost of operating the Utop programme for member retailers.
SBI has invested in FTP's other subsidiary arms, including securities, fund management, and banking units, as well as acquiring a 20.8 percent stake in Sen Do Technology JSC – the operator of an online marketplace under the FPT Corp.
Vinh Tan international seaport inaugurated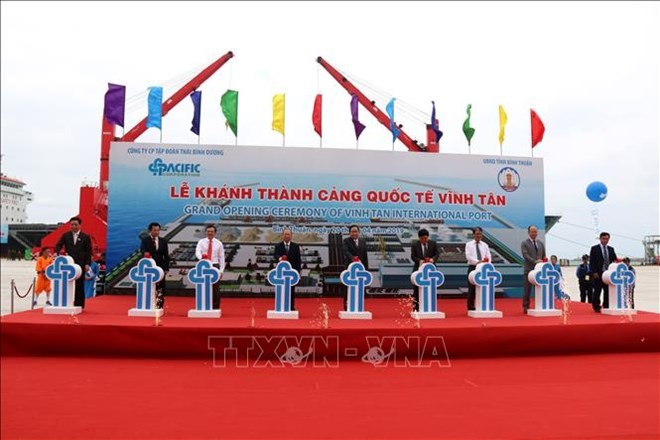 An inauguration ceremony was held for the Vinh Tan international seaport in Vinh Tan commune, Tuy Phong district, the southern province of Binh Thuan on April 20.
The port was built on 140 ha at a cost of around 2.3 trillion VND invested by the Vinh Tan International Port Co. Ltd, from the Thai Binh Duong Group.
It has a 3,000 DWT wharf and two 50,000 DWT wharves, and will have a 70,000 DWT wharf in the near future.
The port will serve the import-export of commodities of Binh Thuan, and provinces in the south central and Central Highlands regions.
Nguyen Ngoc Hai, Chairman of the Binh Thuan People's Committee said the port can be easily connected with industrial zones in Binh Thuan, Ninh Thuan and the Central Highlands, helping reduce transport costs and spur marine economy growth.
Bui Thien Thu, Deputy Head of the Vietnam Maritime Administration said the Thai Binh Duong Group's building of the Vinh Tan international port is to realize the State's policy of encouraging economic sectors, especially the private one, to invest in economic infrastructure development.
Vietnam to improve measurement capacity: Minister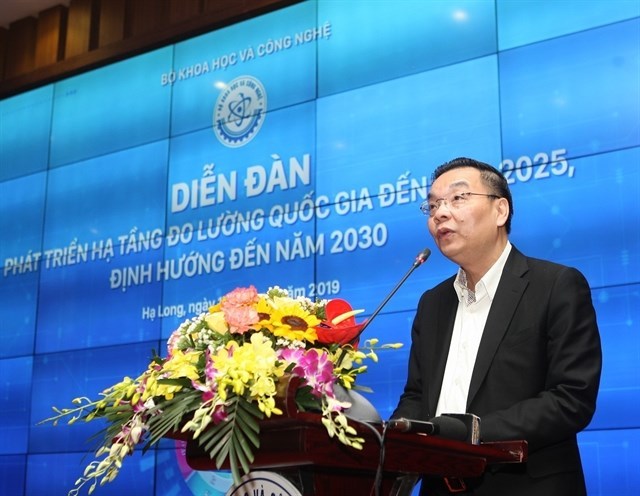 Minister of Science and Technology Chu Ngọc Anh
Vietnam will develop a plan to improve Vietnamese enterprises' ability to accurately measure various factors in their operations, said Minister of Science and Technology Chu Ngọc Anh on April 19.
He made the statement at a workshop held in in Ha Long City, northern Quang Ninh Province with the theme 'Developing national measurement facility towards 2025 with orientation towards 2030'.
The plan aims to develop a competitive and modern national measurement ability to meet the requirements of global integration and ensure accurate measurements of business activities.
Minister Anh said metrology is a technical and scientific field that requires accuracy and plays a key role in business, society, scientific research, security and national defence.
Accurate metrology contributes to ensuring social equality, legal rights and benefits of every organisation and individual in civic and economic exchanges.
It also helps boost scientific and technological innovation, strengthens State management and increases productivity and good quality.
"Although Vietnam has made progress in the field, national metrology quality remains at average level among ASEAN countries," he said.
National metrology has not caught up with global trend of developing metrology as a strong tool to improve business and national economic competitiveness. It also has not met criteria of emerging and important manufacturing and business sectors such as supportive industry, mechanical engineering, electronics and telecommunication, high-tech equipment and logistics.
The current metrology equipment system of Vietnam has met only 70 to 75 percent of requirements, Anh said.
He said Vietnam hopes to recognise at least 300 measurement methods meeting international standards and develop at least 250 measurement devices and conduct measurements, such as productivity and goods' quality, at about 100,000 enterprises nationwide and apply national measurement standards at 2,000 laboratories across the country.
Scientists agreed at the workshop that it was necessary to improve professional capacity of employees working in metrology in line with regional and global measurement standards while focusing on developing measurement facilities at businesses, ministries and localities.
Hanoi hosts consumer goods festival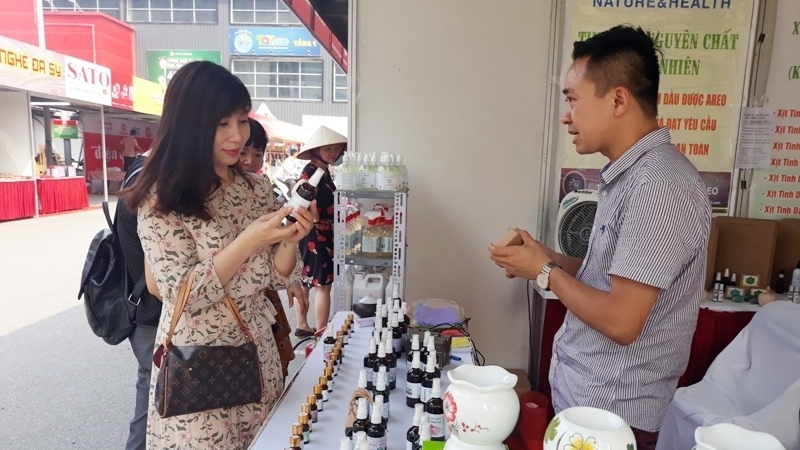 Visitors to the festival (Photo: kinhtedothi.vn)
The 2019 Consumer Products Festival kicked off at Big C Thang Long Supermarket in Hanoi on April 19.
The five-day event, held by the Hanoi Department of Industry and Trade, has attracted the participation of 60 booths from popular Vietnamese brands.
Commercial products on display are diverse and high quality including consumer goods, agricultural specialties, processed foods, household appliances, garments and textiles, fashion accessories, electronics and interior decorations.
The event also features many promotion programmes offering valuable gifts for visitors.
The festival offers a good opportunity for enterprises to promote their products, boost trade promotion and encourage consumers to use domestically made products.