Vietnam Wind Power Conference set for Hanoi
The Global Wind Energy Council will hold the second edition of the Vietnam Wind Power Conference on June 11 and 12 in Hanoi.
The Council will partner with GIZ, the Embassy of Denmark, and the Embassy of Ireland to hold the conference.
The first edition of the conference was held last year, with nearly 200 international and local delegates in attendance, and featured 30 industry and government speakers.
Vietnam's establishment of a Feed-in-Tariff last September created renewed momentum for the country's wind power market and attracted a rush of development projects. There is already 228 MW of installed wind capacity in the country, and the government has set a target of 800 MW by 2020, 2,000 MW by 2025, and 6,000 MW by 2030.
However, there are still a number of regulatory challenges to be addressed in order for project developers to be able create power purchase agreements that are bankable from the point of view of international project finance, while the long-term potential and system impact of renewables has yet to be fully recognized in long-term planning.
The "Accelerating Wind Project Financing in Vietnam" workshop on June 11 is specifically targeted at international and local financial institutions, development banks, and government officials, and will address the burning issues facing the financing of wind projects.
The June 12 conference will feature a range of plenary and parallel sessions, including regulatory, market, policy, technology updates, and offshore, as well as other pressing issues relating to the development of a sustainable wind and renewables industry.
Experts from the international and national wind industry, financial institutions, and high-level representatives from governments and other competent authorities in Vietnam will set the scene for a discussion on what needs to be achieved to expedite the further development of the wind sector.
The Global Wind Energy Council is the international trade association for the wind power industry. It is a member-based organization that represents the entire wind energy sector. Its members total over 1,500 companies, organizations, and institutions in more than 80 countries and territories, including manufacturers, developers, component suppliers, research institutes, national wind and renewables associations, electricity providers, and finance and insurance companies.
Vietnam, Sweden should join hands in clean production: Minister
Vietnam and Sweden should cooperate in the environmental protection and sustainable development in the context of the current Fourth Industrial Revolution, Minister of Industry and Trade Tran Tuan Anh has said.
Also, the two sides should intensify the cooperation between their enterprises in investment, technology renovation, the minister stressed in an interview granted to the Vietnam News Agency ahead of the coming official visit to the North European country of Prime Minister Nguyen Xuan Phuc.
Minister Anh affirmed that the Vietnam – Sweden trade relations has been established for long and developing unceasingly. However, bilateral economic and trade relations have yet to match potential.
By April, Sweden ranked 33rd among the 131 countries and territories investing in Vietnam, with 68 valid protects totaling over 365 million USD in capital. In the first four months of this year, bilateral trade amounted to over 500 million USD, in which Vietnam's exports topped 400 million USD, mostly footwear, textiles, sea food, wooden furniture, handicraft products, computers and accessories; and main imports from Sweden included telecommunication equipment, machinery and pharmaceutical products.
In order to boost exports to the North European market, Minister Anh suggested Vietnamese enterprises pay attention to their quality, origin traceability, social responsibility, environment protection and business ethics. He also pointed out that the scale of orders from Sweden is not large, that is why Vietnamese enterprises should accelerate the approach to distribution chains to ensure sustainable business.
The official pointed to the EU – Vietnam Free Trade Agreement as a factor that can bring about a positive impact for both Vietnam and Sweden. He also called on enterprises to join the Vietnamese Government in pushing up other governments to sign the deal at an early date, thus creating a more favourable economic – trade framework for the two countries.
RCEP brings both opportunities and challenges
The Regional Comprehensive Economic Partnership (RCEP), a proposed free trade agreement (FTA) between ASEAN and six states that have signed individual FTAs with the bloc, will bring both opportunities and challenges for local enterprises when it takes effect, heard attendees at a recent seminar in Hanoi.
At the seminar on RCEP, Nguyen Thi Thu Trang, director of the World Trade Organization Center, under the Vietnam Chamber of Commerce and Industry, said that enterprises can easily meet requirements on goods traceability and enjoy preferential import tariffs in other RCEP member countries as these markets have high demand for products in which Vietnam has strengths. The six countries mentioned above are Australia, China, India, Japan, the Republic of Korea and New Zealand.
In addition, the RCEP is not considered a new-generation FTA like the Comprehensive and Progressive Agreement for Trans-Pacific Partnership (CPTPP) and the European Union-Vietnam Free Trade Agreement (EVFTA). Therefore, its members' requirements on imports are not as strict as those of the CPTPP and EVFTA and most Vietnamese enterprises can meet these requirements.
Pham Tuan Anh, deputy head of the International Cooperation Department under the Ministry of Finance, said that markets for several services such as logistics and telecommunications will open up for local firms. They will also have more opportunities amid the increase in trade remedies in importing markets and trade tensions between the United States and China.
Nevertheless, the competition among members of the RCEP will be fierce as their product and service quality and standards are generally equal, Trang said, noting that Vietnamese enterprises may have to compete with Chinese rivals to export textiles and garments, footwear and seafood to Japan. Therefore, domestic firms should improve their product and service quality, Trang advised.

RCEP member states account for nearly half the world's population, 30% of the gross domestic product and 28% of the trade value.
RCEP negotiations started in early 2013 and are expected to conclude this year. Once completed, the pact will create a large free trade region covering Vietnam's major trade partners, such as China, Japan and the Republic of Korea.
Quang Ninh's customs procedures improved
2018 was the second consecutive year Quang Ninh province's Customs Department earned top position in the Department and District Competitiveness Index (DDCI) ranking and second place in administrative reform of central agencies.
The result has been attributed to the customs sector's administrative reform.
This year Quang Ninh province's Customs Department continues to receive recommendations from businesses through telephone, email, fan-page, website, and direct meetings.
The Department has strengthened administrative procedures in customs and tax refund to remove hurdles for businesses. The mobile verification station set up in Cai Lan port has helped shorten the time needed for verifying cargo samples.
The customs sector has successfully implemented a centralized customs procedure management model at the Mong Cai international border gate to minimize costs for enterprises.
Luu Van Do, Director of the van Do Import-Export Company, said "The Quang Ninh customs sector has improved its administrative procedures. The centralized customs procedure management model has reduced travel times and simplified customs clearance procedures. In recent years, customs officials and businesses have become partners."
In the first quarter, Quang Ninh province's Customs Department processed more than 16,000 customs declarations of more than 660 enterprises.

The national one-stop shop system has been deployed in all of its customs branches. 68 administrative procedures of 11 ministries and sectors have been connected to the system, helping to reduce the time needed to have import and export licenses.
Cai Lan port's customs branch has been selected to pilot the Vietnam Automated System for Seaport Customs Management (VASSCM) system to reduce time and cost for businesses.
Vu Quy Hung, Deputy Director of Cai Lan port's customs branch, said "The branch has successfully implemented the VASSCM system at the Cai Lan International Container Terminal and Quang Ninh port, setting the stage for the Quang Ninh customs sector to deploy the second phase of the system for companies specializing in warehouse services.
In addition, many customs operations have been automated. For example, e-customs declaration is now available at the national portal and ASEAN one-stop shop system."
At the Quang Ninh seaport and land border gates, logistics service providers have been established – 24 agents offering customs declaration services; 18 warehouse services; 30 cargo loading and unloading services; 2 agents offering centralized import and export goods checking; and 14 agents providing warehouse for cargo checking. Businesses need support to deal with customs declaration and cargo forwarding.
FDI in Vietnam hits record high during five month period
Vietnam attracted a total of US$16.74 billion in foreign direct investment (FDI) during the first five months of the year, the highest figure recorded over the past four years, according to the Foreign Investment Agency under the Ministry of Planning and Investment.
The Foreign Investment Agency said that the figure includes newly registered capital, capital contributed, and shares purchased by foreign investors, a rise of 69.1 per cent over last year's corresponding period.
Accordingly, the country has granted new investment licenses to 1,363 projects with a total of newly registered capital amounting to US$6.46 billion, an increase of 38.7 per cent in comparison to the same period last year.
As many as 505 projects registered to inject additional capital totaling US$2.63 billion, up 5.5 per cent on-year.
The value of capital contribution and share purchases by foreign investors reached US$7.65 billion, 2.8 times higher than seen during the same period in 2018 and accounting for 45.7 per cent of total registered capital.
Notably, FDI projects were estimated to have disbursed US$7.3 billion, a slight rise of 7.8 per cent.

Foreign investors have injected their money into 19 different sectors, with the manufacturing and processing industry being the most popular with total capital reaching US$12 billion, accounting for 71.8 per cent of total registered capital.
The real estate sector ranked second with total investment capital of US$1.138 billion, while the wholesale and retail sectors were in third position with total registered capital of US$864 million.
Hong Kong remained top of the list of 88 nations and territories that are currently investing in Vietnam with total investment capital of US$5.08 billion, making up 30.4 per cent of the total FDI inflow. This is followed by the Republic of Korea with US$2.62 billion and Singapore with US$2.09 billion.
Hanoi was the most attractive investment destination nationwide, receiving FDI with a total registered capital of US$4.79 billion, accounting for 28.6 per cent of total investment. This was followed by HCM city with US$2.78 billion, and Binh Duong with US$1.25 billion.
Australian project seeks to boost logistics industry workforce nationwide
The involvement of businesses from an Australian-funded pilot project could develop Vietnam's logistics industry in training human resources and improve their overall occupational skillset.
The nation's logistics industry has faced a number of challenges over the years, particularly due to the shortage of human resources as the current workforce is yet to meet the industry's requirements in terms of quantity and quality.
According to statistics released from the Vietnam Logistics Business Association, Vietnam needs 250,000 skilled logistics workers by 2030. Currently, the country has over 3,000 businesses involved in providing logistics services.
Therefore, the project to improve technical skills within the country's workforce in the logistics industry under the Vietnam-Australia Human Resource Development Partnership (Aus4Skills), a component of the Australia-Vietnam Development Cooperation Programme, is considered a starting point to meet the human resource development goals in the Vietnamese logistics industry.
According to experts from Aus4Skills, Australia has brought in a modern training approach to work on developing occupational skills and is particularly keen on promoting business linkages in co-ordination with the Logistics Industry Reference Council (LIRC).
According to a report by Aus4skills, the number of schools that logistics lecturers reach in the linking network is seeing a marked improvement. Currently, schools can directly call in assistance from the private sector, especially from businesses that are developing and applying a suitable curriculum and training program. This can then allow the LIRC to offer support through teaching activities.
It is possible that high quality training in occupational skills can be implemented through improving the vocational capacity of schools at localities, of which some schools are members of the LIRC.
Nguyen Ngoc Tu, Chief Innovation Officer at Smartlog, said businesses often have to offer re-training when recruiting fresh candidates. If schools can equip their students with the necessary skills, businesses will save time in training employees as they already meet the job requirements.
Businesses operating in the logistics sector noted that there have been a number of changes in delivery methods. Previously, staff often used traditional delivery methods by writing telephone numbers, addresses, and checking results by hand. Currently, software is a key part of the logistics process with workers scanning bar coded items and logging their work on the system.

Due to the introduction of newer technologies, logistics staff are able to monitor the progress of goods from their offices. These changes in delivery methods are suitable among the new trends emerging in retail activities.
Nowadays, e-commerce platforms sell goods through multiple channels, so connectivity is needed to help quickly update orders and distribute goods to providers in a timely manner to ensure fast delivery.
At present, aside from large-scale units, several smaller stores have joined the e-commerce trading floor, opening up new opportunities and challenges for the logistics sector.
Over the past two years, human resource recruitment at logistics companies have undergone remarkable changes. For example, in the job description for the warehouse operator position, aside from requiring that employees have good health, diligence and are able to do overtime, businesses now require employees to acquire a knowledge of the operating system as well as a level of English proficiency.
Mr Tu said his company has 90 staff, 40 of which are involved in information technology (IT) based jobs. Therefore, employees must self-study and equip themselves with the necessary professional and IT skills.
International experts analysed that developing a professional logistics sector can contribute to bringing a higher level of economic efficiency for the nation overall. When logistics costs are reduced, the national economy will reap the benefits.
Logistics costs in the country currently make up some 20 per cent of GDP. In contrast, the costs account for only between 9 per cent and 14 per cent of GDP in developed countries. Therefore, Vietnam needs to redouble efforts to narrow the logistics costs if it is to enjoy economic development in the future.
Int'l automobile exhibition attracts big brands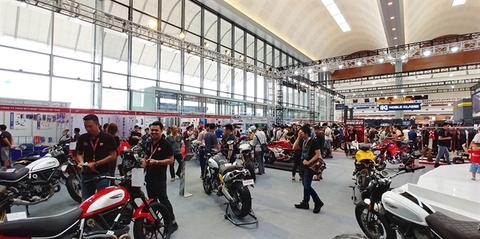 Many famous brands will present their products and technology at the 16th International Exhibition on Automobile, — Photo courtesy of CIS Vietnam
Many famous brands will present their products and technology at the 16th International Exhibition on Automobile, Transportation and Supporting Industries (Vietnam AutoExpo 2019) from June 12-15 in Ha Noi.
Following the success of 15 precious events, this year's edition will be held at the Viet Nam National Convention Centre in the city.
Vietnam AutoExpo is a prestigious event held annually with a large scale and high quality, said Tran Thanh Mai from the CIS Vietnam Company, co-organiser of the event.
"It's a chance for enterprises to exchange with each other, approach customers and seek partnerships," she said.
Participants at the expo will have an opportunity to experience a variety of vehicles such as cars, motorbikes and electric scooters.
Domestic and foreign automobile brands have registered to take part such as Veam Motors, Gaz Group, KC Motors, Daewoo, Dongfeng and Hyundai; motorbike manufacturers such as Ducati, Harley-Davidson and Royal Enfield; and many brands in supporting industries such as Dunlop, Bosch, Philips, CNC Hanoi and Daichi.
Enterprises from China, the US, Russia, Belarus, Japan, Singapore, Thailand, Malaysia, Indonesia, Indonesia and South Korea will have separate areas to exhibit their products.
As part of the framework of the event, an international conference with the theme "Potential and the Demand of Developing the Automobile Industry in Viet Nam" will take place at the National Convention Centre on June 13.
The event is expected to receive 35,000 visitors, strengthening the position of the Vietnam AutoExpo as the biggest and most professional event of the automobile market in northern Viet Nam.
Mekong coastal district expands clam farming area
Farmers in the coastal district of Gò Công Đông, the largest clam producer in Tiền Giang Province, have received high selling prices after expanding the clam breeding area this year.
The district has bred 2,200ha of clam this year, up 200ha against last year, according to the local Agriculture and Rural Development Bureau.
Clam farming areas are mostly in Tân Thành Commune, which is the province's largest clam producer.
The Cửu Long (Mekong) Delta province has set up concentrated clam farming zones in coastal districts, mostly in Gò Công Đông and Tân Phú Đông.
However, only Gò Công Đông's Tân Thành Commune has set up a large area, covering 2,000 hectares.
Breeding clams in alluvial grounds along coastal areas has offered a good income for many farmers in recent years.
Đoàn Thanh Hưng, chairman of the Tân Thành Commune People's Committee, said traders were buying clams at VNĐ19,000 - 21,000 a kilogramme, up VNĐ 2,000 against the same period last year.
Trần Văn Chỉ of Tân Thành said he earned more than VNĐ500 million (US$21,400) a year in profit from farming clams on a 6ha area.
Farmers in the district harvested more than 5,500ha of clams in the first quarter of the year, according to the bureau.
However, clam farming has faced challenges, including diseases that cause clams to die en masse during the dry season.
As many as 50 hectares of clams in Tân Thành have been affected by disease this year.
To promote the district's advantages in breeding aquaculture, including clams, the district has improved agricultural extension activities and provided advanced farming techniques to farmers, according to the bureau.
The district has also told farmers to breed aquatic species according to established schedules and have measures to prevent disease and protect the environment.
In the first quarter, it organised training courses on farming plants, animals and aquatic species for more than 1,700 farmers.
The district plans to set up a 30ha area to breed parent clams as farmers now have to buy juvenile clams for breeding from the neighbouring province of Bến Tre and HCM City.
Transport from localities to the province has resulted in the deaths of juvenile clams.
One kilo contains around 900 juvenile clams, which are normally bred for 18 months to reach market size.
Clams are one of the district's traditional farmed aquatic species, with an average yield of 10 tonnes per ha per crop.
The district harvested 5,500 tonnes of clams in the first quarter of the year.
Vingroup targets post-tax profit of 6.5 trillion VND in 2019
Leading real estate and retail conglomerate Vingroup plans to earn 140 trillion VND (6 billion USD) in net revenue and 6.5 trillion VND (278.5 million USD) in post-tax profit in 2019.
The information was released during the group's 2019 annual general meeting of shareholders on in Hanoi this week.
In 2018, the company's net revenue reached nearly 122 trillion VND (5.23 billion USD), up by 36 percent compared to 2017 due to the increase in revenue of all sectors, especially in the transfer of real estate.
Real estate transfer revenue increased by 33 percent in 2018 from 62.5 trillion VND to 83.3 trillion VND.
The rise came from the handover of key projects in Hanoi and HCM City, including the Landmark 81 building in Vinhomes Central Park, Vinhomes Golden River, Vinhomes The Harmony, Vinhomes Green Bay and Vinhomes Metropolis.
In 2018, revenue from real estate leasing grew 26 percent from 4.4 trillion VND to 5.6 trillion VND due to the growth of the commercial centre system nationwide.
The group currently owns and operates 66 shopping centres across the country.
Tourism, entertainment and hotel services revenue reached 7.36 trillion VND in 2018, up by 35 percent, thanks to the increasing number of tourists and the expansion of resorts, reaching a total of 16,400 rooms across the country.
Retail service revenue soared by 48 percent from 13 trillion VND in 2017 to 19.3 trillion VND in 2018 as the retail network continued to be expanded and retail sales per square metre rose sharply.
Revenue from production activities reached 556 billion VND thanks to the sale of electric motorbikes and smartphones.
Vingroup's 2018 post-tax profit grew 9 percent from 5.65 trillion VND in 2017 to 6.2 trillion VND in 2018.
In 2018, the group put into operation some real estate complexes that included both commercial centres and accommodations such as Vinhomes Central Park, Vinhomes Metropolis, Vinhomes Imperia Hải Phòng, Vinhomes Marina Project and Vinhomes Star City Thanh Hoa.
Last year, the group implemented three large urban projects in Hanoi and HCM City: Vinhomes Grand Park, Vinhomes Ocean Park and Vinhomes Smart City.
Vingroup successfully issued 84 million dividend preference shares. The mobilised capital was used in the implementation of real estate projects, social infrastructure projects (including via direct investment or cooperation with other partners) and other activities.
Vingroup's short-term assets rose by 35 trillion VND, from 100.2 trillion VND in 2017 to 135.3 trillion VND in 2018. Long-term assets recorded growth of 34 percent compared to the same period of 2017, reaching 152.7 trillion VND as of the end of 2018.
The value of fixed assets climbed from 35.6 trillion VND in 2017 to 49.4 trillion VND in 2018, up by 38 percent, due to the strong development of real estate investment projects.
During the period, the value of real estate investment increased by 8.5 trillion VND by the end of 2018, from 18.2 trillion VND to 26.7 trillion VND, as Vincom Retail expanded its retail network nationwide with the addition of 20 shopping centres.
Total liabilities in 2018 were estimated at 189 trillion VND. Long-term debt increased as the group raised more capital to finance real estate projects as well as production activities.
Hanoi seeks to increase number of accommodation establishments
The capital city of Hanoi is working to build a greater number of accommodation establishments and call for more luxury project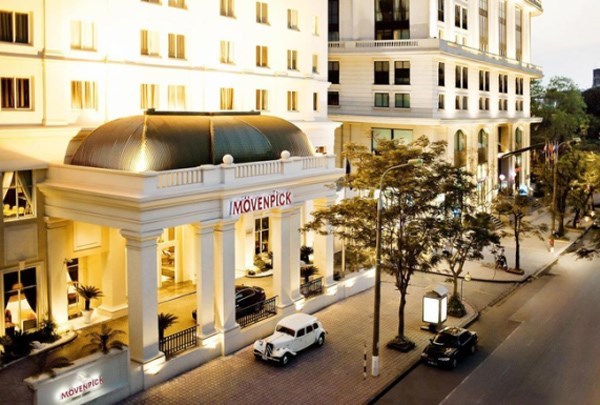 The capital city of Hanoi is working to build a greater number of accommodation establishments and calling for more luxury projects to meet the increasing demands of tourists
The city is currently home to nearly 3,500 accommodation facilities, with more than 60,800 rooms. Notably, there are 67 hotels with between three- to five-star ratings, seven luxury condotel complexes, as well as about 10,860 houses being leased to foreigners.
In 2018, Hanoi welcomed 26.31 million visitors, including more than 6 million foreigners.
The number of visitors to Hanoi in the first three months of this year is estimated at more than 7.47 million visitors, a rise of 10.6 percent year-on-year, announced the municipal Department of Tourism.
Of the figure, there are nearly 5.6 million domestic visitors and 1.88 million foreign tourists, up 9 and 15.5 percent over the previous year, respectively.
The city's tourism sector is projected to earn over 26.95 billion VND (1.16 million USD) in the period, representing a year-on-year surge of 32 percent.
In 2019, Hanoi aims to lure more than 28.9 million tourists, up 10.1 percent over 2018, including over 7 million foreign visitors, up 17 percent. Tourism revenue for the year is expected to rise by 34 percent to hit 103.8 trillion VND (4.46 billion USD).
According to the municipal Department of Tourism, the city needs an additional 38,000 rooms by 2025 to meet the demand of holidaymakers. At present, as many as 75 projects have received investment or are currently underway, of which 13 projects are expected to complete this year.
In 2018, the US-based Time magazine listed Hanoi as one of the top eight destinations for all visitors, while Mastercard named it in the top 10 Southeast Asian cities with the highest number of business visitors, and Airbnb highlighted Hanoi as one of the two Vietnamese cities with the highest number of booked rooms.
Homestay startup raises $4.5 million from South Korean investors
Luxstay has raised $4.5 million from South Korean retailer GS Shop and venture capitalist Bon Angels in its bridge round.
A Luxstay representative said Wednesday that receiving funding from reputable international investors in this round is an important stepping stone for the enterprise to expand to other areas in the future.
GS Shop is a South Korean multimedia retailer as well as a global leader in TV home shopping. It also established a retail chain called GS25 in Vietnam in 2018.
Bon Angels Venture Partners is a South Korean venture capital firm investing in early-stage startups. It has invested in well known South Korean startups like Woowa Brothers, Daily Hotels, and My Real Trip.
Luxstay has targeted an annual turnover of over $300 million and 30 percent of Vietnam's home-rental market share by 2023, the representative said.
It is also working with financial investors and strategic partners for the next funding round, a Series A round, which is expected to close in 2019, aiming to raise $15-20 million.

Prior to this investment, Luxstay had raised a total of around $6 million from CyberAgent Ventures (Japan), Genesia Ventures (Japan), ESP Capital (Vietnam), Founders Capital (Vietnam) and Nextrans (South Korea).
Launched in late 2016, Luxstay has a network of nearly 10,000 properties across the country. This is a short-term rental booking platform for apartments, villas and other homestay accommodations positioned in the mid and high-end segments of Vietnam's real estate market.
It also offers property management and maintenance solutions to assist and save time for homeowners who want to participate in the home-sharing market through its system.
"In developed countries, home-sharing accounts for 10-20 percent of the home-rental market. This shows a huge opportunity for this industry in Vietnam, which is expected to reach $2-4 billion in 2025," Luxstay said.
Over 100 energy saving solutions proposed for businesses
More than 100 energy saving solutions have been proposed under a project funded by the Government of the Republic of Korea to promote the investment market for energy efficiency in Vietnam's industrial sector.
After surveying energy-saving technologies at more than 2,400 businesses, the project selected 10 firms to conduct energy audits. They operate in different fields, including the production of paper, animal food, steel, cement, chemical, and garment-textiles, as well as oil refining, according to the Department of Energy Efficiency and Sustainable Development under the Ministry of Industry and Trade.
Through these audits, 108 energy-saving solutions have been proposed. By carrying out these solutions, businesses can save about 78,000 USD in energy costs, or 4.8 percent of their total energy consumption, and reduce 606,000 tonnes of CO2 each year.
With nearly 200,000 USD needed to be spent on these solutions, the payback period is 2.6 years, the department said.
At a workshop in Hanoi on May 24, the department's deputy director Trinh Quoc Vu noted the national energy efficiency programme for 2019-2030 (VNEEP3) was approved by Prime Minister Nguyen Xuan Phuc last March, and the project on promoting the investment market for energy efficiency in the industrial sector is a contribution to this programme's implementation.
This project will build the capacity of developing energy efficiency investment projects in the industrial sector, specify such projects, and support project implementation.
It targets energy conservation centres, energy service companies, staff of state agencies relevant to the management of energy conservation, and big energy consuming businesses.
The project is being carried out by the Department of Energy Efficiency and Sustainable Development and the Korea Energy Agency.
Cuba welcomes Vietnamese investors: ambassador
Cuba wishes that businesses from Vietnam and the northern province of Ninh Binh in particular will invest in the Caribbean country, Cuban Ambassador to Vietnam Lianys Torres Rivera said on May 24.
The diplomat made the statement during her trip to Ninh Binh province, which was part of the Vietnam-Cuba friendship exchange programme and made on the occasion of the 58th anniversary of Cuba's Giron victory (April 19).
Ambassador Lianys Torres Rivera said the Cuban Government will make efforts to escape from the economic embargo facing the country and create all possible conditions for foreign investors in the country.
Tong Quang Thin, Vice Chairman of the provincial People's Committee and President of Ninh Binh's Union of Friendship Organisations, said Cuba's Giron victory was a great source of encouragement to movements of national liberation worldwide, including Vietnam.
The official briefed his host on Ninh Binh's geographical location, history, culture, and economic potential, and expressed his hope to step up cooperation and experience sharing with Cuban localities, agencies, and enterprises across all spheres, thus helping consolidate and enhance the friendship between localities of the two countries.
Congratulating Cuban people on the great achievements they have recorded under the leadership of the Communist Party of Cuba, Thin said he believes that they will continue to overcome all difficulties and build a prosperous and happy Cuba.
The same day, the Cuban delegation visited some famous tourist destinations in Ninh Binh.
In 1961, more than 1,500 US-trained mercenary troops landed at Giron beach as part of a scheme to overthrow the fledging Cuban government. Under the direct command of Commander-in-Chief Fidel Castro, the invasion was defeated on April 19 in under 72 hours.
Seminar offers recommendations to exporters to Middle East
Recommendations were offered to Vietnamese exporters during a seminar held in Hanoi on May 24 to discuss promoting trade with the Middle East.
Head of the West Asia – Africa Office under the Ministry of Industry and Trade (MoIT)'s Department of Asia – Africa Markets Nguyen Minh Phuong said many Vietnamese firms suffer losses when it comes to seeking partners or making transactions in the Middle East, which sometimes take place online. Some of them are ready to transfer thousands of USD as deposits without thoroughly checking information about their partners.
Meanwhile, a number of the Middle East partners frequently change contract terms unilaterally but all costs are put on the Vietnamese side. In case the Vietnamese refuse to do that, they are willing to cancel the contracts.
Bui Thi Thanh An, deputy head of the Trade Promotion Agency, said the Middle East – Africa lie in a strategically important location, bordering Asia, Europe and Africa and serving as a goods transit point. In particular, the United Arab Emirates is the world's third largest goods transit markets.
Vietnam's exports to the Middle East are mostly fruits and vegetables, aquatic products, mobile phones, footwear, textiles and apparel, rice, pepper, wood and wooden furniture, cashew nuts, and coffee, she said.
Pham Hoai Linh from the Department of Asia – Africa Markets suggested that domestic firms learn about Halal standards, habits and customs of Islamic residents to access their markets.
Via face-to-face contacts, she said they could avoid risks and invite partners to Vietnam to visit materials zones, as well as manufacturing and processing facilities to improve mutual trust for the sake of joint success.
She also suggested that they hire consultants to know how to bring products to the region.
The MoIT and its Department of Asia – Africa Markets in particular were advised to hold more trade promotion programmes so the Vietnamese enterprises could form networking and navigate the market.
Tran Van Tan Cuong, Director of the Halal Development Consultancy Company, said Halal standard is key for Vietnamese firms to enter the Middle East, adding that Halal food and standards could become the global standards in the future.
In order to meet Halal standards, firms will be trained in building a management system, registration and many others.
Vinamilk expands organic milch cow breeding in Laos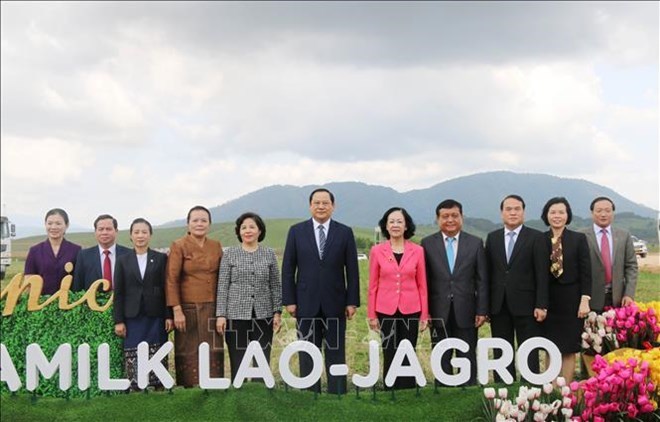 Delegates in the construction site
The Vietnam Dairy Products Joint Stock Company (Vinamilk) debuted the Lao – Jagro Development Xiengkhouang Co.,Ltd (Lao – Jagro) and started construction of the first stage of an organic milch cow farming resort complex in the Lao province of Xiengkhouang on May 24.
Speaking at the event, Vinamilk General Director Mai Kieu Lien said the first stage of the work will cover 5,000ha with 24,000 milch cows. Once operational, it will generate thousands of jobs to local residents.
She said with favourable natural conditions, Xiengkhouang will become a milch cow capital of Laos and the region, thus leveraging high-tech agriculture.
Lien affirmed that the resort will open up prospects for agriculture, dairy sector and the economy of both Laos and Vietnam in the near future.
Secretary and Chairman of Xiengkhouang province Bontone Chanthaphone said the work will fuel economic growth as well as improve farmers' expertise and income.
Built at a total cost of 500 million USD, the complex sprawls over 20,000ha with 100,000 milch cows. The first stage costs 120 million USD, will use advanced technology and meet European, American and Japanese organic standards.
Vietnam to have first Sustainable Health in Procurement Project
By adopting sustainable procurement policies, strategies, and practices, health systems, governments, and international development actors can be drivers of a significant shift towards inclusive, green economies by requiring products and services that are compliant with environmental and social standards throughout their lifecycle.
This was stated at an orientation and inception workshop on May 24 in Hanoi, held by the United Nations Development Programme (UNDP) in cooperation with Health Care Without Harm (HCWH), for the first Sustainable Health in Procurement Project (SHiPP) in Vietnam.
The workshop focused on introducing the project's importance and expected outcomes. It offered an opportunity for participants and facilitators to explore the impacts of health procurement on the environment, examine sustainable health procurement policies and processes in the public and private sector, and discuss the potential technical support to integrate sustainability into procurement across all stages of the supply chain and procurement processes for medicines, health commodities, and health facilities in Vietnam.
"Special attention has also been given to the link between medical procurement, health service provision, and environmental impacts," Deputy Minister of Ministry of Health Nguyen Truong Son said at the workshop. "Sustainable public procurement applications will contribute to improving the quality of production, the effective and sustainable use of natural resources, and security, safety, and equality in society."
Sustainable procurement of health products and services can drive positive health impacts for patients, communities, and the environment. Public procurement has been identified as a key entry point for promoting more sustainable production and consumption patterns. The role of procurement in influencing the environmental impact of health sector operations has been acknowledged, and sustainable procurement practices have the capacity to reduce a significant proportion of the health sector's greenhouse gas emissions. For example, supply chain-related emissions account for at least 65 per cent of the carbon footprint of the UK's National Health Service and 82 per cent of the carbon footprint of the UNDP-administered Global Fund for HIV/AIDS and Tuberculosis projects in Tajikistan.
"Greening health procurement is key to sustainable production and waste management within the health sector," said Ms. Caitlin Wiesen, UNDP Resident Representative in Vietnam. "The project aims to promote sustainability in the health sector supply chain to improve human health and reduce greenhouse gases, resource depletion, and chemical pollution."
Attending the workshop were representatives from Ministry of Health, the UN Interagency on Sustainable Procurement in the Health Sector (SPHS) member agencies, the UN Global Compact Local Network Vietnam, private sector actors in the pharmaceutical industry, non-government organizations, and research institutions.
The health sector plays a vital role in ensuring human health and well-being but can negatively impact human and environmental health. Patients, healthcare workers, and the general public are constantly exposed to the environmental and health risks during the implementation of health programs.
For example, pharmaceutical manufacturing residues in the environment are a major concern. The poorly-regulated discharge of untreated wastewater into the environment causes the spread of antibiotic ingredients, which eventually lead to serious health problems, such as antimicrobial resistance and environmental degradation. Moreover, this improper treatment of wastewater threatens wildlife and causes the death of animals. Toxic releases such as PVC, dioxin, and mercury are another threat to public health and planetary health, and they can be found in many medical devices.
Funded by the Swedish International Development Agency (Sida), and implemented in partnership with HCWH, SHiPP aims to work in a group of lower and middle-income countries to develop and pilot a set of sustainable health procurement practices and policies that synergize with the UN informal interagency initiative on Sustainable Procurement in the Health Sector. The project is being implemented in Argentina, Brazil, China, India, Moldova, Ukraine, Tanzania, South Africa, Zambia, and Vietnam.
Big American cruise ship heading to Vietnam
U.S.-based cruise line Royal Caribbean International's Spectrum of the Seas, which was put into service in early 2019 and can accommodate up to 6,500 passengers and crew members, is scheduled to arrive in Vietnam on May 27.
Built by German shipbuilding company Meyer Werft at a cost of US$940 million, Spectrum of the Seas, which is 347 meters long and 63 meters high, is considered one of the world's most modern ships. The 18-storey ship weighs up to 169,370 tons.
The cruise ship left Singapore on May 25, planning to arrive in southern and central Vietnam on May 27 and 28.
Spectrum of the Seas is expected to dock at Phu My Port in Ba Ria-Vung Tau Province on May 27 and arrive at Nha Trang City one day later.
For its first visit to Vietnam, the ship will carry 5,718 passengers and crew members, mainly British, Australian, Hong Kong and Chinese nationals.
A source from the firm welcoming the ship, Saigontourist Travel Service Company, said cruise passengers will take sightseeing tours to tourist attractions in HCMC, Ba Ria Town and Vung Tau City while in the coastal central city of Nha Trang, they will also visit Thap Ba Ponagar, Long Son Pagoda and Vinpearl Land Amusement Park, shop at Dam Market and bathe in the mud.
The luxury cruise ship is scheduled to leave Nha Trang City at 6:00 p.m. on May 28 and continue sailing to Hong Kong.