FDI into Vietnam falls 13.4 percent in seven months
About 20.2 billion USD of foreign direct investment (FDI) flowed into Vietnam from the year's beginning to July 20, down 13.4 percent year on year, according to the General Statistics Office (GSO).
Of this sum, 8.27 billion USD was poured into 2,064 new projects, down 37.4 percent in the capital but up 24.6 percent in the project number compared to the same period last year.
Meanwhile, 791 existing projects were added with 3.4 billion USD, down 30.8 percent.
Besides, foreign investors spent 8.52 billion USD contributing capital to or purchasing shares of domestic firms, up 77.8 percent.
During the reviewed period, most of the FDI capital was still channelled into processing – manufacturing, followed by real estate, and wholesale – retail and automobile – motorcycle repair, the GSO noted.
The processing – manufacturing industry attracted 9.07 billion USD in both new and additional capital and the real estate sector received 716 million USD, respectively accounting for 77.6 percent and 6.1 percent of the registered capital. Other sectors attracted 1.9 billion USD, accounting for 16.3 percent.
Foreign investors also poured 5.3 billion USD into Vietnamese processing – manufacturing companies, 754 million USD into local property businesses and 2.3 billion USD in firms working in other fields. These figures respectively made up 63.2 percent, 8.9 percent and 27.9 percent of all money they spent on contributing capital to or buying shares of domestic firms.
In the seven months, new FDI projects were licensed in 48 provinces and centrally-run cities.
Binh Duong province took the lead with 766 million USD or 9.3 percent of the newly registered capital. It was followed by Ho Chi Minh City 688 million USD – 8.3 percent, Tay Ninh province 599 million USD – 7.25 percent, Bac Ninh 597 million USD – 7.22 percent, and Hanoi 269 million USD – 3.3 percent, statistics show.
Banks unexpectedly cut lending rates to aid businesses
Some banks have unexpectedly announced they would cut interest rates on VND loans in the Government's priority sectors to support firms in 2019, starting from August 1.
Le Duc Tho, VietinBank's chairman, said this is the second time banks have cut lending rates this year to follow up on the Government's instructions to support domestic production and businesses, contributing to promoting the country's economic growth.
Under the move, State-owned banks, including Agribank, VietinBank, Vietcombank and BIDV have reduced the rate by 0.5-1 percentage points per year for loans to firms in the Government's priority sectors.
BIDV has applied the new maximum rate at 5.5 percent per year, down 1 percentage point against the cap regulated by the central bank, from August 1 until the end of the year. The rate cut is offered to priority businesses in the fields of export, supporting industries and advanced technology.
BIDV has launched two preferential credit packages worth a combined 70 trillion VND (3 billion USD), with an interest rate cut by 0.5 percentage point per year versus last month's rate. Of which, the first credit package is worth 60 trillion VND for small- and medium-sized firms, and the short-term package is worth 10 trillion VND for micro firms and start-ups.
Vietcombank has also applied interest rates for VND short-term loans at a maximum of 5.5 percent per year, dipping 1 percentage point against the central bank's ceiling rate. The rates are applicable to old and new loans taken out by borrowers in priority sectors.
A Vietcombank representative said that the interest rate reduction is being applied on a wide scale, with loans enjoying rate cuts accounting for 38 percent of the bank's current funding for short-term loans and 20 percent of its total outstanding loans in VND.
Aside from State-owned commercial banks, domestic joint stock banks have joined the provision of preferential rates. According to Techcombank, customers who are retailers, small and medium-sized firms are subject to its preferential interest rates.
This is the second time year-to-date that local banks have lowered lending rates to support corporate customers. Early this year, four State-owned commercial banks – Vietcombank, Vietinbank, BIDV and Agribank – reduced their rates by 0.5 percentage point for firms in the priority sectors, including agriculture businesses, firms producing goods for export, small- and medium-sized enterprises, enterprises operating in auxiliary industries and high-tech enterprises including start-ups.
Experts said the lowering of lending rates was a sudden move, especially as deposit interest rates have continually been revised upward recently.
HCM City to host smart factory conference

Vietnamese market and incentive policies for high-tech investment, trends in smart factory solutions and smart solutions using AI and IoT are among the topics that will be discussed at a conference in HCM City next month.
At Smart Factory Conference, experts will also discuss how to build a smart industrial zone and factory environment that would help to attract more investment, according to the organisers.
According to experts, demand for smart factories is growing in the Vietnamese market, but there are issues related to awareness, infrastructure, machinery, and human resources.
How to apply smart equipment and systems in production, what are the advantages and disadvantages of using smart factory solutions and how to synchronise all development issues are among the questions that all stakeholders are concerned about.
Organised by Houselink JSC in collaboration with Messe Frankfurt New Era Business Media Ltd and Viet Nam Advertisement and Fair Exhibition JSC, the conference will take place on August 15 at Secutech Vietnam at the Saigon Exhibition and Convention Centre.
It is expected to attract more than 300 government officials, investors, contractors, suppliers of smart equipment, consultants, and end-users.
Secutech, an international exhibition on fire safety, rescue technology and equipment, will be held from August 14 to 16 with over 350 brands from over 20 countries and territories taking part.
Top securities firms report lower earnings in Q2 due to poor liquidity

A quiet stock market in the first half of 2019 resulted in lower quarterly earnings for some large-cap securities companies, causing their shares to decline in the past two weeks.
SSI Securities Corp (SSI), HCM City Securities Corp (HSC) and VNDirect Securities Corp (VNDS) were the three large-cap brokerage firms that reported lower earnings in the second quarter and in the first six months.
The three companies reported their profits were down 39 per cent, 26 per cent and 63 per cent year on year in the second quarter.
Since the beginning of the year, their profits respectively declined by 45 per cent, 60 per cent and 46 per cent year on year.
The three companies had the biggest market shares on the Ha Noi Stock Exchange (HNX) and Unlisted Public Company Market (UPCoM), and were among four firms with the biggest market shares on the Ho Chi Minh Stock Exchange (HoSE) in the past quarter.
The VN-Index lost 3.14 per cent at June-end compared to March-end as worries about political, geographical and economic tensions and about the global economy slowdown dampened market trading liquidity in the second quarter.
According to HoSE, trading liquidity in the first six months of 2019 was much lower than that recorded in the first half of 2018 when the market was boosted strongly to reach the all-time peak of 1,204.33 points in early April 2018.
In January-June period, average trading volume recorded in each trading day was 172.3 million shares, worth VND3.93 trillion (US$169 million). The figures were down 14.6 per cent in volume and 29.5 per cent in value compared to the same period in 2018.
The same situation also happened on the HNX in the first six months of the year when liquidity was inconsistent from one day to the other, making the average trading volume and value recorded in each trading day 30-40 per cent lower than forecasts of securities firms.
SSI predicted average trading value made each day would be VND6 trillion while HSC's anticipation was VND6.5 trillion.
Therefore, the three companies saw their earnings from brokerage and proprietary trading activities fall sharply on a quarterly basis.
At SSI, income from brokerage and margin lending was down by VND210 billion to VND131 billion at the end of the second quarter. At HSC, brokerage income was down 45 per cent to VND126 billion.
According to SSI, the stock market in the March-May period went through strong volatility after having performed quite well in the first quarter, making investors unwilling to buy and sell assets.
SSI also reported the drop in large-cap securities firms' earnings was caused by a sharp fall of brokerage fees and margin lending rates as smaller companies have curbed their fees and rates to much lower levels to attract clients and gain market shares.
Investors were also worried about the central bank's tightened policy on banks' lending towards risky sectors including real estate and securities, thus causing concern among investors about the risks they may face when trying to trade shares, according to specialist Nguyen Huu Binh.
Nine banks report over trillion VND in H1 profit
Nine commercial banks each recorded trillions of VND in profit during the first half of 2019, making the combined profits of VND33.6 trillion (US$1.44 billion), as stated in their business reports for the reviewed period.
Up to 20 commercial banks have to date released their own business reports for the first six months of the year.
Vietcombank recorded the highest profit among Vietnamese banks during the six-month period, with more than VND11.3 trillion (US$485.9 million), an annual rise of 41 per cent.
It was followed by Techcombank with the total profit of VND5.661 trillion (US$243.42 million), up 9 per cent on year.
Following were Military Bank (MB) and Asia Joint Stock Commercial Bank (ACB) followed closely with the respective profits of over VND4.8 trillion (US$206.4 million) and VND3.622 trillion (US$155.74 million).
Vietnam International Bank (VIB) and TPBank made over VND1.820 trillion (US$77.4 million) and VND1.620 trillion (US$68.8 million), both recording an annual growth of 58 per cent.
Meanwhile, Sacombank stood at the eighth position with the total profit reaching VND1.461 trillion (US$62.82 million), increasing sharply 46 per cent on year and beating the projected figure.
LienVietPostBank saw its six-month profit leapfrog by 81 per cent to reach VND1.117 trillion (US$48.03 million).
These nine banks all reported strong growth in terms of total revenues and net profits from their lending and services. They also managed to navigate the bad debt ratio below 2 per cent during the reviewed period.
Vietnam, Malaysia seek to expand trade ties
Vietnam and Malaysia have signed an agreement on five-year action programme, aiming to lift bilateral trade turnover to 15 billion USD in 2020.
The agreement was inked at a conference in Kuala Lumpur on July 29 to connect Vietnamese and Malaysian enterprises and those from other countries.
Jointly held by the Vietnamese Embassy in Malaysia and the Vietnam Businesses' Association in Malaysia, the event attracted representatives from over 200 firms of Vietnam, Malaysia and Cambodia and Thailand.
The two sides are drafting another five-year action prorgramme for 2020-2025 to raise two-way trade to 25 billion USD by 2025.
The agreement on the programme is scheduled to be signed during Malaysian Prime Minister Mahathir Mohamad's official visit to Vietnam in August this year.
On the occasion, Vietnamese Ambassador to Malaysia Le Quy Quynh hailed the Vietnamese business community in Malaysia for its contributions to Vietnam-Malaysia relations.
HCM City solicits investment in infrastructure
Ho Chi Minh City's authorities have called on local and foreign investors to invest in the city's infrastructure.
The growing metropolitan area with 13 million inhabitants is facing problems caused by rapid urban development and struggling with climate-related problems, Le Thanh Phong, head of the Investment and Trade Promotion Centre's investment promotion division, said.
"The demand for urban infrastructure is forecast to grow as a result of the rapid urbanisation," he told the Infrastructure Vietnam Summit which was held in HCM City last week.
"Traffic problems and flooding have hindered social and economic development."
The city is soliciting investment of 53 billion USD in 210 projects, mostly in infrastructure, according to the official.
The city requires 42 billion USD for 85 transport infrastructure projects, including 55 roads and bridges, seven in waterway transport, eight in railways, and 15 road works.
It also needs 4.9 billion USD for 36 urban technical infrastructure projects, including drainage systems and wastewater treatment plants.
It plans to develop a satellite city in each of the four directions to help reduce the population pressure and stress on infrastructure in the city centre.
Nguyen Quoc Hien, director of the project preparation investment unit under the Management Authority for Urban Railways, said as a metro and an economic hub HCM City urgently needed to build an urban railway system.
Under a master plan approved by the Government, the city would develop an urban railway system with a total length of 220 km at a cost of 26 billion USD, including eight metro lines, one tramway line and two monorail lines, he said.
"The 220km urban railway system is modest compared to the city's rapid economic growth and urbanisation."
"Three of the metro lines have received funding commitments but they account for only 10 percent of the total cost and the remaining 90 percent investment has yet to be tied up," he said.
Tran Duy Binh, Director of KPMG Legal Limited, said lengthy procedures and multiple approvals were among the key irritants faced by foreign investors coming to the country.
It was also difficult and time-consuming to find an appropriate local partner, he added.
As of last month investors from 106 countries and territories had invested more than 45 billion USD in numerous sectors in the city.
Seminar talks draft circular on risk management in customs
A consultation seminar on the draft circular on risk management in customs activities took place in Hanoi on July 29.
Speaking at the event, Deputy Director General of the General Department of Vietnam Customs Hoang Viet Cuong said the Vietnam Automated Customs Clearance System has been launched in all customs units nationwide with 99.65 percent of enterprises using. The department has also cut down on administrative procedures in the field.
He highlighted the need to build the circular in order to facilitate exports-imports and control law abidance in the field.
Statistics from the department showed that 9.68 percent of cargo was subject to inspection in 2014, which has so far been reduced to 5.07 percent.
Director of the US Agency for International Development (USAID)'s Trade Facilitation Programme Claudio Dordi lauded Vietnam's efforts in business environment improvement and trade facilitation.
He said the issuance of the circular will help improve business transparency and effectively realise free trade agreements.
Participants basically agreed with the draft circular, while many from business associations gave feedback on contents regarding risk management, enterprises' law abidance and international practices.
Bamboo Airways seeks six-fold increase in charter capital
Private airline Bamboo Airways wants to increase its charter capital to VND8.3 trillion ($358 million) by 2023 to triple its fleet.
The airline has submitted a proposal to this effect to the Ministry of Transport, which has responded that it needs to develop a plan to train human resources, especially pilots and technicians, to have enough staff to operate more aircraft by 2023.
The ministry last month approved in principle Bamboo Airways's proposal to expand its fleet from 10 to 30 after the Civil Aviation Authority of Vietnam (CAAV) expressed concerns about its own capability to manage more aircraft as well as Bamboo Airways's capability to operate them.
Bamboo Airways's charter capital could increase from the current VND1.3 trillion ($56 million) this year to VND2 trillion ($86.2 million) when FLC issues more shares to existing shareholders.
The airline this month said it has served 1 million passengers since launching its first flight earlier this year.
On Sunday, the airline broke ground for an aviation academy to train 3,500 aviation staff a year starting towards the end of 2021.
Vietjet Air opens new air routes at Phu Quoc Airport
Vietjet Air has announced that it plans to launch new air routes to and from Phu Quoc Airport to help call for more investments to Kien Giang Province.
The news was announced during the investment promotion conference on July 29.
Prime Minister Nguyen Xuan Phuc welcomed the participation from investors such as Vietjet Air for their contribution to Kien Giang's development. He confirmed that Kien Giang has the potential and hoped that provincial authorities and state agencies will create favourable conditions for the development.
Over 500 representatives of many departments, organisations and firms attended the conference. Vietjet Air then announced that it will open four new domestic and international air routes to Phu Quoc.
Two domestic routes are Phu Quoc-Danang and Phu Quoc-Van Don. Seven round-trip flights will be organised on a weekly basis from late 2019 to mid-2020. Two new international routes are Phu Quoc-Chengdu, China and Phu Quoc-Chongqing, China. There will be three round-trip flights held every week since late 2019.
The flights for two current international routes including Phu Quoc-Hong Kong and Phu Quoc-Incheon will be increased from six to 14 flights per week starting from winter in order to meet demands.
Vietjet Air opened the first flight to Phu Quoc in 2012 and has been expanding the routes to many local provinces, cities and other countries such as China and India. Airlines development means easier transportation and better commercial and tourism development. Since more tourists and investors have come to Phu Quoc, its socio-economic development has changed for the better.
Investors blame cumbersome procedures for lack of developments
Real estate investors have complained cumbersome administrative procedures have affected them.

Nguyen Tran Nam, chairman of Vietnam Real Estate Association, said both Hanoi and HCM City had seen fewer real estate projects. In early 2019, supply dropped by 25% in Hanoi and 50% in HCM City compared to 2018 which led to rising prices and land speculation.
Meanwhile, the Land Law's amendment period has been delayed, the Construction Law is being appraised and some other laws have been slow to implement.
Nguyen Ngoc Thanh, chairman of Hai Phong Real Estate Association, said in other countries if there was only one investor that showed interest, they wouldn't hold public bids, and even when the bidding was held, the process was transparent. However, investors have to face cumbersome red tape in Vietnam.
Nguyen Quoc Hiep, chairman of GP Invest, said the adjusted 2014 Land Law used many definitions that were not used in other laws. "Because of the adjustments, the investor had to redo the procedures again. We spent three years to get an investment licence for our project," he said.
The early stage of the project depends on Construction Law. When implementing the project, investors must depend on the adjusted Investment Law. The number of approved projects since early 2019 were very few.
The Land Law will be amended in 2020 because of continued problems. Meanwhile, the Construction Law will be submitted for amendment in July. The Investment Law should also be reviewed and adjusted because of several problems. The government has asked local authorities to review and deal with overlapping projects.
Vietnam also lacks official regulations regarding condotel and officetel such as responsibilities, management and operation.
Responding to the complaints about the Ministry of Construction regulations for agencies and firms to monitor and report suspicious transactions or those that worth over VND300m. Director of Housing and Real Estate Market Management Department Nguyen Trong Ninh, said such regulation had been issued for years to prevent money laundering.
However, Nguyen Tran Nam, chairman of Vietnam Real Estate Association, opposed the regulation, saying that even social housing costs more than VND300m.
Hanoi Chairman Nguyen Duc Chung said he would gather opinions on the legal questions.
Over 79,000 new enterprises established in January-July
About 79,300 new enterprises were founded with an average registered capital of 12.6 billion VND (543,700 USD) each in the first seven months of 2019.
These figures were the highest ones over the few years, the General Statistics Office (GSO) reported.
In July only, 12,352 enterprises were established with total registered capital of 139.2 trillion VND, down 4.7 percent in number and 26.9 percent in value compared to the previous month. Average registered capital of a single enterprise was 11.3 billion VND.
The newly-founded enterprises generated 94,900 jobs, down 15.1 percent.
Up to 2,690 enterprises resumed operation in July, up 25.9 percent, while about 2,501 others suspended operation, up 6.4 percent, and around 2,400 enterprises were dissolved, down 15.7 percent.
Vietnamese firms invest over 277 million USD abroad in seven months
Vietnamese enterprises received investment licences for 90 projects worth 180.1 million USD in 30 countries and territories in the first seven months of this year, according to the Ministry of Planning and Investment.
The ministry reported that in the period under review, 97.3 million USD of additional capital was poured into 21 underway projects abroad, pushing the total investment to other countries to 277.4 million USD.
Spain was the leading market of Vietnamese firms in the first seven months of this year, attracting 59.8 million USD and accounting for 21.6 percent of the total investment.
The country was followed by the US with 45.7 million USD, or 16.5 percent of the capital, and Australia with 45.4 million USD.
Cambodia and Singapore also lured 38.5 million USD and 34.5 million USD of investment from Vietnam, respectively.
Tourists to Hanoi in July up 9.5 percent
The capital city of Hanoi welcomed more than 2.4 million tourists and pocketed over 8 trillion VND (345.2 million USD) from tourism services in July, up 9.5 percent and 31.5 percent against the same month of 2018, respectively.
According to the municipal Tourism Department, of the total holiday-makers, over 460,000 are foreigners, a year-on-year rise of 9.6 percent.
In the first seven months of 2019, over 16.7 million people, including 3.7 million foreigners, chose Hanoi as a destination for their holidays, up 9.2 percent and 8.9 percent year-on-year, respectively. Total revenue from tourists is estimated at 57.7 trillion VND, up 28.8 percent.
In July, 64.2 percent of hotel rooms were used, up 2.87 percent against the same month last year, but down 3.2 percent compared with that in June. Notably, the occupancy rate for four- and five-star hotels is about 80 percent. Hanoi currently has 3,499 accommodation facilities (hotels, condotels and hostels), with a total of 60,812 rooms.
The capital city is striving for 29 million tourists and earning 103 trillion VND in revenue this year.
Director of the municipal Tourism Department Tran Duc Hai said better tourism products and services that meet international standards have made the capital's tourism sector more professional and impressed tourists.
Hanoi is now home to many international luxury hotel brands, international-standard golf courses and large-scale trade centres.
Noi Bai International Airport, which has direct air routes linking Hanoi with more than 40 nations around the world, also helps attract more holiday-makers to the capital, Hai stated.
In addition, many experts said Hanoi has succeeded in promoting its tourism potential methodically and professionally.
This year, the city was again listed in various tourism rankings. Japan's All Nippon Airways ranked it 25th among the 26 best Asian cities for a combination of business and leisure. The capital city was ranked fourth among 25 destinations in Asia and 15th among 25 destinations in the world in 2019 by TripAdvisor. Most recently, it was named in the Cable News Network (CNN)'s list of the 17 best places in Asia.
To promote its image, the municipal People's Committee and CNN recently signed a memorandum of understanding on advertising the capital city on the channel for 2019-2024.
Besides, municipal tourism officials have worked with Vietnam Airlines in welcoming survey teams from Japan, Australia and Europe and organising the "Summer in Europe" programme at Ly Thai To Park besides Hoan Kiem lake. The department has also stepped up the development of tourism products in the suburbs.
To attract more domestic and foreign tourists, Hai said the tourism sector will increase the quality of cultural tourism products, building quality destinations to make them outstanding attractions.
Instead of developing downtown tourism as before, the sector is gradually tapping the potential in the suburbs to diversify products, contributing to socio-economic structure shifting in the localities.
According to experts and travel agencies, outlying districts should take measures to increase the quality of tourism products, develop infrastructure, create a healthy tourism environment and boost connectivity with other localities.
Phung Quang Thang, Director of Hanoitourist, advised localities to focus on developing key products as it is not enough to rely on their potential.
It is important to pay attention to destination management to avoid affecting product exploitation between local enterprises and those from other places, and intensify connectivity between them to build products suitable to tourists' tastes.
According to the municipal tourism authority, developing attractions in the suburbs should be carried out step by step and needs long-term investment. To become tourist attractions, localities should step up connectivity with travel agencies, and install signposts and notice boards for visitors.
The department pledges to support localities in installing signposts and notice boards and training human resources serving in the sector, and creating favourable conditions for them to develop the industry.
Phu Yen begins to build solar-powered lighting system
The central province of Phu Yen began construction on the second stage of the first solar-powered public lighting system for Tuy Hoa city's walking street, which will make it the first urban area in central Vietnam lit by renewable energy.
The provincial investment project managing board said solar panels will be installed with a total capacity of 104Kwp to supply clean energy for the lighting system, saving 360 tonnes of carbon per year. The lighting system will be operational later this year.
In 2017, the first phase of the project placed solar panels on the rooftops of two public rest stops on downtown Doc Lap street. They helped supply power for nighttime use and reduced carbon emissions by 20 tonnes.
Phu Yen is regarded central Vietnam's third-strongest locality in the development of public solar power projects after Da Nang and Hoi An.
The province built a solar-powered watering system for a sugarcane farm in Son Hoa district and a 30MW biomass power plant.
According to the provincial Department of Industry and Trade, 16 investors have been seeking investment in solar, wind and gas power projects in the province.
Transfer pricing research advised
As Vietnam tightens its grip on transfer pricing, firms are being advised to keep themselves posted on how to record transactions of related parties.
At last week's transfer pricing seminar held by RSM Vietnam, experts discussed the latest regulatory updates on ­related party transactions. The reality is that after two years of implementing Decree No.20/2017/ND-CP dated February 2017 on tax administration of enterprises having transactions with related parties and Circular No.41/2017/TT-BTC dated April 2017 on implementing the decree, many corporate taxpayers in Vietnam still find themselves struggling with compliance rules.
As Vietnam prepares to launch the Law on Tax Administration in July next year, many firms are feeling even more anxious, with a significant number of them subjected to back tax and additional tax penalties. Failure to disclose related party payments, as well as ambiguities regarding transactions abroad, remain a major reason for these fines.
There are currently four statements for declaring related transactions in the country. According to RSM Vietnam, in the first statement, tax specialists at companies often make mistakes on declaring the origin country and the tax number of their related party. The nature of transactions was also often incorrect, leading to higher scrutiny from tax collectors, especially when it concerns countries or areas with a very low tax rate – so-called tax havens.
"Moreover, companies often mistakenly say that they are entitled to exemptions while in the tax collectors' eyes, they are not. We should keep in mind that tax agencies have the power to decide the amount of taxable income at any company," said Le Khanh Lam, senior partner in tax and consulting services at RSM Vietnam.
To avoid transfer pricing (TP), tax collectors in Vietnam now also require companies to have the same quotes for their related party dealings and in independent transactions. In general, any discrepancies in pricing, income level, and expenses between independent and related party transactions will be closely monitored by tax agencies. According to the new Law on Tax Administration, the red flags of TP include transactions that do not follow market prices, or disbursements that are different from the registered numbers. The revised law raises the types of TP cases from seven to nine.
In fact, the new rule is plaguing many firms in Vietnam. The fresh law states that they must compare their pricing with other similar players in the market, in order to show that their dealings follow market prices. Ideally, the data should be sourced from independent market participants, from the stock market to government agencies and auditing firms.
However, Lam pointed out that in Vietnam, many companies in the stock market are subsidiaries of the same groups or related in one way or another, which means they fail the independence test. "Many companies also operate in a wide variety of sectors, making them incomparable to each other. Moreover, public data from government agencies might not be sufficient," said the tax specialist.
To address this problem, Lam advised businesses to seek commercial data from major providers in the world such as BvD or Thomson Reuters, as it is important that they can clearly show the origin of any transactions or data they have. For multinational corporations with a presence in Vietnam, problems also arise from the lack of local and master files. Vietnamese businesses with more than VND18 trillion ($782.6 million) of consolidated profits from overseas are subject to the rule, and companies should also keep in mind rules regarding intra-group payments.
PetroVietnam signs deal with Dubai oil company
PetroVietnam Oil Corporation has signed a joint venture agreement with a Dubai-based oil conglomerate at its headquarters in Ho Chi Minh City.
Nguyen Hoang Tuan, chairman of the Board of Directors of PetroVietnam Oil Corporation, and Igho Charles Sanomi II, chairman of the Board of Directors of Taleveras Exploration and Production DMCC, signed the joint venture agreement witnessed by board members and management staff of both institutions.
The collaboration will involve the creation of a joint venture entity in the United Arab Emirates, an international brand to promote the global presence in the domestic oil and gas industry, alongside the establishment of local oil terminals and facilities in Vietnam.
Antonio De Santis, a Taleveras executive based in Dubai, expressed his satisfaction. "The project evaluation, negotiations, compliance, and due diligence has now given birth to a multinational company that will be based in the UAE and operated as a first-class corporation with the highest degree of transparency and corporate governance policies," he said.
With his optimism on the actualisation of set targets, Tuan meanwhile stated that it is in the interest of his company to expand its operations and go into ventures that will benefit the people of Vietnam and at the same time promote its brand internationally. He shared satisfaction with the clinical process of compliance achieved during its evaluation.
PetroVietnam Oil Corporation is a subsidiary of PetroVietnam, a state-owned oil company, with past revenue generation in excess of $37 billion.
PetroVietnam also carries out exploration activities in Malaysia, Indonesia, Mongolia, Myanmar, and Algeria, and recovers oil in both Iraq and Malaysia.
Taleveras is an oil and gas exploration, production, marketing and asset management company based in Dubai, and ic carrying out multiple activities across various African and Middle-Eastern countries.
VEHO Press raises JPY9 million
Japan's VEHO Works, which operates the first press release distribution service in Vietnam for Japanese companies, called VEHO Press, has raised funding of some JPY9 million ($83,000) invested originally by the Daisei Every 24 Co., Ltd.
A new Board of Members will be set up from August 1, with Daisei VEHO planning to expand and develop into six Southeast Asian countries.
This funding will be spent on VEHO Press development costs, qualified staff recruitment costs, and the cost of marketing towards the six Southeast Asian countries.
Mr. Ryutaro Maeda, who was in charge of business execution, and Mr. Motegi Hidehiko, who is responsible for financial management, gathered together in Hanoi after deciding to sit on the Board.
Through these changes, Daisei VEHO plans to further gain prompt decision-making in general execution, such as setting up a business system that integrates all Southeast Asia locations into one market, developing a business expansion platform, and enhancing its business basis.
VEHO Press has delivered 90 press releases to local Vietnamese media since its launch in May 2017, helping the company reach 550 media outlets with a 6 per cent average published rate.
The service aims to contribute to acknowledging Japanese companies' presence in Asia and transfer their activities to local staff and areas by connecting Japanese companies and local media who do not have opportunities to gain news or press releases from companies and fields of interest.
Kafnu HCMC partners with 500 Startups Vietnam
Kafnu Ho Chi Minh City has announced it will team up with 500 Startups Vietnam to support entrepreneurship in Vietnam, as venue sponsor for 500's Silicon Valley-inspired, Ho Chi Minh City-based accelerator program Saola Accelerator.
To mark the start of the partnership, 500 Startups Vietnam and Kafnu Ho Chi Minh City hosted an exclusive event attended by more than 100 tech entrepreneurs. Mr. Saalim Chowdhury, Partner at 500 Startups and Saola Accelerator Program Director, spoke about "Secrets to a Great Growth Funnel", shedding light on growth drivers of a startup and debunking "growth hacking".
Saola Accelerator aims to support three batches of Vietnam-connected startups with $100,000 in investment in each in addition to programmatic support. The first batch hosted 24 startup founders and core team members from six countries and territories at more than 70 training sessions, workshops, and hands-on mentoring sessions.
"The mission of 500 Startups is a great fit with Kafnu's ethos, and we are proud to support their efforts to empower Vietnam's startup ecosystem through their accelerator program," said Mr. Chris Edwards, General Manager of Kafnu Ho Chi Minh City & Hong Kong. "We feel privileged to be part of the success story of Vietnam's budding entrepreneurs, especially at this crucial and exciting stage of their development, and look forward to growing with them."
500 Startups Vietnam is a venture capital firm investing in promising Vietnam-connected startups. The fund aims to invest in up to 100 local startups by 2020. Saola Accelerator is 500's latest step in its mission to back talented entrepreneurs all over the world, helping them build companies at scale and developing thriving ecosystems around the world.
"Beyond sharing growth know-how, Saola Accelerator aims to create a safe space for founders to ask questions and get support from experts who understand the struggle they are going through," said Mr. Eddie Thai, General Partner of 500 Startups Vietnam.
"The partnership with Kafnu as venue sponsor has enabled us to provide that safe space, providing us with top-quality facilities and round-the-clock support for various program activities. We are delighted to be working with partners like Kafnu as we bring 500's world-class accelerator curriculum and experts to Vietnam and back the very talented founders in this market."
Saola Program Director and 500 Startups Partner, Mr. Saalim Chowdhury, said the "Secrets to a Great Growth Funnel" event focused on the core drivers that deliver growth to a startup and debunk the notion of growth hacking. A serial entrepreneur, he has worked with over 250 startups from 25 countries and territories over the last four years. Sharing his own experience, he emphasized that growth is not a collection of tactics or shortcuts but a mindset and a process based on constant experimentation.
HCM City in dire need for construction waste treatment plants
In Ho Chi Minh City, the rate of urbanization along with increasing per capita income has been causing the density of house building and repairing in the area which release a large amount of construction waste while up to now, the city has not had a waste treatment plant to treat this type of waste.
The city's Department of Natural Resources and Environment said that construction waste accounts for around 20 percent of urban household waste. Thus, if domestic waste is estimated at more than 9,000 tons per day, the amount of construction waste will be around 1,800 tons per day. This figure is forecasted to rise to nearly 3,000 tons per day by 2025.
According to the department, construction waste is mainly collected in the inner city. Meanwhile, recent reports by districts said that construction is from three sources with different properties and development characteristics. Particularly, construction waste is from renovation area, new construction area and area mixed between renovation and new construction.
However, until now, collecting and treating of construction waste has not been done separately. Representatives of many public service and environmental sanitation services companies said that in reality, they usually collect construction waste together with domestic waste as waste's owners –mostly, households – usually dump construction waste into domestic one. After that, it is transported to waste treatment plants and buried with domestic waste. As for new constructions, construction waste is usually a lot, around hundreds kilograms upwards, waste owners usually hire cargo tricycles to dump construction waste at vacant land or spontaneous landfills.
The HCMC Urban Environment Company Limited collects construction waste separately but usually for some large-scale constructions which have already signed construction waste collecting contracts with it. Construction waste then will be recycled and reused partly. Of which, broken concrete, broken bricks and tiles are used to fill the foundation of building constructions or cover for landfills. Steel, broken water pipes, packing, plastic and glass are recycled.
The recyclability of construction waste is quite high. According to environmental experts, if construction waste is collected and recycled properly, the ratio of recyclable construction waste might be up to 90 percent. Only 10 percent of construction waste must be buried, minimizing the area of land used for landfills. Unfortunately, recycling and reusing of construction waste in the city is mostly spontaneous. The city has not had any industrial-scale construction waste treatment plant which meets environmental hygiene and safety standards.
Experts said that the city should rely on its internal waste treatment capacity to quickly put into operation construction waste treatment plants in order to tackle these problems. Investment for building construction waste treatment plant is quite simple and does not depend much on public investment as investor can create a part of revenue from socialization and the waste's owners.
On the other hand, the risks of secondary pollutants generating from recycling construction waste are not high. The remaining problem is that the city needs to determine location, area of land to be licensed for investment and unit price for collecting and treating construction waste. At the same time, the city needs to promulgate policies to socialize investment for this activity, of which, the city should prioritize Vietnamese firms.
The Department of Natural Resources and Environment of Ho Chi Minh City has brought out two collecting and transporting solutions to meet requirements for construction waste treatment. First of all, construction waste could be collected and transported via separate construction waste transfer stations. The unit which collects domestic waste will be responsible for collecting construction waste. Or construction waste will be directly contracted between the waste's owner and the waste collector then transported to an urban solid waste treatment plant or being used to fill up land site.
Obviously, in recent years, the speed of urbanization in the city has increased rapidly, the demand to repair, renovate and build new houses along with public constructions has also increased strongly. The amount of construction waste is increasing, not only in inner city districts but also in the suburbs. Therefore, building transfer stations and construction waste treatment plants is extremely urgent.
Labor ministry to supports startup students
The Ministry of Labor, Invalid and Social Affairs and Trung Nguyen Legend have signed an agreement to help startup students to implement the Prime Minister's decision No. 665/2017 on the project 1665 about supporting startup students by 2025.
The project goal to help startup students is also Trung Nguyen's aims to inspiring startup students on the way to start their business by giving tens of million of books about knowledge in doing business.
In two years 2019 – 2020 with the vision to 2021 - 2025, the Ministry will hold workshops or seminars about setting up business for around 2 million students as well as startup festival for students nationwide to provide consultation to young people.
Startup competition will be held for students countrywide to discover good ideas.
Ikigai Vietnam launches Meiji dairy in Vietnam
Ikigai Vietnam Commercial Joint Stock Company and CP-Meiji, owned by Thai corporation Charoen Pokphand Foods, has signed a strategic partnership agreement to give Ikigai Vietnam the exclusive right to distribute Meiji's dairy products (except milk powder) in the Vietnamese market.
In the first phase, Ikigai Vietnam and CP-Meiji will launch their three core product categories comprising pasteurized milk, cup yoghurt and drinking yoghurt in seven flavors.
The products are 100% imported from Thailand and distributed to popular retail chains such as Vinmart, AEON mall and other premium retail stores.
Vietnam is the 7th country involved in CP-Meiji's expansion in the overseas market. Both CP-Meiji and Ikigai expressed confidence in the potential of the Vietnamese market thanks to its rapid growth, infrastructure development and the buying power of consumers, especially in the premium category.
CP-Meiji Group is a joint venture between two globally known food corporations, CP and Meiji Japan, and has operated for more than 20 years, serving ASEAN consumers pasteurized dairy products.
Salilrut Pongpanite, managing director of CP-Meiji Thailand, said, "CP-Meiji and Ikigai Vietnam both see the potential of the Meiji dairy product in Vietnam, as the Vietnamese people's awareness of health-related issues and life quality are increasing each day."
Nguyen Thu Giang, CEO of Ikigai Vietnam, said, "Over the past two years, Ikigai Vietnam has researched, analyzed and pursued the project of bringing Meiji's pasteurized milk to Vietnam, as we wish to provide consumers with better quality and premium selections."
Vietjet Air reports high revenue growth in first half of 2019
In the first six months of 2019, Vietjet's revenue from air transport continued growing by 22 percent and its air transport profit increased by 16 percent year on year.
According to Vietjet's business results in the first half of 2019, air transport revenue was 20,148 billion VND (about 871.7 million USD), and profit before tax was 1,563 billion VND. Consolidated results included aircraft trading, consolidated revenue reached 26,301 billion VND, up 24 percent and profit before tax was 2,398 billion VND, up 11 percent year on year.
In the first half of 2019, Vietjet operated 68,821 flights, equivalent to 45 percent of total flights operating by all Vietnamese airlines, transported 13.5 million passengers in all network. Vietjet maintained its leading position in domestic transportation with 44 percent market share in the period.
The international market has had a large room to grow, its good profit margin thanks to ancillary revenue, a low fuel cost advantage and an increase in foreign currency sources. Correspondingly, the number of passengers in international routes grew by 35 percent to approximately 4 million passengers. The proportion of international revenue surpassed domestic revenue, reached 54 percent of total air transport revenue. Ancillary and cargo revenue was 5,474 billion VND, the proportion increased from 21 percent last year to 27 percent this year, mainly thanks to the contribution from the growth of international routes.
During Q1 & Q2/2019, Vietjet has opened nine international routes to Japan, Hong Kong, Indonesia, China and 3 domestic routes, which helped increase the total number to 120 routes, including 78 international routes and 42 domestic ones. The flight network has covered destinations in Vietnam and international to Japan, Hong Kong (China), Singapore, the Republic of Korea, Taiwan, Thailand, Myanmar, Malaysia, Cambodia and China.
About other operating results, the revenue passenger kilometers (RPK) stood at 16.3 billion, up 22 percent year on year, the load factor was averagely 88 percent, the technical reliability was 99.64 percent and on-time performance (OTP) reached 81.5 percent.
In the first 6 months, Vietjet's equity reached 15,622 billion VND, up 32 percent year on year. Total assets were 44,461 billion VND, up 30 percent year on year; including 21,955 billion VND long-term assets, accounting for 49 percent of total assets. Debt to Equity ratio was 0.50, which was positive compare to 0.64 of last year. The Annual General Shareholders' Meeting in April decided to pay 2018 dividend at the rate of 55 percent, higher than the planned 50 percent approved at the annual shareholders' meeting last year.
In the first half of 2019, Vietjet also introduced a new version of Vietjet Air apps which integrated Vietjet SkyClub membership programme with many incentives and utilities including buying air tickets quickly on smart phones, hunting 0 VND tickets every Friday, and free payment fees.
Positive signs seen in socio-economic situation: PM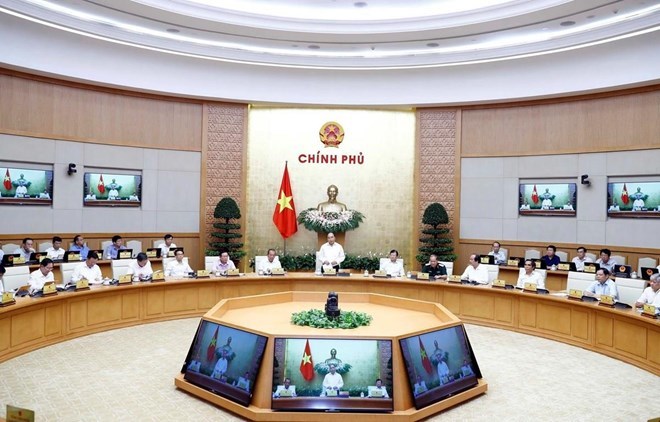 PM Nguyen Xuan Phuc speaks at the meeting.
Prime Minister Nguyen Xuan Phuc on August 1 said that the national socio-economic situation experienced positive changes in July.
Addressing the Government's regular meeting in Hanoi on August 1, the leader said the consumer price index (CPI) in the month increased 0.18 percent as compared with June.
During the January-July period, the index went up 2.61 percent year-on-year, the lowest seventh-month rise over the past three years, he noted.
PM Phuc also highlighted the progress in State budget collection, agriculture, social welfare, employment, poverty reduction, health care, education and tourism, adding that foreign tourists to Vietnam expanded nearly 8 percent in July.
Vietnam's Purchasing Managers' Index (PMI) climbed from 52.5 points in June to 52.6 points last month, making the country rank second in the Association of Southeast Asian Nations (ASEAN) in the rankings, only after Myanmar with 52.9 points, he said.
Despite global economic difficulties, international organisations like the Asian Development Bank (ADB), the International Monetary Fund (IMF) and the World Bank (WB) still have an upbeat outlook on Vietnam's growth, the PM added.
The leader pointed out difficulties facing the agricultural sector, the approaching Storm Wipha, the prolonged drought in the central and Central Highlands regions and the outbreak of African swine fever (ASF).
He, therefore, asked the Government members to focus their attention on these issues in order to work out countermeasures at an early date.
PM Phuc stressed the need to deal with the slow progress of some key industrial, energy and transport projects by the end of this year, as well as shortcomings in the disbursement of capital investment sourced from the State budget, and production and business activities, especially those facing small- and medium-sized enterprises.
During the meeting, the Government members will also look into bottlenecks in investment of businesses under the wing of the Committee for Management of State Capital at Enterprises and the master plan on socio-economic development at mountainous, ethnic minority-inhabited and disadvantaged areas for 2021-2025, and other issues.