Seafood companies have vowed to bring catfish to Vietnamese dining tables after their success in the world market.
Catfish is one of Vietnam's key export items with annual export turnover of $2 billion in 150 markets. But in Vietnam the sales of catfish remain very modest.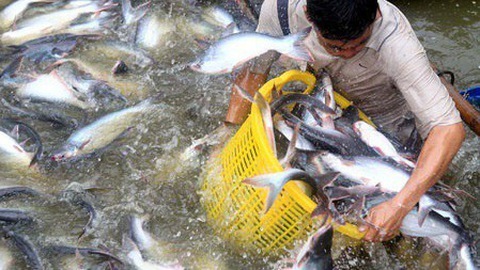 Pham Minh Thien, CEO of Co May, said his company exports catfish products, especially fillets, to 40 countries and territories with average export turnover of VND1 trillion a year. However, the company still cannot set up any distribution channel in Vietnam, including supermarkets and traditional markets.

Seafood companies have vowed to bring catfish to Vietnamese dining tables after their success in the world market.
Even Vinh Hoan, the biggest catfish exporter, still cannot conquer the home market. It tried to bring different processed catfish products to restaurants and hotels, but it failed to attract customers.

Chiem Thanh Long, director of Binh Quoi Tourism Village, said he once tried to add catfish dishes to the menus for buffet, but customers did not favor the dishes. When customers became more familiar with catfish products, he found it difficult to seek supply sources.

"Catfish companies focus on exporting products, and pay low attention to the domestic market. Therefore, they don't have effective distribution networks," Long explained.

As a result, restaurants and hotels have to send staff to farming areas to collect catfish for processing, or cooperate with farming units, but have to commit to buy catfish in large quantities.

Experts said Vietnamese consumers are indifferent to catfish because they don't understand the benefits.

Le Thi Thanh Lam, deputy general director of Sai Gon Food, said: "I think that in order to boost catfish sales in the domestic market, enterprises need to run more media campaigns to explain the current farming process. "

Studies found that the home market, with nearly 100 million people and 13 million foreign travelers a year, is an attractive market for catfish farmers and processing company. The seafood consumption level is 40 kilogram per capita per annum.
Co May in December 2019marketed packed catfish products. In early 2020, the company organized a buffet party at Binh Quoi Tourism Village, with 40 dishes made of catfish.

Co May signed a cooperation contract with Sai Gon Food, one of the largest frozen food processing companies, to add catfish to the 'menu' of Sai Gon Food.

Thien said the company plans to continue introducing processed catfish products for young consumers, who are busy and want convenience.

Regarding the distribution strategy, he said the company would focus on B2B channels and build online sale channels.
Kim Chi 

This year is believed to be a brighter year for the domestic tra fish industry with exports inching up in the first quarter, according to an official from the Vietnam Pangasius Association.  

Vietnam's catfish exports have seen a sharp decline because of trade barriers and price fluctuations in the world market.