AlphaBeta and Google highlighted the potential in Vietnam's digital economy in a report launched at a workshop held by the National Innovation Centre.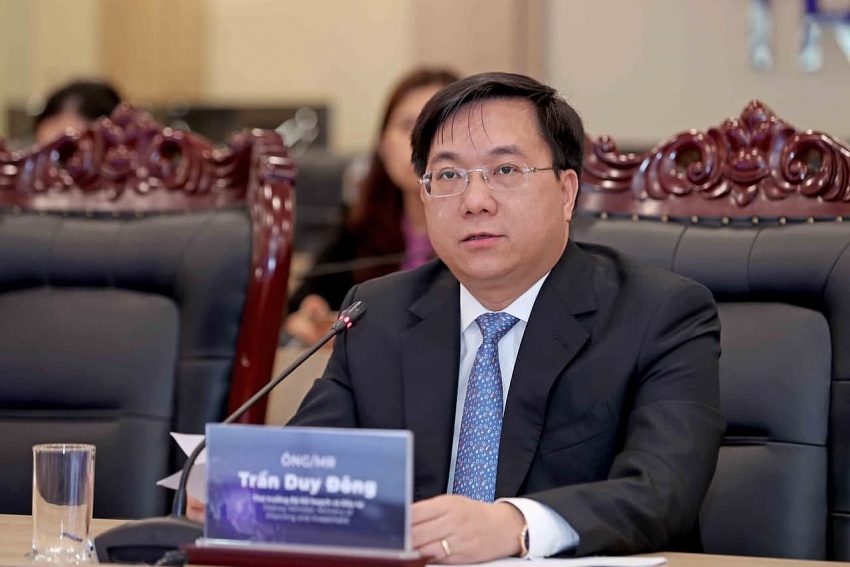 MPI Deputy Minister Tran Duy Dong highly appreciated the role of the digital economy in future development. Photo: MPI Portal
The new report titled "Vietnam's digital economy potential" by AlphaBeta and Google was released at a workshop yesterday (October 18) held by the Ministry of Planning and Investment's (MPI) National Innovation Centre (NIC).
At the meeting, MPI Deputy Minister Tran Duy Dong said that the digital economy was not unknown before the emergence of Industry 4.0 and the Internet of Things (IoT), but they been the starting pistol for a new race to digitalise all manufacturing and business operations across the entire economy.
"Amid the COVID-19 pandemic, Vietnam needs to accelerate the digital economy based on science and technologies, innovation, enhancing productivity, efficiency, and competitiveness of the economy," the MPI deputy minister said.
To support these goals, the Party and the government have made digital economic development a key orientation for Vietnam such as resolution No.52-NQ/TW adopted in 2019 by the Central Committee. The legislation set the target that by 2030, the digital economy would contribute 30 per cent of GDP. The government and the MPI have been doing their utmost to implement these directions and reach the targets set forth.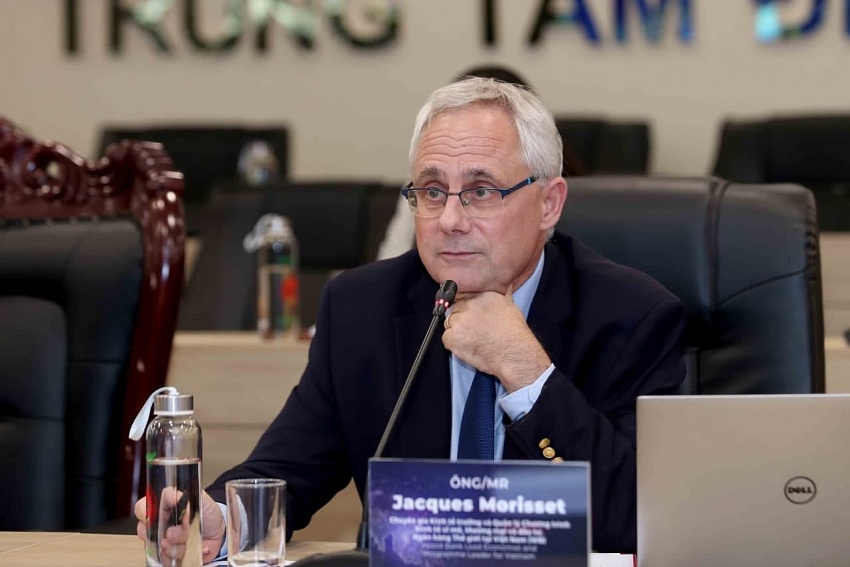 Jacques Morisset, World Bank lead economist and programme leader for Vietnam. Photo: MPI Portal
Jacques Morisset, World Bank lead economist and programme leader for Vietnam said that to develop a contact-free and high-tech economy, Vietnam needs to be more efficient in the use of its resources. He offered three priorities to make the most of the digital transformation: improving digital skills, promoting information quality and access, and encouraging dynamic and innovative businesses, although Vietnam is lagging in terms of digital skills among the population, and not enough companies embrace disruptive ideas.
"However, the silver-lining of the COVID-19 crisis is that it has accelerated the digital transformation in Vietnam. 60 per cent of businesses are now using online tools and platforms, and more than 2,000 procedures can be conducted online," he emphasised.
The new report "Vietnam's digital economy potential" of AlphaBeta and Google pointed out that if all of its advantages were utilised, digital transformation could generate VND1.73 trillion ($74 billion) in value for Vietnam by 2030, equivalent to 27 per cent of the country's GDP in 2020. The most promising fields highlighted were agricultural products and food, education and training, retail, services, and tourism.
Vietnam's advantage is a young, educated, and tech-savvy population accounting for 70 per cent of citizens under 35, and around 70 per cent of the population use smartphones. Besides that, Vietnam is the second-fastest-growing internet economy in Southeast Asia (following Indonesia).
The report highlighted eight key technologies for the digital economy, including mobile internet, cloud computing, big data, AI, fintech, IoT and remote sensing, advanced robotics, and additive manufacturing.
New business models will increase revenue, save cost, and enhance the productivity of businesses. They can create significant economic value for businesses and the government of Vietnam, contributing to GDP growth.
Additionally, the report also said that digital adoption is also essential for Vietnam to respond to and recover from COVID-19. By helping businesses connect with customers through digital technology and reducing logistics bottlenecks caused by supply chain disruptions, technologies can help businesses manage the severe impacts of COVID-19. It is estimated that about 70 per cent of Vietnam's total digital opportunities (VND1.216 trillion ~ $52 billion) can be generated by such technology applications.
Highly appreciating the innovation ecosystem and digital economy in Vietnam, Vu Quoc Huy, NIC director said that the centre has already shaken hands with tech giants like Google and Amazon to organise programmes including online training on technologies, e-commerce, as well as digital transformation for human resources and businesses. "In the time coming, NIC will continue building and deploying programmes to facilitate and support enterprises in digital transformation. We will propose more policies to the MPI to develop the digital economy in Vietnam," said Huy.
Source: VIR