Having in place an inclusive supporting industry is vital for the country to boost the competitiveness of Vietnamese-made products in the global market.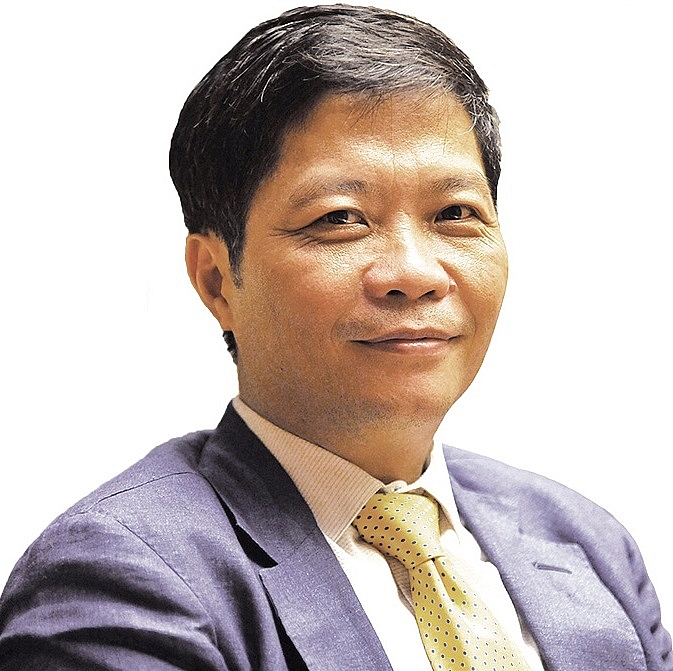 Tran Tuan Anh
Minister of Industry and Trade Tran Tuan Anh scrutinises how to achieve the targets set for the sustainable development of Vietnam's economy, and the industrial and trade sector in particular.
Why does the government emphasise the development of supporting industries? 
The commitment to have in place fully-developed supporting industries with a view to generating higher values and ensuring sustainable growth of local industries, as well as laying the groundwork for the Vietnamese economy's sustainable development, is always the consistent guideline of the Party, the state, and the government.
In fact, the country has worked out fairly concrete development policies in each development period. The country is strengthening its international integration with increasing openness of the local economy. This signifies that "Made in Vietnam" products joining the global value chain will be facing elevated competition pressures from products made in other countries.
Particularly, globalisation and the Fourth Industrial Revolution do not allow us any further delay when it comes to bolstering competitiveness of locally-produced industrial products, in which supporting industries play a substantial role.
Therefore, alongside the Comprehensive and Progressive Agreement for Trans-Pacific Partnership, other new-generation free trade agreements (FTAs) Vietnam has signed with the world's community have spelled out the imperative needs for our country to drive forth and boost the quality of supporting industry development.
This is a very practical measure set by the government in its overall action programme, striving for the Vietnamese economy's sustainable development.
In regards to capital sources to feed Vietnamese supporting industries in the forthcoming time, how can local businesses make use of supporting policies as foreign-invested ­enterprises currently do?
This issue is broad as it features diverse aspects of government policies across the board, from international integration to development of Vietnam's spearhead industries, including manufacturing, construction, and more. It also relates to a series of issues on international integration as well as environmental protection, to name but a few.
Briefly speaking, developing local supporting industries has become so imperative and must be focused on some prioritised fields as were reflected in several assessments that received high consensus on the part of the Vietnamese government, industry experts, and the local business community.
It is important that government policies and mechanisms provide utmost support to local and foreign-invested businesses, particularly small- and medium-sized enterprises (SMEs) which still have limitations in technology and human resources capacity, as well as limited access to credit sources and markets.
Second is ensuring the effective enforcement of government policies that is of vital importance. For instance, there have been Decree No.111/2015/ND-CP issued in 2015 guiding regulations on development of supporting industries, and the Law on Supporting Small- and Medium-sized Enterprises. In addition, consistent guidance from the central to local level is crucial for the sustainable development of local supporting industries.
Vietnam is integrating deeply and broadly in the global economy, and there is a multitude of opportunities for Vietnamese companies and their products in the international market from FTAs. But if we are not doing a good job with promoting the supporting industry development and increasing the product added values, we will not effectively avail of the opportunities and advantages brought in by FTAs, allowing the benefits and advantages to fall into the hands of other rivals.
Finally, a comprehensive approach is a must. The issue of local supporting industry development must be considered in the framework of Vietnam's economic restructuring strategies, and restructuring of the industry and trade sector particularly.
Vietnam's industrial development cannot be the result of deployment of several separate specific policies in the field of supporting industries, but must be placed in the landscape of Vietnam's overall economic restructuring efforts. That is important due to three main factors. First, our country is integrating closer with the world's community. Second, Industry 4.0 and the digital economy are taking the world, including Vietnam, by storm with accompanying disruptive technologies, bringing in inclusive development. And third, innovations take place across the board all around the world so we must not lag behind.
It seems that expansive development could bring expected fruition for the country's industry and trade sectors. What priority fields for development will be offered by the Ministry of ­Industry and Trade (MoIT)?
First and foremost, it is the implementation of several priority tasks and measures by related state management agencies in an attempt to create the fulcrum for the business community, particularly SMEs, in the local supporting industry development.
This includes gradual perfection of the regulatory system, consistent guidance and effective co-ordination from central to local levels, paired with patience in implementation. This also includes effective oversight, as relaxed enforcement will lead to a waste of the society's resources.
Support of the society and the business community also plays a decisive role. Therefore, propagation is important, especially in embedding industry and trade sector integration targets into national programmes for implementation of such set goals.
For the MoIT, besides those tasks, we also have concrete duties associated with defining several spearhead industries for prioritised development to create breakthroughs for driving forth the whole sector's development.
We have approval from the government for several defined industries including electronics, the auto industry, textile and clothing, footwear, and energy among others. These sectors all report great potential and advantages, and still provide immense room for further and sustainable development.
Vietnam is still also facing many challenges from international integration, but it is important to translate challenges into opportunities. Particularly, market openness has brought a great many challenges and increasing market competition. On the other hand, it provides opportunities for local businesses, including those in supporting industries, to restructure operations in order to grow stronger.
Restructuring also allows us to focus on cultivating the development of effective businesses through better access to technology, markets, capital sources, and training opportunities.
Last but not least, as the MoIT has reported to the government, we hope in the forthcoming time we could establish research and development (R&D) centres on the local supporting industry development, primarily in the three major economic hubs in the northern, central, and southern regions.
The functions of these centres will be not only to present technologies and increase firm access to modern technologies through international co-operation and government policy support, but also to boost R&D activities, from there contributing to bolstering the added value factor. VIR