The first corporate social responsibility programme (CSR) based on a digital platform in Vietnam's life insurance market, the Aviva Community Fund 2019, has been officially launched in Ho Chi Minh City.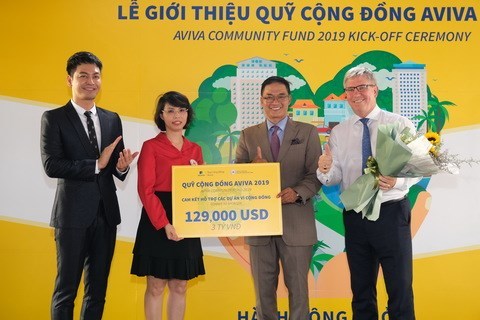 The launching ceremony for the Aviva Community Fund 2019 in HCM City on May 6.
Organised by Aviva Vietnam and Vietnam Red Cross Society, the programme aims to call for and fund projects of individuals and organisations that bring about positive change for the community.
The programme also encourages ideas from the community, and encourages people to care and offer solutions to issues in the local areas where they live.
Under the programme, creative initiatives will be financially supported to come into reality with the expectation that individuals' small actions can create great changes for the whole community.
This year, the Aviva Community Fund supports outstanding projects in three categories: environment, education and community health with a total funding up to 3 billion VND (129,000 USD) for 50 winning projects, in three levels of funding: 1,500 USD, 3,000 USD and 5,000 USD for each project.
This year's winner will be announced in September.
The programme has achieved remarkable success in the UK, France, Italy, Poland, Hong Kong and Canada. Vietnam was the first country in Southeast Asia to implement the Aviva Community Fund in 2017.
Aviva is a leading insurer in the UK with 323 years of experience in Europe, Asia and North America. The company specialises in life, non-life, healthcare and property insurance products. It currently serves over 33 million customers all over the world. – VNA