With the growing participation of foreign players in Vietnam's financial market, big international names are gradually dominating Vietnamese leading brands.
With the growing participation of foreign players in Vietnam's financial market, big international names are gradually dominating Vietnamese leading brands.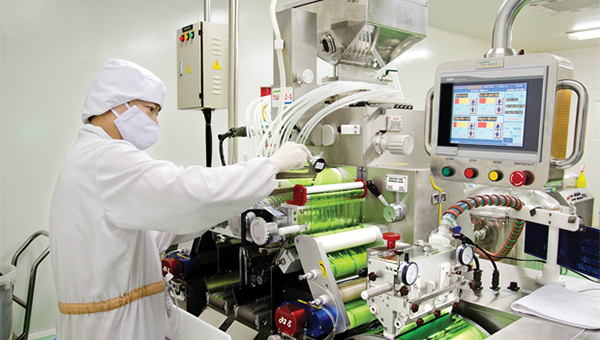 Japan's Taisho intends to purchase 28.3 million shares of DHG Pharma
After acquiring a 53.59 percent stake of Saigon Beer-Alcohol-Beverage Corporation (Sabeco), Thai Beverage Public Company Limited (ThaiBev) has officially held the Vietnamese leading beer firm since early this year.
After the deal, about 40 percent of Vietnam's beer market share is decided by the foreign investors as they also own leading beer brands with high share in the local market besides Sabeco. Heineken and Carlsberg posted market shares of 21.8 percent and 9.7 percent in 2017, respectively, according to market research firm Euromonitor.
Many Vietnamese leading firms in other high growth potential industries have been also targeted by foreign investors through M&A deals.
In the pharmaceutical industry, foreign investors are holding dominant stake in Vietnamese leading firms, including DHG Pharmaceutical Joint Stock Company (DHG), Domesco Medical Import Export Joint Stock Corporation (DMC), Pymepharco Joint Stock Company (PMY) and Traphaco Joint Stock Company (Traphaco).
At medicine maker DHG, which is estimated to have the largest share in the Vietnamese market with total consolidated revenue of more than VND4.4 trillion (US$188.84 million) last year, Japan's Taisho Pharmaceutical Holdings Co., Lt, and State Capital Investment Corporation are the largest shareholders with 35 per cent and 43.31 per cent, respectively.
However, Taisho last month intended to spend more than VND3.4 trillion (US$145.92 million) to purchase 28.3 million shares of DHG.
Taisho held 24.5 percent of the shares of DHG in 2016. The figure has since been raised to 34.99 percent. If the Japanese firm successfully secures the additional shares, equivalent to 21.7 percent of the chartered capital, DHG will become Taisho's consolidated subsidiary.
After completing the transaction, potentially between mid-March and end-April, the total number of DHG shares held by Taisho will be 74.12 million, or 56.7 percent of the total number of issued shares. At the time, DHG will become a foreign firm according to the Vietnamese Law on Investment.
Another foreign investor Abbott also holds 51.7 percent of charter capital of Vietnamese leading pharmaceutical firm DMC. Abbott is also a large shareholder at another Vietnamese large firm Glomed Pharmaceutical.
The same trend is also seen in the country's plastics industry. Foreign investors hold dominant stakes in two Vietnamese leading plastics firms – Binh Minh and Tien Phong, with some 40 percent of local market share. While Nawaplastic Industries (Saraburi) - a subsidiary of Thailand`s Siam Cement Group (SCG) - hold 51.1 percent of Binh Minh Plastics, Japan's investors own 15 percent of Tien Phong Plastics.
Investment wave forecast
According to experts, foreign investors have targeted Vietnamese leading firms as they see in these enterprises high growth prospects while the government is making great efforts to improve the country's business and investment environment to support firms.
Besides, foreign players prefer this investment form as it can help them rapidly step in the Vietnamese market. Advantage of the investment form is that investors do not have to wait for licenses. In addition, they can start working immediately without having to spend time for learning and researching the market.
Experts forecast that such foreign investment inflow will continue spiraling upward in the coming time.
Andy Ho, managing director and chief investment officer of VinaCapital, said Vietnam has a lot of great businesses to invest in and the economy is stable and growing. Therefore, a lot of foreign investors still want to invest in Vietnamese firms.
However, some are also concerned that other Vietnamese firms would lose their share in the local market if foreign investors hold dominant stakes in the country's leading firms. Hanoitimes