Among 53 cities and provinces having received FDI in the first four months this year, Hanoi has attracted the largest portion of capital commitments with over US$4.47 billion, accounting for 30.6% of total investment in the period.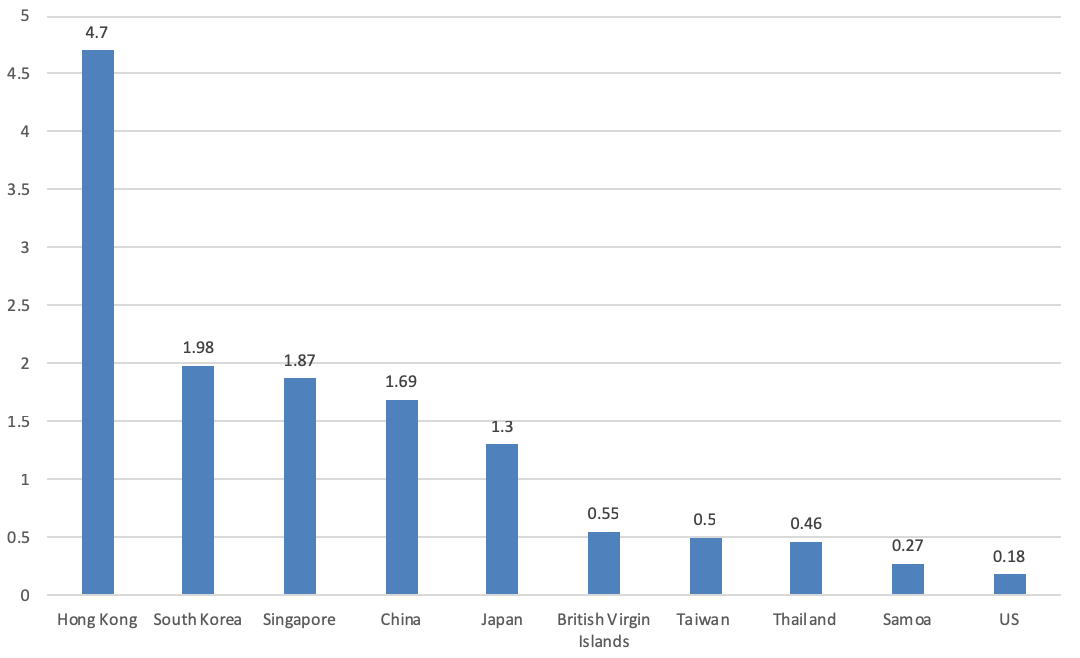 Top 10 countries and territories by FDI commitments in Vietnam in January - April (Unit: billion USD). Source: MPI/Graphic: Nguyen Tung.
Ho Chi Minh City came second with US$2.37 billion or 16.3% of the total investment, followed by Binh Duong with over US$1 billion, accounting for 7% of total investment, a report of the Foreign Investment Agency (FIA) under the Ministry of Planning and Investment has shown.
Four-year high FDI commitments
Foreign investors committed to pour US$14.59 billion into Vietnam in the January – April period, marking a four-year high and up 81% year-on-year.
Disbursement of FDI projects jumped to US$5.7 billion in the four-month period, representing an increase of 7.5% year-on-year.
According to the agency, 1,082 new projects have been approved with total commitments of US$5.34 billion in the January – April period, up 50.4% from the corresponding period last year, while 395 existing projects have been injected an additional US$2.11 billion, down 6% from the same period last year.
During this period, 1,653 projects have had US$5.68 billion in capital contributed by foreign investors, an increase of 3-fold year-on-year and accounting for 52.6% of total registered capital.
Investors have invested in 19 fields and sectors, in which manufacturing and processing continued to attract substantial attention with investment capital of US$10.5 billion, accounting for 72% of total FDI approvals.
Real estate was the second most heavily invested, with US$1.1 billion, or 7.5% of total registered capital, followed by retail and wholesale with US$742.7 million or 5%.
The data shows that out of 80 countries and territories investing in Vietnam in the four-month period, Hong Kong (China) took the lead with US$4.7 billion, accounting for 32.5% of total investment. South Korea came second with US$1.98 billion or 13.6% of total investment, while the third place belonged to Singapore with US$1.87 billion or 12.8%.
China and Japan claimed the fourth and fifth places with US$1 billion and US$700 million, respectively.
Massive production relocation from China
With uncertainties surrounding the China – US trade friction, foreign-invested companies have been pushing for relocating of their production facilities from China to Vietnam.
Among 51 countries and territories that had fresh projects in Vietnam in the first four months of 2019, China was the largest investor with US$1.31 billion, accounting for 24.53% of the total and nearly double that of Singapore in the second place with US$700 million.
Some of the big-ticket projects in the January – April period from China include US$3.85 billion in capital contribution from Hong Kong -based Beerco Limited to Vietnam Beverage for a beer project in Hanoi; the US$260-million electronic manufacturing plant by Goertek (Hong Kong) located in Bac Ninh province; tire manufacturing plant worth US$280 million from a Chinese investor in Tay Ninh province and a similar project worth US$214.4 million financed by Guizhou Advance Type Investment (China) in Tien Giang province.
As a result, a production shift from China to Vietnam has led to a surge in manpower demand, according to Navigos Group, the operator of Vietnam's biggest job portal Vietnamworks.
In its latest report on recruitment demands for senior management level in Vietnam in the first quarter of 2019, Navigos said the trend has been growing strongly, especially in "supporting industries and wood furniture industry."
Additionally, "there are projects that launch new factories in Vietnam, which are expected to greatly increase the number of employees by double, or triple during the year, especially in the field of electronics, high-end components manufacturing," stated the report.
The vacancies are mainly in Supervisory and Management positions, and the recruitment demand is expected to increase steadily until the companies operate stably. Besides, Chinese businesses also require candidates who must speak Chinese.
Hanoitimes