In an aim to attract more investment for much-needed infrastructure, HCM City is touting its efforts to become a digital- and knowledge-based economy with a highly skilled workforce.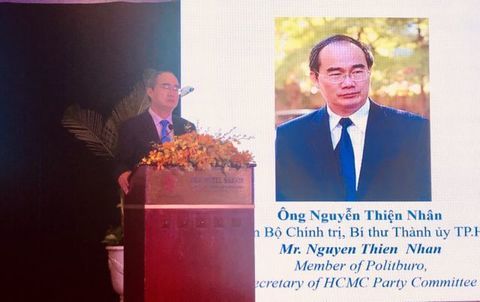 Nguyen Thien Nhan, secretary of HCM City Party Committee, speaks at an investment conference held yesterday in HCM City.
The city is currently seeking more than US$53 billion in investment for 210 projects in transport infrastructure, education, healthcare, tourism, trade and services, and sport and tourism.
Speaking at a conference held yesterday in the city, Nguyen Thien Nhan, secretary of the city's Party Committee, said the city over the next 15 years would be at a competitive advantage because of the high number of people of working age, the so-called "golden population".
HCM City is considered not only a gateway to the ASEAN market of more than 500 million people, but also a vibrant, multicultural city, according to Nhan.
"There are Catholic churches, mosques and pagodas in HCM City. There are Italian, Korean, Japanese, Thai restaurants and other cuisines. You can find people who can speak English, Chinese, French, German, Japanese or Korean and other languages right here in HCM City," he told investors at the conference.
"You will feel at home living and working in HCM City," he added.
Impressive targets
HCM City aims this year to maintain its revenue contribution of nearly 30 per cent to the country, and increase its GDP contribution from 23 to 25 per cent and GRDP from 8.3 to 8.5 per cent.
To achieve the goals, Nhan urged the city to continue to ensure that enough land is available to attract investment.
The city has established a working group that will examine the current status of land use and the development of urban infrastructure.
The city is also seeking advice on how to use 1,000 ha of land which is expected to be added to the industrial park development plan by 2020, according to Nhan.
In addition to expanding existing industrial parks, the city will also build new industrial zones which will cater to enterprises using high technology.
The city will also promote investment in projects for public infrastructure, and those that will transfer new technologies and build R&D centres.
"The city will continue to select investors through transparent public bidding," Nhan said.
To maintain sustainable growth and raise living standards, the city is also calling for investment in smart city development.
The city targets by 2020 having at least 500,000 competitive and sustainable enterprises.
Nguyen Thanh Phong, chairman of the municipal People's Committee, said a good investment environment would include not only preferential and incentive policies but also the timely support of the government.
The city will regularly organise dialogues with local and foreign businesses to resolve their issues, he added.
Speaking at the meeting, Le Thi Huynh Mai, director of the city's Department of Planning and Investment, described four ways to select investors for land-use projects: delivery of land via collection of land-use fees, lease of land after auction of land-use rights, land use through bids, and public-private partnerships.
Investor feedback
Nguyen Thi Nga, chairwoman of the board of directors of BRG Group, said the city had developed an online urban planning application where investors can find information about projects that are seeking investors.
Linson Lim, president of Keppel Land Group, said the city should continue to support foreign businesses by offering transparent policies and approval processes.
"Such improvements will allow businesses to make investment decisions with greater confidence, have more efficient operations and make more practical contributions to the city's development," he said.
"High-quality human resources are the key to attracting foreign investors. HCM City has a young, industrious and well-trained workforce," he added.
To grasp the opportunities ahead, Lim said he hoped the city would continue to invest in local human resources.
Le Hoang Chau, chairman of the HCM City Real Estate Association, said in the last 10 years the real estate market size had doubled but still had not met demand.
Of the city's 210 projects calling for investment, the real estate association and related businesses are interested in urban transport infrastructure, urban embellishment, and trade and services projects, he said.
According to Chau, the most critical issue is site clearance.
The association praised the city's People's Committee for shortening the land clearance time to 100 days to allocate land to investors in a timely manner.
HCM City leads the country in GDP growth rate, contributing about 22 per cent of national GDP, one-third of total industrial output, one-third of total budget revenue and one-fourth of total export turnover to the country annually.
As of the end of last year, more than 100 countries and territories had invested in HCM City with 8,112 projects.
Last year, FDI in the city reached $7.07 billion, up more than 7 per cent compared to 2017, accounting for 22 per cent of the country's total FDI. — VNS