HCM City's wholesale markets are set to ban unprocessed agricultural products from the end of the third quarter this year.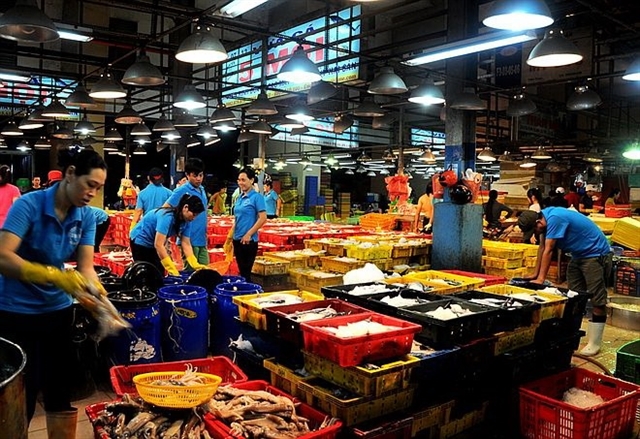 Photo shows a wholesale market in HCM City.
Nguyễn Huỳnh Trang, deputy director of the city's Department of Industry and Trade, said last year city authorities had apprised shopkeepers in Thủ Đức (in Thủ Đức District), Bình Điền (in Bình Chánh District) and Hóc Môn (in Hóc Môn District) markets and relevant authorities in the provinces of Lâm Đồng and Bến Tre, the two major suppliers of agricultural produce to the markets, of the plan.
According to the department, over 9,200 tonnes of goods are delivered every night to the three markets.
The waste generated and discarded by them was estimated at 240 tonnes per day, nearly 90 per cent of it being from farm produce processing, Trang said.
The managements of the three markets have to spend a combined VNĐ8.5 billion (more than US$365,000) a year for the collection, cleaning, decontamination, transportation, and treatment of the waste.
On Wednesday, a delegation of officials from several HCM City departments led by Trang discussed with Đắk Nông Province officials measures for processing agricultural products, especially vegetables and fruits, at source before supplying to the city.
The two sides discussed the costs and benefits of this, and measures to support farmers and dealers to speed up the programme launched by the city authorities to reduce pollution and improve management of waste, and at the same time trace the origin of goods.
They agreed that semi-processing and packaging of agricultural products at source is imperative since demand for farm produce is rising day after day.
Đắk Nông has promised to push for this. — VNS.