Vietnamese pharma firms are increasingly investing in technological innovations to shore up sustainable growth, while international health technology groups are racing to seize the gains from these trends.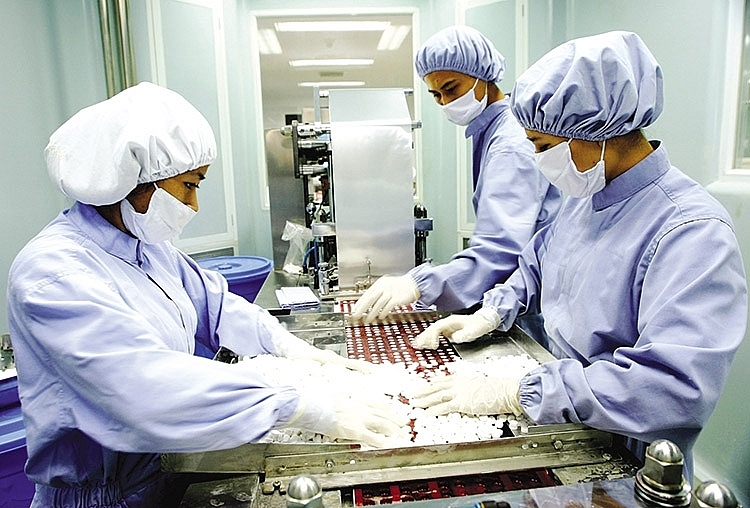 Domestic drugmakers are investing in technology to ensure sustainability and challenge encroaching foreign pharmaceuticals
Recently, a group of businesses from the European Union-ASEAN Business Council had a meeting with leaders of the Ministry of Health (MoH) to discuss opportunities in the healthcare sector, with SAP AG being among the companies expressing strong interest.
Being the third-largest independent software supplier worldwide and the largest software group in Europe, SAP AG's business software applications are used by over 13,500 companies around the world in industries like chemicals, high technology, telecommunications, electronics, healthcare, pharmaceuticals, and consumer products.
Evidently, Vietnam, with its growing consumption, increasing middle class, rapid urbanisation, and a market opening to pharmaceutical innovations, is a lucrative healthcare market for SAP AG and other multinational corporations.
A gathering storm
SAP AG is among the technology companies that are looking at the Vietnamese healthcare industry to benefit from the growing local demand for digital transformation to increase access to healthcare. The others include Qualcomm, Siemens, Bayer, and IBM Watson Health.
Vietnam is starting to leverage digitalisation in the healthcare sector and Siemens is supporting this path. For example, Vietnam has remote areas in the northern region where access to good medical care is limited – something the giant can solve by operating a virtual operation centre linking remote areas to hospitals in Hanoi, for instance. "This kind of technology is the most promising approach. With the development of the healthcare sector in Vietnam, I do believe that the most likely method of co-operation is public-private partnerships," said Elisabeth Staudinger, president of Siemens Healthineers in the Asia-Pacific.
Similarly, Bayer is developing innovative solutions for cardiovascular disease patients and their caregivers to improve their quality of life, while IBM Watson Health is promoting the application of its oncology software at medical facilities in Vietnam to support doctors to select cancer treatment regimens for patients. IBM's AI software is so far used in Phu Tho General Hospital, Hanoi-based K Hospital, and Ho Chi Minh City Oncology Hospital.
"There will be more tremendous opportunities for overseas companies in the Vietnamese healthcare sector in the next 10 to 15 years as the local government is opening the market to take advantage of foreign investment to develop the industry in the digital age," Luke Treloar, director of global strategy group, national head of Healthcare and Life Sciences at KPMG, said.
"Vietnam is improving the healthcare system by applying the technologies of Industry 4.0. For example, Danang is determined to develop into a smart city and large data management companies like MobiFone are co-operating with Vietnam Social Security on creating a major patient record database. These, and other factors will help form Vietnam's medtech ecosystem, helping the country leapfrog over regional peers," Treloar added.
According to the MoH, the healthcare sector has completed and issued the policies to promote e-healthcare. Most hospitals are now applying IT in operational management at different levels, with telemedicine being an achievement, aiming to support provincial hospitals and others.
"The development of the smart healthcare model, smart hospitals, and smart healthcare governance are the three key factors in developing the smart healthcare sector," an MoH representative said.
To this end, the key to improving the quality of healthcare and patient outcomes is standardising processes and procedures. The second area that is very important for Vietnam is to create the infrastructure for digitalisation.
Addressing a recent meeting on the application of IT in the healthcare sector, Deputy Prime Minister Vu Duc Dam called on businesses to take initiative in this promising market. He asked ministries, including the Ministry of Health (MoH) and the Ministry of Information and Communications to allow the leasing of IT services by businesses to promote IT application in the healthcare sector.
Domestic players charge ahead
Vietnamese drugmakers are betting on the inclusive business model and technology investment to shore up sustainable growth amidst the stiffening competition and wide influence of Industry 4.0.
According to a report released by the Business and Sustainable Development Commission at the World Economic Forum 2016, sustainable development may generate business opportunities worth $12 trillion each year. The circular economy, which targets environmental protection and a non-polluting economy, opens up a $4.5 trillion market for companies in construction, steel, waste treatment, and other industries.
After years of consideration, emerging drug maker CVI Cosmetic & Pharmaceutical JSC (CVI Pharma) is preparing to open a high-tech factory costing nearly VND300 billion ($13 million) on an area of 1.1 hectares in Hoa Lac Hi-tech Park early next year, pinning high hopes on increasing its value chain in the months to come.
"When the new facility is in place, we will develop herbal cultivation areas to ensure the supply of clean and quality materials for our manufacturing, thus increasing the value chain in the future. At present, we rely a great deal on partners to supply materials for production," said Phan Van Hieu, chairman of CVI Pharma.
CVI Pharma is one of the Vietnamese pharmaceutical companies that are implementing the inclusive business model, under which drugmakers partner with local farmers to develop cultivation areas to ensure sustainable material supply while creating jobs for low-incomers.
"There are many business models for sustainable development and the inclusive business model is among them. This model is now a strong trend among pharmaceutical companies in Vietnam and has proven successful in many countries in the world," Nguyen Quang Vinh, vice chairman of the Vietnam Business Council for Sustainable Development.
Back in 2010 Traphaco JSC – Vietnam's second-largest publicly-traded drugmaker – started a herbal cultivation area in Sapa of the northern mountainous province of Lao Cai, where the majority of the population are ethnic minorities working with out-dated cultivation techniques. Traphaco has provided training on the cultivation of artichokes for the locals, helping improve the lives of hundreds. It is estimated that the income from artichokes is five times higher than rice and 10 times as much as corn.
At present, Traphaco has five herbal cultivation areas meeting GACP-WHO standards, all aligned with the principles of environmental protection from seeds, cultivation techniques, harvest, and processing to water, green fertilisers, and green land.
Vietnam's third-largest domestic drugmaker Domesco (DMC) and the biggest publicly-traded drug maker Hau Giang Pharmaceutical JSC (DHG), Imexpharm Pharmaceutical JSC – Vietnam's fourth-biggest pharmaceutical – and others have been making similar moves. They are all named among the 100 businesses honoured in the Programme on Benchmarking and Ranking Sustainable Companies in Vietnam in 2016.
DMC and DHG have so far focused on developing herbal cultivation areas. They earlier planned to expand an additional 1,000 hectares to cultivate herbal trees in 23 provinces nationwide.
"The company is planning to increase the proportion of products made from natural materials to develop its value chain, thus growing sustainably and helping improve farmers' lives at herbal cultivation areas," said Doan Dinh Duy Khuong, CEO of DHG.
According to the MoH's Drug Administration of Vietnam, drug manufacturing and the production of traditional medicine need around 500 kinds of herbal trees. However, due to the weak development of herbal cultivation areas, Vietnam has to import the majority of its herbs.
In addition to the inclusive business model, Vietnamese pharmaceuticals are focusing on technology investment. CVI Pharma in 2019 has invested in new and advanced medical technology for its new factory.
Along with the young players in the sector, giant drug producers like DMC, DHG, and Imexpharm are also taking a plunge by prioritising innovations as well as research and development to stand firm against the new challenges emerging from the EU-Vietnam Free Trade Agreement and the Comprehensive and Progressive Agreement for Trans-Pacific Partnership. Imexpharm, which is 48.13 per cent owned by foreign stakeholders, is working to upgrade its plants to EU-GMP standards, thus allowing it to venture deeper into the ethical drugs (ETC) segment. The company now operates three plants, including one put into operation in the third quarter of 2019, and is now developing a further facility that is scheduled to open next year. Imexpharm's new factories focus on manufacturing western medicines which meet EU-GMP standards.
Similarly, Traphaco spends 4 per cent of its annual revenue from production on research and innovation activities. At present, Traphaco has State Capital Investment Corporation (SCIC), Magbi Fund Ltd., and Super Delta Pte., Ltd. as major shareholders, holding 35.67, 24.99, and 15.12 per cent, respectively.
"Under our sustainable development strategy between 2017 and 2020, we aim to develop our production technology to be among the most advanced in the nation, on par with global standards. We have equipped our new western factory with the latest modern technology," said a Traphaco representative. VIR
Bich Thuy

With the average pharmaceutical import turnover of $245 million per month, the figure of the whole year of 2019 may reach $3 billion, equaling 50 per cent of the whole scale of the market.  

JW Pharmaceutical Corporation acquired Euvipharm, becoming the first Korean company to take over a Vietnamese pharmaceutical company and operate it directly.