SK Group, the third largest business group in the Republic of Korea, said on May 16 that it would invest $1 billion in Vingroup as part of its efforts to expand presence in the Southeast Asian market.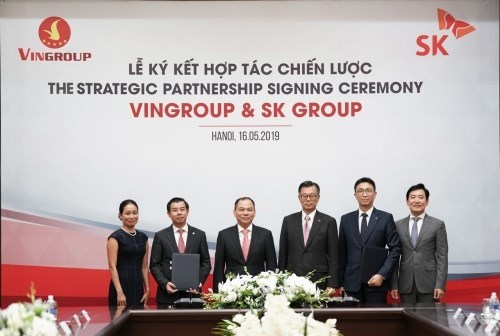 The strategic partnership signing ceremony between Vingroup and SK Group on May 16
Accordingly, SK signed an agreement to buy 6.1 percent stake in the top Vietnamese company, and it will seek business opportunities in Vietnam including investing in new businesses, infrastructure development and mergers and acquisitions.
Established in 1993, Vingroup is Vietnam's top-listed private company by market value, injecting its investment in diverse sectors, ranging from real estate development to automobile industry.
Vingroup's sale in the first quarter of 2019 was reported to hit 925 million USD.
The agreement is the latest step in a series of overseas efforts by SK in recent years.
In August 2018, the group's five subsidiaries, including SK Holdings Co. and SK Innovation Co., established a joint entity ? SK South East Asia Investment Pte.Ltd in Vietnam to fully tap and promote promising opportunities in the Southeast Asian market.
SK purchased a 9.5 percent stake in Vietnam's second-largest conglomerate, Masan Group, for 470 million USD. -VNA