Vietnam's real estate market would see a decline in supply due to tight credit and land fund, experts have claimed.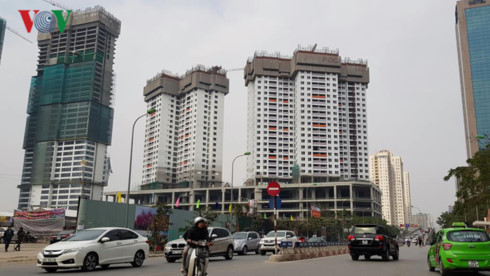 Land planning, project approval, site clearance compensation, and auctions for land use rights have been tightened, thus giving a threat to the supply.
According to Can Van Luc, chief economist at the Bank for Investment and Development of Vietnam (BIDV), capital available for the real estate market remains at a low level, primarily based on bank credit.
Only 20 real estate companies have so far been listed on stock exchanges. Commercial loans of local property developers account for 60 per cent of the total capital for their investment and business, while the rate of firms in the US and Europe stands at only 35 per cent.
A large number of cash flows have been poured into the real estate sector. The total registered capital of property firms is close to VND150 trillion (US$6.45 billion). Luc has high hopes on increases in industrial and commercial properties, as well as social housing projects in the future.
Bank credit for the real estate sector surged by around 6 per cent last year, with total outstanding loans reaching VND510 trillion (US$21.93 billion), or 7 per cent of the total.
In particular, credit for construction entities made up some 9 per cent of all outstanding loans, while loans for buying and repairing houses represented 6.5 per cent.
In brief, the real estate sector's outstanding loans reach a combined 25 per cent, said Luc, stressing this is a considerably large figure.
State agencies have made plans to extract consumer credit from the total outstanding loans as consumer credit comes with potential risks, the economist noted.
"There should not be a gloomy outlook for the domestic real estate market as the space for developing industrial real estate and housing is still considerable. Although an explicit legal framework has yet to be issued to boost tourism real estate, this matter will be handled soon," he believes.
Downward trend
The domestic market could face many potential risks to be triggered by worldwide economic fluctuations.
Tran Kim Chung, Vice Director of the Central Institute for Economic Management, said he believes that without unexpected fluctuations in the global market, the overall real estate market would suffer and even experience downturn by the end of 2019. Only industrial real estate, high-end, super premium properties, and rental housing at affordable levels are forecast to see upbeat developments.
The downward trend could be attributed to tight credit and land fund, said Nguyen Tran Nam, Chairman of the Vietnam Real Estate Association.
Circular No. 36, issued by the central bank in 2014, requires the maximum ratio of short-term funds used for medium-and long-term loans to drop to 40 per cent from 60 per cent as of January 2019.
Meanwhile, the capital adequacy ratio of real estate loans is set to rise from 150 per cent to 250 per cent.
Credit growth in the real estate sector has undergone continuous drops over the past few years. Last year, property credit increased by only 5 per cent while the overall credit growth posted 12 per cent.
Besides, land planning, project approval, site clearance compensation, and auctions for land use rights have been tightened. As a result, there are no many new projects approved while hundreds of ongoing projects have been suspended for inspection.
Although local purchasing power remains huge, the downward trend in supply could bring in a bleak prospect for investment inflows into the domestic market.
VOV