Over the past 30 years, Maersk has gradually contributed to putting Vietnam on the international logistics map.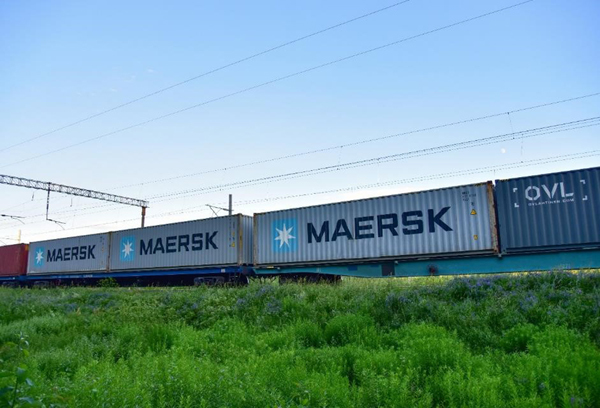 The first-ever freight train service between Vietnam and Belgium was launched in July 2021 by Maersk and the Rail Transport and Trade Joint Stock Company (Ratraco).
In August 2021, the global shipping giant A.P. Moller - Maersk celebrated its 30th anniversary of connecting and simplifying the global supply chain in the Vietnamese market by opening three brand-new transcontinental freight routes passing the country in the second quarter of 2021: The railway route between Hanoi and Liege (Belgium) that was launched in July and two transoceanic routes from Far East to North America in August.
In the context of the global container shortage creating severe bottlenecks for the logistics industry, Maersk is committed to providing customers various solutions while affirming again Vietnam's key role in achieving its overall strategy of being an integrated logistics firm.
According to Agility's 2021 report, Vietnam currently ranks eighth out of 50 emerging markets. Currently, one out of five containers worldwide are handled by Maersk. The company is responsible for transporting 16-17 per cent of the world's freight. In the first four months of 2021, up to 123.5 million tons of goods in the Vietnamese market were transported by Maersk.
Over the past 30 years, Maersk has gradually contributed to putting Vietnam on the international logistics map. In October 2020, the Cai Mep International Port in the southern province of Ba Ria-Vung Tau welcomed the "super" container vessel called Margrethe Maersk, one of the world's largest ocean liners with a nominal capacity of 20,000 TEU (twenty-foot equivalent units). This marked a historic event as Cai Mep is one of 20 major ports in the world capable of receiving such enormous vessel.
As Maersk looks forward, there are two clear strategic imperatives – decarbonizing its logistics value chain and tapping into digital opportunities to provide differentiated offerings to better serve customer needs.
Heading to "decarbonized logistics", the Danish corporation has vowed to only order new vessels which can use carbon-neutral fuel as it seeks to deliver net-zero emissions by 2050. The eight brand-new vessels are expected to be delivered by early 2024, for a greener transportation.
Moreover, with the goal of "digitalizing the global logistics", Maersk has applied technology to address the increasing needs of global customers with new digital products.
Accordingly, TradeLens - a platform using blockchain technology - allows data to be securely shared among multiple parties through a decentralized and distributed system, allowing real-time access, removing the need for physical documentation.
Meanwhile, Maersk SPOT - one of Maersk's online products - makes the container booking process simpler and more efficient. Shippers can simply click and book online even from a mobile device. Rate calculations are fixed at the time of booking, and a cargo loading guarantee avoids the unpredictability of being rolled.
"Vietnam currently is the largest contributor to overall business in the VCML region (Vietnam, Cambodia, Myanmar, Laos) of Maersk, leading this regional market with more than 1,200 multinational employees and 10 logistics warehouse facilities that meet international standards," said Scott Elliott, CFO of Maersk Asia-Pacific and Area Managing Director of the VCML region.
"The new digital products mentioned above will aid us to further promote our business here. Over the last few years, Vietnam has been a major growth engine for Maersk," he said.
"Towards 2026, our business strategy focuses on two key points: Firstly, focusing on attracting more customers in the VCML region. Secondly is developing our talent in the organization that complements our integrator strategy and drives a customer-centric culture," Elliott revealed.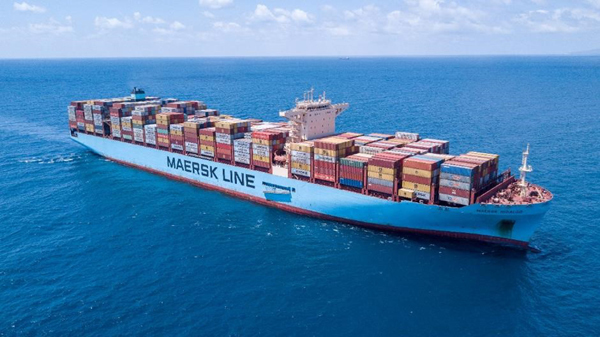 Maersk will launch the first carbon-neutral fleet in 2024, aiming to achieve net-zero emissions by 2050.
The Denmark giant has not only been playing a leading role in container logistics rather it is a powerhouse of talent as well. Its employees represent a diverse pool of cultures and nationalities, with a wide range of experience and tenure.
Maersk Vietnam has led by example in building a model workplace that engages its employees, evidenced by external recognition to Maersk with the prestigious employer awards: Top 11 Best Places to Work 2020, Top 50 Vietnam Best Places to Work 2020 in Vietnam, Best Place to Work in Asia 2020 and 2021 by HR Asia Award.
Maersk's mission to enable the global supply chain is reflected in its value proposition to employees – "Together, All the Way". The employees at Maersk truly experience this by being part of a progressive organization where their development, growth, and engagement is given top priority and is achieved through a host of curated and benchmark career development and engagement programs.
Celebrating its 30th anniversary in Vietnam, Maersk is proud of the value it has created for its customers, suppliers, employees, society, and all other stakeholders. With clear strategic priorities, a roadmap for future and a dynamic talent pool, Maersk can no doubt achieve its vision of connecting and simplifying the global supply chains and in the process contribute to the growth of Vietnam.
PV