Vietnam's largest conglomerate Vingroup has announced the sale of its retail and agricultural arms to Masan Group.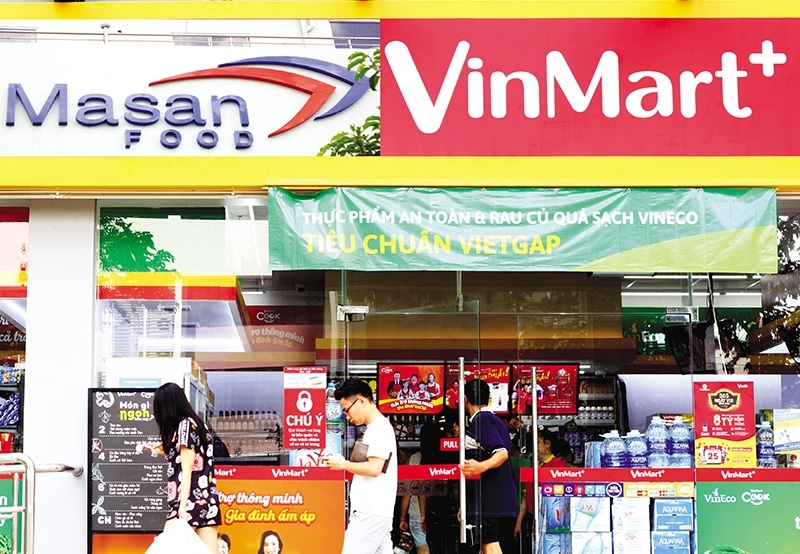 Vietnamese consumers may soon be able to enjoy the results of the historic merger 
With the move, speculation now mounts as to what fortunes lie ahead for the two domestic giants, and how the country's mergers and acquisitions arena will be impacted by the announcement.
Under the deal announced last week, Vingroup's VinCommerce and VinEco arms will merge into Masan Consumer Holdings, the retail consumer business of Masan Group, to help establish a leading consumer retail group with a network of over 2,600 supermarkets and convenience stores in Vietnam, in which Masan will take control, while Vingroup will be a minor shareholder.
The value of the deal has not been disclosed so far, but it may be the largest mergers and acquisitions (M&A) deal of 2019, igniting a competitive retail war.
Looking into the deal, Vietnam director at the Institute of Certified Management Accountants (CMA) Long Phan said, "The deal brings benefits to both sides. Masan holds a manufacturing ecosystem with 180,000 points of distribution of consumer goods and subsidiaries like Vinacafé Bien Hoa, Vinh Hao Mineral Water, and Masan Meatlife. VinCommerce owns a chain of supermarkets and convenience stores, and VinEco has 30,000 hectares of agricultural land."
He explained that under the agreement, Masan will have access to an extensive retail system to complete its distribution and retail channels. The group can also reduce the impact of retail partners on the possibility of controlling the market in the future, while ensuring profit margins. At the same time, Vingroup will focus on its key business areas.
In a statement, Vingroup said that the deal will result in a new consumer retail group with a "leading scale" and "outstanding competitiveness" in Vietnam. It also helps them to focus on the high-tech ventures, including car and smartphone manufacturing.
Vingroup vice chairman and general director Nguyen Viet Quang said after the announcement, "We have created two large-scale enterprises, VinFast and VinSmart, with global aspirations so we have to optimise all resources to turn them into international stature."
Retail and agriculture have been among Vingroup's eight main businesses – alongside real estate, resorts, industry, tech, health, and education – with retail placed second in terms of revenue for the group.
This is not the first time that Masan has dipped into retail, as the sector has long been key to the corporation's business operations. In 2001, the group launched 25 Masan Mart outlets, but two years later was forced to close all of them, simply citing bad timing for the failure.
The business outlined a strategy at its 2018 annual report to create a commercial ecosystem to meet customer needs through their individual business segments by setting up a system that would allow them to take care of their finance, shopping, and healthcare needs simultaneously.
Vietnam's retail market remains a hotbed of M&A deals with both foreign and local players scampering to consolidate their footprint. One notable trend in the Vietnamese retail M&A scene is the recent rise of domestic acquirers.
In June, local retailer Saigon Co.op took over 18 stores and the entire online retail system of French retailer Auchan in Vietnam for an undisclosed sum. The transaction between the two is believed to have been a fire sale offering good value for Saigon Co.op and a quick exit of Auchan.
Besides that, overseas investors have successfully secured a number of M&A to further their expansion in retail, including Central Group's purchase of 49 per cent stake in Nguyen Kim and its acquisition of Big C Vietnam, the acquisition of Metro Cash & Carry Vietnam by TCC Group, and the purchase of 20 per cent stake in Bibo Mart by ACA Investments.
Commenting on the trend earlier in the year, Richard Burrage, managing partner of consumer market research company Cimigo said that local retailers have the edge in expanding their reach via M&A.
"They are closer to local consumers, far more agile, and less afraid of failure, quickly learning and moving forward," he said.
Last month at a VinCommerce meeting to mark the fifth anniversary of the launch of VinMart systems, ambitions to expand its VinMart and VinMart+ network to 300 and 10,000 outlets respectively by 2025 were reiterated.
Meanwhile, over many years in operation, the size of VinMart's retail stores grew while losses increased. However, detailed business results for VinMart and VinMart+ have not been announced. This also raises concerns from many investors, commenting that Masan may have to incur additional losses from direct retail operations.
Daisuke Imaichi, manager and department head of Japanese Corporate Department No.2 at Mizuho Bank remarked, "The Masan deal will contribute to expanding its network and individual customers hereafter. However, it will be a heavy burden for Masan in the foreseeable future, because VinCommerce's profitability is still getting further in deficit."
VinCommerce, which has operated VinMart and VinMart+ since 2014, saw its retail segment bringing in revenue of VND454 billion ($19.7 million), but its pre-tax loss reached over VND279 billion ($12.1 million) in 2014 and ballooned to VND5.1 trillion ($221.7 million) last year.
Phan from the CMA said, "Despite the form of share exchange, there is always a buyer and a seller. There is a likelihood that the buyer will face enormous obstacles to achieve post-merger integration and synergy targets. The buyer also needs to generate future cash flow to offset the premium payments it makes in the deal. Meanwhile, the sellers' shareholders may benefit from pricing from the deal."
He added in this arrangement, both buyer and seller are experts in valuation and negotiation, making the deal more interesting among the investor community.
Many believe that the move will create resonant value for Masan's consumer goods. However, with this major change, Masan is still exposed to difficult short term hurdles, especially when it comes to generating profits. VIR
Nguyen Thu

Vietnamese conglomerate Vingroup said on December 3 it has entered into a share swap agreement to merge its retail and agriculture arms with Masan Consumer Holdings, to create the country's biggest retail company.
Foreign retail groups undoubtedly are a powerful influence in the domestic market. However, Vietnamese retailers are vowing to 'play big' to gain the upper hand in the home market.