Foreign car and motorcycle parts manufacturers are aware that the rapidly-expanding Vietnamese market may be their next cash cow and are intensifying presence accordingly.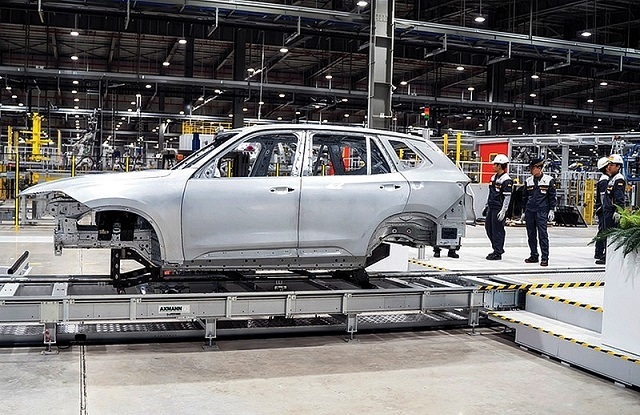 Manufacturers like VinFast must keep pace with innovations in the automotive industry
Lee Jae Seung, CEO of auto parts maker PHA Vietnam, said, "Once our automotive parts manufacturing project comes online in September, our products will serve big car manufacturers like Volkswagen, BMW, Audi, Ford, and Hyundai."
PHA Vietnam is led by a group of Pyeong Hwa Automotive, YMP Plus, Dong Yang Vina Industry Co., Ltd., and MiChang Vietnam. They started construction of four automotive parts manufacturing plants with the total investment capital of $32.3 million in the northern city of Haiphong's DEEP C Industrial Zones late last year. The move aligns with the Vietnamese government's policies on promoting investment in the local supporting industries.
Gaining a competitive edge
Daniel Doni Sundjojo, business development manager at JATO Dynamics, which globally provides data for analysis of market trend vehicles and cars, said, "When we talk about the automotive sector in Southeast Asia, most people think of Indonesia, Thailand, and Malaysia. However, soon this may include Vietnam."
According to Ringier Trade Media, the organiser of the ASEAN Automotive and Motorcycle Parts Manufacturing Summit 2019 held in Hanoi recently, Vietnam is a growing automotive market and one of the four largest motorcycle markets worldwide, which reflect the enormous market potential in components and parts.
"Vietnam already has factories of the most recognisable international brands. With favourable government policies, easy investment, and access to the ASEAN, EU, and the APEC, the Vietnamese automotive industry is projected to enjoy the fastest growth in Southeast Asia in the next 20 years, which makes it the best place to invest right now," noted a representative of Ringier Trade Media.
Vingroup deputy CEO Vo Quang Hue said, "The Vietnamese automotive market is full of energy. Although motorcycles are still the vehicle of preference, the car market has been steadily growing in importance."
VinFast exploded on the scene in 2017 by announcing plans to launch the first car brand fully made in Vietnam. Through localisation, it is supporting the development of the local automotive industry and already highlights Vietnamese manufacturers' capability to deliver high-quality components for top-end vehicles.
"We are willing to pour money into the supply chain as we see opportunities," said Truong Hong Minh, director of Nhat Minh Co., Ltd., specialised in manufacturing plastic components.
Minh said that Vingroup's VinFast complex is not only good news for the automobile manufacturing industry, but also creates a strong pervasiveness for the supporting industry which is quite meagre for now.
Chening Fan, director of the Taiwan External Trade Development Council, last year said that many Taiwanese auto parts enterprises have invested in manufacturing in Vietnam, but mainly produce for exports. Currently, the enterprises are paying attention to Vietnam as well as the ASEAN's more than 600 million potential consumers. "By investing in Vietnam, automotive parts can go for local consumption and for tax-free export to the region," Fan said, referring to Vietnam's competitive wages and attractive foreign investment environment.
Chairman of the Vietnam Association for Supporting Industries Le Duong Quang said that motorcycle manufacturing in the country has reached maturity, mainly due to the high consumption and motorbikes' role as the main transport solution. Besides, limited road infrastructure and low highway rates have caused serious traffic congestions in city areas, especially in Hanoi and Ho Chi Minh City. Meanwhile, the automotive manufacturing industry is considered an emerging industry in Vietnam, entering into a phase of fast growth.
In the future, Vietnamese manufacturers will need to reduce their production and assembly costs while improving product and service quality. This provides a unique opportunity for bigger Chinese suppliers to tap into Vietnam's supply chain that was originally dominated by Japanese businesses, according to Ringier Trade Media.
Game-changing trends
The automotive industry is changing at a rapid pace and suppliers are learning to innovate in order not to get left behind. The change is putting tremendous pressure on original equipment manufacturers and automobile suppliers to evolve and innovate. Supporting this all is a strong base of digitisation.
In 2018, trends pointed to a heavier reliance on plastics, and for good reason. As plastic formulations and technology develop, its application in the automotive industry expands.
Vehicle interiors may be the most visible place of use, and manufacturers are increasingly turning to plastics for car parts. The corrosion resistance of modern plastics makes them ideal raw material for a number of car parts as they help reduce the weight of the vehicle.
Plastics are also more weather-resistant than metal components. However, metalworking remains vital in automotive and motorcycle parts production. The global metalworking tools market is predicted to exceed $120 billion by 2020, growing at a compound annual growth rate of 6 per cent, and a large portion of this growth will take place in Asia, according to Technavio, a global market research firm.
The signs of manufacturing growth in the ASEAN bloc indicate a related increase in the orders and purchases of metalworking tools, which will raise the demand for high-end manufacturing equipment.
Industry 4.0 and the Internet of Things are key trends and will have a profound influence on automotive and motorcycle parts manufacturing. Sensors are becoming smaller and easier to install in all kinds of products. Smart tooling and workholding will provide real-time feedback. Automotive and motorcycle companies will look to transform their plants into smart factories, and will require all equipment and tooling to be Industry 4.0-capable. VIR