Shares are forecast to suffer this week after negative developments in US-China trade relations.
China's prolonged falling yuan may harm Vietnam's trade
Vietnam - fashion manufacturing winner from US-China trade war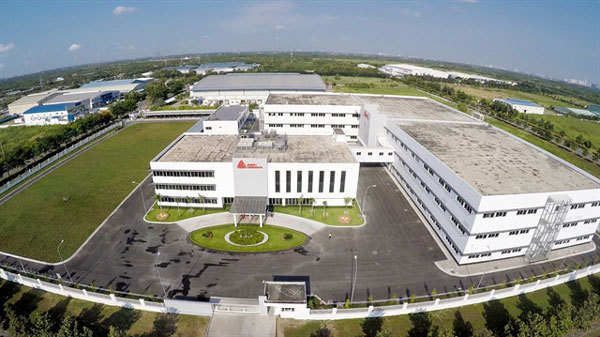 Industrial zone real estate stocks recorded the strongest rise last week. VNS Photo Truong Vi
Vietnam's benchmark VN-Index on the Ho Chi Minh Stock Exchange finished last week down 0.09 per cent to close at 974.34 points.
The index had lost a total of 1.69 per cent on a weekly basis.
An average of 207.5 million shares was traded in each session on the southern bourse, worth VND5.4 trillion (US$230.8 million).
According to Nguyen The Minh, head of analysis at Yuanta Securities Vietnam Co, the market will be strongly affected by recent geopolitical developments, especially the escalating US-China trade war.
This may dampen investor sentiment and increase caution, Minh told news site tinnhanhchungkhoan.vn.
Ngo Quoc Hung, professional senior market researcher, Market Strategy Division, MBS Securities, said despite the spreading wave of lowering interest rates by central banks over the world, US-China trade tensions and the fluctuation of China's yuan is making investors nervous.
Global stock markets have experienced strong declines in recent weeks, high bond prices have caused sharp falls in interest rates and safe assets such as gold and Japanese yen have risen sharply, Hung said, adding that these factors will continue to influence the evolution of the domestic market next week.
"If the world market does not experience bad developments, the local market is also less likely to decline," Hung said.
Focus is being shifted to the rising net selling of foreign investors, which started early this month. The total net sell value during the last two weeks reached VND1.5 billion, two thirds of which was last week, the strongest net sale value since the beginning of the year.
According to Nguyen Hong Khanh, head of market analysis at Viet Nam International Securities Joint Stock Company (VIS), in the past week, the global financial system was affected by trade tensions between the US and China.
This has caused global economies and equities markets to become more volatile, including Vietnam, Khanh said.
"One of the most worrisome factors now is China devaluing the yuan, following threats from US President Donald Trump to impose new 10 per cent tariffs on $300 billion worth of Chinese products starting September 1," Khanh said, adding that this will fuel tensions between Beijing and Washington while signalling the possibility of a currency war.
"If the exchange rate becomes unstable, it will directly affect the flow of foreign indirect investment into Vietnam's stock market," he said.
Although the market has corrected in the past two weeks, some stock groups absorbed the cash flow quite well, which shows that the market has differentiation and the cash flow is still looking for opportunities in specific codes with growth potential.
According to Nguyen The Minh, head of analysis at Yuanta Securities Vietnam Co, industrial zone real estate stocks recorded the strongest rise last week.
"I suppose that this group of stocks will continue to attract cash flow. However, the expected rate of return might be not as high as this group of stocks has increased sharply since the beginning of the year," Minh said.
The group of industrial zone real estate stocks were on an upswing last week, including Sonadezi Corporation (SNZ) (+17 per cent), The Viet Nam Rubber Group (VRG) (+14 per cent),
Construction company Becamex IDC Corp (IDC) (+2.9 per cent), The Viet Nam Rubber Industry Group JSC (GVR) (+7.2 per cent) and Kinh Bac City Development Holding Corp (KBC) KBC (+2.3 per cent).
VNS