In addition to an attractive salary and welfare benefits, working environment and space play a key role in attracting talent as well as improving work efficiency.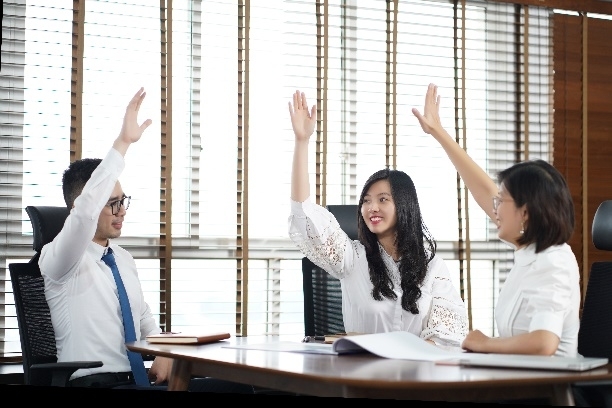 Quality of office building is now the focus of many companies, aiming to provide an ideal work environment
The two factors seem unrelated at first, but they are causing a headache for many business owners amid the growing scarcity of high-end office space in big cities like Hanoi and Ho Chi Minh City.
Changing jobs over cramped workspace
An HR manager at a software company in Ba Dinh district said that the company has undergone a talent drain in early April, after two skilled staff members left for different companies.
"They quit their jobs because they couldn't stand a cramped workspace, inconvenient parking, and lack of amenities when they have to work hard for 8 hours at the company.Right after those 2 lefts, other employees also raised the problem of working space and 2 more are planning to leave." the HR manager said.
Meanwhile, Nguyen Thi My Hanh, an employee at a travel company, said that she was quite stressed and busy with her job.
Sometimes she wanted to work for another company so that she can spend more time with her family.
However, she remained loyal to her current company because of the productive, convenient, and comfortable workspace.
"Our company rents an office in Cau Giay district. Although it is not a large space, I and my colleagues are quite impressed by the modern services and technology in the building. We feel like we are at home and do not want to move to another place," she said.
It is not easy to find the ideal office space
Bui Trung Kien, Head of Commercial Leasing at Savills Vietnam, said that most companies used to pay little attention to the quality of office space.
However, tenants have recently been having higher requirements and preferences, as well as paying more attention to the quality of office space.
"Savills has recorded several large transactions in the market recently as companies move from Grade C and Grade B offices to Grade A office buildings," Mr. Kien said.
"As Hanoi is facing a scarcity in Grade A offices, it is not easy to find ideal office space."
Amid the rising demand for quality office space in major cities like Hanoi and Ho Chi Minh City, new supply of actual-grade-A office building is low at the moment.
One of the few projects entering the market this year is Leadvisors Tower.
The building at 364 Pham Van Dong is developed to fill in this gap in the market and is highly appreciated by investors for meeting the increasingly sophisticated demand of tenants.
Leadvisors Tower is one of the first Japanese-standard office buildings in Vietnam, providing a refined workspace of a completely new standard in the west of Hanoi.
The building is expected to be put into operation in the third quarter of 2019.
As of present, Leadvisors Tower has recorded a healthy take-up rate with a good number of tenants having rented office space already. VIR
Thanh Van

Minister of Construction Pham Hong Ha said at the meeting of the National Assembly early this week that his ministry and the Ministry of Natural Resources would complete regulations relating to condotel and officetel this year.  

A new trend has emerged in Hanoi's office leasing market in the first three months of 2019 due to the declining supply in the city centre as well as the disadvantages in amenities and price.

The occupancy rates of office buildings located in advantageous positions are at a record high.