As competition is uneven among ride-hailing firms and traditional taxi companies, there is heated debate about how to better regulate new business models.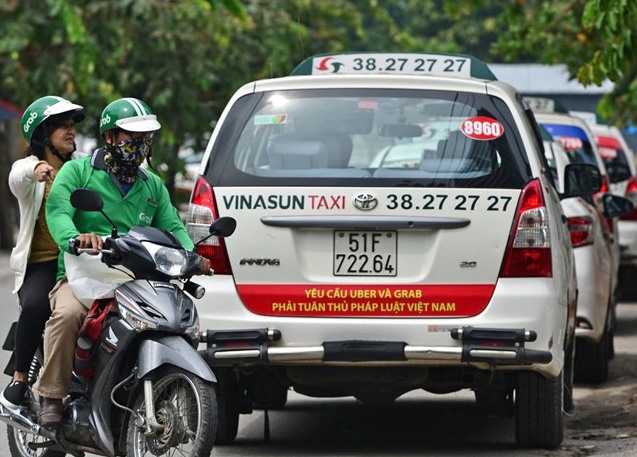 The government needs to create a fair playground for ride-hailing firms and traditional taxis but putting them under the same hat may not be the best approach
The Ministry of Transport (MoT) has recently submitted to the government the ninth draft replacing Decree No.86/2014/ND-CP on business conditions for automobile transportation, once again maintaining its controversial proposal that goes against the guidance of the government.
In fact, the latest draft decree has failed to meet the requirements of Deputy Prime Minister Trinh Dinh Dung. With bureaucratic administrative procedures, it reflects an outdated management mindset.
Specifically, the latest draft decree does not tackle controversial proposals like classifying ride-hailing services in the same bracket as traditional taxis and requiring contract-based vehicles with less than nine seats to affix taxi signs on top of their cars.
At two meetings to review the draft decree on March 6 and May 29, Deputy Prime Minister Trinh Dinh Dung arrived to the conclusion that the draft decree has yet to meet the requirements, with several controversial viewpoints on key contents. Some contents are not in line with the existing law, like the Land Road Traffic Law and the Electronic Transaction Law. Indeed, some articles in the draft decree have not received the consent of ministries, agencies, and businesses.
Experts dubbed the ninth draft decree as "new wine in old bottles". It not only contains some overlapping concepts about ride-hailing businesses but also treats ride-hailing as traditional taxis. The draft decree requires ride-hailing firms to affix taxi signs on top of their vehicles as well as creates technical barriers to their electronic contracts.
Economist Ngo Tri Long has observed and actively participated in the drafting of the degree but he is very disappointed with the draft. After nearly 10 rounds of drafting, the latest draft remains confusing.
Although experts have made several recommendations to better regulate ride-hailing firms in the new context, the decree drafting board has remained persistent to treat ride-hailing firms as transport businesses to ensure a fair environment for traditional taxi and transport associations
The Ministry of Information and Communications (MIC) has recently proposed managing ride-hailing firms as a separate entity from traditional taxi firms. Although the decree drafting board has brought the idea into the latest draft decree, it still did not change the controversial regulations. This, in turn, creates overlapping management on technology applications.
The expert noted that the policy approach is going against international trends. In its reports, the decree drafting board stated that they will encourage transport firms to apply technology in their businesses to meet the rapid development of science and technology.
Under the regulations, ride-hailing firms need to affix taxi roof lights on top of their cars while electronic contracts have to be displayed entirely on the interface of the platform, making it confusing to track information.
"This unfair treatment with unnecessary regulations for ride-hailing firms goes against the government's policy. It is also contrary to the decree drafting board's wish to promote technology application in transport regulation and management," he said.
Lack of fair playground for ride-hailing and traditional taxi
Public policy expert Nguyen Quang Dong from the Institute for Policy Studies and Media Development said that ride-hailing apps like Grab and Go-Viet use technology to provide services rather than running transport businesses themselves.
"I concur with the MIC that this is a new business model, as ride-hailing firms provide technology platforms for other transport businesses. They do not own and operate a complete transport service," he stressed.
Commenting on the approach and co-ordination of ministries and departments to regulate ride-hailing companies, he said that it does not need to force Grab, Go-Viet, or Be into the transport sector. The government can regulate the operation of ride-hailing firms without affecting the state's benefits.
"Competition must follow the rules of the market. Thus, businesses that perform better and more effectively will survive and grow. Meanwhile, traditional taxi firms which are slow to change should accept failure," the expert stressed.
In addition, the government should create a fair playground for ride-hailing firms and traditional taxis. The regulatory bodies need to abolish regulations that are inappropriately strict for traditional taxi companies. Meanwhile, ride-hailing service providers have to co-ordinate with the government to fulfil tax obligations for their driver partners as well as protect workers and customers.
The latest drafts replacing Decree 86 have abolished some binding regulations including installing taxi radio, painting vehicles to a distinctive colour, the minimum number of vehicles required to set up a taxi firm, and taxi planning.
However, Dong said that these abolishments have not been done thoroughly and do not align with reality very closely. Specifically, the regulatory changes have yet to take some new factors into consideration such as the application of sci-tech achievements in the transport sector. The government needs to take advantage of technology to regulate new business models rather than forcing them to comply with unnecessary regulations like installing taxi signs and using paper contracts.
In addition, the ride-hailing firms are responsible to co-ordinate with the government to monitor driver partners' compliance with the law. Specifically, the firms have to pay insurance and welfare for their driver partners. Freelance drivers should pay voluntary social and health insurance. The ride-hailing firms need to share data with tax authorities to help them collect taxes in a transparent and fair manner.
Dong pointed out that the proposal in the draft decree to treat ride-hailing services like traditional taxis is rather unfair. In addition, it requires ride-hailing firms to install taxi roof lights on top of the vehicles. This proposal is unnecessary as customers use smartphones for ride-hailing, not street-hailing. If the proposal comes into effect, it will inevitably raise operating costs for ride-hailing firms.
He stressed that these regulations go against the development of the sharing economy, dampening the innovation of businesses and opposing the government's Industry 4.0 strategy. VIR

Vietnam's Ministry of Transport proposes temporarily putting ride-hailing firms such as Grab or Fastgo in the same category as traditional taxis until the revision of the Law on Road Traffic is completed.

The competition between ride-hailing firms and traditional taxi companies are causing a headache for legislators who are looking for a way to regulate disruptive business models in Vietnam.  

After Grab bought up Uber's ride-sharing business, some new businesses have appeared in the ride-hailing app market and are operating vibrantly, promising cutthroat competition in the future.