Local enterprises' heavy dependence on bank loans has put pressure on the country's economic development, causing an imbalance in the capital market, according to Don Lam, deputy head of the private sector development committee.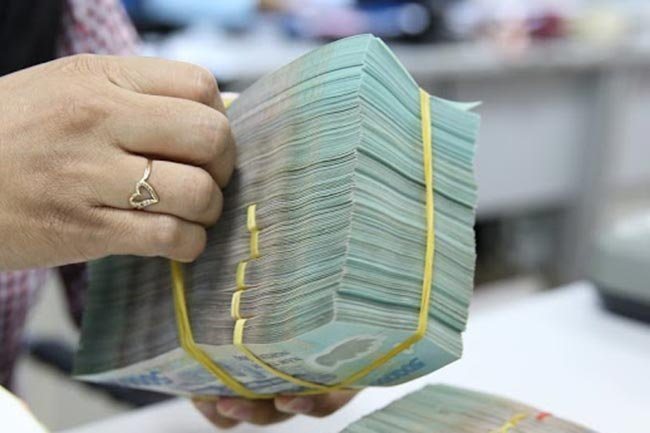 File photo of a teller holding a stack of Vietnamese banknotes
At a seminar on finance and credit, as part of the Vietnam Private Sector Economic Forum 2019, in Hanoi on May 2, Lam, who is also CEO of VinaCapital Group, said that monetary policy should be adopted in a flexible manner to reduce the economy's dependence on bank credit. The finance sector should prioritize building new financial models and make the capital market transparent.
The business community proposed accelerating the restructuring of the financial market; developing the corporate bond market and pension and real estate investment funds; establishing corporate credit rating firms; building a national database; ensuring the transparency of corporate information; working out solutions to increase the liquidity of primary and secondary monetary markets; and intensifying connectivity between firms and the relevant agencies.
Dao Minh Tu, deputy governor of the State Bank of Vietnam (SBV), said that the private sector accounts for 91.5% of the banking system's outstanding loans.
However, there is an imbalance between the supply of and demand for capital. While enterprises are in dire need of capital for their production and business activities, the capital market is unable to meet the demand.
The banking system remains the main source of medium- and long-term capital for the economy, at some 50.6%.
It is necessary to boost the development of the stock market to reduce the dependence of local firms on bank loans, Tu said, adding that the central bank will develop monetary policy in a proactive and flexible manner, increase credit quality and help the private sector gain easier access to capital.
The central bank will also coordinate with the Ministry of Finance and other ministries and agencies to enhance the financial market's restructuring to assist private enterprises in mobilizing capital from the stock market.
Deputy Minister of Finance Tran Xuan Ha said that the stock market is a source of medium- and long-term capital. Late last year, the stock market capitalization was equivalent to 110% of Vietnam's gross domestic product (GDP), which was higher than expected.
In addition, the insurance market value doubled over 10 years ago, with premiums revenue equal to more than 3% of the GDP.
Nevertheless, the local stock market was valued at US$175 billion last year, which is much lower than other regional markets, so the market has yet to fully reach its potential, Ha added.
To continue developing the capital market and unlock medium- and long-term capital, the ministry will propose the National Assembly amend the Securities and Insurance Business Laws and restructure the stock and insurance markets, including allowing the merger of the nation's two stock exchanges.
Further, the ministry will continue to develop new financial products, improve governance of the securities market, accelerate State capital divestment and issue accounting standards that meet international requirements. SGT