While the entire society was still in dreaming of being a rice export power, farmers were realistic, realizing that the higher the yield of rice, the lower profit they would get because of higher fertilizer and pesticide costs.
Rice farmers in the Mekong Delta now live in constant anxiety. When more fresh water comes in, An Giang, Dong Thap, Long An and Tien Giang's people spend sleepless nights on patrol for fear for dykes collapsing.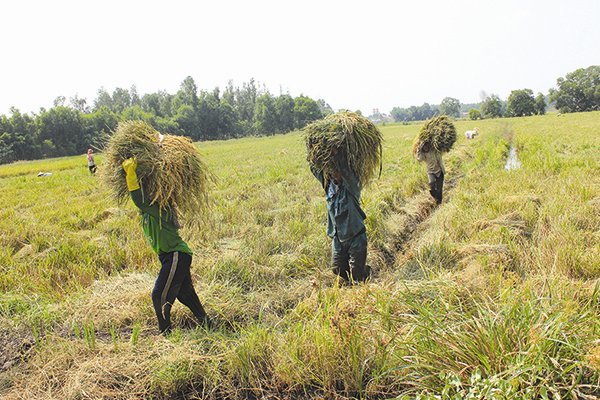 In the years when rainy season ends early and there is not much fresh water, farmers in coastal provinces of Ben Tre, Tra Vinh, Soc Trang, Bac Lieu, Ca Mau, Hau Giang and Kien Giang fear for crop failure because of saline intrusion.
Meanwhile, when conditions are favorable for rice production, farmers fear a dramatic price drop.
Duong Van Ni, a leading Vietnamese expert in the Mekong Delta, in his article on Thoi Bao Kinh Te Sai Gon, commented that this is the result of the policy on prioritizing rice production for such a long time.
Rice cultivation receives big preferences, with the State ensuring a maximum of 30 percent profit for rice farmers.

Rice cultivation receives big preferences, with the State ensuring a maximum of 30 percent profit for rice farmers.
When rice cultivation is affected by flood, drought or saline intrusion, which lead to crop failure, the entire society has to join campaigns to rescue rice.
The government instructs banks to lend money to rice export companies at preferential interest rates and asks the companies to buy more rice for storage, thus pushing prices up.
Vietnam, in the past, once suffered from food shortage. Becoming self-sufficient in rice supply and having abundant rice for export has been praised as a great achievement. This explains why Vietnam gathered its strength to develop rice production and dreamed of becoming the world's leading rice exporter.
However, farmers have awakened from their dream. They have realized that the higher the rice yield, the lower the profit, because they have to pay more for pesticide and fertilizer.
They decided to restructure their farming schedules. In areas with profuse fresh water and alluvial soil, farmers now plant two crops a year instead of seven crops within two years. In coastal areas, where saline intrusion is a threat, farmers plant one rice crop and one black tiger shrimp crop.
However, it has been difficult to restructure their farming schedules. As the fields are surrounded by embankment systems, farmers cannot find enough water in the dry season to grow lotus and farm fish. In coastal areas, because of the saline-prevention dykes, it is difficult to get saltwater to breed shrimp.
The government has realized the problems. That is why Resolution No 120 re-set the three 'pillars' of Mekong Delta in a new order – seafood, fruit and rice. Rice has fallen from the No 1 position in terms of importance to the third position.
RELATED NEWS
Vietnam shifts to export high-quality rice
Rising seas threaten Vietnam's top rice producer
Mai Lan