Investors in many solar-powered projects in the country are rushing to complete their projects so that they can be put into commercial service prior to June 30 to benefit from the Government's attractive solar power prices.
More Chinese contractors buy solar power projects in Vietnam
Wakening up potentials of solar power
Solar plants' consumption crisis
High costs hinder locals from installing rooftop solar panels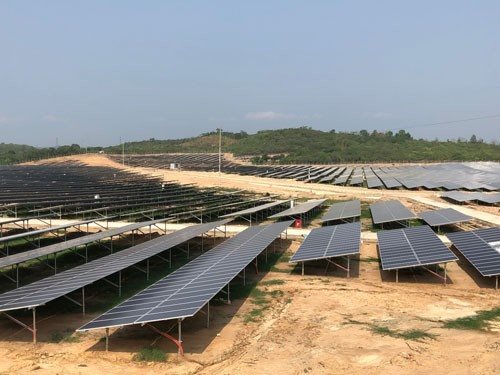 A view of Cu Jut solar power plant in Cu Jut District in the Central Highlands province of Daknong - PHOTO: NLDO
A representative of Danang-based Central Hydro Power JSC (CHP), under State utility firm Vietnam Electricity Group (EVN), said that the firm has to work hard to complete its solar power projects prior to the given date, so that it can sell the power output to EVN at an attractive price of 9.35 U.S. cents per kilowatt hour (kWh), as stipulated in Decision 11/2017 of Prime Minister Nguyen Xuan Phuc, dated April 2017.
CHP had initially recruited local unskilled workers for these projects, raising the number of laborers at its construction sites to 800.
As a result, CHP's Cu Jut solar power plant project, located in Cu Jut District in the Central Highlands province of Dak Nong, was put into commercial service on April 20, two months earlier than scheduled.
The 50-megawatt Cu Jut solar power plant, which began construction in June 2017 with total funding of over VND1.3 trillion, is expected to generate over 90 million kWh per year, with annual revenue hitting an estimated VND200 billion.
Earlier, the Srepok 1 and Quang Minh solar power plant complex in Buon Don District, Daklak Province, was the first solar project in the Central Highlands to be integrated into the national power grid in early March this year.
Covering an area of 120 hectares, the complex has a total capacity of 100 megawatts and required a total investment of nearly VND2.3 trillion.
Many other solar power project investors have also joined the race to receive incentives for power prices as EVN may purchase electricity generated from these projects at a mere U.S. 6.67 cents per kWh after June 30.
Located in the central province of Ninh Thuan, a solar and wind power complex project owned by Trung Nam Group is scheduled to be inaugurated and put into commercial service on April 27.
In addition, a Trung Nam Group representative pointed out that the firm is rushing to finish another project in the Mekong Delta province of Tra Vinh prior to the deadline to benefit from the incentives, though work on this project only started early this year.
If the deadline is missed, the firm will incur an estimated 30% loss in revenue, given the power price applicable after June 30, the representative remarked.