Nguyen Ngoc Huong of HCM City's Cu Chi District and her collaborators have jointly set up a start-up to produce freeze-dried powders from vegetables and leaves.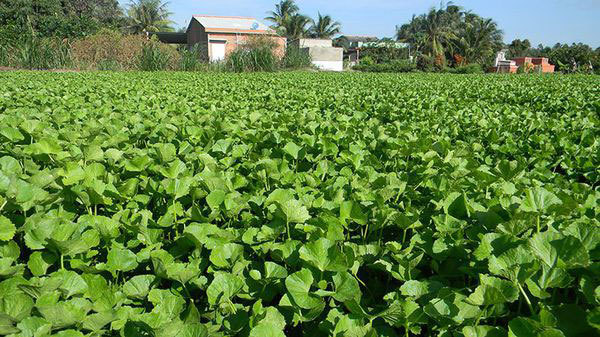 Thiên Nhiên Việt Import-Export Company's pennywort farm area in Cu Chi District, HCM City. — Photo courtesy of the company
The use of pasteurised freeze-dried technology helps retain the original flavours and natural colours. The powders are made into drinks by adding water.
Besides, since the powders are made by grinding with granite stone mortars, they are very soft.
In order to ensure supply of clean produce, Huong and her partners grow them in Tan An Hoi Commune in Cu Chi.
After starting with pennywort, her Thiên Nhiên Việt Import-Export Company has since developed various instant powders like perilla, moringa, green tea, lotus leaf, and chameleon leaf.
"The company's freeze-dried powders have been marketed around for more than three years and received positive feedback from consumers," Huong says.
They are now available at grocery stores around the country and online, and the company plans to get ISO certification to export, she said.
Her project won the first prize at the 2019 Innovation Start-up Project Contest held by the Business Study and Assistance Centre in collaboration with the Rural Youth Committee of Central Youth Union recently.
Another start-up that has created a great impact is one that produces compost and breeds earthworms. It belongs to Lê Minh Vuong, a graduate of the Saigon University, who won the second prize in the contest in 2015.
Vuong says: "At the end of my second year and beginning of my third year at university, I realised by chance the great benefits earthworms bring to agriculture when I was doing a thesis on treating the waste in shrimp ponds.
"Earthworms can benefit agriculture by improving soil, which is seriously degraded by chemical fertilisers. But people do not pay much attention to them."
So he wants to promote the benefits of earthworms by breeding them and making various products like vermicompost, a kind of organic fertiliser.
"The Vietnamese market knows about the benefits of vermicompost, so a lot of people are using it. And currently there is not enough to supply the market.
"My company, the Southern Earthworm Company, has enjoyed good growth. We produce various kinds of products such as vermicompost, earthworm fluid, earthworm pellets, dried earthworms, animal feed, and bran pellets.
"We plan to introduce a very unique product, not only for Vietnam but also the world, by the end of this year: cosmetics produced from earthworm mucus, with the worms bred using clean technology.
"We will set up a clean earthworm breeding area at our 3,000sq.m earthworm farm to ensure the raw material source for making the cosmetics as well as other products.
"We will also provide services of processing pig manure for medium-sized and large pig farms that have from 10,000 to 100,000 pigs to transform waste into compost."
Vuong also says he has a 3ha farm where he has been cultivating mango, durian, sugar-apple, mangosteen, and other fruits using vermicompost for almost a year, and a few thousand square metres of land for growing green leafy vegetables.
These are among successful start-ups in the agricultural sector.
Evaluating agricultural start-ups set up recently, Vu Kim Hanh, chairwoman of the High Quality Vietnamese Product Association and member of the Innovation Start-up Project Contest's jury for many years, says: "Most of the projects know how to utilise their [local] advantages and technologies for growing and processing agricultural products to increase the value of these resources.
"Young people are particularly enthusiastic about developing projects and products," she says.
Many start-ups understand how to develop new products that meet the needs of niche markets, which is one of the important criteria in starting a business, she explains.
Tran Anh Tuan, CEO of The Pathfinder, who has been a mentor for many start-up projects, says: "Starting an agriculture business in Vietnam is quite difficult, so I appreciate the efforts of those who choose agricultural products to start a business."
Besides successful projects, many start-up projects have failed due to a variety of reasons, mostly due to their own faults rather than by the competition, he says.
"Many start-ups thought their business model was great, everyone needed their products and liked them, but then their products were not accepted by the market.
"Therefore, the message for start-ups is to never live and die with the original idea. On the contrary, they need to be flexible and ready to change to create new products with new values.
"Owners of start-ups must constantly gather feedback from consumers to tweak their products and even strategies to meet market needs."
He suggests that start-ups should link up with experts to get advice from them and with their peers to share their experiences in sales, marketing and others.
"Without that, start-ups will find it difficult to succeed. Starting up is a journey in which you can learn from many different sources and about the successes and failures of your peers. We should not think we know everything and be open to learning."
Doan Sao Mai, another expert, concurs, saying: "Start-ups should enhance closer connection not only in trading but also in production. For example, when buying packaging, if you cooperate and make it a single order, the cost will be lower."
Huong says: "Over the past three years I have played many roles from that of farmer growing vegetables to a producer and economic planner.
"With many lessons I have learnt during my start-up journey, I am willing to share experience with other start-ups who also want to improve the value of Vietnamese agricultural products." — VNS
Xuan Huong

Most Vietnamese startups find it difficult to call for investment, especially foreign investment.

Agricultural start-ups should capitalise on the huge demand for safe agricultural products by developing long-term, sustainable production strategies, experts said at a seminar in HCM City on Thursday.