Deputy Governor of the State Bank of Viet Nam, Dao Minh Tu, speaks to the media on the Public Administration Reform Index.
Banks need further administrative reforms: conference
VN sets concrete goals set for improving business environment/national competitiveness
Vietnam vows to improve business environment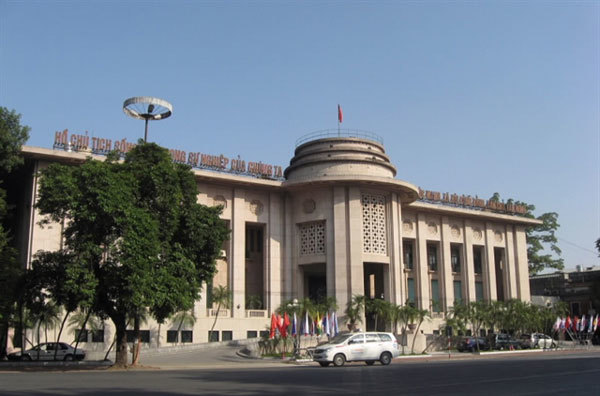 Thanks to the efforts of the staff and units in the Vietnamese banking sector, the central bank has topped the PAR index from 2015 to 2018. — Photo .sbv.gov.vn
How did the State Bank gain the top ranking in the Public Administration Reform (PAR) Index in 2018?
At the onset of his term from 2016-21, Prime Minister Nguyen Xuan Phuc laid down a very important mission for his Government; to build a facilitating State and an action-oriented Government for the people and enterprises. Addressing an enterprise conference in April 2016, PM Phuc said enterprises should act as a driving force for national economic development.
Based on that instruction from the Prime Minister, since 2016, in its annual plan, the State Bank has always tried its best to improve its business environment and to raise the national competitive index.
In administrative reform, the State Bank of Viet Nam (SBV) has always placed people and enterprises at the core of its services. From that, we have adopted a proactive business environment in monetary policy and banking to contribute to improving the national business environment.
From that point of view, the SBV has set for itself three main targets in its administrative reform, namely to put the bank's administrative reform in the context of State administrative reform, to conduct internal administrative reform within the bank, and to reform credit administrative procedures for enterprises and the general public to make them simpler while lowering interest rates and service fees.
Thanks to the efforts of the staff and units in the Vietnamese banking sector, the central bank has topped the PAR index from 2015 to 2018.
How have the people and enterprises benefited from your bank's administrative reforms?
According to the World Bank's ranking, Vietnam's business environment has jumped 13 steps compared to 2016. Meanwhile in the 2019 Doing Business report, which was made public last October, Vietnam was ranked 32 out of 190 in terms of access to credit, scoring 75 out of 100 points and ranking third in the region behind Singapore and Malaysia. Vietnam's electricity access index also placed third in the region.
These two ratings are a strong indication that Vietnam has achieved a big success in administrative reform to support enterprises and people to access the country's banking services, including loans.
In the four years under review, our banking sector has achieved many successes.
First, the central bank has slashed 31 business conditions and 20 per cent of required periodical reports according to ISO 9001:2008 on transparency and accountability of the bank's activities.
Second, all credit organisations in the bank system have taken steps to simplify their administrative procedures to enable people and enterprises to access credit and services to expand production.
Meanwhile, the SBV has also launched almost 100 low interest credit programmes for small and medium-sized enterprises and start-ups.

Also in the four years under review, Vietnamese banks have held more than 420 get-togethers and dialogues with enterprises nationwide. In that four years, more than 50,000 enterprises nationwide have enjoyed low interest rates. We have also decided to reduce the interest rate – worth almost VND60 trillion (US$2.55 billion) for more than 3,300 enterprises nationwide.
What are the bank's plans for the next few years?
We will focus on five activities.
First, we'll improve our business environment and raise national competitive capacity to help enterprises raise their productivity. These are the main activities of the whole banking sector in the administrative reform.
Second, we have worked out a plan to conduct regular supervision visits to all bank branches nationwide to ensure they have strictly implemented the SBV's plans and their own performance plans in accordance with the bank's administrative reform.
Third, in the framework of administrative reform, the SBV will instruct all banks and credit institutions nationwide to simplify credit regulations to help enterprises and people access bank loans more easily.
Fourth, the State bank has asked for support from the Government and worked closely with Government agencies and localities in applying e-banking for public services and other financial service payments to the State budget.
And finally, the central bank has developed a detailed plan on how to put its plan into action, including the establishment of a standing committee and networking in implementing administrative reform.
All in all, the SBV is implementing administrative reform towards the goal of slashing business conditions for enterprises and to elevate the banking sector in the course of international integration.
VNS