The Talentnet-Mercer Market Pulse Report forecasts that 2019 will see a slight increase in salary increase rate across industries.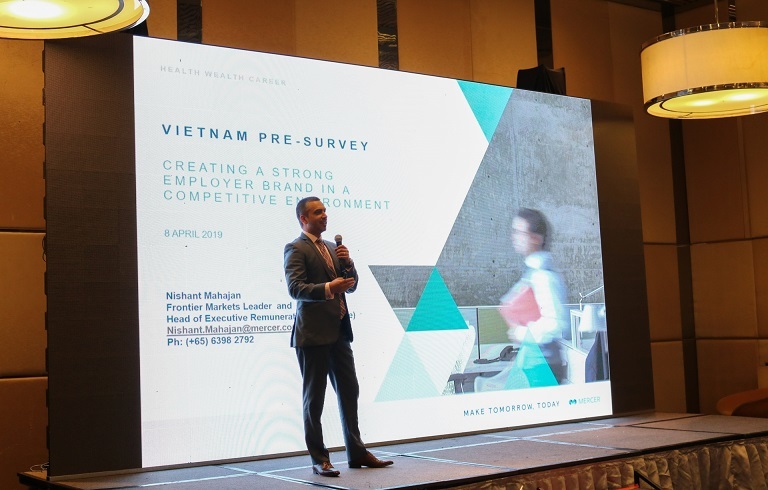 The pre-survey seminar was held today in Ho Chi Minh City
The report was released at today's kick-off event, the pre-survey seminar in Ho Chi Minh City. With standardised methodology and up-to-date human resources trends, the Talentnet-Mercer Total Remuneration Survey (TRS) is a powerful reference tool for business leaders in the revision and improvement of human resources strategy relating to salary and remuneration within the Vietnamese market.
According to the report, the high-tech, life, and chemicals industry will remain the three with the highest base salary increase rate, at 9.1, 9.1, and 9.0 per cent, respectively. Consistent with previous years' results, these three industries remain some of the strongest-performing within the Vietnamese market.

The banking/financial service industry is forecasted to have a 0.8 per cent increase in base salary, with 8.6 per cent for 2019. In 2018, the bonus increase rate of companies in this industry was also on top among others in the market (25.4 per cent), thanks to the strong local and regional potential as well as their performance. This is a good sign for this industry in the near future, showing a highly promising room for expansion in the market.
This year, management and executive levels seem to have a slight overall salary increase rate, while there is no significant change amongst professional levels. Similarly observed in variable bonus rates, head of organisation, and executive, and management levels have had their bonus rates increase higher than all other levels (at 21.3, 19, and 17.1 per cent, respectively). This is understandable – as key drivers of business profit and performance, managerial and leadership positions are motivated through variable bonus. On the other hand, para-professional and professional individuals prefer a more stable salary rate to ensure their secure daily life.
One of the biggest concerns of this year's report were the top reasons that caused employees to leave organisations. Lack of clear career path and low pay competitiveness stand equally at 47 per cent, whereas low pay competitiveness stood secondary to career path in previous years, in 2018, there is equal demand for both. This proves that employee demand is quickly shifting towards a balanced need between a stable career progression and equitable compensation for their effort.

To conclude, 2019 is forecast to be a promising year with businesses quickly adapting to the digital age. It is evident that businesses are slowly shifting towards a more methodical and sustainable people strategy approach. Strategies and tactics are being carried out to maximise performance. Of course, these tactics must be done with business goals in mind.
In order to make timely and accurate decisions regarding their employees, leaders must grasp the overall market picture through reliable data reference points, identify long term goals for the business, and organise business strategy in order to invest in the right people and right place. After all, the ultimate goal of all businesses is to create the highest amount of motivation for employees, in order to directly contribute to business performance. VIR