Companies around Vietnam are beginning to adopt the technology needed to address key business challenges and utilize opportunities in the digital era.
 An internet economy: a golden treasure trove?
Digital economy: new driving force for VN's development
iDEA: Internet economy to be worth $15 bn by 2020
More than half of all companies in Vietnam rank the Internet of Things (IoT) among the top three technologies that will impact the digital future of their business, according to a study conducted by Cisco last year entitled "Ready, Steady, Unsure", which provided a technology perspective on the Asia-Pacific's readiness for digital transformation.
Thirty-six per cent of companies surveyed in Vietnam have already begun to adopt IoT; the highest in Southeast Asia except for Singapore, which has a similar level of adoption. "Companies in Vietnam have a unique opportunity to leverage technologies like IoT to build a sustainable competitive advantage," said Mr. Maciej Kranz, Vice President of the Corporate Strategic Innovations Group at Cisco Systems.
Business transformation
With over $1.46 trillion projected to be spent on IoT in 2020, no other technological trend will more dramatically impact on the near future. "Companies across the globe are already utilizing IoT to increase productivity and efficiency in real-time by connecting their production lines with suppliers and logistics operators," Mr. Kranz said.
"This trend is picking up pace in Vietnam as well. Companies across Vietnam are starting to adopt the technology to address key business challenges and open up new avenues of growth."
Digital transformation is no longer just a vision in Vietnam, it is a reality, according to Ms. Luong Thi Le Thuy, Managing Director of Cisco Vietnam. "Businesses across the country are adopting technology and harnessing its power to overcome key challenges and unlock new growth opportunities," she said.
"However, our research has shown that there is a need to raise further awareness of the transformational power that IoT and other technologies connected to the network can have on businesses."
Over the next decade, innovations in digital technology will present vast opportunities to Vietnam's economy to boost productivity and prosperity. The widespread adoption of existing technologies, coupled with advances in the use of Industry 4.0 technologies - IoT, Artificial Intelligence (AI), 3D Printing, Advanced Robotics, and Wearables - has the potential to transform business capabilities.
Steady progression is expected to be seen in the adoption of AI across industries and regions in 2019, according to Mr. Charles Ng, Vice President of Enterprise AI at Appier, an AI company helping marketers make better decisions powered by AI. "In Vietnam, there is great appetite for technology adoption in business so as to keep up with the pace of change," he said.
"For marketers, this means using AI and other advanced technology to better anticipate the needs of consumers, provide them with the products and services they need at the right time, and support increased levels of personalization."
He added that applying technology in the right way allows businesses to optimize their resources, become more cost effective in their marketing efforts, and be far more productive in terms of their conversion rates.
"We have seen some clients in Vietnam improve conversion rates by more than 200 per cent," he told VET. "Business leaders in Vietnam must commit to data readiness and be willing to manage the inevitable shift that comes from establishing a data-driven company culture."
The fast pace of technological advancement means seeing various trends rise to transform businesses. In the digital marketing and commerce industries, Ms. Low Yu Sien, Head of Account Strategy, Mid-Market Sales SEA, Hong Kong & Taiwan, at Criteo S.A., an advertising platform for the open internet, predicts there will be big shifts that, when leveraged intelligently, will create interesting turnouts for market players.
"One of the trends we are seeing is the increasing adoption of AI by digital marketers to enable personalized experiences and better user engagement," she said.
With AI, marketers aim to deepen their understanding of their audience, which will enable them to deliver more relevant and customized messages. This, in turn, drives more advertising spend via online channels.
"We are already seeing leading e-commerce players such as Sendo in Vietnam leverage machine learning, a subset of AI, to engage shoppers by delivering the right content at the right moment," she added. "This has helped them achieve increases in conversions and revenue and deliver personalized shopping experiences."
Leveraging digital technology
It is true that breakthrough technologies such as AI, blockchain, and big data, to name just a few, will contribute tremendously to the facilitation of business operations in Vietnam, according to Mr. Guru Mallikarjuna, Managing Director of Bosch Vietnam. At the core, these technologies are made possible by IoT, with ecosystems and intelligent processes that help collect, record and make sense of data.
"Breakthrough technologies spur faster innovation," he said. "The use of automation for example helps to push the capacity and capabilities of businesses to innovate for localization and scalability."
Industries that will heavily depend on AI and machine learning are expected to make strides forward as the technology continues to permeate into work and personal lives. Such industries include e-commerce, online media and entertainment, and online bookings, which are expected to contribute to ASEAN's digital economy, reaching 6 per cent of GDP by 2025, according to a report from Google and Temasek released last November.
Ms. Sien from Criteo said that social commerce, which is the use of social media for e-commerce purposes, is set to thrive in 2019, especially among small and medium-sized enterprises (SMEs). "Making personalized and highly relevant customer experiences is a priority for us in Asia-Pacific," she said. "We want to ensure that SMEs get to benefit from using our machine learning capabilities, to advance in the local and regional digital economy."
The firm launched Criteo AI Lab in June 2018 to better help brands understand the relationship between shoppers and the brands and products they interact with. As the main economic model behind the internet, online advertising continues to transform and Criteo saw the need to build up its capabilities to face these changes. Research from the Criteo AI Lab is expected to improve the solutions its Asia-Pacific customers, including in Vietnam, are already using.
According to a survey from Appier and Forrester released late last year, 71 per cent of Asia-Pacific enterprises across retail, finance, insurance and telecoms said that AI will improve business efficiency, allowing an expected 56 per cent of firms to grow revenues.
Moreover, as manufacturers in Vietnam embrace Industry 4.0 technologies, the local manufacturing sector could see significant growth over the next decade, Ms. Thuy from Cisco believes. "This will largely be driven by productivity gains and the creation of additional revenue streams through new products and quality improvements," she said.
"With Vietnam poised to take advantage of digital transformation, the adoption of new and existing technology will result in shifts in the labor market. Technology will displace workers from some jobs, but it will also boost productivity growth, which will in turn create new demand for workers."
Global AI device ownership, by country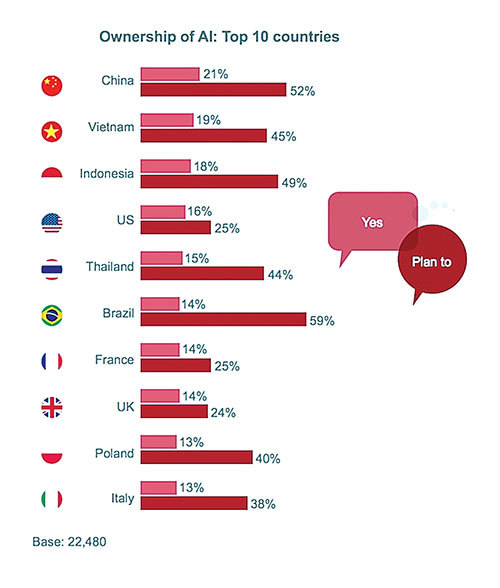 Source: PwC, Global Consumer Insights Survey,2018
Adaptive strategies needed
As businesses progress along their transformation journey, Ms. Thuy noted, they are starting to understand that for them to be able to exploit the full potential of digital adoption, they need to make cybersecurity a fundamental part of their digital strategy.
While companies are starting to adopt technologies that can help them, there is a need for Vietnam to develop local capabilities, especially on the talent front, and for closer collaboration among all stakeholders on sharing intelligence to ensure they stay a step ahead of any malicious actors.
Business owners and leaders, meanwhile, understand that becoming digital is no longer optional, according to Mr. Ng from Appier.
"True digital transformation is a journey, and for businesses that want to move into the future and be ready for inevitable adaptation and evolution, it's much more than a case of sticking on a few technology patches," he said. "Business transformation takes discipline, vision, and fortitude."
AI in particular will only be successful if the data is strong, so organizations need to be willing to make whatever investments are necessary to organize and manage data. This requires a combination of strong talent and strong technology working together.
Businesses that neglect this will certainly fall behind, as they see their competitors racing ahead thanks to improved efficiency and decision-making. Businesses that adopt a data-driven culture - meaning they are willing to make business decisions based on what they learn from their data - will lead the adoption of technologies such as AI.
Ms. Sien from Criteo sees that the opportunity for growth in the digital economy will motivate SMEs to be the driving force of economic growth. However, according to the 2018 Global Talent Competitiveness Index (GTCI), Vietnam ranked 87th out of 119 countries and territories in terms of talent development and retention.
Most Vietnamese enterprises are micro, small and medium-sized enterprises (MSMEs) and are looking to invest in more resources and introduce frameworks to help them progress in the age of the digital economy. Focusing on helping these MSMEs could help Vietnam have a robust technological infrastructure in place and the talent with the required specialized skills.
As such, she suggested, it is critical to ensure the upskilling of the workforce to meet the need for understanding and implementing new technologies. This could include more training programs to help MSMEs remain competitive. With the right expertise, companies are able to reap the benefits and opportunities that come with these technological advancements.

"Blockchain has been a hot topic of discussion over the past year in both the business community and the government. Most have only familiarized themselves with the technology and there are not many projects to develop blockchain in Vietnam. Its development is now taking place in startups with new ideas, such as blockchain apps for product traceability and authentication lists and management of personal health records.
Businesses in Vietnam are willing to change and wish to apply new technologies into their digital transformation process, along with support from the government. Such support includes adjusting policy regulations to match service models and new technologies, which would create favorable conditions for the development and application of blockchain in Vietnam.
IBM is one of the pioneering technology companies in the development and application of blockchain globally. We are actively introducing and sharing with customers in Vietnam the latest advances of IBM and successful examples of other global customers that can be introduced in Vietnam.
IBM also organizes activities aimed at developing the blockchain community in Vietnam through workshops, through IBM global competitions, and startup support programs so they can access and use new IBM technologies, including blockchain."
Mr. Le Nhan Tam, Chief Technology Officer at IBM Vietnam
 VN Economic Times