The Vietnam Chamber of Commerce and Industry (VCCI) has written to the Ministry of Transport, proposing lifting the regulation on the installation of roof light boxes for e-charter automobiles with fewer than nine seats.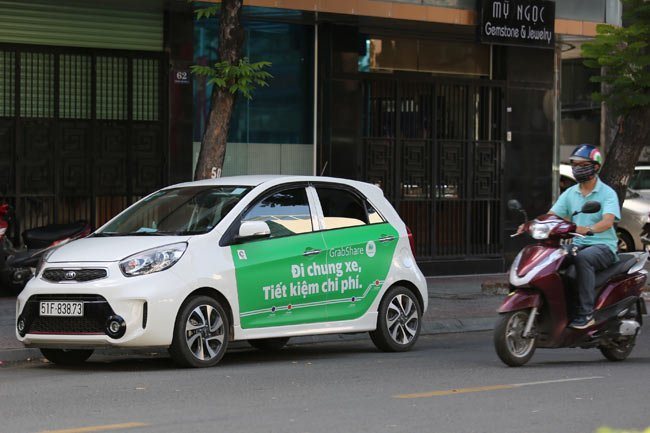 A Grab car is seen in HCMC. VCCI has proposed the Ministry of Transport lift the regulation on the installation of roof light boxes for e-charter automobiles, including Grab cars
The regulation is not aimed at managing transport business operations or enabling customers to identify ride-hailing cars on the street as the details of these vehicles, drivers and their phone numbers are already provided to customers through the mobile app to identify their booked cars, according to VCCI.
In addition, the regulation will cause drivers to lose money on the installation of light boxes and will limit their presence, VCCI stressed.
Also, VCCI proposed the ministry abolish Clause 3, Article 15 of the draft decree on transferring all information on contracts' contents to the State agencies as this information could be considered a business secret.
Apart from proposing removing the regulation on informing the Department of Transport of fare calculation methods applied to taxis since the method can be changed over time, VCCI also suggested eliminating the rule on the restriction of the operating scope of taxis, e-charter cars and passenger vehicles.
VCCI explained that the regulation goes against the Competition Law and Enterprise Law.
As for the regulation on badges, it is essential to carefully consider the removal of the regulation on the installation of badges for vehicles used for transport businesses, especially for container trucks, trucks and tractors, as the identification of these vehicles for business purposes seems to be unnecessary.
Earlier, the Ministry of Transport sent a draft Government decree on the transport business and its conditions, replacing Government Decree No. 86/2014/ND-CP, to the Government.
The draft decree is aimed at clearly differentiating between a transport service provider and a supplier of other services. In addition, the ministry said that the supplemented decree would create transparency in the transport business. SGT