World Bank project to strengthen banking sector's soundness
The World Bank (WB) and the State Bank of Vietnam (SBV) on October 1 inked a grant agreement worth 2.2 million USD to implement a project aimed at strengthening the soundness and resilience of Vietnam's banking sector.
The grant, sponsored by the Swiss Government, is designed to improve SBV's capacity in removing bottlenecks in the banking system's structure.
Under the agreement, the WB will provide technical assistance to launch reforms set in the Restructuring Plan of the Financial System 2016-2020 and the Development Strategy of Vietnam Banking Sector to 2025.
At the ceremony, WB Country Director for Vietnam Ousmane Dione said a sound banking system is of great significance to the sustainable economic development of a country.
By sharing experience in the development of the system, the WB could help the SBV to successfully launch its structural reforms, he added.
The WB will team up with the SBV to strengthen legal framework for the banking system, especially the Law on Credit Institutions and the National Assembly's Resolution No. 42/2017/QH14 on tackling bad debts.
The project will also look to enhance SBV's forecast and monitoring skills in line with global standards and practices, as well as develop bond market and raise the capacity of the Vietnam Asset Management Company.
The grant is part of the 8-million-USD project titled "Strengthening banking sector's soundness and development" managed by Switzerland's State Secretariat for Economic Affairs and the WB./.
Petrol prices adjusted up after four consecutive reductions
The retail prices of petrol have been adjusted up as from 18:00 on October 1.
The Ministry of Industry and Trade and the Ministry of Finance review fuel prices every 15 days to adjust domestic prices in accordance with fluctuations in the global market.
Specifically, the price of E5 RON92 was up 666 VND to 19,780 VND per litre at the highest, and the price of RON95-III also rose by 923 VND to 21,066 VND per litre.
Meanwhile, the prices of diesel 0.05S and kerosene are capped at 16,638 VND and 15,786 VND per litre, up 438 VND and 424 VND per litre, respectively. Mazut 180CST 3.5S is sold at no more than 14,919 VND per kilogramme, up 829 VND per kg.
This is the first increase after four consecutive times the petrol prices had been reduced since July 17. According to the two ministries, the average prices of petrol and oil in the world market had saw strong increases in the 15-day period before the latest price review./.
 Data sharing important in successful use of AI: experts
The use of Artificial Intelligence (AI) in HCMC will only be successful when State agencies, enterprises, and educational institutions jointly focus on sharing data.
At an international conference on the use of AI in the city on September 25, technology experts and representatives of State agencies highlighted the vital role of data sharing among businesses and State agencies.
Data sharing is expected to pave the way for AI applications to be used effectively in various fields.
Addressing the event, Bui The Duy, Deputy Minister of Science and Technology, said the city has to intensify investment in resources, especially manpower, to develop AI applications.
More importantly, the city should place an emphasis on data sharing if it wants to successfully use the technology in multiple fields, he said.
Storing data each day is currently not a common practice. Meanwhile, data serves as an important input for AI to function and help AI-powered systems work smarter, according to the deputy minister.
Besides this, the connection and interaction among the State, enterprises, scientists and financial investors are essential in the Fourth Industrial Revolution era, to which the city is advised to pay close attention, said municipal chairman Nguyen Thanh Phong.
Ousmane Dione, World Bank Country Director for Vietnam, said that AI will enable HCMC to develop into a smart urban city to cope with future changes.
Also, the city is seeking to address existing challenges, such as traffic congestion, flooding, improving the quality of public services, as well as creating favorable conditions for enterprises to develop innovative activities. AI can offer solutions to some of these challenges, given the right enabling environment, said the World Bank representative.
Besides this, representatives from universities underscored the resource factor for AI.
Vu Hai Quan, deputy director of the Vietnam National University-HCMC, said that in the process of developing AI, it is necessary to attach great importance to human resources, as well as training activities.
The university and the HCMC Department of Science and Technology should jointly build an AI program, Quan said.
Quan also placed great emphasis on collaboration between the authorities and universities to optimize resources, preferential policies and mechanisms for the hi-tech sector.
The research on AI in the city is working towards training manpower for AI based on the coordination between schools, employers and the State.
Quan said that to fulfill the target of building a smart city and developing information technology and AI, it is crucial to work out a detailed plan for the short and long terms. The plan should focus on research and training activities, technology applications and innovation.
Further, the city should call upon State agencies, institutions, companies and many others to join in sharing data to leverage AI in an effective manner, said the experts.
No-bid contracts disallowed in north-south expressway projects
For the eight sections of the north-south expressway which are seeking build-operate-transfer (BOT) investments, the Ministry of Transport will not award no-bid contracts for local investors, ministry officials said at a press briefing on September 27.
Local media quoted Deputy Minister Nguyen Ngoc Dong as saying that the minister would issue bidding documents for domestic tenders in October.
Eligible domestic investors must have equity representing at least 20% of the investment cost of each section of the expressway. The Government will not guarantee loans or minimum revenues for investors. In addition, the eight sections will not be divided into smaller components.
In case a particular section fails to find an investor, the ministry will report to the Government before the issue is presented to the National Assembly Standing Committee to consider using public capital, Dong said.
Also, the ministry will consider adjusting requirements concerning investors' experiences and propose that the central bank adjust up the credit limits of banks providing loans for the project.
The ministry earlier canceled international tenders for the eight sections so they could seek domestic bidders.
Vietnam attractive to investors: Russian expert
Vietnam has emerged as an attractive destination to investors thanks to its rapid economic growth and high business profits, said Vladimir Potapov, CEO of Russia's VTB Capital Investments and Senior Vice President of VTB Bank.
Its geological location, mineral and labour resources have supported Vietnam's economic growth effectively, he told the press on September 29.
He highlighted the country's huge potential to raise profits of businesses and spur the growth of the stock market.
He spoke of Vietnam's economic reform, with an annual growth rate of 6-7 percent and the inflation rate at 2-3 percent.
The population structure, with 41 percent of 94 million people are below 25 years ago, has also created favourable conditions for the national economic growth, Potapov said.
According to him, Vietnam is one of the important frontier markets and it takes the country from 1-2 years to reach the status of an emerging market.
The higher status would help Vietnam attract investors who are seeking growth opportunities amidst the sluggish global economy and low interests rates, he said./.
Computer, electronics imports higher than phone export revenue
Imports of computers, electronics and parts had leapt in the year to mid-September, surpassing the export revenue of phones and phone parts, Vietnam's largest export earner in recent years.
Preliminary statistics from the General Department of Vietnam Customs indicated that during the first half of September, the country spent US$2.35 billion importing computers, electronic products and accessories, pushing the total to US$35.9 billion in the year to mid-September, up US$6.3 billion year-on-year.
Meanwhile, in the same period, Vietnam earned US$35.89 billion from exporting phones and phone parts, up a mere US$1.6 billion year-on-year. As a result, the revenue from phone and phone part exports was lower than the import turnover of computers, electronics and their components.
Vietnam's imports of computers and electronics from many markets have grown strongly over the past few months.
Statistics show that in the January-August period, the country purchased computers and electronic products worth US$11.8 billion from South Korea, up 3.1% against the year-ago period.
China and Taiwan shipped US$7.95 billion and US$3.53 billion worth of computers and electronic products, respectively, to Vietnam, sending Vietnam's imports of the products from the two countries up 60.1% and 42.1% year-on-year, respectively.
In addition, imports of the item group from the United States into Vietnam jumped 52.2% to US$3.12 billion against the same period last year.
Vietnam's computer and electronics import bill is expected to continue rising its in the coming months, far exceeding the export revenue of phones and their parts.
In recent years, Vietnam has seen the strong growth of the product group of computers, electronics and accessories due to rising foreign investment in the manufacturing and assembly sectors.
In the year to mid-September, the country's export revenue from the group had amounted to US$23.58 billion, up US$3.24 billion year-on-year.
The country had earned US$181.7 billion from goods exports in the year to mid-September, up 7.7% year-on-year, whereas the total import value amounted to US$176.2 billion, up 8% against the year-ago period, according to statistics.
Experts highlight Internet of Things in developing smart agriculture
Agriculture and technology experts highlighted the important role of the Internet of Things (IoT) in smart farming development at a conference in Lam Dong Province on September 26.
According to Pham S, vice chairman of Lam Dong Province, IoT is an indispensable technology for the development of smart agriculture as it helps connect farming equipment and control farm management systems.
He explained that some 55,000 hectares out of 300,000 hectares of agricultural land in the province benefit from the application of advanced technology such as IoT, drones and LED lighting systems that allow higher crop yields.
Phan Tam, deputy minister of Information and Communications, said that technology firms play a vital role in the country's smart farming development. They should support farmers in mastering advanced technology and produce made-in-Vietnam technological products and solutions so that the country need not rely on imported technology.
According to Le Van Cuong, director of Dalat GAP Company, investment in farming technology will result in improved crop yields, higher quality products and higher income for farmers.
By using advanced technology, farmers in Dalat City can produce 20-28 kilograms of tomatoes per square meter, a four- or fivefold increase in yield compared with using traditional farming methods. Tomatoes meeting European standards are priced at VND24,000-VND26,000 per kilogram.
Cuong remarked that technology is expensive. Therefore, farmers should use domestic technology and equipment to save money. A greenhouse imported from Europe with a completely automated management system costs some US$1 million. Farmers in Dalat who cannot afford it are encouraged to use locally made greenhouses, which cost VND1.9-2.2 billion (less than US$100,000) each.
The Farmers' Association of Lam Dong Province notes on its website that Dalat farmers are putting technological advances to good use, opting for greenhouses, automatic watering systems, smart lighting systems and hydroponics.
Vinh Phuc: auto, motorcycle sales grow 19 percent
Sales of enterprises operating in automobile and motorbikes manufacturing and assembling in the northern province of Vinh Phuc were estimated to exceed 258 million USD since the beginning of 2019, a year-on-year increase of 19 percent.
Export of the products reached roughly 172 million USD, up 36 percent year on year.
The products included 220 units produced by Vietnam Daewoo Bus, 47 percent higher than the same period last year; and over 101,000 units by Piaggio Vietnam, 80 percent of which were exported while the remainder was distributed domestically.
Producers in the industry currently provide jobs for nearly 1,200 local workers.
The Vietnamese motorcycle market in 2018 broke its sales record set seven years ago with nearly 3.4 million units sold for a year-on-year increase of 3.5 percent.
According to the Vietnam Association of Motorcycle Manufacturers (VAMM), its five members – Honda, Piaggio, Suzuki, SYM and Yamaha – sold more than 282,000 vehicles per month on average.
Vinh Phuc-based Honda is currently manufacturing and distributing 24 motorcycle models, accounting for more than 70 percent of the market share nationwide./.
Tra Vinh province records giant stride in tourism development
More tourists have come to the Mekong Delta province of Tra Vinh, a wonderland of diverse destinations that deliver big on excellent architecture, history and beauty.
Along with stunning landscapes of mangrove forests and islets on Tien and Hau Rivers, Tra Vinh boasts many popular attractions like Ba Dong sea, Ba Om pond, a wide range of national intangible cultural heritages, ancient houses, lush orchard gardens, and 142 Khmer pagodas built with classical architecture.
Realizing that the province has not tapped its tourism potential to the fullest over the past years, local authorities have outlined an ambitious plan to develop tourism into a spearhead economic sector. It eyes to welcome 2.5 million travellers by 2025, including 85,000 foreigners, and gain more than 1.6 trillion VND (68.94 million USD) in tourism revenue from 2025.
According to Director of the provincial Department of Culture, Sports and Tourism Duong Hoang Sum, preferential policies have been penned to attract investment in tourism technical infrastructure and promotion campaigns enhanced both inside and outside the nation.
Overriding priority is to build Ba Om pond tourism complex into a national tourism site, he said, adding the province is calling for investments to mangrove eco-tourism area, Duyen Hai hot mineral spring, and Ba Dong beach eco-tourism site.
Furthermore, Cau Ke district, Tra Cu district and Duyen Hai town will be built into hubs for orchard tourism, sea tourism as well as festival and spiritual tourism.
Aware of huge potential of community-based tourism business, the province has given financial support to local households to develop homestay services. Accordingly, households offering between two and five rooms are aided with 30 million VND per room and have 50 percent of their lending interest subsidised under specific conditions.
Investment in restaurants with areas spanning 200 square metres and above to serve more than 100 guest at a time receives 500,000 VND per square metre in support, and the maximum fund is 200 million VND for each restaurant.
Meanwhile, the purchase of transport vehicles able to carry more than 20 passengers each will see 10 percent of costs financed, with maximum funding of 50 million VND.
As for tourism investment projects, investors will receive 150 million VND for each project to provide human resources training. In addition, as much as 14 billion VND will be splashed out for tourism promotion programmes until 2020.

Earlier this month, the province launched the Con Chim community-based tourism site in Chau Thanh district. A large dune on Co Chien river, Con Chim has its natural and farming areas spanning 60 and 34 hectares, respectively. Since May this year, 20 tours to Con Chim have been sold on a trial basis, and they have received praise for service quality from travel agencies and tourists.
Last year, the province welcomed over 640,000 tourists; however, only half of them stayed overnight, with length of stay averaged at 1.5 days per person.
Thanks to local efforts, Tra Vinh attracted more than 765,400 visitors during January-September, up 66.46 percent from the same time last year. Tourism revenue was estimated at 279.8 billion VND, or 107.24 billion VND higher than the amount gained in the nine-month period last year.
Sum said that Tra Vinh is striving to welcome around 1.4 million arrivals, and earn 372 billion VND from tourism services. The province will promote tourism linkage with other localities in the Mekong Delta region and Ho Chi Minh City so as to turn tourism into an important economic sector of the locality./.
VNA
Sumitomo Corp. expands industrial parks in Vietnam
Japan's Sumitomo Corporation will spend 19 billion JPY (177 million USD) to expand two industrial parks in Vietnam in order to serve businesses shifting production away from China to avoid the trade war.
Sumitomo will add about 290 hectares to two of its three complexes outside Hanoi. The three industrial parks host roughly 190 companies, 90 percent of which are Japanese manufacturers.
The tit-for-tat tariffs imposed by the US and China have forced companies to revise production strategies to avoid the duties. Many Japanese companies interested in moving into Sumitomo's industrial parks are seeking to diversify manufacturing risks.
Sumitomo will spend over 14 billion JPY adding about 181 hectares to the southeast portion of Thang Long Industrial Park II in northern Hung Yen province. The site already spans 346 hectares. Groundbreaking is scheduled for 2021, with lots going on sale in 2022. The expanded location will be one of the biggest Japanese industrial parks in Vietnam.
A 109-hectare expansion at Thang Long Industrial Park III will cost about 5 billion JPY. Though the work was already planned, it has been accelerated by a year to the first half of 2020 at the earliest.
Investments by Japanese companies in Vietnam rose 7 percent last year to 643 targets, according to the Japan External Trade Organization (JETRO). Spending has increased for three consecutive years to a new record. Vietnam's proximity to China and its cheap labor costs have made it a draw for relocating production capacity./.
More needed to get railways back on track
The State must play a key role in investing in the national railway infrastructure to boost development and attract more private investment, experts have said.
Speaking at the seminar on promoting the railway infrastructure development held on September 25, Deputy Minister of Transport Nguyen Ngoc Dong said the cost of investment in a kilometre of railway infrastructure is usually three to four times higher than that of roadway.
In addition, the sector had a slow pay-back ability making it tough to call for investment from private sectors.
Dong said the sector has improved with the investment in the North-South high-speed railway, which helped to maximise the capacity of the transport system in Vietnam.
However, the aging and backward infrastructure system has posed many challenges.
Most of the trains operated on the one metre gauge, which accounted for 85 percent of the national railways.
There were 297 terminals in the whole country, but most were small and downgraded. Half of 1,850 railway bridges were in dire need of being upgraded. At least 22 out of 39 railway tunnels also need renovation.
More than 4,000 railway crossing were illegally built across the country, where up to 70 percent of railway accidents occurred.
Vu Anh Minh, Chairman of the Vietnam Railways Corporation, said the capital demand for railway development was huge, but the investment for the sector was modest - only two percent of the State budget.
The annual funding for maintenance allocated by the Government could only satisfy about 30 percent of the actual needs.
Out-of-date technology and ill-quality services weakened the competitiveness of the sector, he said.
Le Thanh Van, Standing Member of the National Assembly's Finance and Budget Committee, said the railway sector has lost its role in the economy with the market share decreased from 30 percent to 1 percent.
This was totally contradictory to the development of roads and airways, he said.
Discussing on the causes of the issue, Van said the State has not had a strategic vision of railway planning and paid little attention to investment.
On the other hand, the railway industry itself still depended on the State's investment and was not active in restructuring its organisation to adapt to fierce competition.
That's why it was very difficult to attract investment from the private sectors.
Le Thanh Quan, Director of the Ministry of Planning and Investment's Department of Infrastructure and Urban Development, said the funding raised from 4 percent in the period of 2011-2015 to 11.9 percent in the period of 2016-2020.
However, it has remained insufficient to the actual demand.
Due to limited investment, the development strategy of the national railway industry by 2020 with a vision to 2050 only targeted that the market share of the industry would be 1-2 percent of passenger transport and 1-3 percent of freight transport.
At the meeting, experts said it was vital the State invest in key infrastructure.
A policy to attract investment from private enterprises should be built.
The transport sector must focus on technology to lengthen station tracks, build new stations, synchronise axle load on the entire route and modernise signalling and telecom systems to improve the operation capacity./.
Hung Yen woos Japanese investors
The northern province of Hung Yen will spare no efforts to turn it into the optimal investment destination for Japanese investors, Chairman of the provincial People's Committee Nguyen Van Phong said on September 27.
Speaking to more than 100 representatives of Japanese firms participating in an event calling for investment to Hung Yen's industrial parks (IPs) held in Tokyo, Phong underlined that the province badly needs cooperation in the transfer of modern and eco-friendly technologies, adding that Hung Yen will create favourable conditions for Japanese firms once they invest in the locality.
To attract foreign investors, the province has bolstered administrative reforms and information technology application. It has worked to raise capacity of civil servants, as well as speed up infrastructure and land clearance.
The same day, Hung Yen inked a memorandum of understanding (MoU) with Sumitomo Corporation, paving the way for the expansion of Thang Long IP II in the province.

Hung Yen woos Japanese investors hinh anh 2
Chairman of the Hung Yen People's Committee Nguyen Van Phong (second from left) exchanges the MoU with a representative of Sumitomo Corporation (Photo: VNA)

Under the MoU, groundbreaking is scheduled for 2021, with lots to be offered in 2022. It will be one of the biggest Japanese industrial parks in Vietnam.
General Director of Thang Long IP II Goki Nobuta said the Sumitomo highly values the investment climate in Hung Yen, which is located in the centre of northern Vietnam and boasts abundant labour resources.
Hung Yen is currently home to 448 foreign direct investment (FDI) projects, with a total registered capital of 4.6 billion USD, according to the local People's Committee.
Of the figure, Japanese investors have taken the lead with nearly 3 billion USD, accounting for 65 percent of the total FDI capital poured into the province./.
JETRO holds trade connection programme
The Japan External Trade Organisation (JETRO) opened "GOOD GOODS Japan 2019" in Hanoi on September 27 to create trade connections between Japanese and Vietnamese enterprises.
As many as 52 enterprises from Japan take part along with around 100 Vietnamese companies.
The purpose of the programme is to support Japanese small- and medium-sized enterprises operating in consumer goods to exploit and expand the ASEAN market, especially Vietnam's potential market, with consumer products having quality, safety and outstanding design, said Tomofumi Abe, JETRO's project director.
Vietnam is a developing economy with an annual GDP growth rate of more than 6 percent, leading to an increase in income and the demand for high-quality consumer goods, according to JETRO.
Meanwhile, Japanese consumer goods sector is popular in the world market with products such as kitchen utensils, detergents and cosmetics. The Japanese companies hope to expand overseas including a large Vietnamese market.
This is the sixth trade connection for the consumer goods to meet needs of Japanese and Vietnamese enterprises, Abe said. It is one of the activities implemented by JETRO since 2012 to support Japanese enterprises to exploit markets in ASEAN countries.
"In the previous trade connection programme, many Japanese and Vietnamese enterprises reached many agreements to import Japanese goods into Vietnam to meet the increasing demand for this product," Abe said.
"Besides that, JETRO has cooperated with Vietrade, the Ministry of Industry and Trade and the Ministry of Planning and Investment to organise similar trade connection activities between businesses of Japan and Vietnam to promote trade between the two countries."/.
Work starts on Phuoc Thai 1 solar farm
A ceremony was held on September 26 in the south-central province of Ninh Thuan to commence construction of the Phuoc Thai 1 solar farm with an estimated cost of VND1,112 billion (US$47.8 million).
The farm is located in Phuoc Thai commune of Ninh Phuoc district and has already been approved by the Prime Minister for inclusion in Vietnam's Power Development Plan VII.
The 50-MWp project, that employs polycrystalline photovoltaic cells, includes the main farm, a substation, a transmission line and supporting facilities.
Once completed, the farm will supply nearly 81 million kW to the national power grid annually, contributing to renewable energy development and Ninh Thuan's socio-economic development.
The Phuoc Thai 1 project is scheduled for completion in July 2020.
Chinese contractor continues to delay Hanoi metro
The Chinese contractor is yet to complete actual and administrative work to handover Hanoi's first metro route to the Transport Ministry.
A representative of China Railway Sixth Group Co Ltd told reporters recently that differences in administration procedures between the two countries have resulted in delays in handing over the Cat Linh – Ha Dong Metro Line.
At the same press briefing, Deputy Transport Minister Nguyen Ngoc Dong said that apart from administrative work, there was still one percent of the project remaining, mainly outlook finishing, which could take a long time as it is not easily done.
He added that the Chinese contractor has not delivered cranes, trucks and other vehicles to install the remaining equipment, and has not replaced equipment damaged during delivery, such as ticket selling machines.
When asked whether the transport ministry would sue the contractor for the repeated delays, Dong said that the ministry has not considered this because part of the reason for the delays is Hanoi's prolonged land clearance process.
The Chinese contractor received the land for construction in 2014, a few years later than scheduled, he said.
The project is being evaluated for safety by French contractor consortium Apave-Certifier-Tricc and by Vietnam Register.
Work on the Cat Linh-Ha Dong elevated railway began in 2011 and was originally scheduled for completion in 2013. But several hurdles, including loan disbursement issues with China that were only resolved in December 2017, stalled it for years.
The metro eventually entered the testing phase in March with all 13 cars carrying out trial runs on both lines. The ministry wanted commercial operations to begin at the end of April, but this deadline too was missed.
The State Audit Office of Vietnam said in a recent report that the transport ministry had made a series of mistakes in planning and implementing the project. The ministry had known since the beginning the project would suffer losses but prepared no plan to make up for it, state auditors said.
Morever, project costs have more than doubled from the original VND8.8 trillion ($377 million) to VND18 trillion ($771 million), they added.
When completed, Hanoi's first metro line will run 13 kilometers from Cat Linh Station in downtown Dong Da District to the Yen Nghia Station in southwest Ha Dong District.
Vietnam spends US$2.144 bil importing pharmaceuticals in over eight months
Vietnam's pharmaceutical imports saw an annual surge of over 10 per cent or US$200 million to US$2.144 billion from the beginning of the year to September 15, according to figures released by the General Department of Vietnam Customs.
During the nine-month period, several markets have enjoyed impressive growth in import turnover, with many reaching over hundreds of millions of US$ in the process.
France was the nation's largest drug supplier with turnover hitting nearly US$265 million, a sharp rise of over 29 per cent in comparison to last year's corresponding period.
The import of pharmaceutical products also accounts for more than 26 per cent of the country's total import turnover of goods from the French market.
Simultaneously, drug imports from Germany saw an annual surge of US$10 million to reach approximately US$215 million.
Other major Asian drug suppliers to Vietnam saw high growth in turnover, including the Republic of Korea, India, Japan, Thailand, China, and Singapore. Most notably, imports from India were recorded at over US$163 million.
Elsewhere, China earned nearly US$25 million from exporting pharmaceutical products to Vietnam with drug materials fetching a turnover of close to US$169 million.
According to the Business Monitor International, the country's overall pharmaceutical market is predicted to reach US$6.5 billion this year and US$16.1 billion by 2026.
Vietnam runs trade surplus with Japan in January-August
Vietnam recorded a trade surplus of 930 million USD with Japan in the first eight months of 2019.
In the same period last year, Vietnam posted a trade deficit of 114 million USD with Japan.
The leading factor behind the change was the good growth in exports to Japan at 9.3 percent, with increases recorded in the shipments of 26 out of 35 main export items.
Products with high increases included garment-textile, means of transport and spare parts, machinery, aquatic products, wood and timber products, computers, electronic products and components, and footwear.
Three commodities with the export turnover of more than 1 billion USD in the Japanese market were garment-textile (2.55 billion USD), means of transport and spare parts (1.73 billion USD), machinery, equipment, tools and components (1.26 billion USD).
There are many reasons behind Vietnam's increasing exports to Japan, one of which is their membership in the Comprehensive and Progressive Agreement for Trans-Pacific Partnership (CPTPP) which offers a lot of incentives, including tariff reductions.
Meanwhile, Vietnam's imports from Japan only rose 0.7 percent in the period, far below the growth rate of exports.
Vietnam is expected to have a trade surplus of over 1.4 billion USD with Japan for the whole year./.
Đồng Nai in deal with Bosch to train human resources
Bosch, the German technology and services company, and the People's Committee of Đồng Nai yesterday (September 26) signed a memorandum of understanding for developing skilled human resources to advance the industry 4.0 programme in the province.
The partnership's objectives are to support vocational schools by providing them with opportunities to access modern technologies, enabling them to acquire, master and operate them effectively.
It will facilitate close collaboration between vocational education institutions in the province and Bosch Rexroth, the drive and control division of Bosch Vietnam.
The two sides will provide industry 4.0 training to teachers, with a focus on automation, mechatronics, pneumatics, and hydraulics, Bosch Rexroth's areas of strength. The training will be given in the province and abroad if necessary.
Besides, they will support vocational education institutions in Đồng Nai with setting up and tweaking training programmes and organising technical seminars on industry 4.0.
Nguyễn Hòa Hiệp, vice chairwoman of the province People's Committee, said: "Science and technology are important enablers of economic and social growth with a highly-quality workforce playing a vital role.
"We are pleased to work closely with Bosch, a technology leader, for training programmes to develop skilled human resources in future and at the same time shape the Đồng Nai Province economy."
Guru Mallikarjuna, managing director of Bosch Vietnam, said: "Keeping pace with technology is an integral requirement to stay competitive and develop industry 4.0-enabled factories of the future.
"As one of the global leaders in drive and control technology, Bosch has acquired a unique level of technological expertise and would like to pass on the know-how as well as technology to apprentices and students."
Plastics and rubber industry expo attracts over 520 exhibitors

The Vietnam International Plastics and Rubber Industry Exhibition to be held in HCM City early next month will showcase the latest smart production solutions, advanced technologies and machinery and equipment used in the plastics and rubber industry.
VietnamPlas 2019 will feature more than 520 leading suppliers from Austria, Australia, Belgium, China, Germany, Hong Kong, India, Italy, Japan, Malaysia, New Zealand, Singapore, South Korea, Switzerland, Taiwan, Thailand, the US, and Viet Nam.
The 19th edition of the annual exhibition will showcase a series of high-quality automatic equipment such as plastic extruders, PET blow moulding machines, film blowing equipment, high-class injection moulding machines, and plastic recycling machines.
Also on display will be a wide range of materials such as coloured plastic resins, PVC additives, technical polymers, and other compounds.
Leading brands from around the world will present the latest large-sized plastic processing machines, innovations and applications.
There will be a number of seminars to provide industry-specific insights like "Smart and Sustainable: Industrial Upgrade Guides", "First step to plastics 4.0, Technology and the future of rubber " and "Circular economy".
According to the organisers, the exhibition is expected to help local manufacturers keep abreast of technological advances in the plastics and rubber industries to upgrade their production lines and provide them a chance to interact with leading brands.
Organised by the Viet Nam National Trade Fair and Advertising Company in co-operation with Yorkers Trade and Marketing Service Co., Ltd. and the Viet Nam Plastics Association, VietnamPlas 2019 will be held at the Saigon Exhibition and Convention Centre in District 7 from October 3 to 6.
More information about the event is available at https://www.chanchao.com.tw/Vietnam-expo/.
MARD's call for diary farm improvements

Government officials have revealed the huge potential for dairy farming and called on more businesses to get involved.
With the total turnover of VND109 trillion (US$4.73 billion) last year, Viet Nam ranks sixth in Asia in milk output, and fourth in dairy cow productivity.
That was the message from Deputy Minister of Agriculture and Rural Development (MARD) Phung Duc Tien who was speaking in a forum this week in Ha Noi.
In the first eight months of 2019, productivity has rised. Milk and dairy products increased by 7.2 per cent compared to the same period last year.
Deputy head of the Department of Farm Produce Processing and Market Development Pham Van Duy said: "Vietnamese milk and dairy products are popular in overseas market, especially in China and the Middle East."
Currently, China was the second largest dairy market in the world after the US with a total value $60 billion, according to Food Navigator.
Duy added China's domestic milk supply is currently producing enough to only meet 75 per cent of market demand.
This year China is expected to import 39.43 million tons of milk and milk products, of which fresh milk import volume will be about 750 thousand tons and about 650 thousand tons of powdered milk.
To meet increasing demand, deputy minister Tien suggested accelerating restructuring of the farming sector on an industrial scale, improving added values of animal products, and developing processing industry.
Tong Xuan Chinh, deputy head of the Livestock Production Department, said: "Milk output of Vietnam's dairy cows is equal or higher than those in Thailand, Indonesia and China."
Viet Nam plans to have 500,000 dairy cows and a million tonnes of milk in 2020, a growth of more than 11 per cent. It also plans to have 700,000 cows and two million tonnes of milk by 2030.
In order to promote the industry, MARD also urged close cooperation in the form of public private partnerships from the local dairy businesses. Deputy Minister Tien said MARD formed a PPP task force to boost the partnership last April.
At the forum, the delegates discussed the situation and development of dairy farming by 2030 and how to benefit from trade agreements, especially Comprehensive and Progressive Agreement for Trans-Pacific Partnership CPTPP and European Union – Viet Nam Free Trade Agreement, sharing experiences in developing value chain models of the dairy industry and milk production of typical enterprises.
Currently, dairy companies operating cow farms in Viet Nam are Vinamilk, TH True Milk, Moc Chau Milk.
HCM City annual conference to link buyers, sellers of goods begins

A conference to link buyers and sellers of goods in HCM City and 45 other cities and provinces opened on Thursday in the city.
The four-day event has attracted 1,458 suppliers and 883 purchasing businesses, including modern retailers, export companies, restaurants, hotels, businesses that supply meals to industrial parks and businesses, and collective kitchens.
Nguyen Huynh Trang, deputy director of the city Department of Industry and Trade, said at this year's conference sourcing firms and consumers in the city discovered nearly 2,000 items such as agricultural products, local specialties in various places, fruits and vegetables, handicrafts, and consumer products that 558 businesses showcased in 449 booths.
This year her department has invited some foreign buyers and local export firms to take part to promote exports of products to markets like Thailand and Australia, she said.
"By organising the conference ... we want to enhance awareness of producers about putting product quality on top. At the same time, we want to underline the responsibility of the hotel and restaurant serving food and drinks to customers in ensuring the best source of raw materials."
Le Thanh Liem, vice chairman of the HCM City People's Committee, said the conference is an important trade promotion event, which would help expand the market for domestically produced goods.
Nguyen Huu Lap, vice chairman of the Ben Tre Province People's Committee, said the conference has in the past significantly helped promote the consumption of his province's products, enabling businesses to expand production and trading and contributing to socio-economic development.
"I hope the Ministry of Industry and Trade, HCM City and businesses will continue to provide producers in the province with market information and standards and requirements for goods, help connect them with distributors and create favourable conditions for the province's goods to enter the city's modern distribution network."
Deputy Minister of Industry and Trade Do Thang Hai hailed the conference as a channel to promote and expand markets for Vietnamese goods nation-wide and connect with export channels.
More than 380 memorandums of understanding on goods supply and distribution were signed yesterday.
The department expects more than 500 to be signed at the event.
Held since 2012, the programme has enabled more and more products to enter the city's distribution systems.
DEG financing to develop NovaWorld Mekong project
Novaland Group has signed a partnership agreement with Deutsche Investitions - Und Entwicklungsgesellscheft Mbh (DEG), a reconstruction bank based in Germany and specializing in funding and consulting projects that promote business initiative of improving social living conditions.
Accordingly, DEG sponsors 20 million USD to develop Azerai Can Tho Resort (Au Island, Can Tho) - is one of initiative projects of NovaWorld Mekong leisure and tourism complexes that Novaland Group will develop in the Mekong Delta region. At the same time, DEG also signed a Memorandum of Understanding on the provision of travel quality standard consulting services for the NovaWorld brand.
Experts from DEG will provide Business Support Services to Novaland, such as facilitating expert advice for training professional human resources and orienting the sustainable hotel management standards; while also consulting on environmental issues and effectively exploiting available resources in parallel with ecological development so that the chain of NovaWorld complexes, such as NovaWorld Mekong, NovaWorld Phan Thiet and NovaWorld Ho Tram, will become the destinations for domestic and foreign tourists.
In the Mekong Delta, Novaland and the Military Commercial Joint Stock Bank have jointly contributed funds for the Boston Consulting Group (BCG) – a leading global consulting firm - to develop a Tourism Development Strategy for the 13 provinces in the region to adapt to climate change in accordance with the Prime Minister's Resolution 120/NQ-CP. Accordingly, by 2030, the Mekong Delta will be the top river destination in Asia, creating 300,000 new jobs.
Based on BCG's strategy, Novaland is planning and implementing the NovaWorld Mekong project in the center of Can Tho City. This is a synchronous large-scale project of international standards that will change the perception of tourism in the Mekong Delta, boosting tourism combined with agriculture and traditional activities, making the Mekong a tourism destination of the world. Phase 1 of NovaWorld Mekong – the Azerai Can Tho Resort - was completed and put into operation in June 2018.
While announcing the partnership between DEG and Novaland, Bui Xuan Huy, General Director of Novaland Group, said: "We look forward to strengthening the cooperation with professional consultants to be able to develop NovaWorld Mekong. in a sustainable way, contributing to both local tourism development and creating new jobs, helping to keep workers from leaving their fields and bringing high-level personnel to the Mekong Delta."
"I am impressed by the vision of the Novaland to think a sustainable way – Can Tho has a unique and diverse bio system that needs to be protected. The photo voltaic energy supply and the waste and water treatment systems are exemplary" – Dr. Hubertus Pleister – Head of Asia.
Previously, on July 7, 2017, DEG financial institution and two members of Nova Group, Anova Corporation and Novaland Group, signed a Memorandum of Understanding within the framework of the Vietnam-Germany Business Forum program, a trade promotion activity on the sidelines of the G20 Summit in Berlin, Germany. This marks the long-term co-operation between two large corporations, aiming to help to improve the quality of life in Vietnam on the basis of sustainable development and compliance with international standards of corporate governance, social responsibility, and environmental protection./.
Vietsovpetro's profit surpasses January-September plan
The Vietnamese side in the Vietnam – Russia oil and gas joint venture Vietsovpetro earned 722.3 million USD in profit in the first nine months of this year, surpassing the plan for the period by 22.7 percent.
Meanwhile, the profit of the Russian side was 111 million USD.
The JV's crude oil exploitation, natural gas production, and supply of gas to the inland also exceeded plans by 6.7 percent, 15 percent and 54.3 percent.
During the past nine months, the JV also performed services for many domestic and foreign partners, earning over 151 million USD.
In order to achieve the goal of tapping 3.1 million tonnes of crude oil and 117.79 million cu.m of natural gas, Vietsovpetrol will take synchronous measures, including adopting advanced technology and ensuring safe operations of offshore facilities.
It will also launch emulation campaigns among workers and promote thrift and prevent wastefulness in every work area./.
SCG Cement and Ho Chi Minh City University join for innovation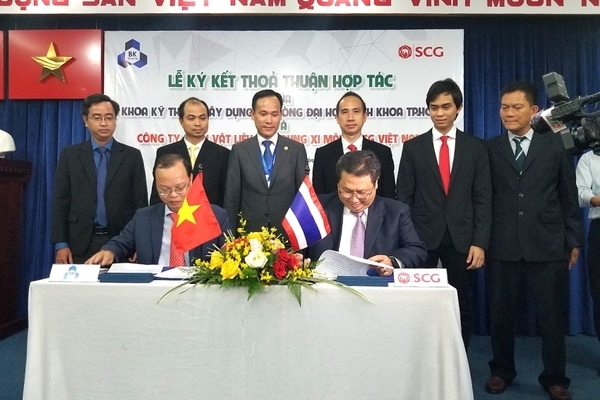 PhD Le Anh Tuan, head of the Civil Engineering Faculty, and Chanatpong Srinuta, the representative of SCG Cement – Building Materials Vietnam Co., Ltd., signing the MoU
The co-operation between SCG Cement – Building Materials Vietnam Co., Ltd. and Ho Chi Minh City University of Technology aims to leverage both organisations' advantages to create sustainable products and solutions that serve the needs of Vietnamese consumers.
On September 30, 2019, SCG Cement – Building Materials Vietnam Co., Ltd., a subsidiary of SCG, has signed a memorandum of understanding with Ho Chi Minh City University of Technology for a 3-year collaboration across various areas of innovation, including research and development as well as human development.
Sharing about the co-operation, Chanatpong Srinuta, representative of SCG Cement, said, "In line with our global vision to extend the corporate's knowledge and learning via collaboration, SCG Cement – Building Materials Vietnam is delighted to partner with Ho Chi Minh City University of Technology – one of the leading research institutions in the country to create better solutions that meet local demands with a sustainable approach. Besides, this collaboration also allows us to contribute our expertise to the practical training of the university's students, preparing them for future needs."
Accordingly, the two parties will form a collaborative expert group to carry out research projects in line with the practical needs of SCG, to improve product quality, increase labour productivity, and accelerate the application of new technologies in production and construction. Moreover, SCG Cement – Building Materials Vietnam will also support the university to enhance its research facilities and competency by transferring the corporate's well-established technology and knowledge as well as organising periodical scientific seminars and workshops for the research team.
Following its corporate's brand promise "Passion for Better" with a strong focus on human development, the company also commit to support university's students to access the real working environment through scholarship programmes, factory visits, and various practical skill training workshops via the collaboration.
Representatives (teachers and students) of the Civil Engineering Faculty of Ho Chi Minh City University of Technology
"Ho Chi Minh City University of Technology and SCG Cement – Building Materials Vietnam have been co-operating successfully during the past years. This MoU will further enhance our collaboration to benefit both parties in numerous areas. Not only strengthening the university's research capacity, the partnership will also bring valuable opportunities for our research staff, teachers, and students to connect with the industry and acquire practical knowledge, and hence produce practical solutions to meet real-world needs and demands," said Le Tuan Anh, representative of the university.
Hundreds of projects to be granted investment certificates by Lang Son
Based on its favourable location and plentiful potential to develop trade, investment, agriculture, and tourism, Lang Son is appearing on investors' radar.
At the Lang Son Investment Promotion Conference 2019 held on September 30, over 100 projects by 80 businesses valued at around VND105 trillion ($4.57 billion) have received their investment certificates.
Some of the largest projects and investors in Lang Son, which received a memorandum of understanding (MoU) or investment certificates include:
- FLC Group with a VND400 billion ($17.4 million) hi-tech farm project and some infrastructure, tourism, and resort projects worth VND6.564 trillion ($285.4 million);
- Sun Group with a VND3.5 trillion ($152.17 million) eco-tourism project in Mau Son district and some infrastructure, tourism, and resort projects worth VND12 trillion ($521.74 million);
- Hoang Anh Gia Lai Group with VND1 trillion ($43.48 million) of infrastructure and logistics projects;
- TNG Holdings Vietnam with infrastructure and urban projects valued at VND7.829 trillion ($340.4 million);
- Infrastructure Investment and Transportation Construction JSC (Intracom) with the VND2.346 trillion ($102 million) Lang Son anise processing plant and the VND1.055 trillion ($45.87 million) Ban Nang Lake resort and tourism project;
- TMS Group with a resort, entertainment, and sports centre in Chi Lang district invested VND13.858 trillion ($602.52 million) and infrastructure, tourism, and resort projects worth VND5.5 trillion ($2390.13 million);
- Asia-Pacific Investment JSC (APEC) with an apartment and commerce centre building valued at VND778.3 billion ($33.84 million), inter-level international school worth VND1.5 trillion ($65.22 million), and an eco-urban area in Lang Son city valued at VND3.126 trillion ($135.9 million);
- Son Ha International JSC with VND5.808 trillion ($252.52 million) going into a dry port and a clean water supply project;
- DABACO Group with a VND550 billion ($23.9 million) high-quality husbandry project;
- IDJ Group with the VND1.582 trillion ($68.78 million) Diamond Park urban area and shophouse;
- Military Petrochemical JSC (MIPEC) to invest VND1.034 trillion ($44.96 million) into the processing zone I project in Dong Dang-Lang Son border-gate economic zone;
- KoSy Group's VND1.399 trillion ($60.83 million) new urban area in Lang Son city;
- Hoang Duong Investment & Construction JSC to develop a five-star Marriot hotel and commerce centre with the total investment of VND2.297 trillion ($99.87 million);
- The joint venture of NNP Investment JSC and CDC Hanoi JSC to develop an affordable housing project valued at VND671.4 billion ($29.2 million);
- 3D Vietnam JSC to develop transportation and logistics projects from VND1.483 trillion ($64.48 million);
- The joint venture of Vinaconex Power & Construction JSC and Hanoi Real Estate Investment (HANDICO) to develop power projects from VND4 trillion ($173.9 million);
- The joint venture of Thinh Phat Lang Son JSC and Truong Thinh Phat JSC to develop the VND2.218 trillion ($96.43 million) Huu Lung new urban area project;
- Tan Viet Bac Lang Son Hydropower JSC to develop the VND214.3 billion ($9.32 million) Deo Khach hydropower project, and the VND1.56 trillion ($67.83 million) hydropower project in downstream Ky Cung River.
Apart from these, a lot of projects worth dozens of million dollars each, covering the sectors of power and infrastructure, have received MoU, in-principle approval, or investment certificates at the conference.